Every time I key in my password, the message "Apple ID not active" appears on my iPhone and Mac, claiming that my apple ID has been disabled for security reasons. Can anyone help? I tried searching for it on Google but couldn't discover anything particular.
The personal account you use to access Apple services like iTunes, Apple Store purchases, iCloud, etc., is called an Apple ID. Additionally, it offers security, protecting your device from theft and scams.
Customers occasionally experience problems logging into their Apple ID accounts, which is quite worrying since they risk losing their data. This article explains a few potential causes of the message "This apple ID is not active" you see while attempting to log in.
Part 1: Why Does It Say My Apple ID Is Not Active
Here are some of the most frequent reasons apple id is not active, while there are many more possible causes.
The account has been disabled, and the account being deactivated is one of the most frequent causes of an inactive Apple ID. Apple may contemplate deactivating your account for several reasons, but payment method issues or identity fraud may be the most frequent ones.
Your Apple ID will be locked, and you won't be able to log in to any Apple services if you or someone else repeatedly inputs your password, security questions, or other account information incorrectly. The classic "verification failed this apple id is not active" error will appear.
If you purchased the device used, you'd probably need to ask the prior owner for the password or request that they clean it and remove it from their list of devices after signing out of iCloud. You will encounter the error if not.
Part 2: How to Fix This Apple ID Is Not Active
Way 1: Fix This Apple ID Is Not Active with PassFab Activation Unlocker
A third-party program is your best bet for resolving the "apple id not activated" problem. We are all aware of how annoying the Apple ID not functioning problem may be, but occasionally forcing yourself to delete an Apple ID linked to your account and start over is the best course of action.
It might be challenging to log out of an Apple ID without a password, but not if you usePassFab Activation Unlocker. This Apple device's equivalent of a Swiss Army knife may delete any Apple ID and passwords from your devices.
Features:
Activation lock removal for the iPhone, iPad, or iPod touch (supports iOS 12 to iOS 16.6).
Turn off Find My iPhone/iPad without a password or unlock Apple ID.
iOS device users should disable camera sound.
Compatible with macOS 10.11–11.1 and Windows 11/10/8.1/8.
If you've forgotten your Apple ID password to sign out of your iCloud account, you might wonder how to disable Find My iPhone without it. Is Apple ID not active? I'll show you how to unlock your Apple ID without the password. You can use your iDevice normally once your Apple ID has been unlocked.
Start the PassFab Activation Unlocker program and choose Unlock Apple ID.

Utilize a USB cord to link your iDevice to the PC.

Before unlocking your Apple ID, you must trust the computer so that PassFab Activation Unlocker can identify your device.

Then click Next to remove Apple ID.

You may manually reset all settings by following the steps.And your Apple ID will be removed after that. 
Way 2: Verify the iCloud System Status
Why does it say my apple id is not active? Like other IT companies, Apple is prone to bugs and system failures. That's why it can be a good idea to verify the status of the iCloud system if you discover that your Apple ID is not active or is not functioning as you would anticipate. Here, you may verify that all systems are operating properly and determine if your issue is simply temporary.
Visit the Apple System Status Page to check the status of your Apple system.
Suppose the circle adjacent to iCloud Mail is green. In that case, Apple is reporting that iCloud Mail is functioning correctly from their end, and any problem you are experiencing has to be resolved directly.
Locate iCloud Mail in the list and check its status.
However, a blue flag indicates that Apple's end of the system might not be operating flawlessly. While others may have similar problems, you don't need to take any action individually.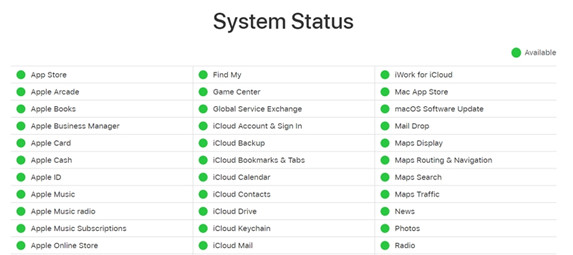 Way 3: Reset the Password for Your Apple ID
How to fix this apple id is not active? After trying the procedures mentioned above, you may try changing your password if your Apple ID still won't sign in. For instructions on changing your Apple ID password, see the list below.
Navigate to appleid.apple.com with Safari. The 'Forgot Password' option will appear if you enter the wrong password.

Select either email authentication or security question answers after clicking it.

After completing the instructions, input the password you want to use for your new Apple ID. Verify it, then unwind.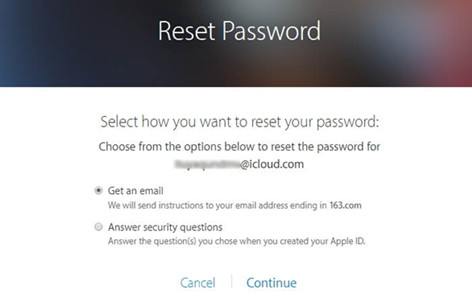 Part 3: FAQS about Apple ID Not Active
Q1: How can I check my Apple ID's current status?
Choose System Preferences from the Apple menu. Press Apple ID. Simply click on its name to examine details on a specific device, including its model, serial number, and OS version. The information might change based on the type of gadget.
Q2: How can I remove an inactive Apple ID?
Go to privacy.apple.com via a web browser on your Mac, PC, or iPad. Enter your Apple ID password and email. Click Continue on the Apple ID & Privacy screen. Pick Get Started under Deactivate Your Account.
Q3: How can I unlock my Apple ID without my password or email?
iOS bugs might be the root of Apple ID login issues. As a result, utilizing PassFab Activation Unlocker, a third-party tool, is the first approach you may attempt. It is an effective tool for resolving various iOS difficulties on the iPhone. This program makes it simple to resolve the apple id login issue.