I've two phones, and I use the same Apple id for the two phones to sync all the information on each phone. It keeps my phone's information synced through iCloud and Apple ID. Now I want to change my phone and don't know how do I unlink two iPhone using same apple id.
You might want to learn how to unlink iPhones so that you stop the connection between them. The guide will help you in encountering such questions. Many ways can help you unlink the synced devices with the same Apple ID. Let's discuss more on "how to unsync two iPhones" in the next section of this article.
Part 1: Why Are My Two iPhones Linked?
The reason that keeps two iPhones linked is Apple's FaceTime feature. Both iPhones share the same Apple ID and iCloud that sync all the information.
When you use iCloud, all of your iPhones become instantly connected to one another. This is because iCloud will synchronize the content across all of your devices as long as they are all logged in with the same Apple ID.
While changing phones or doing something, the question appears how do I unlink two iPhones using the same apple id?
There are many ways to unlink your iPhones. Let's discuss the ways to encounter the answer to how to disconnect two iPhones.
Part 2: 4 Effective Ways to Unlink Two iPhones
There are 4 effective ways to unlink two iPhones easily with the same Apple ID.
iOS Settings: Effective way to use when you know the password.
iTunes: Effective way when you know your Apple ID.
iCloud: Effective way to use when you don't care about the data loss.
PassFab iPhone Unlocker: Use it in any case or if any of the above doesn't work.
Way 1: How to Unlink Two iPhones with iOS setting
The method is effective if you know the password. You just need to go to iPhone's settings to remove the Apple ID to unlink the device. It stops the syncing, and the device stop appearing in the connected devices list. Here're the steps to follow:
Go to Settings, and then click on your device's name on the screen top.

Look for your device and tap on the device name.

Click on the remove from account option on the screen. On the pop-up screen, tap on the remove button again.
In order to answer the query "how to unmerge iphones two iPhones", you will need to follow the instructions above, input the password for your Apple ID, and then switch off the Locate My iPhone option.
Way 2: How to Unlink Two iPhones with iTunes
If you know Apple ID, you can choose iTunes to unlink two iPhones. In this method, you have to use the iTunes application on your computer and follow the given steps: 
Launch iTunes on the computer and sign in with your Apple ID credentials.
Go to Menu> Account> View My Account option.
Click manage devices in it and select the device you want to unlink from the list of connected devices. Tap on the remove button to complete the process. After completion, click the done button.
Way 3: How to Unlink Two iPhones with iCloud
If you don't care about your data loss, this method is okay. The iCloud website allows you to easily unlink iPhones. Access the website on any browser and unlink your device by following the given steps:
Firstly, shut down the device for offline mode.
Browse iCloud.com, and then go to Find iPhone.
In this, go for All Devices and select the device you want to unlink.
In the account, button click on the remove.
Add your Apple ID and complete the trust verification process.
After some time, iCloud unlinks your selected iPhone.
Way 4: How to Unlink Two iPhones with PassFab iPhone Unlocker
Did you forget your Apple ID password? Do you want to reset it? Did you get your apple id locked? PassFab iPhone Unlock is an Apple ID removal that helps you in such scenarios. You can remove existing Apple ID easily.
This 100% safe, all-in-one tool to bypass the lock screen password or manage the Apple ID password if you lose it. Its fast and secure algorithms help you unlock your iPhone within minutes and perform the following tasks in simple steps.
Remove Screen Passcodes
Delete Apple ID Account Password
PassFab iPhone Unlock is the solution to your many questions like how to disconnect two phones or how to unlink two iPhones.
Here are the steps to follow to unlock your Apple ID without a password:
Step 1: Launch the software
Launch the PassFab iPhone Unlocker and open it with "Unlock Apple ID" mode.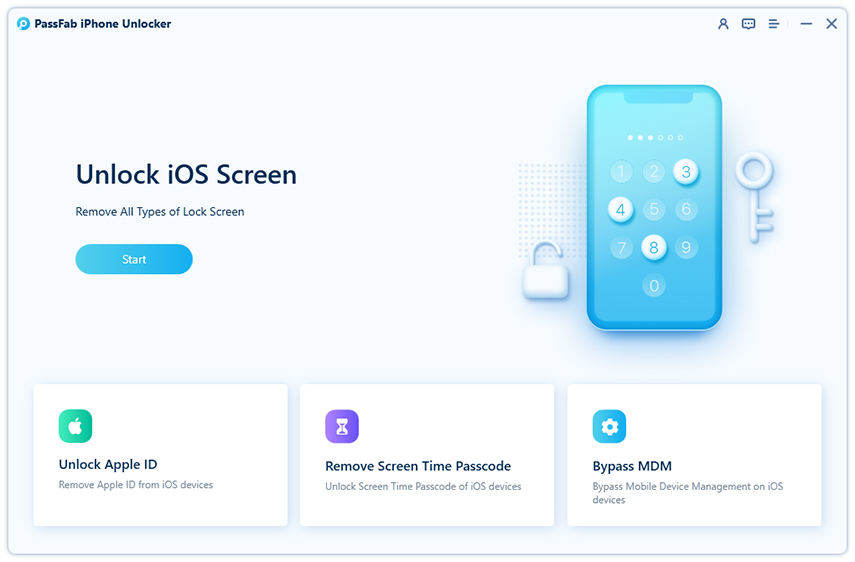 Step 2: Connect Your Device to the Computer
After launch, the software asks for your device.

Now, connect your iPhone via USB.

"Trust" verification comes when connecting for the first time. Now, Enter the password to trust the computer.
Step 3: Bypass Apple ID
Now click on the "Start Remove" button to unlink your account on your device.

Download the matching firmware through the web by tapping on the "click here" option. If you have it on your computer before, then click the "import local firmware" button. It gives access to another interface and imports it. Now click "Start Remove" which appears after the download.

Wait for a few moments for the successful removal of your Apple ID. 
Here is video guide for how to unlock two iPhones.
Part 3: Can I have Two Apple IDs for Two Phones?
The answer is yes, and you can have 2 apple ids for 2 phones. You can go for two apple IDs used for two different phones with one number. The syncing is the issue that occurs with having 2 phones with 2 apple ids. Mobiles with dual Sims can save you from syncing.
Part 4: FAQS about Unlinking Two iPhones
1. What happens if two phones have the same Apple ID?
Two or more phones with the same Apple ID means that both phones have each other's information. The phones will show synced information with apple ID. When two iPhones are linked to each other, your data that is synchronized in iCloud and iTunes, and your purchases on App Store can be shown and checked on the other device.
2.How do I stop my iPhone and iPad from syncing?
It's easy to stop the syncing on iPhone and iPad. On the phone, if you want to stop syncing go to settings. In the settings, go to iCloud and turn the syncing, with iCloud off. You can turn all data syncing off. 
3.How do I Separate two iPhones with the same Apple ID?
You can Unlink iPhones From Settings and using iCloud (it May Cause Data Loss) and iTunes
Go to Settings/[Apple ID name]/iCloud on one of the phones and turn off the switches for the content you want to keep. You will be asked if you want it removed; say no.
After that, sign out of your Apple ID (Settings/[Apple ID name] - Sign Out) and create a new Apple ID. If the Apple IDs for Messages, FaceTime, Music, and the App Store do not change immediately, update them to the new Apple ID. Then, toggle the switches to sync to the new iCloud ID/Apple ID.
4.Is there a way to sync data on two iPhones but with different Apple IDs?
Yes. You can use Family Sharing to synchronise information across many accounts. Turn on Family Sharing on Settings - Apple ID, and add the other account to your family group. Your issue is therefore resolved.
Conclusion
The article will direct you on how to unlink two iPhones with same apple id. There are many ways to do it, but each way is from a specific perspective. If you know the password settings is the best way. Go for iTunes if you know the id or iCloud if you don't care about data loss.
Further more, PassFab iPhone Unlocker is one of the most effective methods to help you in any condition. If you are not getting any solution for how to separate iphones then go for PassFab to unlink your iPhones without any hassle.