Are you an iOS developer eager to explore the new features and enhancements in iOS 17 Beta? Excitement builds as you download and install the beta version, only to find that the anticipated Developer Mode is nowhere to be found. Fret not, as this article delves into the mystery surrounding the absence of iOS 17 Beta's Developer Mode and provides you with valuable insights on how to enable it on your device!
Part 1: Oveview about Developer Mode?
1. What is ios Developer Mode?
Apple's Developer mode was introduced in iOS 16 to prevent users from accidentally installing the beta versions of iOS. After iOS 16, developers will need to turn on developer mode on their iPhone to debug and run apps, otherwise Xcode will display a warning. The beta versions are released for developers to test the software for bugs or errors before making it public.
Developer mode does not affect normal users installing apps from the App Store. It really affects scenarios where you need to build and run apps in Xcode, etc., and install .ipa files using Apple Configurator, which means "sideloading" apps from third-party app stores.
Some third-party app stores also require developer mode to work, which affects more users.
2. How to enable ios 17 beta Develop Mode?
To turn on developer mode, simply go to Settings > Privacy & Security on your device and turn on the "Developer Mode" switch.
Note:
After turn developer mode, settings will display an alert warning the user that Developer mode reduces the security of the device.
To continue to enable developer mode, you need to click the Restart button on the alert. This is also the only way for iphone developer mode setting without computer, support ios 16 lower version.
3. Why is my iOS 17 Beta iPhone not showing developer mode?
Enabling developer mode unveils additional settings and features that can pose security risks if misused or accessed by unauthorized individuals. For instance, options like USB debugging, if carelessly enabled, could enable someone with physical device access to bypass security measures or extract data.
In order to improve security of general ios users, it removed the toggle switch since ios 16.
Part 2: How to Fix iOS 17 Beta Developer Mode not Showing Up?
Now that you have know the risk of turn on ios develop mode, if you still want to enable it but found iOS 17 beta developer mode not working, you can try the following:
Method 1. Enable the Developer Option on iPhone with Xcode
The Xcode is a development environment for iPhone, iPad, and macOS apps. Enable the Developer Option on iPhone with Xcode is the most common way as well as the Apple official way. It may be time consuming but it do work. It requires a Mac book and a USB cable.
Step 1. Install Xcode on your Mac through App Store.
Step 2. Connect your iPhone to computer through cable.
Step 3. Open Settings on your iPhone and go to Privacy and Security settings.
Step 4. Go to Developer Mode and toggle the switch next to it.
Restart your device, and your iPhone will run in Developer Mode. Now, you know how to enable the developer option in iPhone.
Method 2: Use Sideloadly and iTunes
Sideloadly is an alternative to downloading and installing the IPA for your iPhone and iPad, and you can use it to get iOS 17 beta update.
Step 1: Download sideloadly & iTunes setup
Open browser and go to Sideloadly Official Site to download sideloadly accordingly.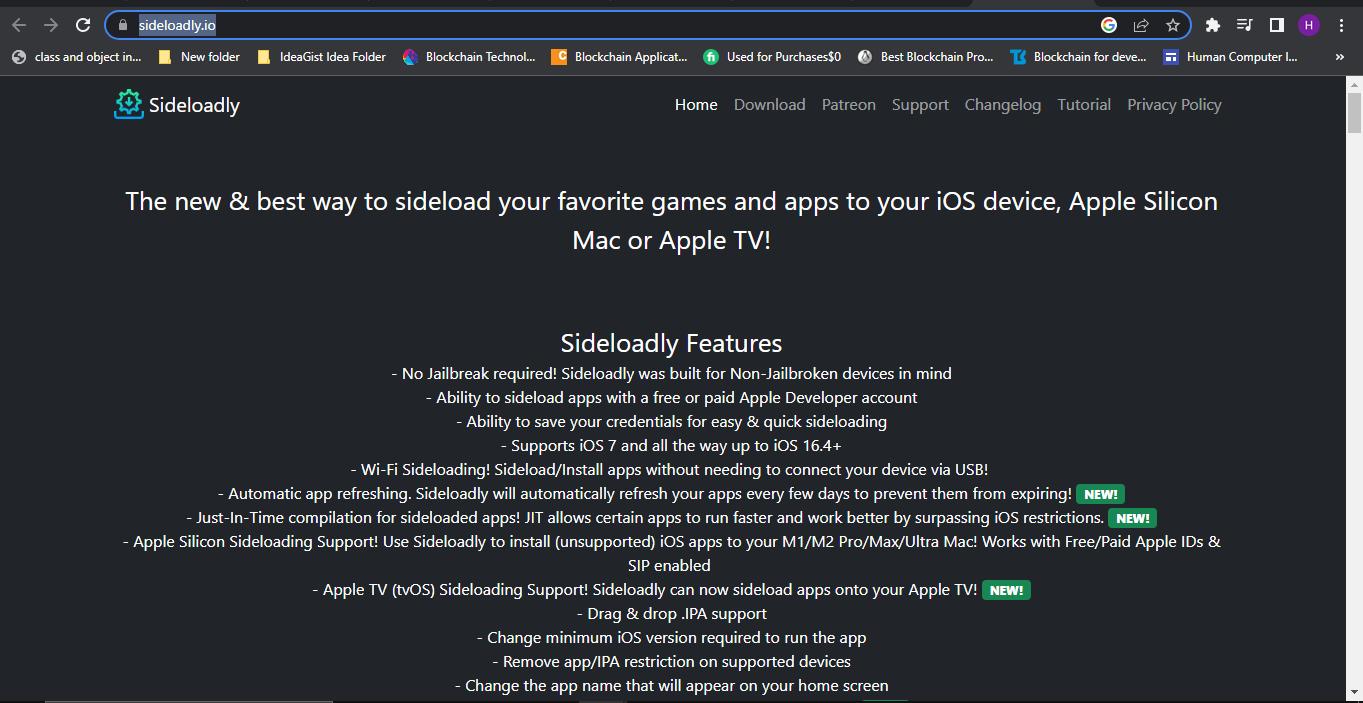 For Windows users, you may need another more steps to download itunes first by scrolling to the following section.

Step 2: Download Developer Mode Enabler IPA
The Developer Mode Enabler IPA is a configuration file you can manually download to enable the Developer Mode on your iPhone or iPad. You must have Sideloadly pre-installed on your system. We have discussed how to install sideloadly in last section.
Go to Supervisor.me website.
Click on Get and click Allow if asked for permission.
The Developer Mode IPA will start downloading. You can now use it to enable the developer mode in iOS 17 with the help of Sideloader.
Step 3: Setup Sideloadly on Mac (if you are Windows user, skip it)
Setting up Sideloadly on Mac requires some extra steps before using it to install Developer Mode IPA.
Open the Sideloader.
Click Yes on the following prompt.
Click Ok when seeing the following.
Enter your computer password.
Open Mail and click on the Mail menu at the top-left corner of the screen:
Go to Preferences.
Click Manage Plugins button.
Choose the Sideloadly plugin.
Click Allow Access button.
Click Apply and Restart Mail.
Step 4: Sideload Developer Mode iPA to your iDevice
Connect your iPhone to the computer using a data cable.
Now, drag the downloaded IPA into the sideloader.
Enter your Apple ID and password and click Start.
Step 5: Final setting to your iDevice
Wait for the Developer Mode IPA to be sideloaded. Once done, switch to your iPhone.
Go to Settings -> General -> VPN & Device Management.
Tap on the file under the Developer App section.
Tap on the Trust link.
After that, you will finally see Developer Mode on your setting, then switch it on as we discuss on Part 1. How to enable IOS 17 beta Develop Mode.
Bingo! You have successfully resolved iOS 17 developer mode not showing issue. This way is a little more complicated than using xcode. But it supports Windows version while xcode only support Mac OS users.
Method 3: Use Tenorshare iCareFone
This one is the most easy method. Tenorshare iCareFone offers a range of features to easily handle various data and settings on your device. It works for enabling ios 17 beta developer mode missing. The steps are simple.
Download it from the official website on your Mac or Windows.
Connect your device and click the edit button (pen icon) in the Quick Access section.
Add the developer mode tool and select "Open".
On your iPhone, navigate to Settings > Privacy & Security > Developer Mode and toggle it on.
The only disadvantage of Tenorshare iCareFone is that it is a paid software. But you still cannot deny it do reduce much time and effort compare with the previous two.
Extra Tips – How to Unlock iOS 17 Beta?
As iOS 17 beta can contain bugs and errors, you may end up with a locked iPhone. Want to know the best way to unlock it? Use PassFab iPhone Unlock Tool.
PassFab iPhone Unlock is a 100% safe, all-in-one tool to bypass the lock screen password or manage the Apple ID password if you lose it. Its fast and secure algorithms help you unlock your iPhone within minutes. Compatible with all iOS versions and devices, this amazing tool is highly user-friendly and can help you perform the following tasks in simple steps.
Remove Screen Passcodes
Delete Apple ID Account Password
Bypass Screen Time Passcode
Bypass Remote Management
Summary
The iOS 17 beta developer mode not showing is not a new problem, as it has also occurred in other iOS versions. In this article, we have described how to enable the developer option in iPhone. Besides this article also recommends using the PassFab iPhone Unlock tool to unlock your iPhone in case you lose your password.