It might seem eyou want to bypass Remote Management(MDM) on iPhone or iPad to get rid of school's or company's or other's supervision. Or you want to bypass MDM after reseeting iPhone but don't know the username and password. Because your iPhone/iPad has Remote Management or Mobile Device Management means that you don't have 100% control over your device. Indeed, an Administrator has access to your iPhone and could lock your iPhone and access your email accounts, passcodes, and much more.
The question pops up in your mind "how to bypass Remote Management on iPhone or iPad" to get full access to our device. In this article, we will discuss remote management iPhone/iPad and solutions in detail.
| Ways | Recommendation Index | Methods Evaluation |
| --- | --- | --- |
| Settings | ⭐⭐⭐ | You need to know the MDM configuration passcode to remove management on iPhone/iPad. If not, you can't remove remote management successfully. |
| PassFab iPhone Unlocker | ⭐⭐⭐⭐⭐ | [ Suport iOS 17] Bypass MDM within minutes without user name, password, and MDM configuration passcode 100% effective. |
Part 1: How to Remove Remote Management iPhone or iPad from Settings
At first, you have to confirm that does your device have Remote Management or MDM? For this, go into Settings > Generals > profiles or Device Management. You could see the option of profiles and device management. But if there is no option of any profile or something else. Then there's no Mobile Device Management on your iPhone.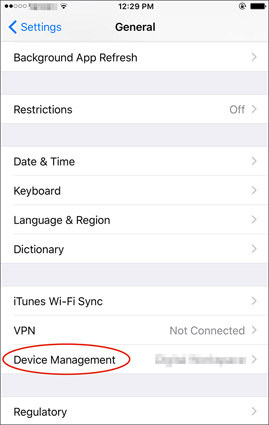 In contrast, if there's an option of any profile, then it's confirmed that your iPhone has MDM. Now the questions pop up like how could we do iPhone or iPad remote management bypass. So, let's move to the point.
Detailed steps of how to remove MDM on iPhone/iPad:
1. Go to Settings > General > Scroll down to find Device Management.
2. Tap on it and you'll see a MDM profile.
3. Click "Remove Management" and select it again to confirm.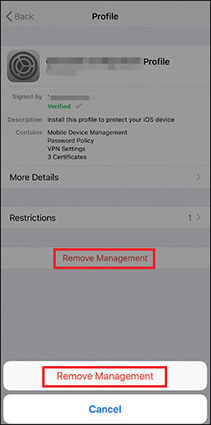 4. Now enter the MDM configuration passcode to delete the MDM profiles to remove remote management iPad/iPhone.
Note: Remove Remote Management iPad/iPhone means that you erase everything in your iPhone/iPad. Therefore, make sure you have a backup of your data before erasing it. It might take a few minutes. After this, again go into settings and check out.
If still the Profile option is available or the profile re-installed again, then it means your iPhone is enrolled in and installed through an Apple's Device Enrolment Program. Then there's no solution to remove the MDM profile.
Read Also: What Is Remote Management iPhone/iPad and How to Remove
Part 2: How to Bypass Remote Management iPhone or iPad with a Tool
If you don't know the MDM configuration password, then your best choice is PassFab iPhone Unlocker. It is a poweful software which can help you deal with remote management iPhone/iPad bypass quickly and effectively without the need of username and password.
Video Tutorial: How to Remove Remote Management from iPad and iPhone
Step 1: Launch your PassFab iPhone Unlocker
At first, you have to download and install PassFab iPhone Unlocker on your Mac IOS or Windows. After the installation process. Now launch your PassFab iPhone Unlocker, connect device to computer and select Bypass MDM to bypass Mobile Device Management.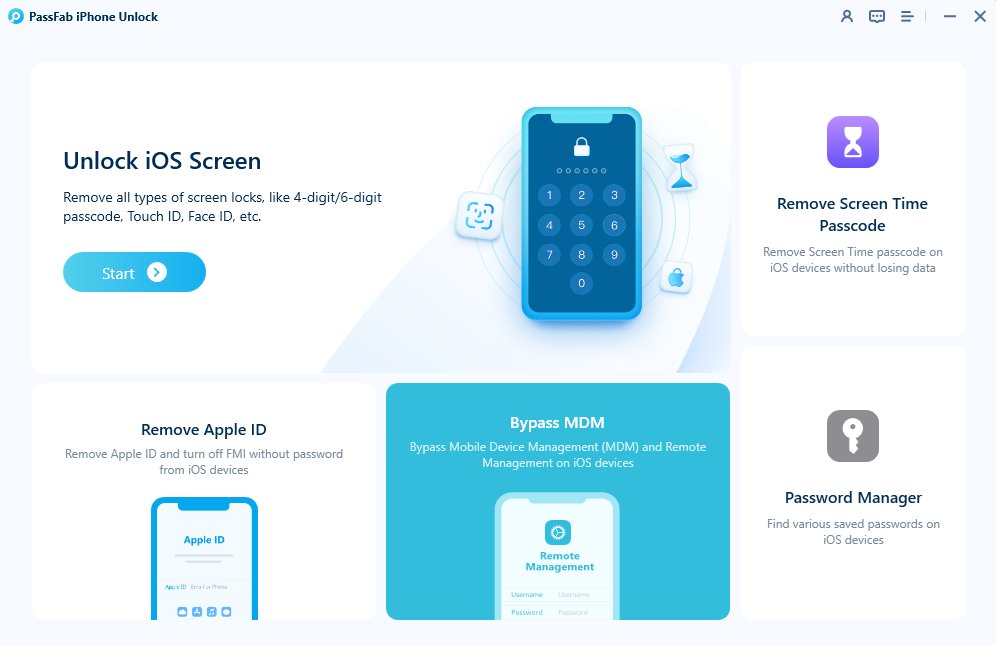 Step 2: Bypass Remote Management or MDM on iPhone or iPad
Now you have to click the "Start" button to begin the bypass process.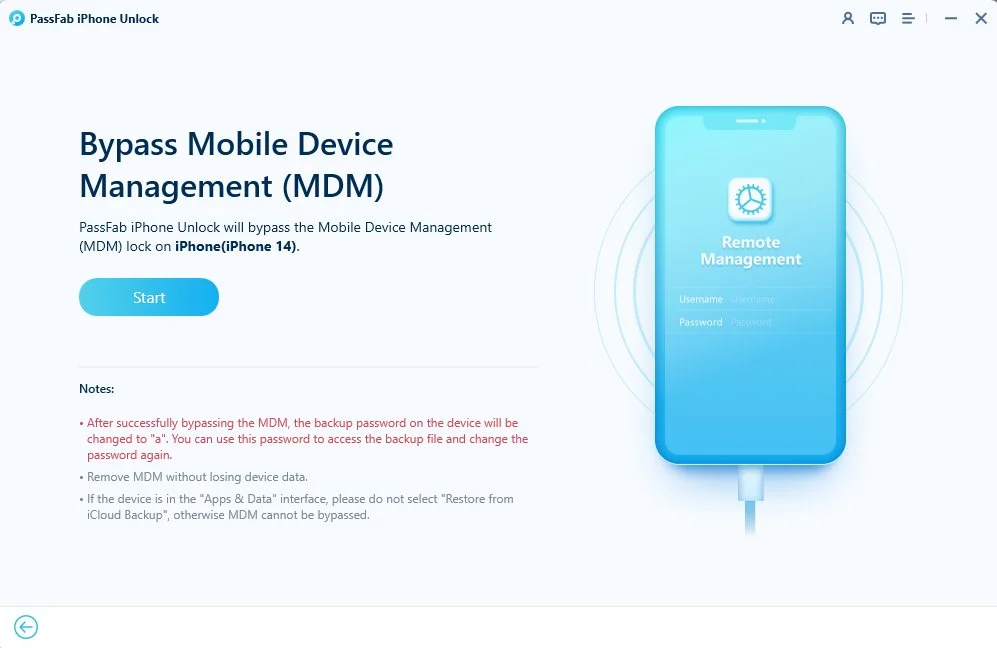 After a few moments, it would be done successfully. After bypassing MDM successfully, you can activate your iPhone and have full access to your device.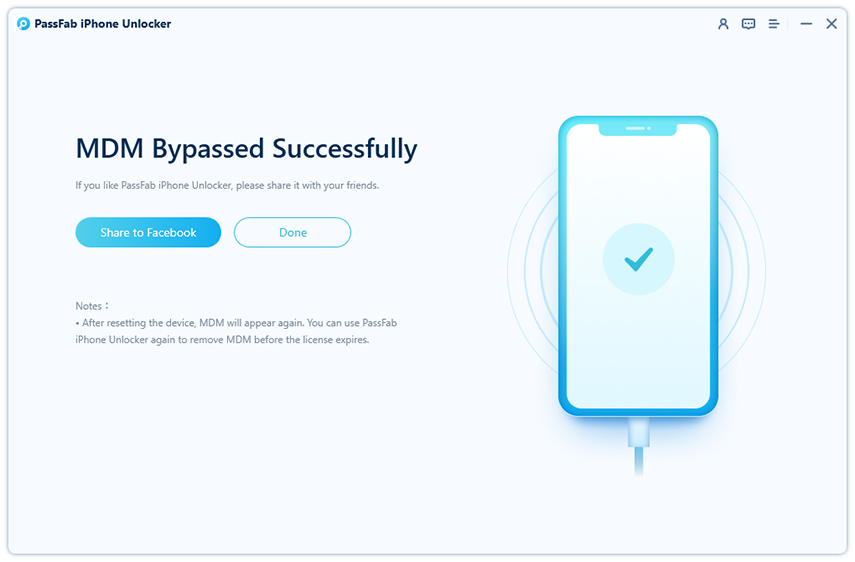 Part 3:Other Methods to Bypass Remote Management
There are also other methods discussed on the Internet when it comes to removing remote manegement on iPhone/iPad.
1. Bypass Remote Management iPhone for Free Using 3uTools
You can Bypass Remote Management on iPhone/iPad for Free by 3uTools.Additionally, it has the ability to flash and jailbreak the device.This approach requires a Windows PC, a USB cord, and an iPhone with an MDM lock. Note that it does not work with Mac computers.
Follow the directions when you begin using 3uTools:
Go to 3uTools and download the software on your PC. Launch the app after installing it.
Then access the "Activation Lock Screen" on your iPhone.
Connect your iOS device to your PC using the USB cable and wait for the software to recognize your device automatically, double click on the "File" and then click on "Continue."
Next, open the "ToolBox" menu and select "Skip Setup."
Scroll down and select "Skip Setup Assistant" option to bypass your iPhone MDM lock. If you want to know how to bypass MDM on an iPad, the process is the same.
2. Bypass Remote Management iPhone for Free Using Fiddler
Fiddler is a web debugging tool that can be used to bypass MDM on iPhone 11.x for free. The use of Fiddler is only applicable for iOS 11.x. If your iOS device runs on other versions, you should not try this option.
FAQs Related to Bypass/ Remove Remote Management or MDM
Q1: What is Remote Management (MDM Lock)?
Remote Management is a feature that limits your control over your iPhone/iPad. It is also known as MDM (Mobile Device Management). It enables administrators to access and control your device, allows administrators to remotely lock/unlock your device, and also manage your Wi-Fi, passwords, email accounts, apps, and other features on your iOS device.
Remote Management works effective for organizations and corporates. It allows them to manage every device they own and give to the employees. This ensures the safety of confidential files and information. However, Remote Management imposes a lot of limitations on the user. Additionally if people accidentally buy a second-hand iPhone or iPad with MDM profiles, they'll need to use MDM removal tools to bypass it.
Q2: Is it safe to have MDM profile on iPhone/iPad?
Actually, it's not safe to have MDM profile on iPhone because it brings many restrictions and limitations.
First, you cannot delete or install Apps if there is MDM profile on iPhone/iPad. Second, your device may not be able to connect to computer or another device. Third, it can restrict your personal informaion, the iCloud photos and messages may be influenced.
Q3: Where is device management in iPhone settings?
You can go to Settings > General > Device Management. But only if you have installed device management before, you could see it in "General". If not, you can't find it in "General".
Q4: How do I know if my iPhone has MDM?
However, to check MDM, go into your settings, and at the top of the menu, you could see the supervised message. Moreover, you can also check its profiles and features by going into Settings > General > profiles & Device Management.
Q5: How to set up remote management on a computer?
Start your PC and select Server Manager from the Windows taskbar.
Click Server Manager on the Start screen > Properties on the Local Servers page > hyperlinked value for the remote management property.
Tick off the box next to the Enable remote management of this server from other computers option.
Q6: How to Bypass MDM on Android Phones?
It is a little more difficult to get around Android MDM. You can either reset your phone or use third-party applications. The first method is to restore factory settings; if you are willing to erase all data and backup all important contents, you can reset your phone to completely delete MDM; the second method is to use Samsung MDM removal tool; if you are stuck on the Samsung MDM lock screen, you can use PLUK-GSM's MDM removal tool for free.
Conclusion
And it's compulsory to remove Remote Management or Mobile Device Management. For this, you have to contact the seller. In contrast, it could be done in a few minutes by PassFab iPhone Unlocker. At first, make a connection successfully and run the Bypass Process to bypass Remote Management iPad or iPhone.