Imagine trying to create a new Apple, but instead, getting the error message "Cannot create Apple ID." It is extremely frustrating as you need Apple ID to start installing the apps from the App Store.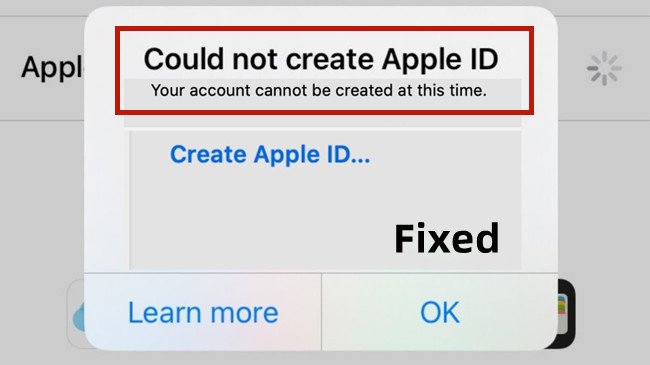 This problem is quite common among iPhone users and it can occur out of nowhere. But the good news is you can resolve the Apple ID could not create account issue without any tech-savvy procedure.
Without any further ado, let's learn why you're unable to create an Apple ID and how to get it fixed.
Part 1. Why is it Saying Could not Create Account when Trying to Make my Apple ID?
It's difficult to pinpoint the exact reasons why you're facing the Apple ID could not create account issue. But in most cases, the below factors are the major culprits:
1.Too Many Attempts
Apple has a built-in mechanism that detects if someone is deliberately creating too many Apple IDs using iCloud. This is considered an unormal action and Apple might bar you from making a new ID.
So, if you're getting the Apple ID your account cannot be created at this time error message, you may have exceeded the allowed number of Apple IDs a user can set up on a single device in a year.
2.Server Error
There might be an issue at the backend of Apple servers that has temporarily stopped you making the Apple ID. It shouldn't come as a surprise that Apple servers are often down.
All you need to do is head to Apple System Status and check if the relevant servers are working properly or not. If iCloud servers are down, wait until Apple fixes the issue and you'll be able to create the Apple ID.
3. Bug in Software
Minor bugs or glitches in your iPhone's system is probably the most obvious reason for not being able to create an Apple ID. A simple restart can fix this problem.
4. No Active Internet
Creating an Apple ID is possible when you have a stable internet connection. Make sure your Wi-Fi is working fine if you could not create account Apple ID.
The next section is going to outline several proven ways to help you create an Apple ID.
Part 2. How to fix "your account cannot be created at this time Apple ID" error?
Implement the below solutions to overcome the problem.
Way 1. Fix "Could not Create Account Apple ID " from Settings
1. Use Another Device
As mentioned earlier, Apple has put a limit on the number of IDs user can create per year on a single device. So, if you can recall setting up several Apple IDs before on the same iPhone or iPad, try using another iOS device to create the new ID.
Even if you don't have another iPhone or iPad, borrow it from friend, create a new ID, and sign out from that device. Now, you can login with the new ID on your own iPhone and start using it.
2. Create Apple ID Under a Stable Network
Having a consistent internet connection is a must when setting up a new Apple ID. Any network disruption can cause the Apple ID could not create account unknown error.
One simple way is to create your new Apple ID from the web browser. This makes sure any disruptions in your Wi-Fi connection get noticed easily. Also, it is easier to follow the on-screen instructions for setting up an Apple ID on your web browser.
Way 2. Update iOS to Solve Cannot Set up New Apple ID on iPhone/iPad
Not updating iOS on your iPhone can lead to a myriad of issues and that might include Apple ID could not create account. It's always suggested to install the new iOS updates when available.
More importantly, Apple also provides fixes to many underlying problems with each iOS update. So, the next thing you should do is update the iOS on your iPhone.
To do that:
Go to Settings > General > Software Update.
If new updates are available, tap Download & Install and wait until the process is finished.
Way 3. Restart Your iPhone/iPad
It may occur that a temporary glitch in the iPhone's system is hindering the creation of new Apple ID. In order to fix "your account cannot be created at this time Apple ID" error, try force restarting the device.
This is the quickest way to get rid of the system bugs in your iPhone that can cause issues of every sort. The procedure is slightly different for different iPhone models.
Here's how to force restart your iPhone:
For iPhone 8 or later
Press and quickly release the Volume Up button and repeat the same for the Volume Down button.
Then, press and hold the Side button until the Apple logo shows on the screen.
For iPhone 7/7 Plus
Press and hold both the Sleep/Wake and Volume Down buttons.
Release them when the Apple logo appears.
For iPhone 6/6s/SE 1
Press and hold the Sleep/Wake button and the Home button until the Apple logo appears.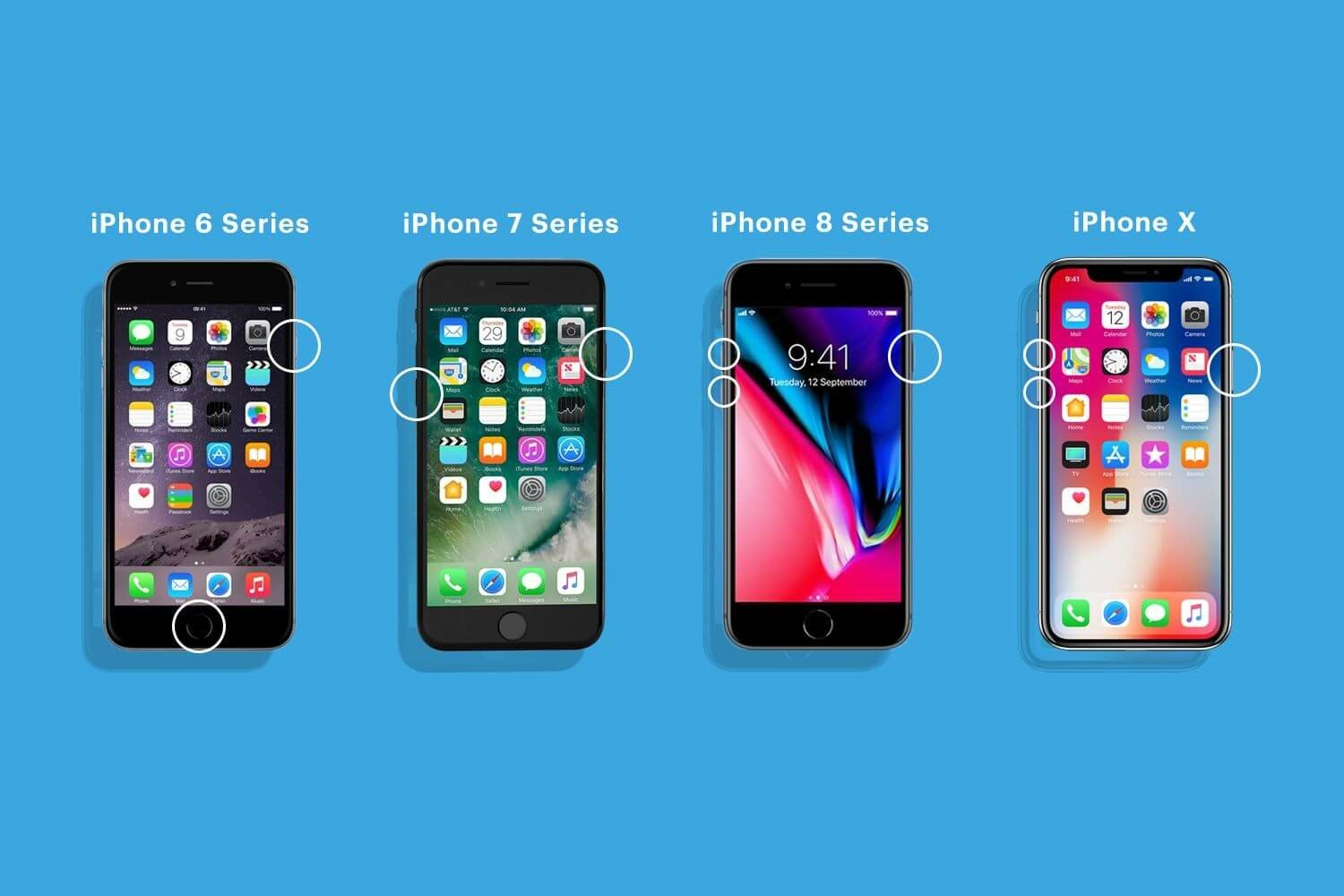 Way 4. Create Apple ID Online
Most Apple users tend to create a new Apple ID from iCloud or the App Store. But if for some reason, you are facing the Apple ID could not create account error on the device, you can still try to create it on a web browser.
The procedure for creating the Apple ID online is almost the same to that of setting it up on your iPhone/iPad. Just make sure you have a stable connection, and then follow the below steps:
Head to appleid.apple.com on your web browser.
Click on Create Your Apple ID at the top-right corner.
Then, follow the subsequent online instructions to complete the process. You will be asked to enter your full name, date of birth, an email address or phone number.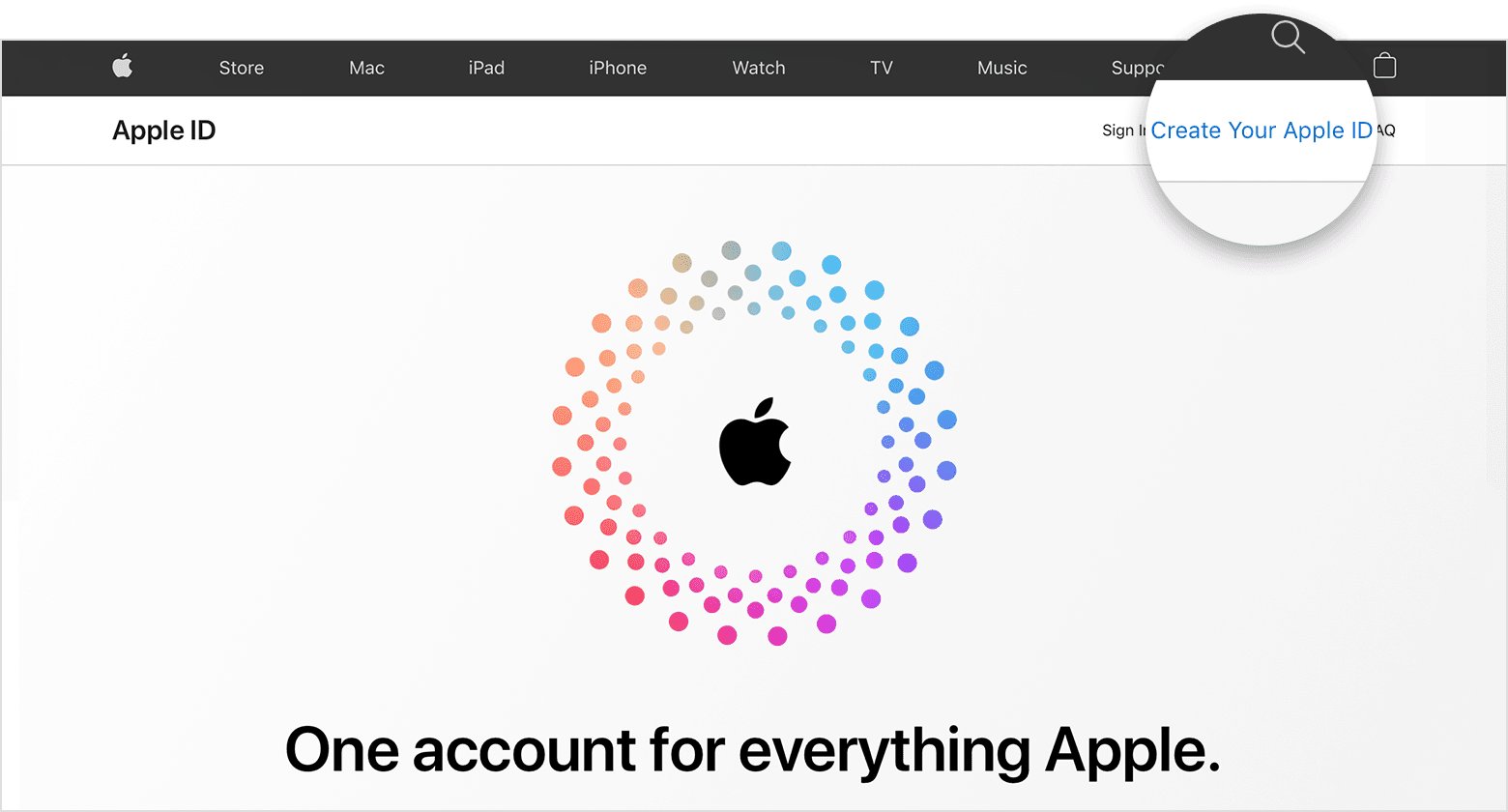 Part 3. How to Remove Apple ID Account without Password?
Syncing your iPhone with an Apple ID brings many advantages. But the biggest downside occurs when you forget the Apple ID password and couldn't sign in to your iCloud or Message – or worse, gets stuck on the Apple activation lock screen.
In any case, removing the Apple ID account is the only way forward and that's where PassFab iPhone Unlocker comes into play. It is a one-stop solution to get rid of your Apple ID without password on any iPhone or iPad.
What's best is it doesn't need you to jailbreak the device for bypassing the Apple ID. Its other features arm you to remove screen passcode, MDM restrictions, and Screen Time without any hassles.
To keep the ball rolling, follow the below instructions to remove your Apple ID:
Launch PassFab iPhone Unlock

Just open this software and choose "Unlock Apple ID" mode.

Connect Your Device to Computer

Now you have to connect your iPhone or iPad to the computer that has PassFab iPhone Unlock installed.

Remove Apple ID

After successful connection, click "Start Remove" button to unlock your iCloud account which is related with your iPhone or iPad.

Appple ID Remove Successfully

Now you can sign in with new iCloud Activation Lock and enjoy all the features.
Final Words
And that's how you troubleshoot the could not create account Apple ID error. So, the next time you're unable to setup a new Apple ID, be sure to implement the above mentioned tips.
And if you're ever forget the Apple ID credentials and want to remove it without password, take assistance from PassFab iPhone Unlocker. This versatile program offers a click-through procedure to get rid of the Apple ID without jailbreaking your phone.