You might have faced this situation when your iPhone screen completely turns blue after dropping. This happens when your iDevice becomes non-responsive or starts to lag. Having abnormal apps in the phone or malware attacks may also be the cause of it. But there are many ways to fix the iPhone blue screen issue.
But firstly, let's see why blue iPhone screen appears sometimes.
Part 1:Why did my iPhone Screen Turn Blue?
Understanding the reasons why your iPhone screen turns blue really helps to resolve the issue. One of the possible causes of it is the hardware problem. You might have dropped the phone accidentally or it got soaked in water. Because of these, the hardware problem arrives and phone becomes irresponsive.
Update failures may also lead to this issue of blue iPhone screen. This happens when you try to install an update but the internet connection doesn't let you do it. Such interrupted or failed updates cause the iPhone screen to turn blue.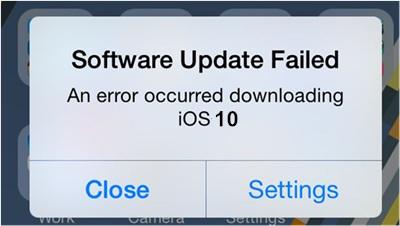 Part 2:4 Methods to fix iPhone Blue Screen Issue
Here are some of the methods to get rid of blue iPhone screen.
Method 1: Force Restart your iPhone
Having a blue screen means your iPhone isn't responding to any of the inputs given to it. If you restart your phone under such circumstances, this will save your data and will let the phone perform better again. But the procedure to force restart is different for different versions.
For iPhone X, 11 & 12
Press & hold the "Volume Button" and "Power Button". You will see "Slide to Power Off" appearing on the screen.
Drag it for turning your iPhone off.
Once it is turned off, press & hold "Volume Button" and "Power Button" again. Release the finger after seeing the Apple Logo. Your phone has restarted.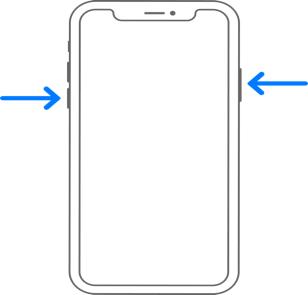 For iPhone 8 or earlier
Press & hold the "Power Button". You will see "Slide to Power Off" appearing on the screen.
Drag it for turning your iPhone off.
Once it is turned off, press & hold "Power Button" again. Release the finger after seeing the Apple Logo.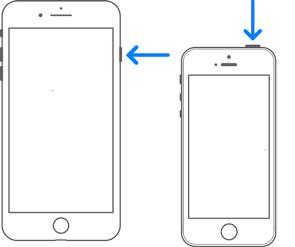 This method may help you get rid of iPhone blue screen. But if this doesn't work, there is a problem with your device which you need to resolve by putting it in DFU mode.
Method 2: Restore iPhone in DFU Mode
Putting the device in DFU mode is a good solution for blue iPhone screen. But the drawback of this method is that you will lose all your data. Here is how you can restore your device in DFU mode:
Start by holding the "Power Button" on your phone.
After that, hold the "Power Button" and "Home Button" simultaneously. Release the power button at the same time.
You will see "Connect to iTunes" option. Click on it.
Once you have launched iTunes, choose your device in "Summary" tab. After that, tap on "Restore" button.

In these easy steps, you will restore the iPhone in DFU (Device Firmware Update) mode.
Method 3: Update your iOS to latest Version
Having an older iOS version in iPhone may also lead to blue screen issue. The reason is that there is a greater chance for bugs to attack on an older version. So, updating your iOS system from time to time is really important.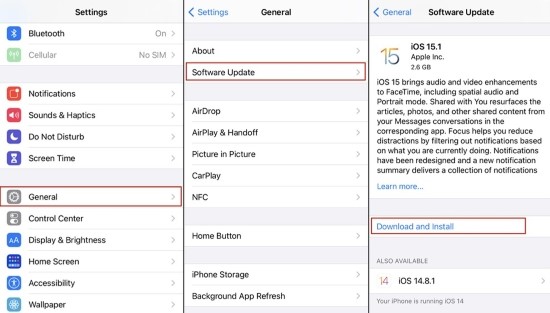 Here are the steps to update your iOS system:
Connect your device to Wi-Fi or any other strong internet connection.

Click on "Settings" and then on "General".

After that, click on "Software Update" option.

See if there are any updates available. If yes, click on "Install Update".

Enter the password and wait for some time to complete the process.
So, that is how you can get rid of blue iPhone screen issue. Updating your device regularly is really important, particularly if you are using an older version.
Method 4: Delete and Update Abnormal Apps
No app is abnormal, but an unwanted software issue may cause it to become abnormal. So, it is better to delete the app and then reinstall the latest version of it. Here are the steps to do it:
Find the app first that is making the screen turn blue.
Tap and hold it until you see the menu.
Click on "Remove App" and then on "Delete App".
For reinstalling it, go to App store and install the same app again.
These steps will let you know why your iPhone screen turned blue and what you can do to avoid it. Just keep checking the apps that are causing your phone to become slow. Update them from time to time and if that doesn't work, delete and then install them.
Extra Tips: How to Fix iPhone Unavailable Screen?
If you don't know how to fix iPhone unavailable screen, you can just use softwares to do it. One such software that will let you do it is PassFab iPhone Unlocker. Below are some of its features:
It can unlock an iPhone/iPad that is disabled or locked.
It doesn't require the Apple ID/password to factory reset your device.
You can remove your Apple ID without verification or password.
A broken iPhone screen won't let you enter the password, but PassFab iPhone Unlocker will help you unlock that also.
You need to enter a password whenever you need to turn your iPhone on. But if you have forgotten it, you can use PassFab iPhone Unlocker for unlocking it in the following way:
You'll notice a few features on the main page. Just click on "Start" and move forward.

Connect your iDevice to your PC that has PassFab iPhone Unlocker and then click on "Next".

Download and Save Firmware Package

Once downloaded it, click on "Start Remove" button for removing the password. This will let you open the iPhone without any password.
That's how in these simple steps, you can ensure that you have unlocked your iPhone.