If you have tried multiple attempts to unlock your iPhone with a wrong passcode, a message will appear 'iPhone 6 disabled'. This happens for security purposes. If you are wondering how to reset iPhone 6 after typing wrong passcode too many times, then this article is for you.
In this article, we have mentioned 3 practicable ways through which your disabled iPhone 6 can be fixed. Keep reading to find out more!
Part 1: Why is Your iPhone 6 Being Disabled?
A disabled phone means no chance of getting access to it until and unless you unlock it. And in order to do that, you need to follow some instructions. Before heading towards learning how to reset disabled iPhone 6, let's talk about why it gets to this stage and for how much time.
Your iPhone 6 can become disabled if you try six consecutive unsuccessful passcode attempts. After the sixth attempt, your iPhone will be disabled for one whole minute. When you get to the seventh attempt and enter the wrong passcode again, you will be locked out for another five minutes. This way, if you try unlocking the iPhone for ten times with wrong passcode, you will be locked out for sixty minutes. Lastly, if you are still going to add a wrong passcode, then your iPhone 6 will be officially disabled completely.
Part 2: How to Factory Reset iPhone 6 without Password When It's Disabled
It is an obvious fact that phones are one of the most essential facets in everyone's lives. If you have a disabled iPhone 6, it clearly means you cannot use your phone. This can surely leave a bitter feeling with you. But now is the time to stop worrying because we are here to help you out.
Here, we are going to guide you how to reset an iPhone 6 when disabled with not only one but 3 different methods. You can do this with by using PassFab iPhone Unlocker, recovery mode or iCloud. Try out all these methods and see what works best for you.
| Methods | Use Requirements | Suggestions |
| --- | --- | --- |
| PassFab iPhone Unlocker | Only a computer; no password needed. | Recommended to use:Simple operation, save time and money, safe and secure. |
| Recovery Mode | A computer; no hardware problem on iPhone. | Not recommended: Not sure if the iPhone has a hardware problem, it will get stuck on the recovery mode page. |
| iCloud | Find My is enabled; Apple ID and password is known; location is turned on. | If you remember the Apple ID password and meet other conditions, it is recommended to use. |
Method 1: Reset Disabled iPhone 6 Using PassFab iPhone Unlocker
Whenever any kind of iOS issue comes to place, our number one suggestion is always PassFab iPhone Unlocker. There are obvious reasons as to why this is the best suitable method available for you. The first reason is that it is one of the most professional tools and has simple and easy guidelines to follow and 100% solve your problem.
Some other softwares require their users to know some basic tech understanding or knowledge before using their tool. But the fact that PassFab iPhone Unlocker is super user friendly makes it possible for any beginner to use it effectively as well.
Here are the detailed steps on how to reset an iPhone 6 with PassFab iPhone Unlocker:
Step 1. Launch PassFab iPhone Unlocker on your PC/Mac. From the main interface, click "Start".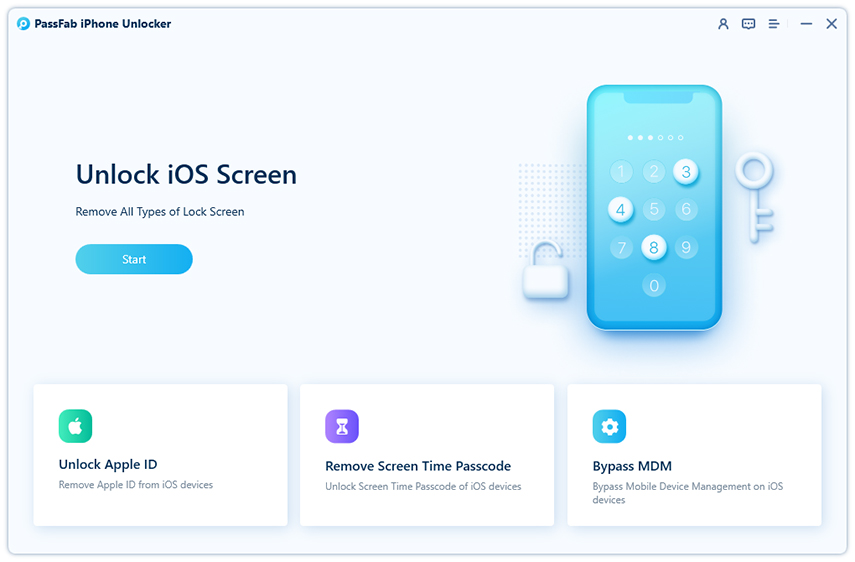 Step 2. Connect your iPhone 6 to the computer system and click on "Next".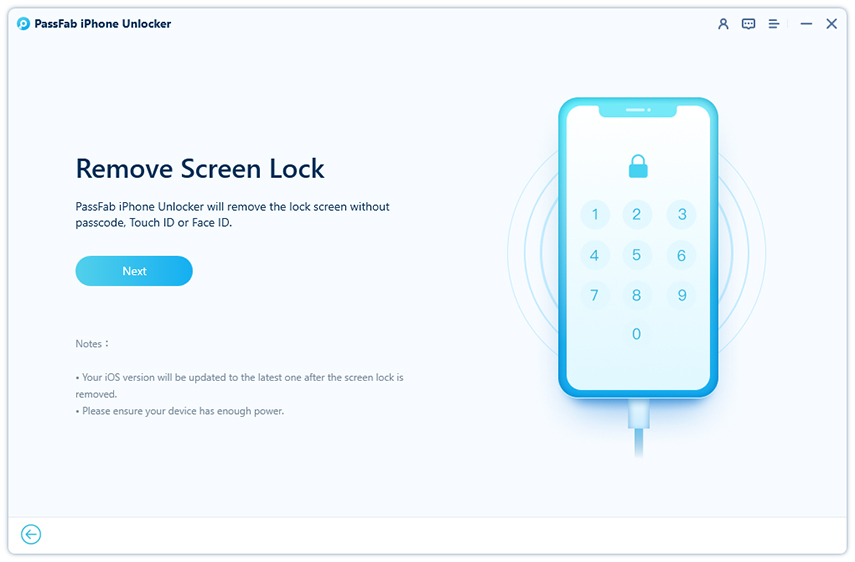 Step 3. Choose your selected path to save the Firmware Package and select "Download". The firmware package will begin to download.
Step 4. When the download is finished, click on "Start Remove" so that the passcode can be removed.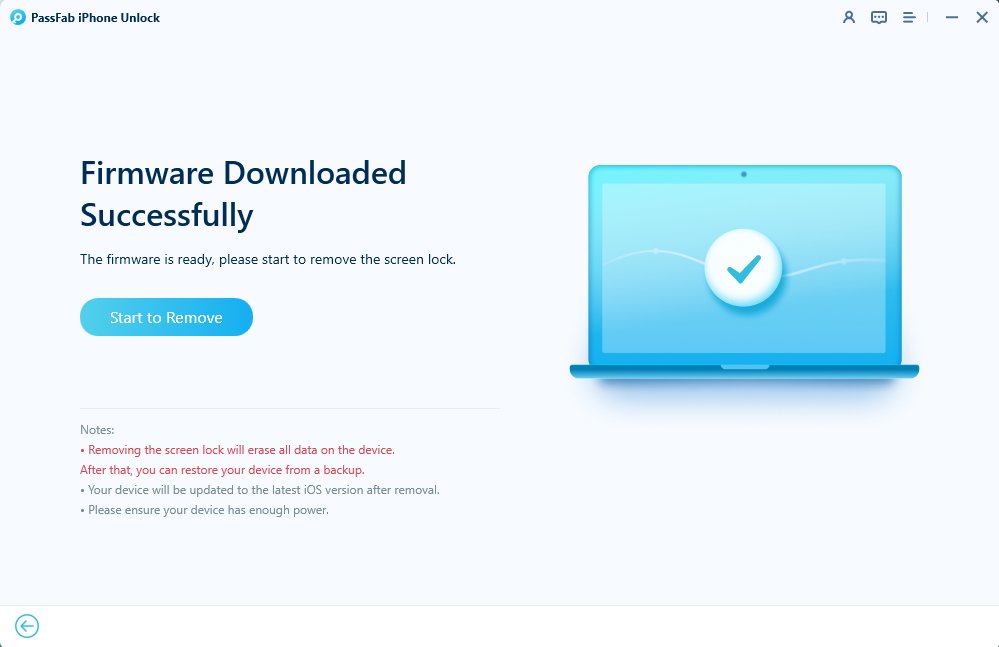 Congrats! Your phone is unlocked now and you can use it without having to enter a passcode.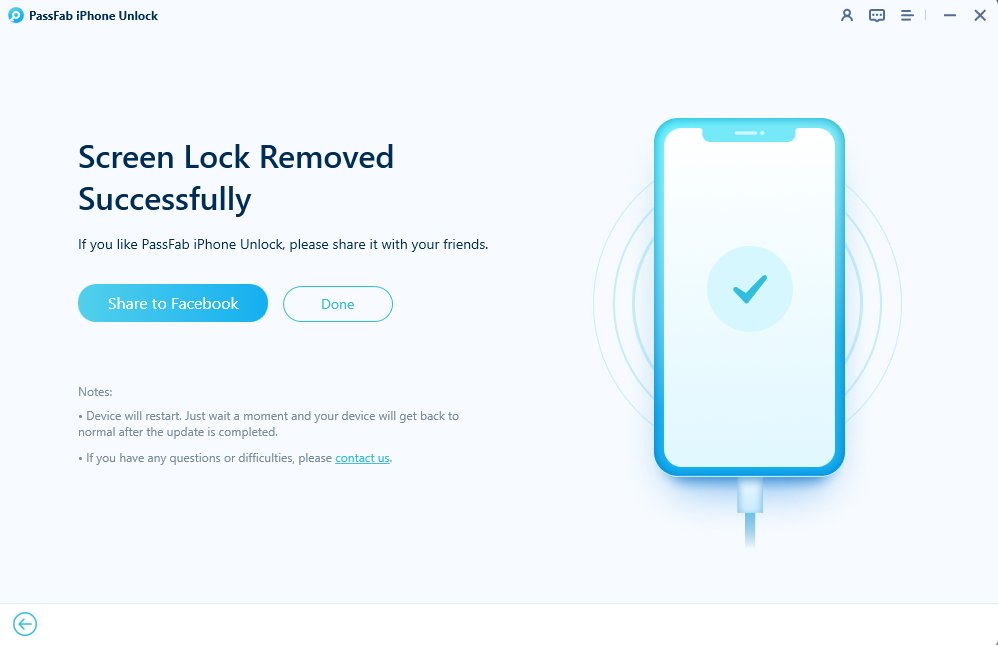 Method 2: Reset Disabled iPhone 6 in Recovery Mode
It's possibility that you may don't have a computer. For this, you have another option and that is to reset it from Recovery Mode. Here, we have presented the guidelines in a detailed account regarding how to reset a disabled iPhone 6 in Recovery Mode. All you have to do is to simply follow the following steps to fix the issue:
Launch iTunes on your computer system.

Now, you need to put your disabled iPhone 6 into recovery mode.

Press the Side button until you see the Power Off slider.

Drag it to turn off iPhone.

Then connect the device to computer by holding the Home button.

Later, keep holding the Home button to enter recovery mode.

A dialogue box will appear in front of you asking you to restore your device.

Click on "Restore" button to restore your iPhone.

If you have multiple backups on your PC, select the most recent one.

That's all, you can now use your beloved iPhone 6 without any passcode.
Method 3: Reset Disabled iPhone 6 with iCloud
If you have tried the above methods and still things did not seem to work out that well for you, then you need to reset a disabled iPhone 6 with the help of iCloud. Make sure you go through all the following steps carefully, [Find My] is enabled on your iPhone 6, you know the Apple ID and password connected to the iPhone 6 before fixing it with iCloud:
Open iCloud page from any browser on any computer system.
Log in with your personal Apple ID and password and choose "Find iPhone".

Locate your device in the list of all devices.

Now, click on "erase iPhone" and confirm it by clicking on "Erase".

Re-enter your Apple ID and Password again for authentication.

Once all the data is erased on your device, it will be as good as new.
Restart your device. This will bring you to the setup screen.
Click on 'Set up your device'. This will start the reconfiguration of your device.
Finally, select 'Restore from iCloud Backup'. Choose the most recent backup and your device will be restored.
Part 3. FAQs About Disabled iPhone 6
Q1: What does iPhone Disabled mean?
An iPhone can be disabled if you don't remember the passcode and enter a wrong passcode multiple times. A disabled iPhone means you cannot get access to its content and are completely locked out of it.
Q2: How do you unlock a disabled iPhone 6?
There are many ways to go about it. You can choose to reset it from PassFab iPhone Unlocker, with the help of iCloud, or with Recovery Mode.
Q3: Can you unlock a disabled iPhone without a computer?
Surely, there are some methods that can help you in unlocking a disabled iPhone without a computer. You can easily do this with the help of Find My app to erase this device on another iPhone.
Summary
I hope this article was of some benefit to you. A disabled iPhone 6 can surely be a headache but once you understand how to reset iPhone 6 without password when it is disabled, things will surely get easier for you. We have given you a detailed guideline with all the step-by-step instructions you have to follow. Make sure you try them all out! Also, don't forget to check out PassFab iPhone Unlocker if you are locked out of your iOS device because it can unlock ANY version of iPhone without ANY password. With that note, I'd like to wish you good luck!