When your iPhone is disabled connected to iTunes, you'd love to find the steps to unlock your iPhone with iTunes. And when you realize your iPhone is locked and you don't know your password, you may wonder if it can be accessed, and you may be concerned whether you are able to use it without the password. Don't worry, it's all fixable. In the following post, we'll go through different methods including, the detailed guide with pictures to show you how to unlock iPhone with iTunes to help you open your iPhone quickly.
Part 1: [Step-by-Step] How to Unlock iPhone with iTunes Official Way
Many People may want to know how to unlock iPhone passcode with iTunes because it is an effective and common way. Before unlocking your iPhone with this way, you should put your phone in recovery mode. Besides, you can restore your data with the iTunes backup using this way. But if you don't backup your data before, you will encounter data loss and need to reset your iPhone. Here are the detailed steps.
First, download the latest version of iTunes and open it on your computer.

Press "Summary" and then click "Restore iPhone".

Click on "Restore" again to affirm.

After this, you data will lose because your iPhone was reset to factory settings.
Now, you can set your phone again. You can also recover your previous data if you backup before.
Part 2: Failed to Unlock iPhone with iTunes? Try PassFab iPhone Unlocker.
If you can't restore device by iTunes or that way is not suitable for you now, then you can use PassFab iPhone Unlocker to unlock iPhone without iTunes. It is a type of software specially designed for unlocking iPhone. You can use it to unlock a variety of passwords, including Touch ID/Face ID, Numeric/Alphanumeric code. Specific operation guide are as follows:
First, download and install PassFab iPhone Unlocker on your computer.

To use this software, go to the interface and choose "Unlock Lock Screen Passcode."

Connect your iPhone to your laptop or computer via USB, then press the "Start" button, and you will see a new interface.

Click "Download" and choose a location to save it.

After downloading, to remove the passcode, hit the "Start Unlock" button.

Then your iPhone will be unlocked. Now click "Done" and enter your iPhone.
Part 3: 2 Ways to Unlock iPhone without iTunes
There also exist a number of options to open a disabled iPhone without using iTunes. So if you don't want to unlock iPhone with iTunes official and don't want to download software, just be relaxed, you can try the following two ways to unlock iPhone passcode without using iTunes.
Way 1: Unlock iPhone Passcode via Find My Phone
The first way you can use to unlock your iPhone without iTunes is use Find My Phone. Find My Phone is not only can be used to locate and find your device, it is also useful to unlock iPhone. You can follow the following steps to try.
Step 1: Type "Find My Phone" into your browser and go to the website.
Step 2: Pick the locked iPhone from the "All Devices" menu and press "Erase iPhone".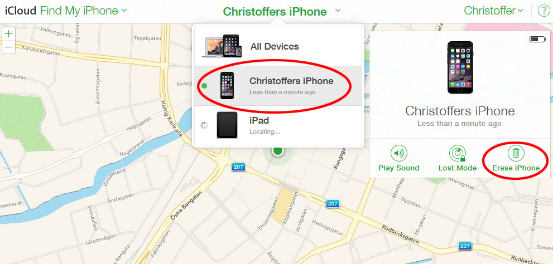 Step 3: Click "Erase" to continue your operation.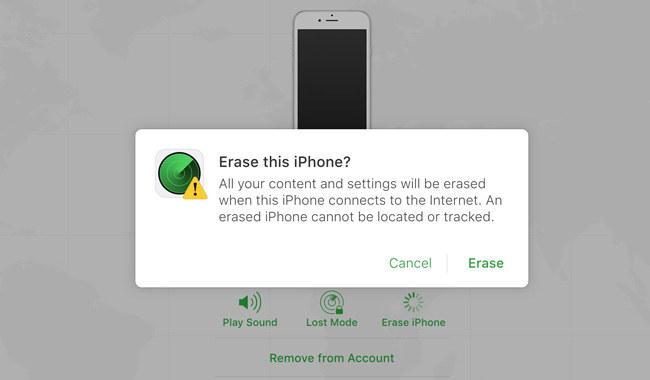 Step 4: Follow the on-screen instructions to recover your iPhone.
Keep in mind that you must first enter your Apple ID passcode before using Find My Phone to open your locked iPhone. If you lose your password, you won't be able to get into your iPhone.
Way 2: Seek Help from Siri to Unlock Locked iPhone
This is another way you don't need to unlock iPhone with iTunes. But method is only compatible with iOS 10 and iOS 11 devices. And the success rate is not high. If you want to try this way to unlock your locked iPhone, you can follow the instructions below.
Hold down the Home button to awaken Siri.

Say "Hey Siri, What time is it?" to Siri and then press the "Clock" button, later you can see the world clock on your iPhone.

Now click the "+" sign to add a new clock.
In the search bar, enter some random terms, select them and then press "Share."

When a reply appears, select "Message" to access the message.

Press "To" and then paste the text you already copied, and later you can enter your iPhone without password.
Extra Tips: Which Way Should You Select to Unlock Your iPhone?
There are several ways to unlock a locked iPhone, however, some methods are limited, and it doesn't work for some systems. In this situation, how to choose the right way to unlock the iPhone? Don't worry, you can look at the table below for comparison and select the most suitable method for unlocking your iPhone.
| Unlock Method | iPhone Models Compatibility |
| --- | --- |
| PassFab for iPhone | All iPhone models including the latest iOS versions, no Apple ID and password required |
| iTunes | Almost all iOS systems, but should login Apple ID |
| Find My Phone | Works with almost every iPhone model, need Apple ID and password |
| Use Siri | Works with iOS 10 and iOS 11 devices |
Summary
This article is a great place for people who get their iPhone locked and comes up with questions like how to unlock iPhone with iTunes. However, we have not discussed only the iTunes method, we have discussed other methods as well. The most effective method to unlock your iPhone is by using PassFab iPhone unlocker. It is a specially unlocked software, and you can also use it factory reset iPhone without passcode and bypass Apple ID. I highly recommend you this software if you want to unlock your iPhone quickly.