So, now, you might be confused which ISO burner tools do you need for your Windows 10. Right? To make sure you have a variety of choices to choose from, we have mentioned not one but many iso burners for windows 10 that we believe will help you in the best way possible. This article introduces you to 6 unique ISO burners. Furthermore, we are going to share the detailed instruction to burn ISO files on your USB using the best free ISO burner for Windows 10 and prior versions. To find out more, continue reading!
Part 1: Top 6 ISO Burners for Windows 10
Imagine it is movie night with your family and the movie you want to watch is in an ISO format. You need to burn it into DVD format so that it can be viewed. Wondering how do you do that? Don't worry, we have got you all covered. There are a number of software that can help you burn ISO files. This list provides you with the best free iso burners to use for Windows 10! So, let's talk about them!
#1: PassFab for ISO
Are you stressing over how to burn ISO files? Leave it all to PassFab for ISO! The first ISO burner software I would highly recommend you is surely PassFab for ISO! It has a variety of features that are totally free to use. By using it, you can burn ISO files onto a disk or a USB very effectively. It makes sure your work is done perfectly without any errors!
Pros:
PassFab for ISO is extremely easy to use and user friendly.
You can burn ISO to CD/DVD or USB drives.
It supports 2 partition types: GPT and MBR
You can directly download preferred ISO images from this software
Cons:
It's not free.
You will lose all the data that is previously stored on the device. But there isn't a single free software that won't format your storage device before making it bootable.
Besides this, this software is probably the best option available and is our top pick! Follow these simple steps to burn your ISO image without any hassle:
01

Download and install the program on any computer system. Then launch the program.

02

You can choose Import Local ISO if you have already downloaded ISO files, or you can click Download System ISO to download the ISO you want.

03

Now insert your USB or CD/DVD into your computer, and choose the inserted device. Click Burn and the program will start burning.

04

You'll be notified after burning successfully.
You can also watch this video tutorial about how to burn ISO to USB in Windows 10:
Voila! You have successfully burnt ISO to CD/DVD/USB drive.
#2: Rufus
Another way to burn ISO files is to use Rufus. It is a free ISO burner for Windows 10. It is a famous and widely used tool for the preparation of bootable Windows USB drives. Basically, it is an expert with USB installation media. So, if you want to create USB drives from ISO files the easy way, you know where to go!
Pros:
It is a free of cost software and fast while using.
It has a simple and easy to use interface.
Despite having a small size, it is very effective and has fast processing options.
Cons:
The steps to burn ISO files through Rufus are extremely complicated.
Due to complicated steps, it becomes time consuming.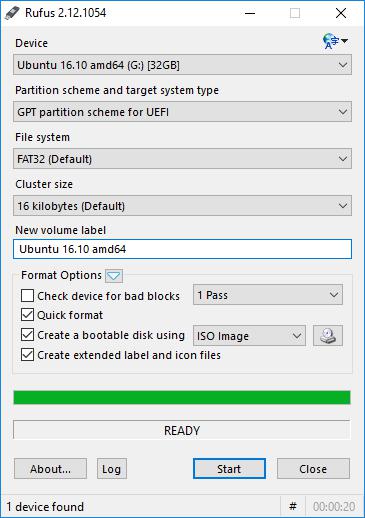 #3: PowerISO
Power ISO is another free ISO burner for Windows 10. It is no doubt a powerful tool that allows the users to open, extract, encrypt and burn ISO files. It is basically a package that not only works as an ISO burner but contains other features as well. If you are looking for an all-in-one solution, then you should direct to PowerISO.
It can burn different kinds of files such as BIN, ISO, NRG, CDI, and DAA. It's very prominent feature is that it can create a bootable USB drive quite effectively.
Pros:
It is a versatile software.
It contains numerous advanced features.
Cons:
It has limited features in its free version.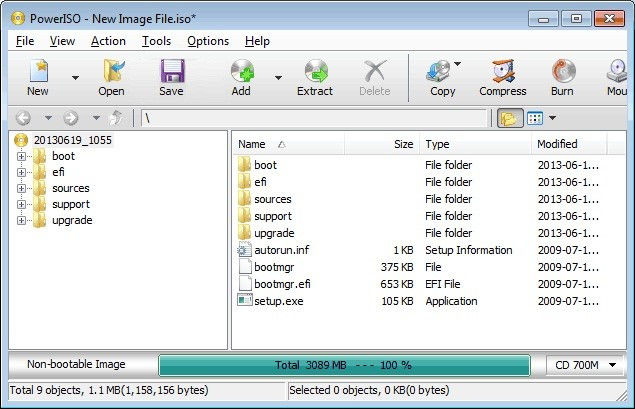 #4: iSeePassword WizBurn
iSeePassword WizBurn is a very reliable software for burning ISO files. It is a great tool if you want to create bootable USB/ DVD/ CD. If you have access to a bootable ISO file and you wish to burn it and convert to USB or DVD, then iSeePassword WizBurn is a very good option for you.
Pros:
It is very easy and a fast working software.
It does not make errors while burning your ISO files.
The best part about it is that it makes sure your data remains intact and is not lost.
Cons:
You need to register yourself and pay for this software.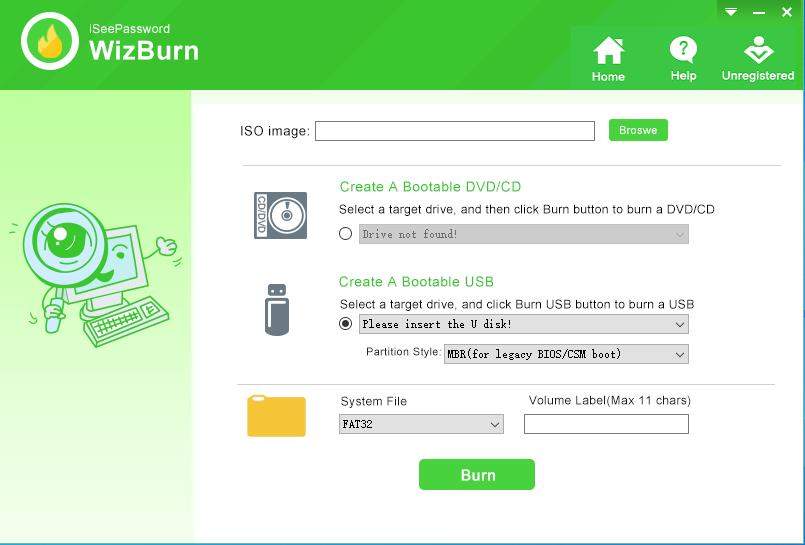 #5: Passcape ISO Burner
Passcape is yet another great ISO burner which is free for Windows 10. It is a perfect software for creating bootable disks from ISO files. It has an extremely simple interface so that users with zero tech knowledge can also operate it. It is compatible with majority of USB devices and CD/DVD.
Pros:
A simple interface with zero complexities.
Easy to use for inexperienced users.
Cons:
It requires a few administrative privileges for some features to work properly.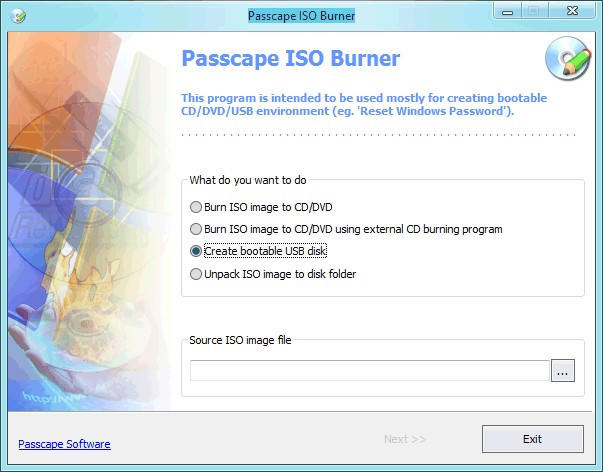 #6: Free ISO Burner
Finally, let's talk about Free ISO burner software. If you are looking for a free windows 10 ISO burner then this software is for you. It can directly burn any ISO file to CD-R, CD-RW, DVD-R, DVD-RW, and Blu-ray Disc. It does not ask for any virtual drives as it can write the data directly without any hassle. There is no threat of any adware or spyware. This program is small in size as well and is portable. So, it can run smoothly from a USB.
Pros:
It has a simple interface.
It does not have any complex settings.
As the name suggests, this software is totally free to use.
Cons:
It is not entirely easy to understand. So, a certain amount of tech related knowledge is required.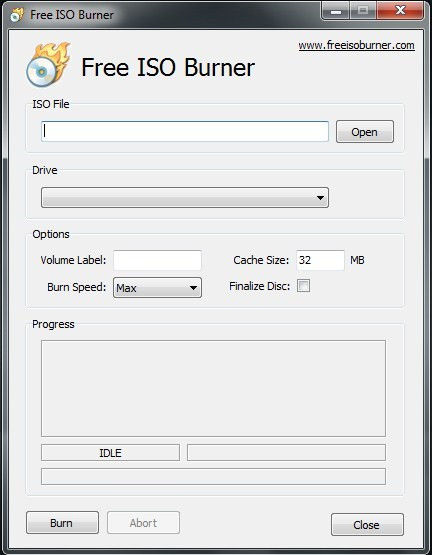 Summary
Are you wondering how to burn ISO files and which ISO burner for Windows 10 should you use that is free as well? Well, then this article is meant to be for you. It provides all the essential information that you need to have for the best ISO burners available. We have gathered 6 unique and distinguished softwares that you can use for this purpose. Try them out and choose any one that suits your needs. Also, if you ask for our suggestion then make sure you use PassFab for ISO to burn your ISO files very effectively and quickly! I hope this article helped you. Cheers and Good luck!
Part 2: FAQs about Windows 10 ISO Burner
Q1: Does Windows 10 have an ISO burner?
Yes, Windows 10 does have a built in ISO burner but if it does not work in some cases then you can always look up to free ISO burner softwares that we have mentioned above.
Q2: Does burning an ISO make it bootable?
The answer is "yes" and also "no" at the same time. It will be bootable if you select 'Create Bootable media' while burning the ISO file. If not, then your ISO will not be bootable.
Q3: How do I burn an ISO in Windows 10?
For this answer, you can try 6 unique ISO burners that can help you burn an ISO in Windows 10. Such as, PassFab for ISO, Rufus, PowerISO, iSeePassword WizBurn, Passcape ISO Burner, Free ISO Burner. Make sure to go through all of them and choose whichever suits you the best.