"I got a new iPhone XR today and am trying to restore it from the backup of my old one (7) (which I did this morning). I'm logged into iTunes, but when I select 'Restore from backup' I'm prompted to 'Enter the password to unlock your iPhone backup.' This doesn't appear to be my iTunes password, or my iPhone password, so what is it?"


Did you ever meet the situation when you use your phone, a pop-up box pops up for you to enter your backup password? Some users may be confused about it, the reason might be they forgot iPhone backup password or they don't even know what is it. If you are one of them, don't worry, we will guide how to unlock iPhone backup to enter the database.
Part 1: Why iTunes Asks for Password to Unlock iPhone Backup
iTunes is a common term across iOS device users. Of course, none can underestimate the role iTunes play in their lives. One of such tasks is backing up the crucial data and information regarding their daily activities, photos, videos, and messages among others.
Like any other backup, it is always important to get it encrypted to shield the unauthorized users from gaining entry. iTunes does this pretty fine by encrypting your backup only when you enable encrypt backup option. Therefore, whenever you want to access your backup after encryption iTunes will ask you to enter your password to unlock your iPhone backup. However, it is important to note that iTunes cannot just encrypt your backup unless you enable the encrypt backup option.
A times iTunes can also automatically encrypt your backup, so do not be much surprised when you are prompted for iTunes password yet you have never set up.
Part 2: How to Enter iPhone Backup Password by Restoring It
In a scenario where you need to enter the password to unlock your iPhone backup forgot, you need an iPhone backup locker to sort solve it. PassFab iPhone Backup Unlocker is the best password unlocking tool with overwhelming capability. Ranging from an intuitive interface to a wide range of attack modes. It can decrypt the forgotten iPhone backup password with high success rate whist no data loss.
Step 1. Launch the Program
If you have not yet downloaded the PassFab iPhone Backup Unlocker, visit the official download page and get yourself the latest version of the software. When you have downloaded it successfully, install it on your PC and click the icon to open the primary interface. Use a suitable USB cable to connect your device to the computer.
Step 2. Choose iTunes Password recovery
On the main interface are two options are given, one for removal of encryptions settings and the other one for retrieval of iTunes password backup. Select the later because we are interested in the recovery of iTunes backup password.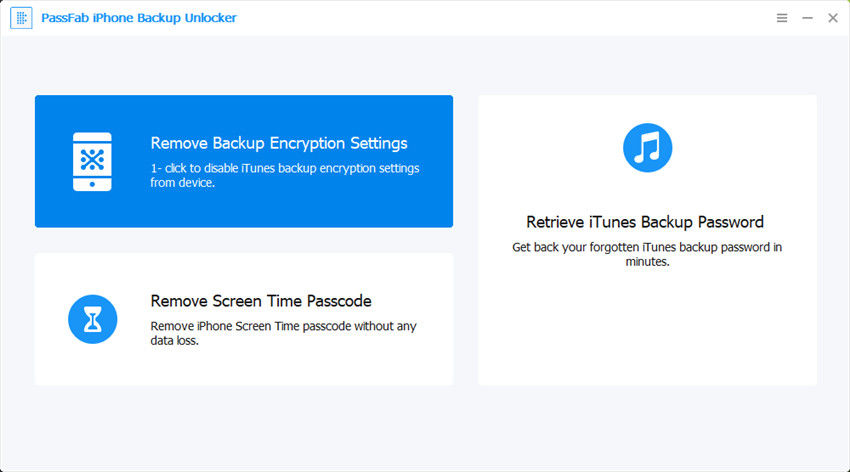 Step 3. Select the Target Backup
On the window that follows, a list of backups available on your device will be displayed. Carefully go through the list and select the target backup from the list. In case you don't see the backup you are interested with, you can click the link labeled "Import backup files" as this would give you an option to import the backup file. Now hit the Next button to proceed.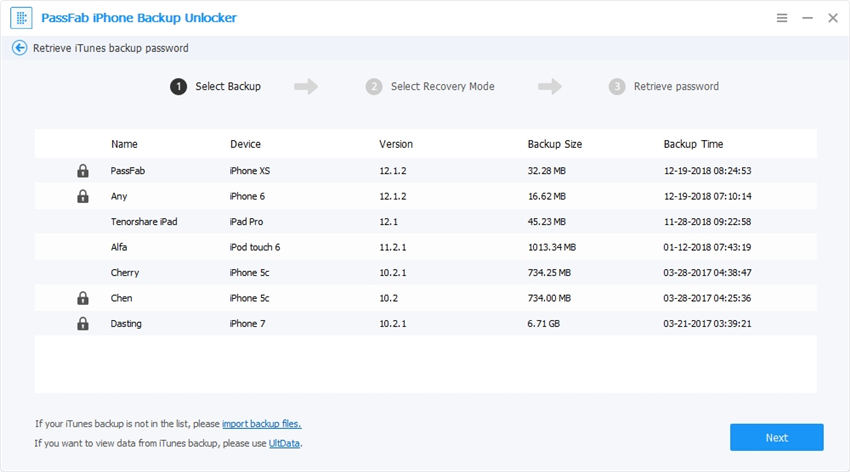 Step 4. Select Attack Mode
After clicking the "Next" button, you will see a new window that displays three password attack modes namely Dictionary Attack, Brute Force with Mask Attack, and Brute Force Attack. Select one of these modes and click start to commence the process of retrieving your backup password. It is important to select the mode that suits your need to ensure better retrieval process.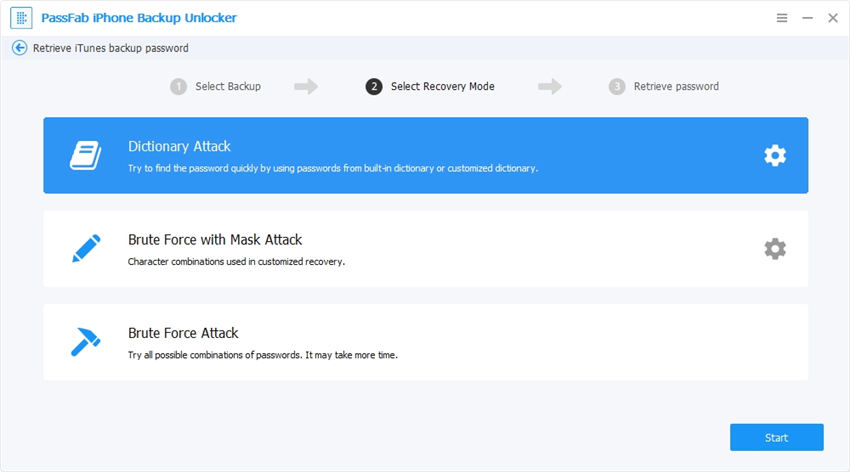 Step 5. Retrieve the Password
After clicking the "Start" button, relax and monitor the process on the status bar as it runs. This process can take minutes or even hours depending on the complexity of the password being retrieved. You should receive a confirmation message when the process is completed. The respective backup password will be displayed as well. Just note down the password and use it to access your device backup once more.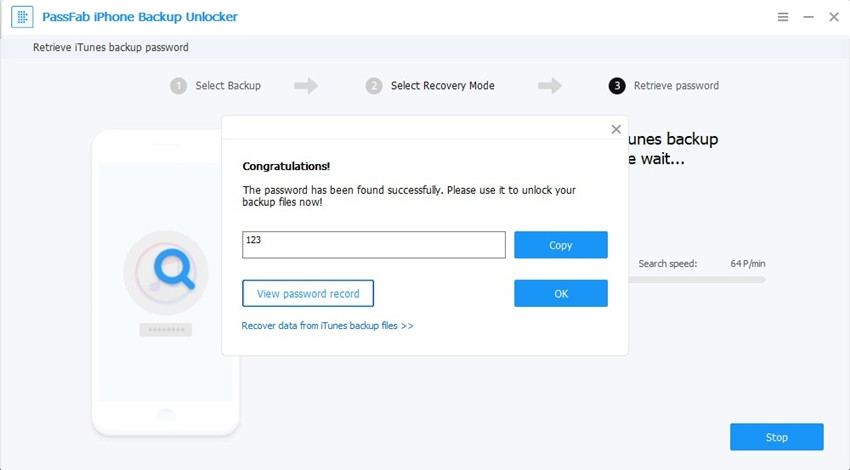 You can also watch this video tutorial to learn more detailed steps:
Part 3: How to Use iCloud Backup Instead of iTunes
To avoid getting the error enter password to unlock iPhone backup, you can opt to use iCloud backup which backup iPhone files automatically. Here is how to backup iPhone using iCloud.
How to backup iPhone using iCloud
Step 1. Open your device and turn on iCloud. Now connect your device to a Wi-Fi network.
Step 2. Go to the "Settings" tab and select the iCloud option then Backup options.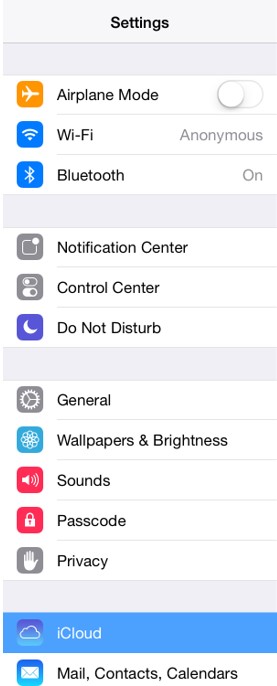 Step 3. If you haven't turned on your iCloud backup, then turn it on. Otherwise, continue to the next step.
Step 4. Locate and click the "Back Up Now" tab. Make sure you are still connected to the Wi-Fi network at this point to avoid halting the backup process.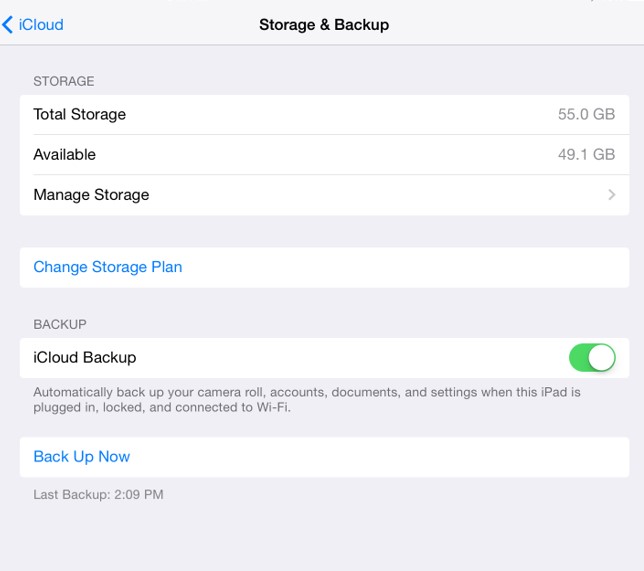 Step 5. To check whether the backup has been set up, go to Settings > iCloud > Storage > Manage Storage. Choose your device and make sure the latest backup is listed. Otherwise, it has not been backed up.
Conclusion
This article has thoroughly covered significant areas relating to iPhone backup recovery, and as a user, you should be on the limelight on this by now. As aforementioned, there are a couple of ways you can maneuver when you forget the password to restore iPhone backup. Some could prove tedious and largely ineffective while others are a sure fix. Just like in any other scenario, users would often choose to go a trusted, tested and reliable tool in a bid to save time and ensure the safety of their devices. PassFab iPhone Backup Unlocker is such a fantastic device that can fix your iPhone backup password issues faster and safer than you ever thought. Just download this tool and get ready to pull a trigger to the constantly disturbing backup problems.