"I forgot my iPhone backup password after updating to iOS 14, who can help?"
iPhone backup is no doubt a fantastic feature since it allows you to keep a copy of your data files and restore them easily. However, forget the backup password and live to narrate the unfortunate tale. It is genuinely sucking but not that disturbing if you know how to curb such a menace. There are a couple of up-to-par methods that can help you get around if you Forgot iPhone backup password. In this article, you shall be guided on the best way to go about if you forgot iPhone encrypted backup password.
Part 1: How to Recover Forgotten iPhone Backup Password
Solution 1: Try Any Possible Passwords
Sometimes people do not forget passwords but are confused on an assortment of passwords belonging to different accounts. Maybe you either don't exercise proper file keeping and you are caught between a rock and a hard place trying to choose or recall the right password. If you are confused amongst several passwords then try the passwords you highly suspect. However, if you have forgotten, then try the combination of passwords you frequently assign to new accounts.
Solution 2: Recover iPhone Backup Password from Keychain on Mac
To recover forgot iPhone backup password on Mac, you can try using Keychain utility. Here is a guide on how to retrieve forgot encrypt iPhone backup password with Keychain.
Step 1. Open your Mac PC and go to Finder > Applications > Utilities. Click to launch the Keychain Access app.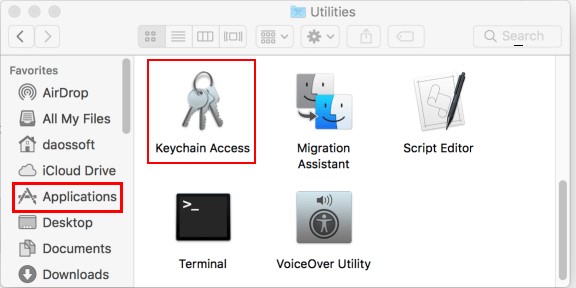 Step 2. When the program opens, hit All Items tab and type iPhone Backup within the search bar. Double-click on the iPhone backup from the result. However, if the backup is not found, it means your password is not stored in the keychain.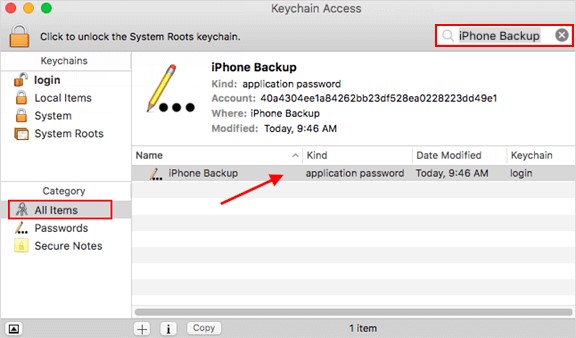 Step 3. Check the Show Password box and enter the keychain password in the subsequent pop-up. This password is your usual mac password. Click Allow to proceed. Your iPhone backup password should be displayed.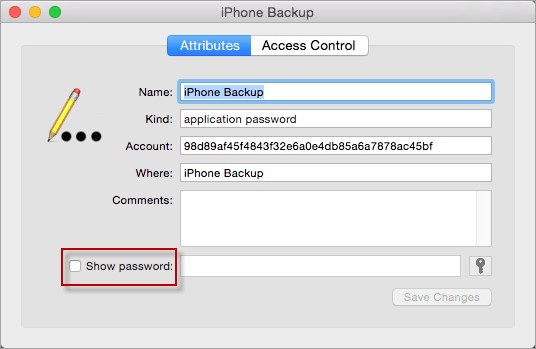 Solution 3: Create a New iPhone Backup by Resetting the Password
Step 1. Open your iOS device and navigate to Settings > General > Reset.
Step 2. On the following menu, hit the Reset All Settings tab. Just follow the on-screen instructions to complete the device reset process.
Step 3. Once the reset process is complete, connect your device to iTunes once more and create a new backup password.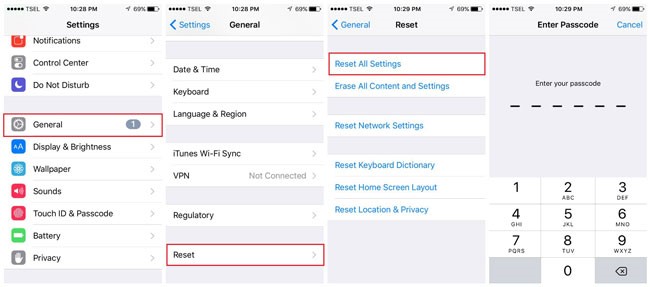 Solution 4: Retrieve Forgotten iTunes Backup Password with PassFab Tool
If all these methods above don't work for you, you can try a third-party backup unlocking tool, like PassFab iPhone Backup Unlocker, which aims to help recover the lost or forgotten iTunes backup password for iPhone XR/XS/XS Max/X/8/8 Plus/7/7 Plus/6/6 Plus.
To get started, download the appropriate version of PassFab iPhone Backup Unlocker and install it on your computer (Windows/Mac).
Step 1. Launch the Program
Run the program and connect your device to the computer using a suitable USB cable. Hit the Click Retrieve iTunes backup password tab on the main interface.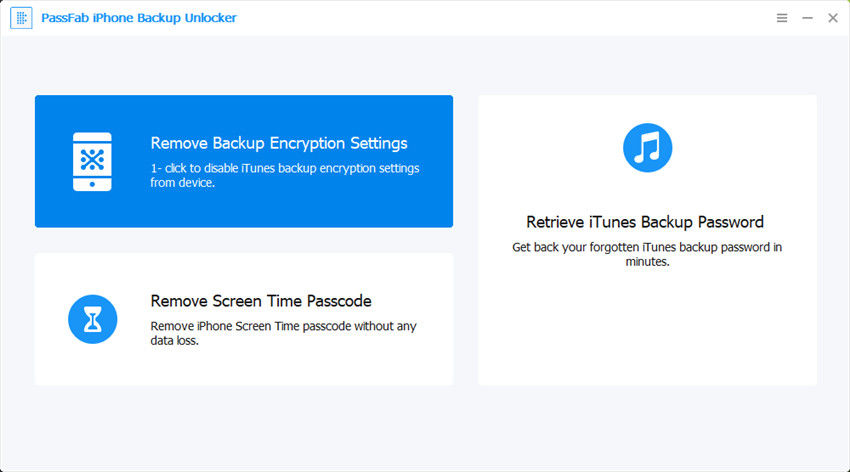 Step 2. Select Backup
All the backup files in your computer shall be displayed. Go through and select the target iTunes backup. However, if you don't find the respective iTunes backup, hit the "Import backup files" link to import the target backup file. Click Next button to continue to the next step.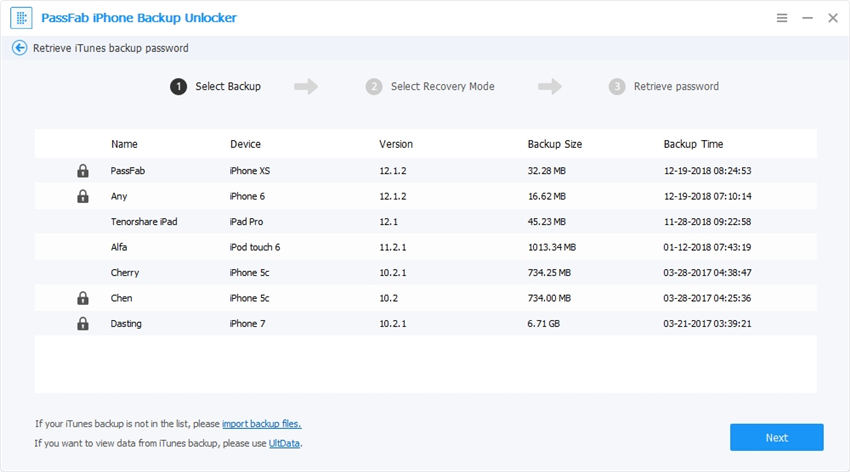 Step 3. Select Attack Mode
When you click the Next button, a window displaying three different password attack options shall be displayed. Choose one attack option that best suits your needs. You can also customize to ensure minimum recovery time by adjusting password length and maybe the characters.
Step 4. Retrieve the Password
Once you have selected the appropriate passwords attack mode, hit the Start button at the bottom right of the window. Be patient while the program retrieves your iTunes backup password. Depending on the complexity of the iTunes backup password, the process can take minutes or hours.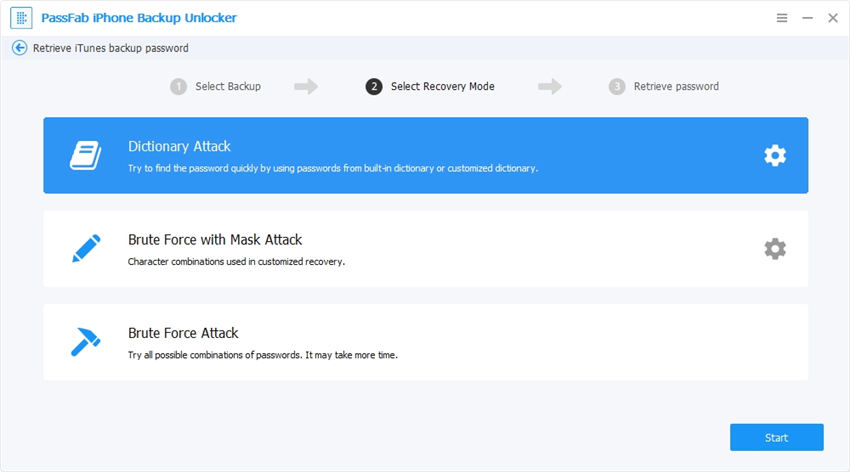 When the password retrieval process is complete, a confirmation message shall pop-up displaying the retrieved password.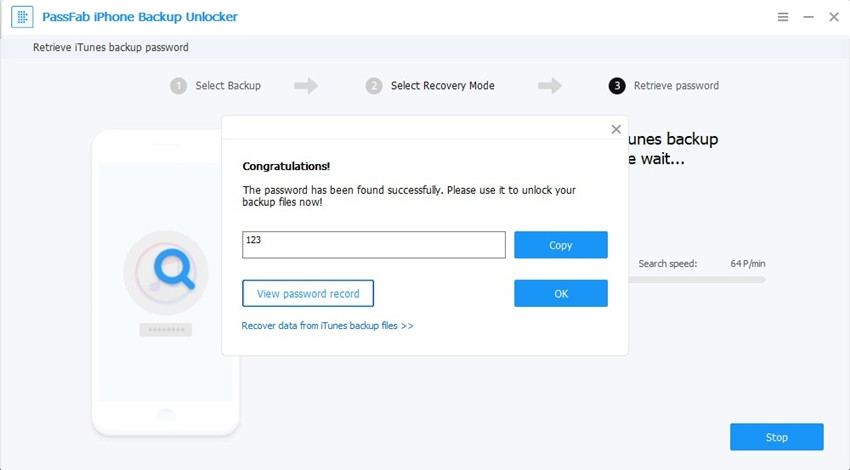 You can also watch this video tutotial about how to use it:
Part 2: How to Unlock Forgot iPhone Backup Password in iTunes
Turning off backup encryption in iTunes is a sure quick fix to forgotten iPhone Backup. However, this will only function if you still remember the iTunes password. If this is not the case, then you will have to use iCloud backup or reset the iTunes backup. The following steps illustrate how to turn off backup encryption in iTunes.
Step 1. Tap the iTunes icon on your computer to open the main interface. Use a suitable media like a USB to connect your PC to the laptop. It is advisable to use the very same USB that came along with the respective device.
Step 2. Navigate to the backup category and uncheck Encrypt iPhone backup option. This option is located at the bottom of the backup section. Click to disable the respective box to continue.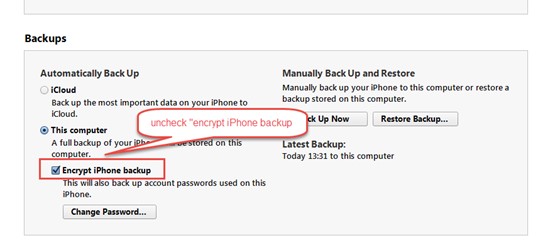 Step 3. When you click to disable the Encrypt iPhone backup, the program automatically pops up a new window that prompts for the iTunes password. Enter the right password and hit OK so that the process of completely turning off the encrypt iPhone backup is completed.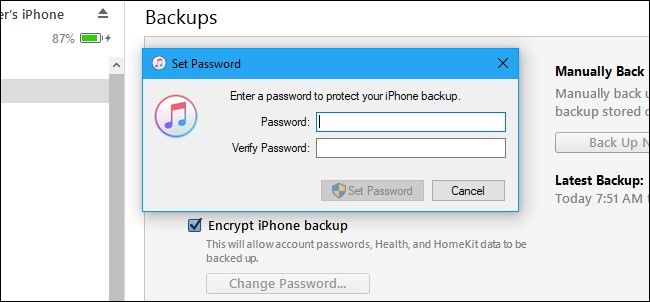 Conclusion:
Although forgetting iPhone backup password can prove quite hectic, the truth is that a lot has transpired in the software industry that makes virtually any related software issue possible and even more straightforward. For those who forgot iPhone encrypted backup password, you only have to quell the fears because this article has thoroughly shed light on this matter. If several options seem not to work, fix your issues whatever the magnitude using PassFab iPhone Backup Unlocker.