Many iPhone users are choosing backup on iPhone is because the iOS operating system is one of the most secure options. However, once you boot the iTunes backup it will automatically backup your data in the future. So, if you don't enter the passcode often you may forget iPhone backup password. In this article, let's focus the solutions on how to restore backup password on iPhone.
How to Recover Forgotten iPhone Backup Password
There are a few software options that help you simplify the task of recovering your iPhone backup password. One of the excellent options that we have found impressive enough is PassFab iPhone Backup Unlocker. You can either use the software to retrieve your iPhone backup password or change the settings for your iPhone backup.
Follow these steps to recover your encrypt iPhone backup password from your iTunes backup:
Step 1. Download and install PassFab iPhone Backup Unlocker on your computer.
Step 2. On launching the tool, you would find 3 options on the main interface. Choose Retrieve iTunes backup password option.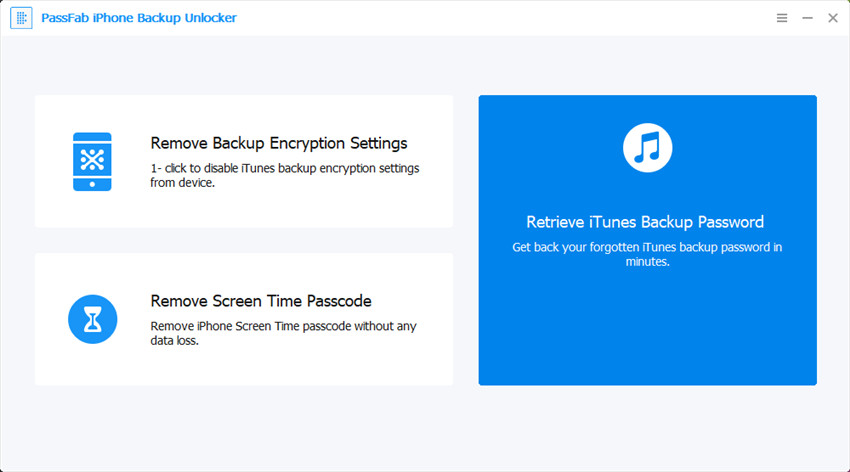 Step 3. You will now find the iTunes backups stored on your computer. If you find no files, you can import the files from any other source. Choose the files you want to recover the password for. Backups without encryption will have no padlock icon against them.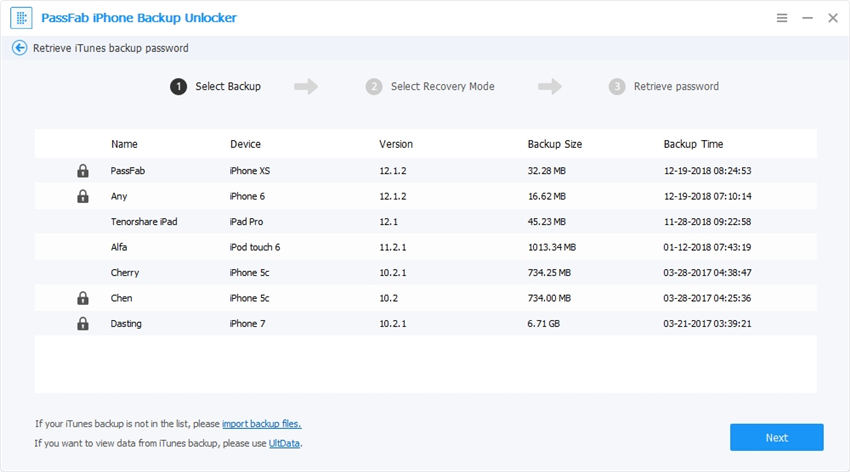 Step 4. Next step will involve choosing the exact password attack modes. Your choice should be dependent upon the difficulty levels of the password. PassFab iPhone Backup Unlocker offers you three different options to choose from.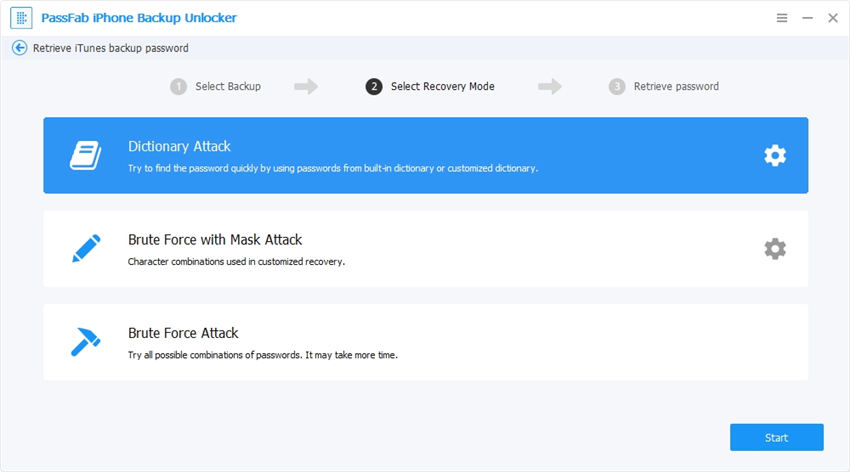 Step 5. Once you have chosen your option for recovering the password, click on Start. Wait patiently till the password recovery process is completed. The time taken should ideally be dependent upon the attack type chosen and the complexity of the password.
Step 6. You should get a password recovery confirmation once the password is recovered. Enter your password to restore your backups.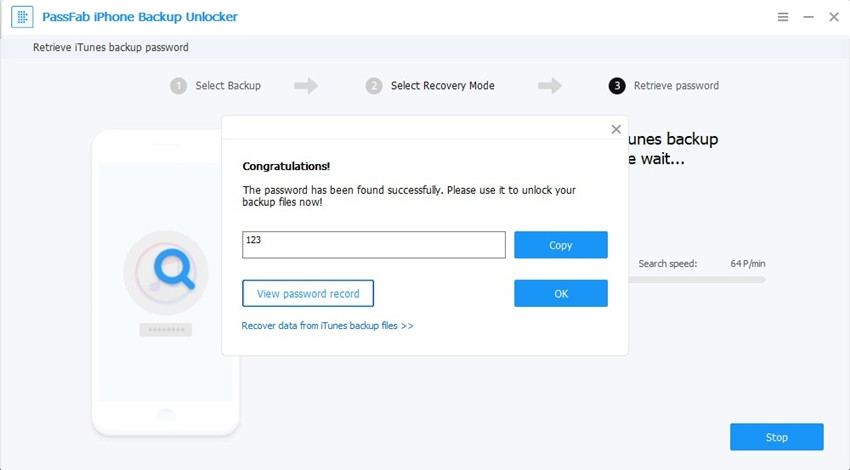 You can also watch this video about how to unlock your iPhone backup password:
How to Turn Off iPhone Backup Encryption
Are you looking to turn off iPhone backup encryption? Even when we do not recommend turning it off, if you have obligations that force you to it, there is a simple option that iTunes offers you.
Here is how you can achieve it :
Step 1. Launch iTunes on your computer. We assume that you have iTunes installed and configured on your computer
Step 2. Connect your iPhone to your computer. You can choose the Summary option on the iTunes screen on the left side bar.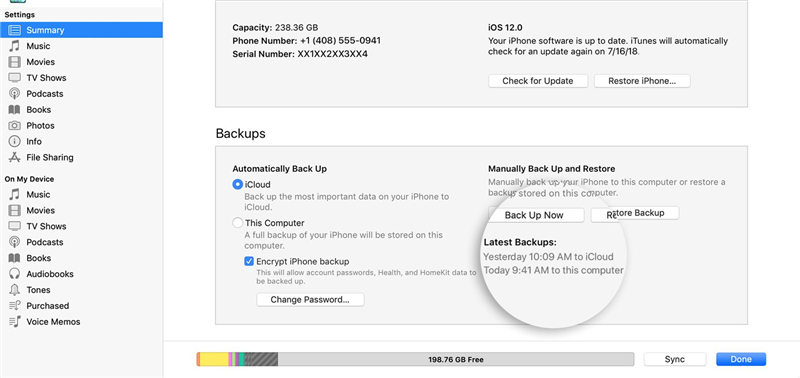 Step 3. Scroll down to the Backups option, you should find the option for encrypt iPhone backup option here.
Step 4. Simply uncheck the option, then you will be prompted to enter the password. Simply enter the password and click on OK to turn off the iPhone backup encryption. If you have forgotten the password, you can recover it from the method featured above.
That should do it. You have successfully turned off iPhone backup encryption options. However, please note that you will not need the password for the subsequent iPhone backups, while the backups already done will remain encrypted.
Conclusion
That was a complete tutorial on how you will be able to recover iPhone backup password easily. The PassFab iPhone Backup Unlocker is an excellent option that serves you recover your password with amazing accuracy. In case you do not want to use encrypt iPhone backup password, iTunes offers you an excellent option for that as well. Have you ever used any of the methods outlined here for recovering iPhone backup password? Share your experiences and opinions with us. Share your doubts if any with respect to the PassFab iPhone backup Unlocker as well.