Are you searching for answer to bypass laptop password? Then you are in the best place to get the all the answers related to the question. Windows users usually protect their personal computer with password protection feature provided by Windows itself. To make it better and secure, users have to select a password which should be alphanumeric and at least 8 alphabet long. Sometimes, users forgot the password and that's why we have compiled the best and easy methods which you can try and resolve the bypass password on laptop problem. These are as follows:
Section 1. Bypass Locked Laptop Password with Reset Disk
This is the easiest method to bypass the locked laptop password. This method is will only work if you have made a password reset disk in the past. If you have not created a reset disk before you have lost the password, then you should consider the next method. How to bypass password on laptop? Follow the below steps:
Step 1: Reboot your laptop. When you are in sign in screen, press Enter.
Step 2: Now click on "use your password reset disk" (Windows XP) or "Reset password" (Windows 7 and later) to run the Password Reset Wizard.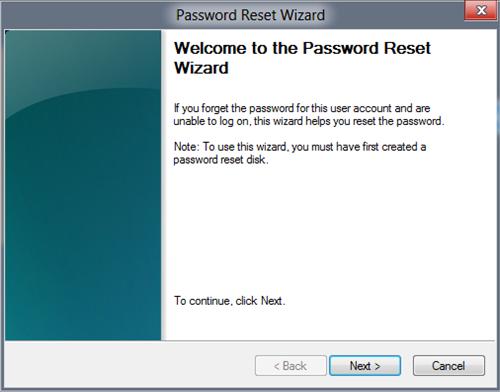 Step 3: Click on "Next". Insert the reset disk you have created and click "Next". Enter your new password. Retype it again to confirm. Type a password hint and click on "Next" to finish the wizard.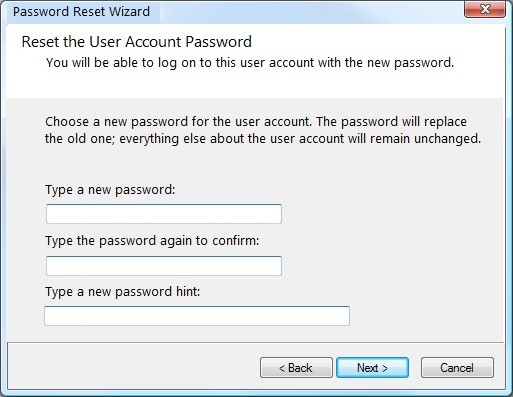 Step 4: Now you can restart your laptop and sign in to Windows with new password.
Section 2. Bypass Laptop Password with 4WinKey
How to bypass computer password? Is there any tool available which can easily recover the password for any type of user account? PassFab 4WinKey is the solution which you can try. This amazing software tool is simple yet powerful enough to recover passwords for all types of user accounts of Windows. Whether it be admin, Microsoft, local or guest account, it can bypass the password in just three simple steps.
First – you have to download and install PassFab 4WinKey.
Second – create a bootable password reset disk (USB/CD/DVD).
Third – reset the lost windows password.
It supports Windows 10/ Windows 8.1/ Windows 8/ Windows 7/ Windows Vista/ Windows XP/ Windows Server 2019. Follow the below guide and you will be able to recover the password for your account.
Step 1: Start the PassFab 4WinKey. Insert the bootable media in your computer. Select the media (USB Drive or CD/DVD).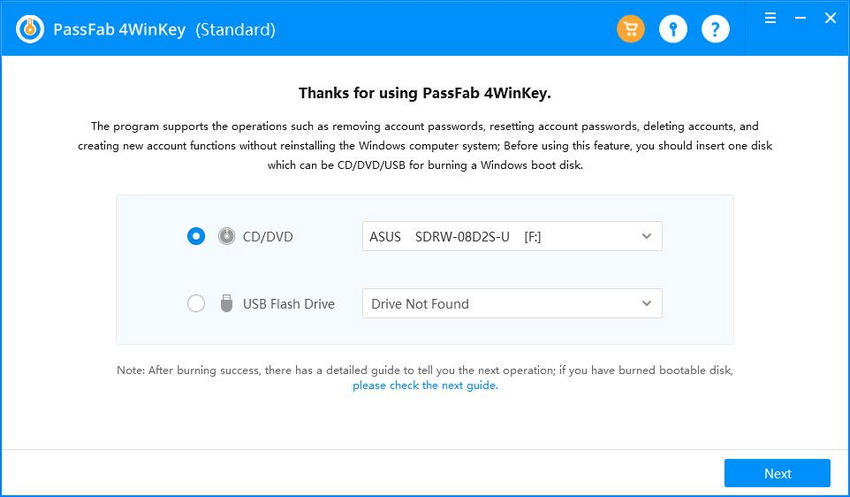 Step 2: Click on "Burn" button. You will get warning that your bootable media will be formatted and all the data will be lost. Click on "Yes".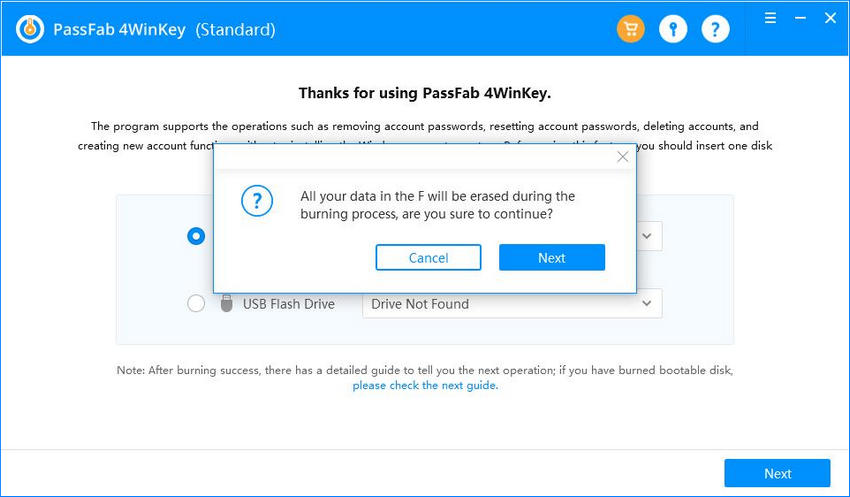 Step 3: The Windows password recovery wizard will start the burning the disk.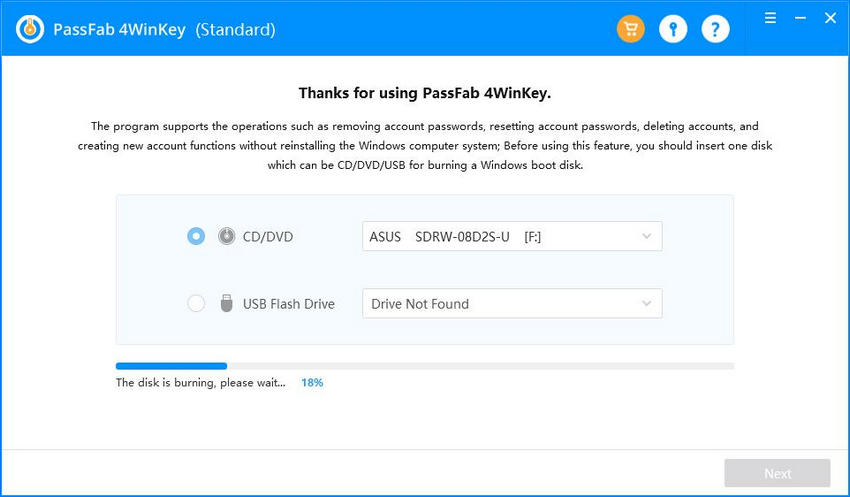 Step 4: After a while, your bootable disk will be burned.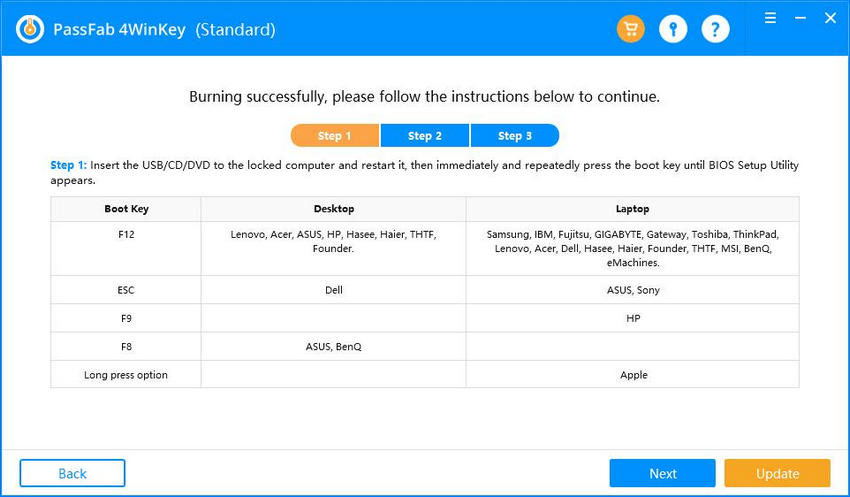 Step 5: Now connect/insert your media disk into your locked computer. Reboot the computer and enter Boot Menu. Change the priority for Boot Device.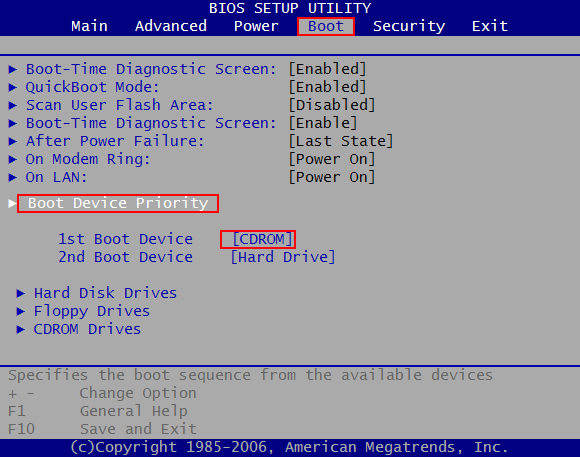 Step 6: Again, restart your computer, select the Windows operating system and click "Next".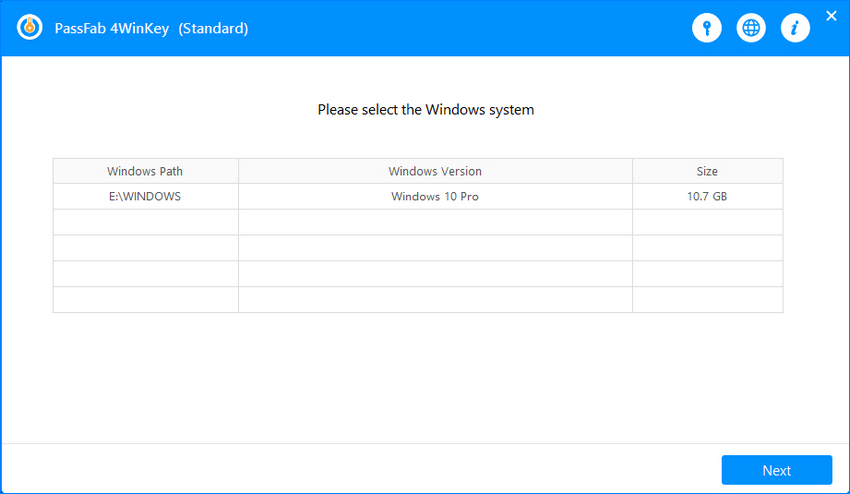 Step 7: You will see all the user accounts (Admin, Microsoft account, guest, etc.). Select the user account from the list and hit "Next".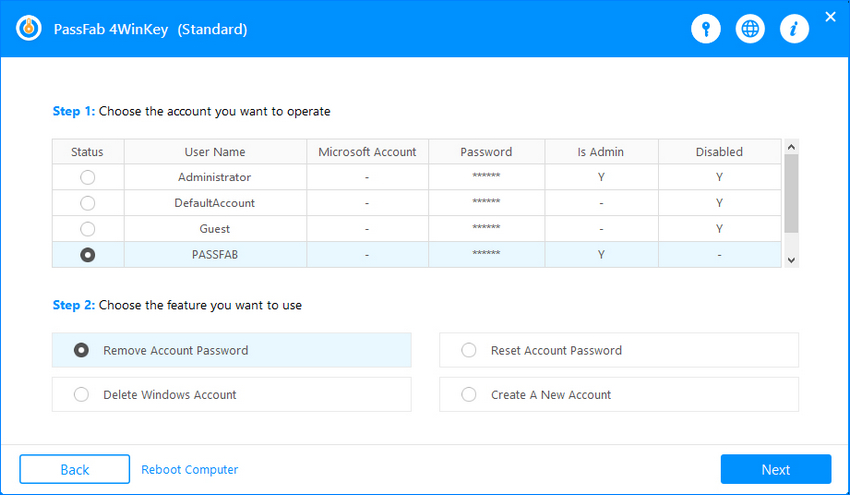 Step 8: Your account password will be reset to blank. Now you can "Reboot" and enter the computer with new password.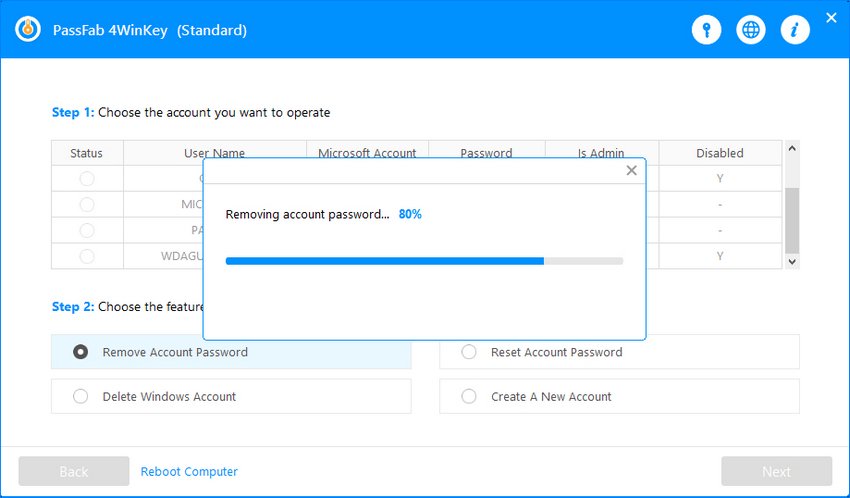 Section 3. Bypass Laptop Password via Built-in Administrator Account
If you have enabled the built-in administrator account in your computer then you can easily change the password for your PC. You can recover the lost password for your PC without any software or going in safe mode. How to bypass administrator password on Dell laptop runnins Windows system? There are 2 ways to reset locked laptop password, once you are in built-in administrator account.
Way 1: Through Command Prompt
Step 1: Open the Run box. Right-click on start and then click on Run.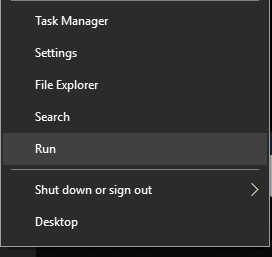 Step 2: Type "cmd" and press enter. Command prompt will open in front of you. You have to open command prompt with administrator rights.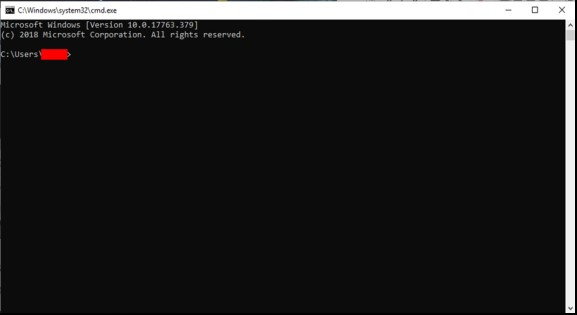 Step 3: Type "net user username new-password" and press enter to change the password for the locked "username". For example, with "net user fan 123**", the password of user "fan" will bec changed to "123**".
Now you can login to Windows with new password.
Way 2: Through Computer Management
Step 1: Open Run box by pressing "Win + R" and type "compmgnt.msc" command and press enter.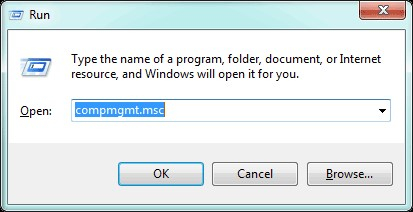 Step 2: Now in left pane, click on Local Users and Groups and select Users. You will see different user accounts in the middle pane.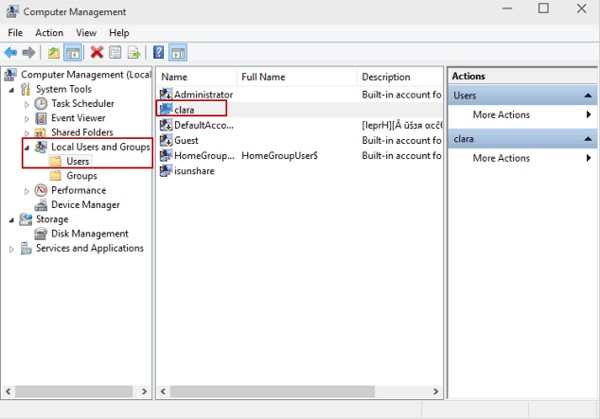 Step 3: Right-click on the locked user and click on "Set Password".
Step 4: Click on "Proceed" and then type new password and confirm it. Click on "OK".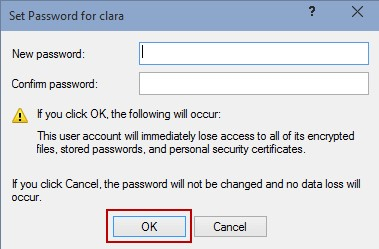 Section 4. Bypass Laptop Password with Fingerprint
If you are looking for how to bypass password on HP laptop, then you can try this method and easily bypass the password without doing any programming. Many laptops nowadays come with fingerprint scanner and Windows has provided the native support for fingerprint biometric devices through Windows Biometric Framework. You can enable fingerprint recognition in your settings.
With this Fingerprint enabled, you are free from typing or remembering any password to sign in to your computer. So, if you had lost your password. Sign in your computer and then recover the password for your user account in settings.
Section 5. Bypass Laptop Password by System Reinstallation
This method can be used as a last resort because your personal files can be damaged or lost in the process. With this method you restore your laptop to the initial stage. Your Windows will be clean and all the personal settings and user accounts will be lost. Moreover, there is a slight chance that your personal data and files may get damaged. You can follow the below steps and bypass laptop password by system reinstallation.
Step 1: Reboot your computer and got to Windows Installation setup.
Step 2: Click on "Next" and then click on "Repair your Computer".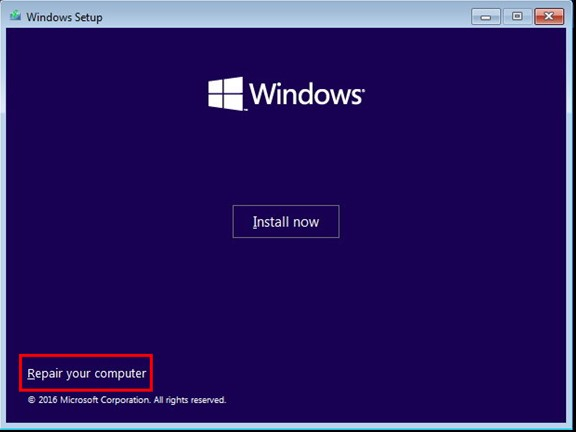 Step 3: You will see three options. Select "Troubleshoot".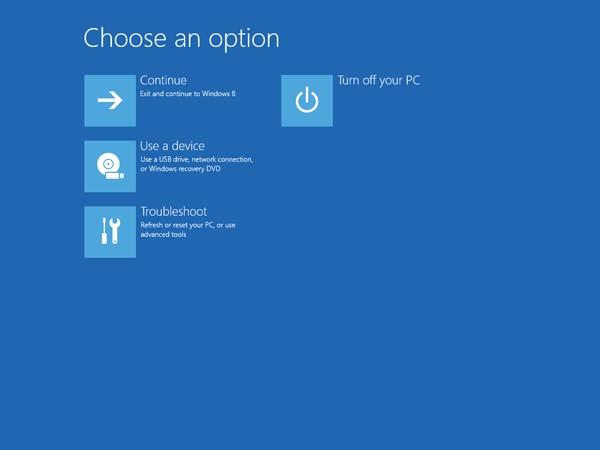 Step 4: Now click on "Reset this PC".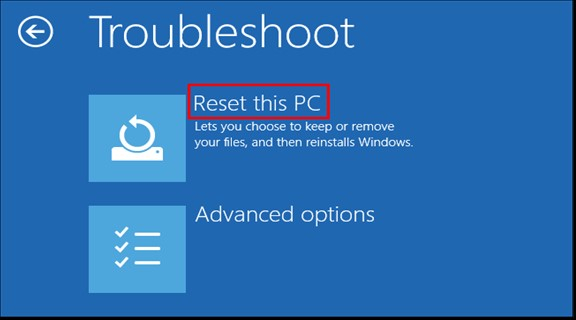 Step 5: Now you can choose either from "Keep my files" or "Remove everything". Select one and proceed accordingly.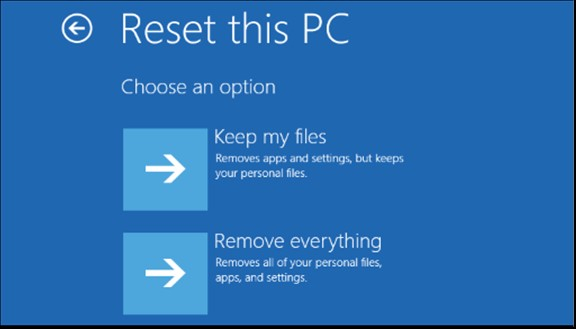 Step 6: Your settings are now all restored and now you can access your computer with new password.
Conclusion
These are the best methods available on the internet which you can try to bypass the laptop password. The password protection is important because someone can steal your data or damage your files. Also, it is important to never lost your password. It can be really problematic to lose the password and not been able to access your computer. But if it does happen, PassFab 4WinKey is life saver. You can use this tool and effortlessly bypass Windows password.