It is presumable that you have forgotten your Windows login password which is why you have landed on this article. You have already tried all the combination of passwords that you could remember, but nothing seems to work anymore. This can be an annoying and displeasing moment, especially if you need to use your computer or laptop immediately. So, it is understandable that people want to bypass Windows password because they have lost/forgotten it.
Method 1: Bypass Windows Password via Super Administrator Account
There is an individual account on every Windows computer, a super administrator account, that you can access. It is only meant to change the password of your administrator accounts if you forget. It functions as a regular administrator account but with individual rights.
To activate this account, you must restart your PC and press the Shift key continuously on your keyboard until the Super Administrator account appears on the screen. Just log in with this account, go to your control panel and change the password.
Remember that this account can only be activated if you have configured the profile before it is blocked. Otherwise, this method will not work.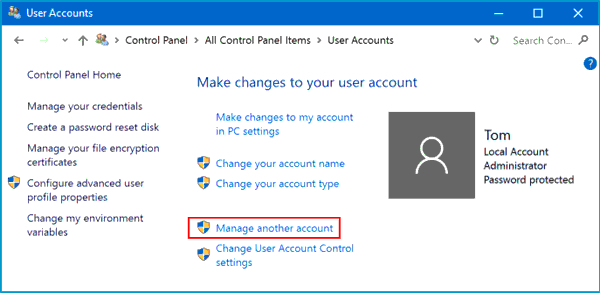 Method 2: Bypass Windows Password with Netplwiz
If you can still remember your PC password but want to let Windows log you in automatically, use the netplwiz utility to enable automatic login to your computer, your computer will bypass Windows login screen without requesting you to type the password. To do this, follow these steps:
Step 1: Press the Windows key + R or launch the Run Command box. Type netplwiz and click OK.
Step 2: Next, uncheck the box to "Users must enter a username and password to use this computer" and hit Apply.
Step 3: You will then be asked to type your Windows password twice, for confirmation. When done, click OK.
The next time you switch on your computer, Windows will bypass the login screen and sign into your account automatically.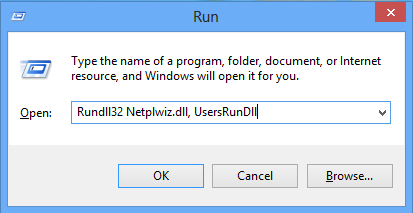 Method 3: Bypass Windows Password with Command Line
Microsoft has made this feature available in Windows 8 and later, where you can restart your computer in safe mode without entering a password and making the desired changes. We can take this as an advantage and get access to the computer using this technique.
Step 1: Restart the computer and press F8 to start the advanced startup options.
Step 2: Choose the Safe Mode and press Enter.
Step 3: Your computer will now normally restart, but the screen will be completely black, and most applications will be turned off. Do not worry; it's normal in safe mode because it has a lot of limitations.
Step 4: Now click Start> Accessories> then Command Prompt to open it.
Step 5: Enter the following command in the Command Prompt to change the password of your PC: NET USER ADMINISTRATOR "New password".
Replace "New password" with a password of your choice and press Enter to execute the assignment successfully.
Step 6: Restart your PC and use this password to enter a new item on your system.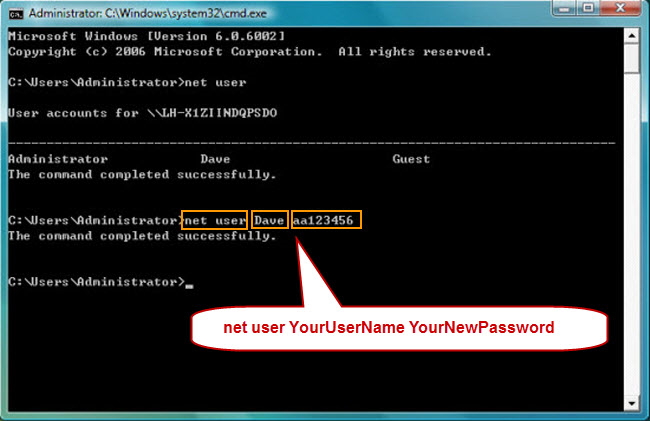 Method 4: Bypass Windows Password by Creating A New Admin Account
If you have activated the new administrator account on your computer, password reset is extremely simple. This method is very simple because you don't need to crack your brain, all you need to do is set up a new admin account. Follow these steps to create a new administrator account on your computer.
From the Start menu, navigate to Settings.
Select Accounts.
In the left menu, select Family & other users.
Click Add someone else to this PC.
Choose whether to create a Microsoft account or a local account.
Enter a username and, if desired, a password.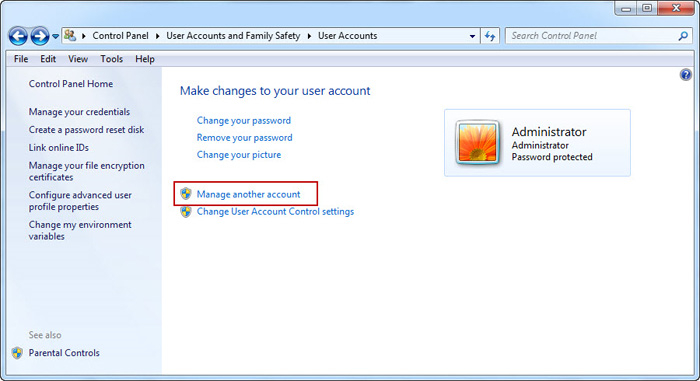 Method 5: Bypass Windows Password by Reinstalling System
If you lost/forget the password to your regular Windows user account and there is no way to bypass Windows login screen, you can reinstall the Windows system to access your PC.
This is one of the most brutal and cruel ways to gain access to your computer, and this method is not recommended at all unless it is the only way to bypass the Windows login screen. Please note that using this method will erase all your precious data and information from the primary disk. So, use it on your own risk.
Step 1: Insert Windows installation disk into your computer.
Step 2: Turn on the PC, and the operating system files will be loaded automatically upon startup.
Step 3: Click on "Install Now" as soon the operating system setup wizard starts.
Step 4: Keep on clicking next and choose your primary disk where you want to install the operating system. Wait patiently until the operating system is freshly installed on your computer. (This may take several minutes depending on how much RAM you have on your computer.)
Step 5: The computer will restart automatically, and you will be able to access your PC without any password.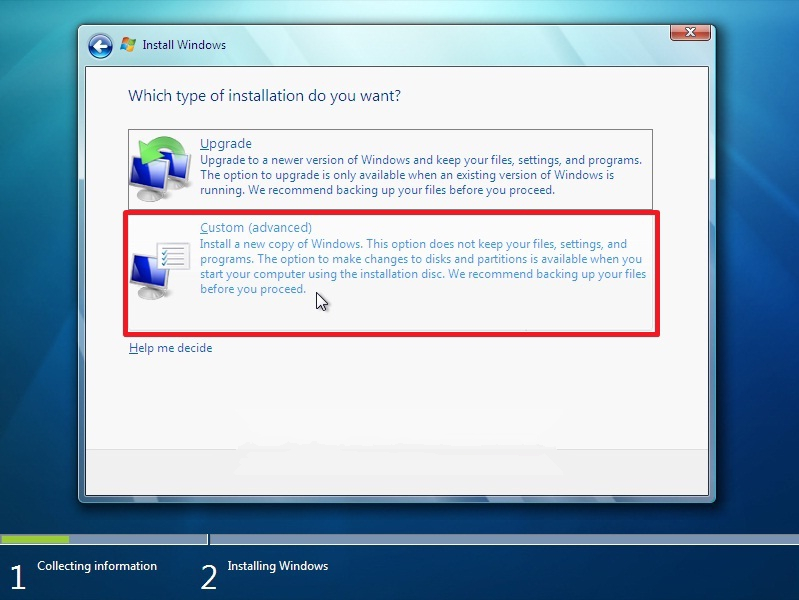 Method 6: Bypass Windows Password with 4WinKey
You are in a pretty tight situation if you haven't created a password reset disk and forgot all administrator account password. However, do not worry, we have an ultimate solution that will bypass Windows password in a matter of minutes. The solution we are talking about is a well know and trusted software named PassFab 4WinKey. Also, PassFab 4WinKey has amazing support, so, if you have any queries regarding this tool, just contact the support to get immediate assistance.
How to bypass Windows password using PassFab 4WinKey? Here are the steps:
Step 1. Download and install PassFab 4WinKey on an accessible computer
First, you have to first download and install the program on another accessible computer (You can borrow it from a friend if you do not have a spare computer).
Step 2. Start by making a bootable recovery disc (USB or DVD/CD).
As an example, we will only talk about USB. However, rest assured, the steps for DVD/CD are same as USB. Insert your USB in the Windows computer where you have installed PassFab 4WinKey. Now, you will be prompted to choose a media type to create a rescue disc.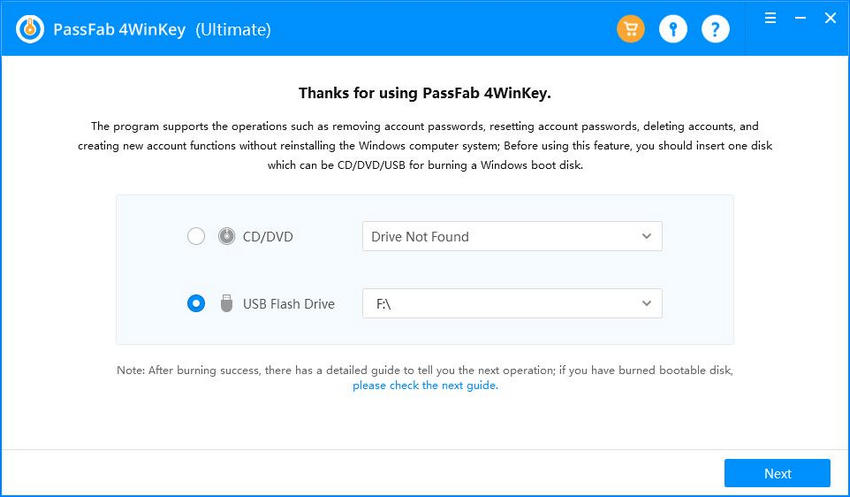 Here you must click the USB device button and select your USB key from the drop-down list. Then click on "Burn USB" to burn the ISO image files to your USB drive. It takes a while before the burning process is complete. Please wait! Do not disconnect your USB drive from your computer before burning is completed.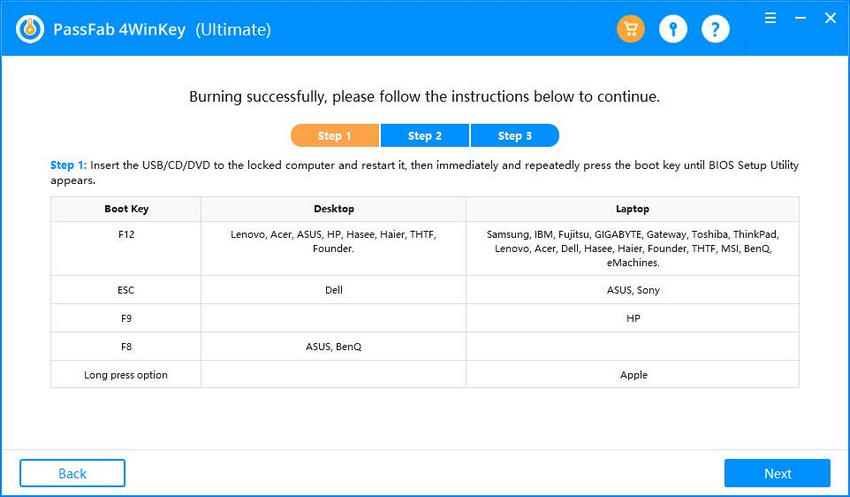 Step 3. Insert the USB drive into your locked computer and startup computer from USB.
After you have created a recovery disc with your USB, insert it into your locked computer. It should also be noted that you must change the boot order of the BIOS to boot from USB. To change the boot order, restart the locked computer and press the "Del" or "F2" button while the computer starts up, then go to the BIOS setup and change the BIOS options. Finally, press F10 to save your changes.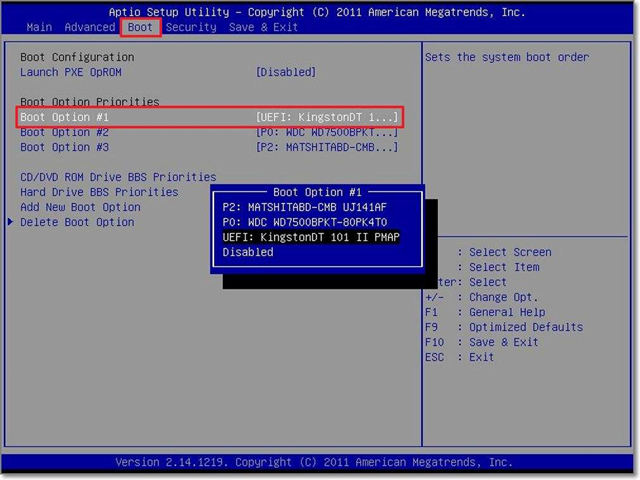 Step 4. Start by resetting your password and restart your computer.
Keep the USB connection to your computer and restart your computer after the boot order has been changed to USB. Then the Windows password recovery tool is started during startup; you will see the main screen. It will automatically detect and report all current accounts. Just select the target user you want to reset. Then click the "Reset password" button. Once the reset is complete, restart your PC, and you will be able to log in without entering any password.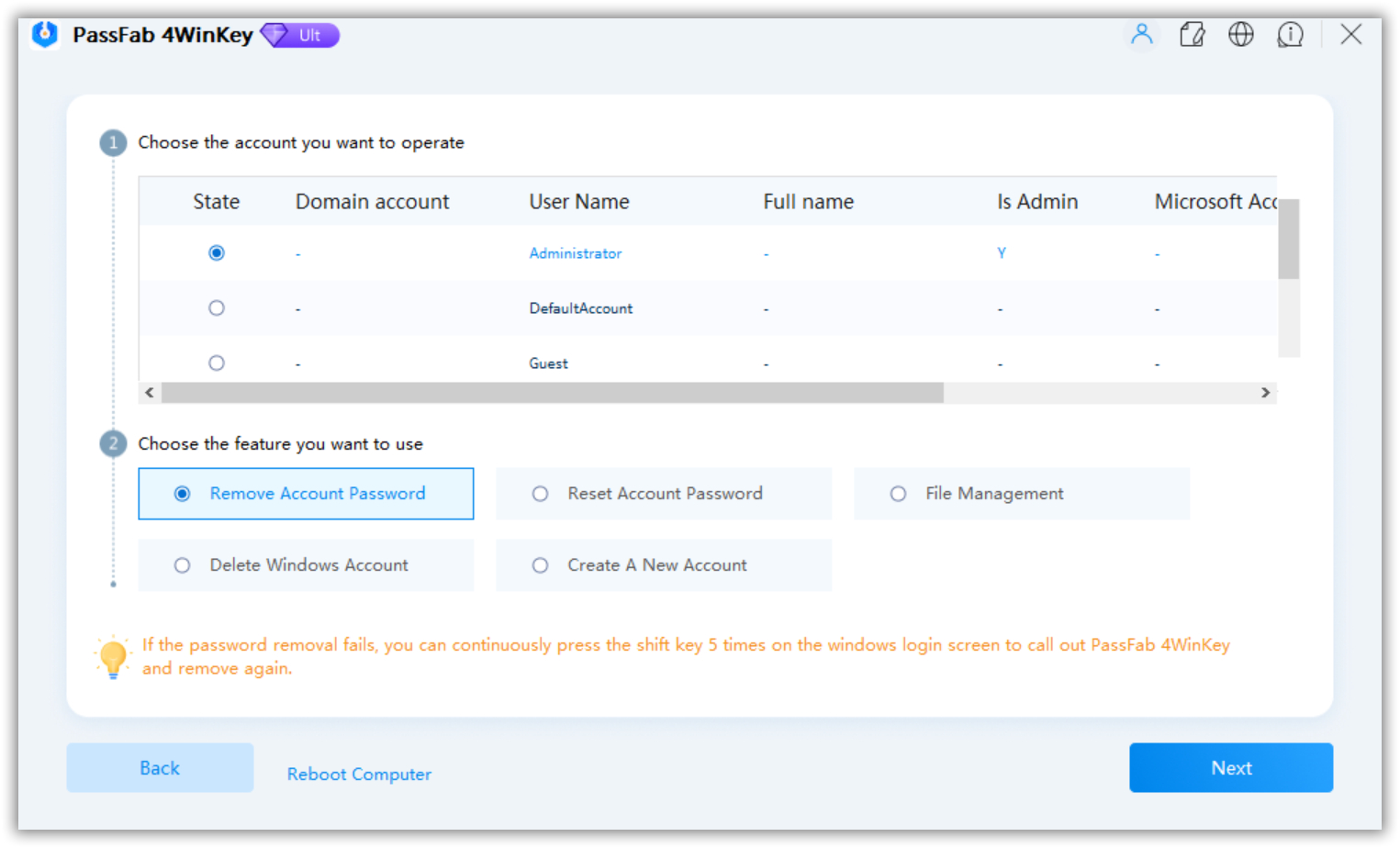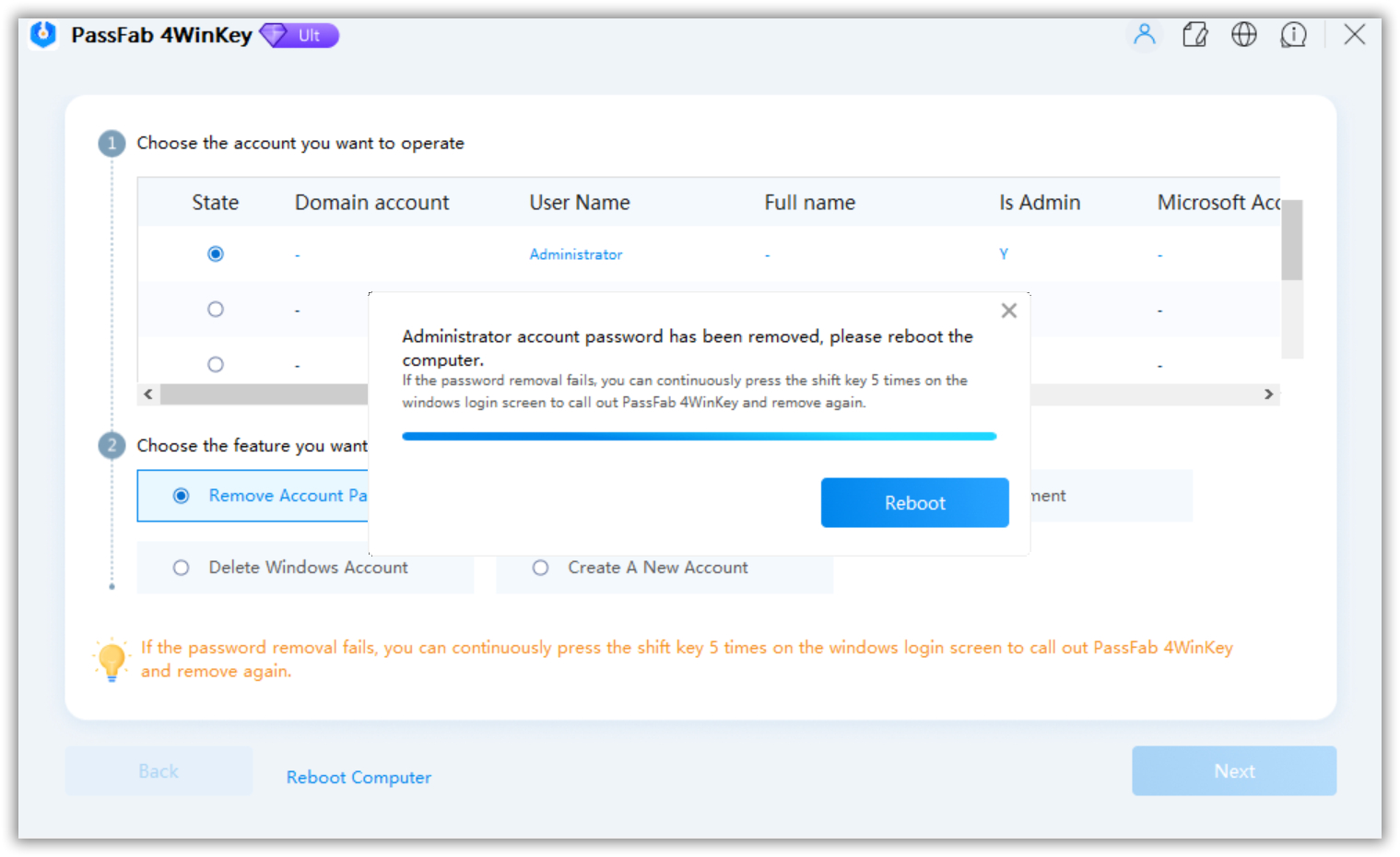 Summary
We have explained 6 best possible ways to bypass Windows 10/8.1/8/7/XP/Vista password screen, in case you lost/forgot your login password. We hope these methods have been able to help a lot but above all methods, PassFab 4WinKey is highly recommended. It is astonishing and reliable software that can easily bypass Windows password or reset forgotten Windows password. The best thing about PassFab 4WinKey is that it's super easy, fast, and reliable. We highly recommend this program and assure you that you would be pleased with its performance.