Are you looking for the most effective Windows password recovery software? Many free and premium Windows password recovery program is described below to assist in the recovery of administrator and regular user passwords.
You don't have to worry if you lost or forgot your Windows password. The sole purpose of this article is to assist you with using the free Windows password recovery service to restore your Windows passwords.
The Best Free Windows Password Reset
In the event that you forget your password, these password recovery tools will come in handy. Since hackers use these programs for unauthorized activities, they are often referred to as password crackers. However, you should still use these resources responsibly, restricting their use to getting access to your own devices only.
Ophcrack
This password recovery tool is efficient and open-source, making it one of the best Window password recovery tool free available. The Ophcrack Windows Password Recovery program has been developed on a faster time memory compromise of Reebou tables for force-splitting, as well as the use of real-time graphs to avoid using password prompts.
Pros:
Uses Brute force model to crack passwords
No installation is required since you can use a disc or flash drive
Compatible with Windows and macOS systems
Cons:
Needs to boot the media and may cause problems.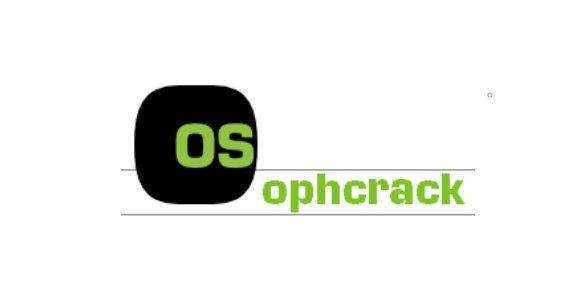 John The Ripper
John the Ripper, the most recent addition to the series, is a free password recovery software that can be used for both personal and commercial purposes. The Attack Dictionary algorithm is used mainly by John The Ripper, but a brute force crack approach is also available.
Pros:
Small download size and easy to use
Supports more than hundreds of hash and cipher types
Can upgrade to commercial version anytime
Cons:
Need admin account to login and process is difficult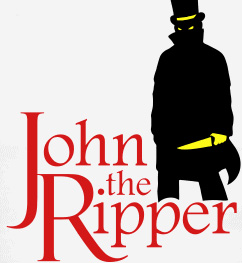 Cain & Able
Cain & Abel is a free windows password reset USB that decrypts and decodes passwords for a variety of offline applications and network services. Cain and Abel are designed from the ground up to assist people who have forgotten passwords for some of their most-used applications on their home PC.
Pros:
Efficient decoding algorithms
Extensive decryption software
Uses sophisticated algorithms and WinPcap
Provide extra protection for your own passwords
Cons:
Not suitable for beginners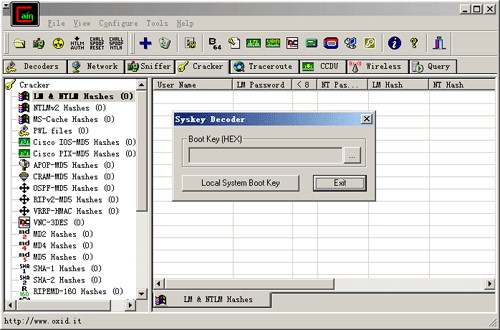 LCP
LCP Windows Password Cracker is a versatile free password recovery tool that imports password hashes from SAM files (C: / Windows / System32 / Config), LC or LCS files, local or remote computers, and more.
Pros:
Includes Dictionary Assault & Brutal Force Attack
Easy to use and much more effective to recover password
Imports password hashes from SAM files (LC/LCS files/local files)
Cons:
You can't use your computer until the password crack is complete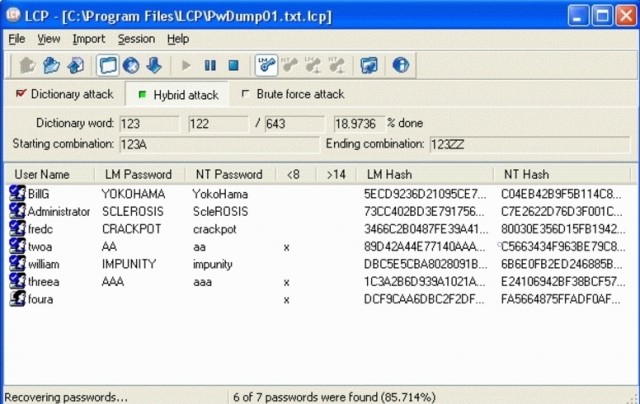 Knoppix STD
STD (Security Tools for Linux) is a free password reset tool. It is, in reality, a set of hundreds, if not thousands, of open-source security resources.
It's a Live Linux Distro, which ensures it runs in memory from a bootable CD without modifying the host computer's native operating system.
Pros:
ISTD is intended for both beginner and experienced security professionals
Suitable for Linux operating systems
Doesn't modify the current operating system
Cons:
Not suitable for beginners, requires technical knowledge


Top Paid Windows Password Recovery Tools
The following are some of the top paid password recovery tools.
PassFab 4WinKey: The Best Password Recovery Tools without Data Loss
It is one of the outstanding Windows password recovery tools. It is very quick and has an excellent user interface, even for those who are new to computers. This is compatible with every Windows version. You can actually make a Windows password reset disc, and it uses the decryption codes.
It does not limit the recovery mechanism depending on the duration or difficulty of the password, which was a major factor in our decision to include PassFab 4WinKey on this list.
Firstly download the product on your PC/Mac which is accessible to you.

Now, connect a CD/DVD/USB Flash drive with the computer and click on the burn option. It will create a recovery disk with PassFab 4WinKey.

Now insert the CD/DVD/USB Flash drive to the system whose password you want to reset or recover. When you insert the bootable disc, reboot the device and press F12 to get to the Boot menu interface.

When the boot is successful, you will be navigated to the Windows Password Recovery main interface. From there you can select whether you want to reset, recover or remove your password.

You are now free to set a new password for your Windows operating system. Just click on the Reset Your Password option and you will be done.
Spower Windows Password Reset
Spower Windows Password Reset allows you to create a bootable password reset USB drive so that you can reset your Windows password in minutes with minimal effort and information loss. It can also reset the passwords for all user accounts, whether they be an administrator or local accounts.
Pros:
Easy to use and requires minimal effort
Compatible with Windows 10, 8, 8.1, 7, and XP
Recover passwords for all user accounts
Cons:
Takes time to complete process


iSunshare Windows Password Genius
Windows Passius Genius from iSunshare is a small Windows passwords recovery software that deals with all Windows versions.
It also comes in four separate editions, each with its own price and features (standard is $19.95, Professional is $29.95, Advanced is $39.95, and RAID is $79.95), and can be stored on a CD/DVD or USB drive. To restore your keys, you don't need access to Windows.
Pros:
Create a CD/DVD password reset disc
Reset password for WindowsOS and Windows Servers
Come with a basic tutorial
Cons:
Limited option in free trial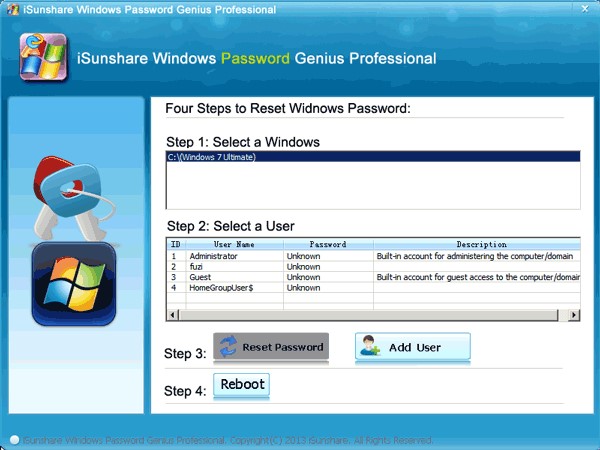 Passper Winsenior
Passper Winsenior is a powerful and fast Windows password recovery software. With Windows Reebou tables, it does exceptionally well.
It has a few key functions, including the ability to delete, modify, and create user accounts and passwords.
Pros:
100% accurate and fast
Recovers complex passwords of any length
Money-back guarantee if you fail to recover password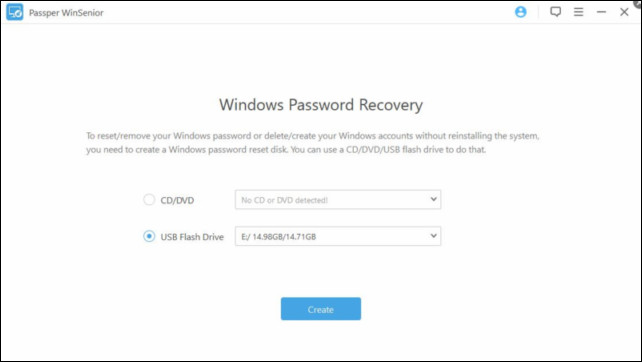 Windows Password Recovery Bootdisk
Windows Password Recovery Bootdisk is a Windows password reset tool that helps you to retrieve a forgotten Windows account password and to use the recovered hashes for more advanced cracking (though not for beginners, however).
Pros:
Recovers all lost Windows password easily
Supports IDE / SATA / SCSI hard drives and FAT
Instant Windows password removal

Which Paid Password Recovery Tools Should You Pick
| Tools | Performance | Versatility | Ease-of-Use |
| --- | --- | --- | --- |
| Ophcrack | Good | Functionality only limited to password recovery | Suitable for beginners |
| John The Ripper | Highly effective | Provide functionalities other than password recovery | Not suitable for beginners |
| Cain & Able | Not much effective | Versatile features | Some technical knowledge required |
| LCP | Highly effective | Provides many additional features | Simple to use |
| Knoppix STD | Moderately effective | Limited to few features of Linux | Only recommended for experts |
| PassFab 4WinKey | Highly effective and best recovery tool | Provides a lot of additional features | Suitable for beginners |
| Spower | Good | Limited features | Simple to use |
| iSunshare | Highly effective | Provides additional features | Easy but requires a lot of time |
| Passper Winsenior | Not much effective | Limited features and functions | Suitable for beginners |
| Password Recovery Boot disk | Not much effective | Only limited to password recovery | Technical knowledge required |
Summary
Many free Windows password reset tools guarantee that their customers will be able to restore their passwords in the most efficient manner possible. You will find some truly impressive recovery software in the resources mentioned above that is useful in any way. Among those tools, PassFab 4WinKey is the best windows password recovery tool and highly recommended for beginners.