Laptops and desktops have different security features, but when it comes to passwords, the settings only differ. But, there are few passwords that you can find in a laptop and not on a desktop. Both of them have a hard drive password set on a BIOS/UEFI level. A laptop is easily set with this type of password, but desktops find it tough. A laptop can facilitate fingerprint identification, which lacks in a desktop computer. Well, after knowing these features, you might be thinking, what if you lose the password and don't know how to remove laptop/computer password on Windows 10/8/7 computer? Worry not! We are here to fix the issue and get things done easily.
Part 1. Remove Windows 10/8/7 Laptop/Computer Password with PassFab 4WinKey
Not only does laptop and computer exist differently, but also varies between Windows versions. However, not matter your Windows version is Windows 7 or Win 10, PassFab 4WinKey can always help you in this regard. It can remove the local as well as domain passwords from computer. be it a user, admin or Microsoft account, PassFab can seamlessly create, change, remove and reset Windows passwords. Moreover, it helps you clone or back up hard drives as well as restore data from a bootable or unbootable hard disk as well.
Note: If you don't have accessable Windows computer, PassFab 4Winkey has Mac version that enables you burn bootable disk from MacBook.
Here is the detailed guide to show you how to remove computer password Windows 10/8/7.
Step 1. Download and install the software on computer. Now, select the "CD/DVD/USB Flash Drive" option, once you connect an empty flash drive to the computer.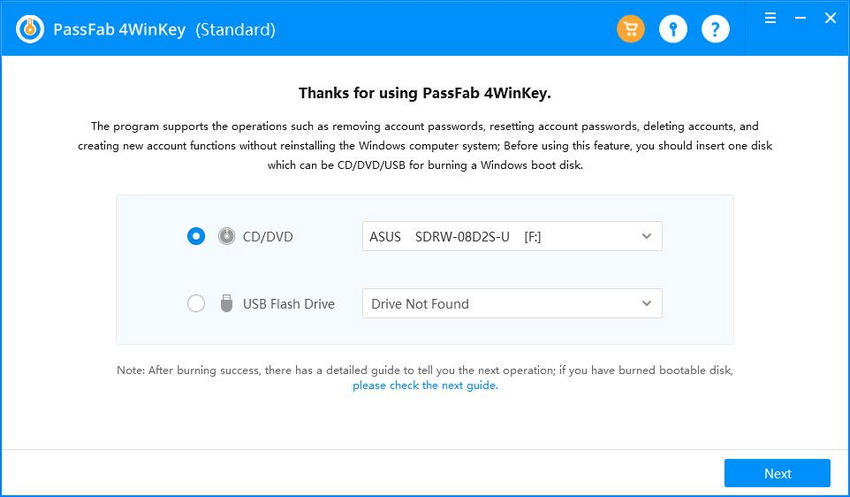 Step 2. Click the "Burn" button and wait till it's over. Tap "OK" and before ejecting the USB drive.
Step 3. Now, connect the flash drive to your locked or password forgotten Windows system and hit "F12" (Boot Menu) in order to reboot the computer. Now, from the list you need to select the particular flash drive and press "Enter".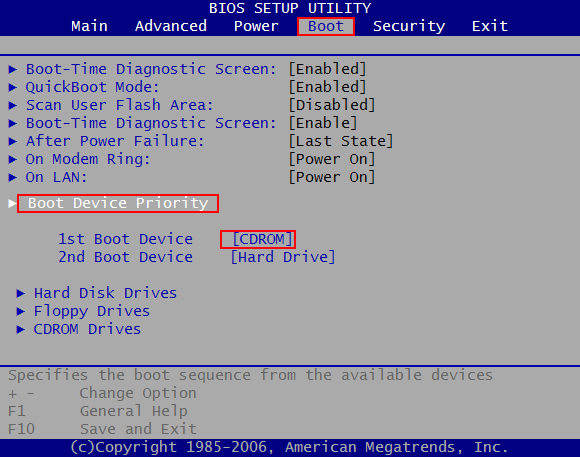 Step 4. On the "Select Windows Installation" screen, pick "Windows 10/8/7" and tap "Next".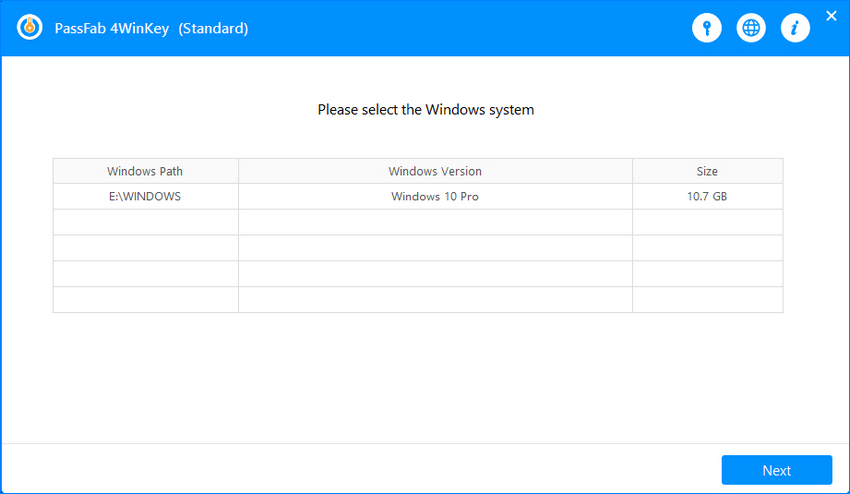 Step 5. Select the desired "Account" name from the list and then hit "Next".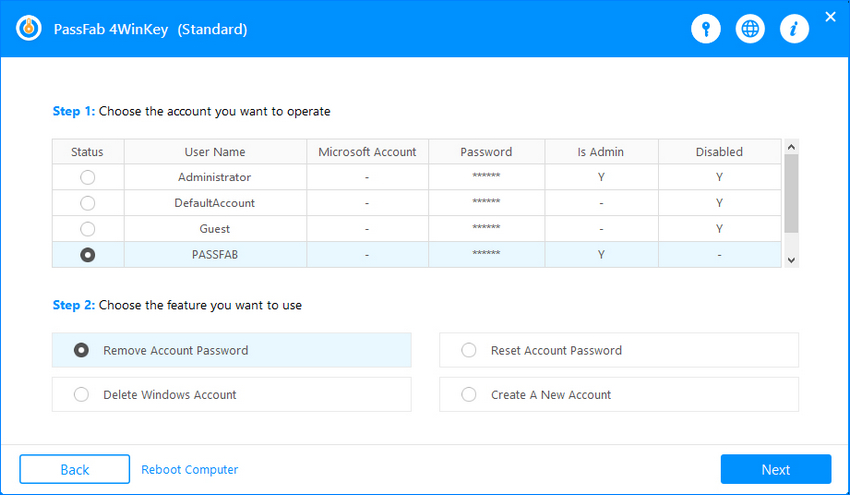 Step 6. You need to click "Reboot" as the password has been reset. Tap the "Restart Now" button right after that.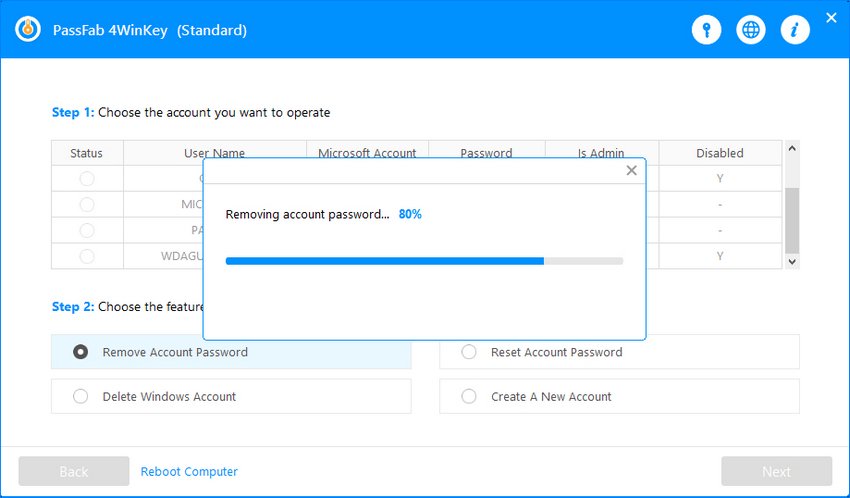 So, there are all the steps to remove windows password. As you see, the simplicity of operation is suitable for all kinds of people, even computer novices. Besides, once you purchased it you can use this tool for life.
Part 2. Free Ways to Remove Windows 10/8/7 Password
In this part, I'm gonna introduce 2 free ways to remove windows password. You can compare the free ways to PassFab 4Winkey.
1. Using Utility Manager to access CMD
Turn off your PC first. Hold down the "Shift" key and then boot up your computer.
Go to "Troubleshoot" and then "Advanced Startup Options" on your Windows 8 computer. Access the "Command Prompt" thereafter.
Enter "move c:\windows\system32\cmd.exe c:\windows\system32\cmd.exe.bak" and click the "Enter" key.
Now, key in the command "copy c:\windows\system32\cmd.exe c:\windows\system32\utilman.exe"again and hit "Enter". You will get a file copy confirmation.
Restart your Windows PC and tap "Utility Manager" icon from the bottom-left corner to open "Command Prompt".
Now, key in "net user myusername mynewpassword". Put new password instead of mynewpassword and user name for myusername. The command completed message will show up. And now, your password got reset.
On the "Command Prompt" again type "copy c:utilman.exe c:\windows\system32\utilman.exe" and tap "Enter" followed by "Yes". Exit "Command Prompt", restart your PC and login using the new password.
2. Using Password reset wizard
Plug in a USB flash drive to your PC. In the Windows search box, type "reset" and select "Create a password reset disk".
On the "Forgotten Password Wizard", tap "Next" and then select your "USB flash drive". Followed by "Next" and "Finish".
Now, reboot your PC and then, intentionally enter a wrong password for 5 times. Now, the Windows 7 system will display the "Reset Password" link right under the login box.
Plug in the available password reset disk and let the computer open "Password Reset Wizard" here. Tap "Next" and choose your password reset disk from the list.
Key in a new password and verify it. You can now easily use your Windows 7 computer with the new password.
Honestly, for most computer user they can't finish the process. The most important thing is that you may break your computer once you make a mistake.
Conclusion
In this article, we've told you how to remove windows password. If you want to reset Windows 7 Password or change Windows 10 password, PassFab 4WinKey can also allows you to do it. If you have any prblems of Windows password, leave the message below to let us know.