Best 3 Ways to Reset Windows 7 Password
"I have an old laptop that operating system is Windows 7 but I forgot the login password, what should I do?"
If you forget a login password of old PC or laptop, then you do not need to panic. Now, you have multiple ways to recover the login password. Forgetting a password is not a big issue. You can resolve the forget password problem in various ways. You can also take the help of Password Recovery software if you want to recover in minimum possible time. If you do not want to install third-party software to reset the Windows 7 password. Here we are providing you the 3 ideal ways for Windows 7 password reset.
Part 1. How to Reset Windows 7 Password Using Command Prompt
There are two free ways to reset Windows 7 Password using a command prompt. If you want to reset Administrator password or Microsoft password, please check part 3 directly.
Way 1: Without Safe Mode
Step 1: On your computer, click on the "Start" button and then, search for the "cmd" which is Command Prompt in the search box. Once you find the "cmd" option, run the "cmd" as administrator.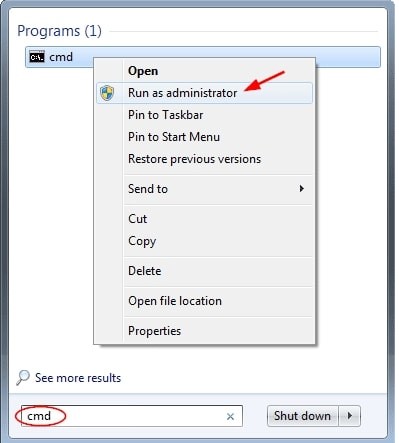 Step 2: Once the command prompt is open, run the command which is: "net user username password". Finally, the process of windows 7 user password reset is completed.


Way 2: With Safe Mode
Step 1: When you start your laptop, hold the F8 key to open the "Advanced Boot Options" screen. Now, choose the "Safe Mode With Command Prompt" from the Boot screen and then, press Enter.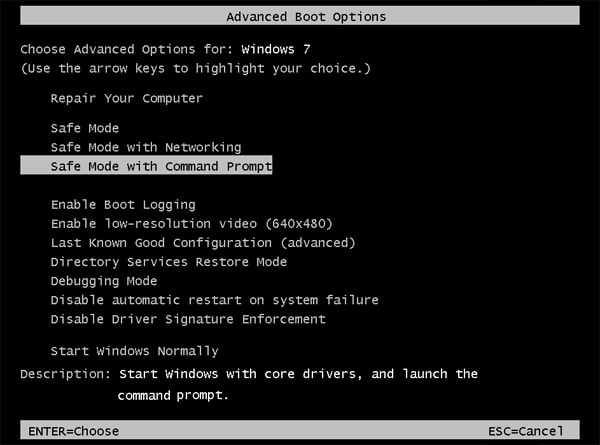 Step 2: Now, the hidden administrator account will be available on your laptop or PC screen. Click on it to open the command prompt automatically. Finally, type the command "net user username new_password" as shown below.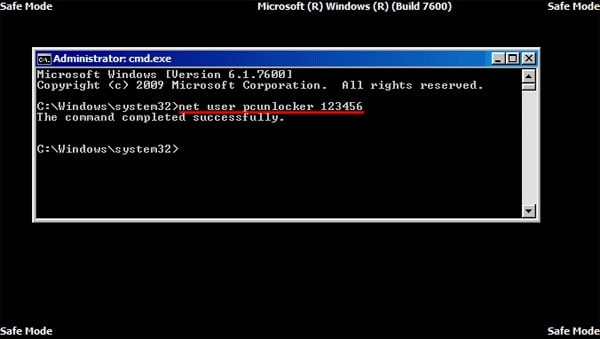 Part 2. How to Reset Windows 7 Password Creating Password Reset Disk
For Windows 7 starter password reset with reset disk, you need to create a reset disk. Follow the below instructions on how to create a password reset disk once you forgot Windows 7 password.
Step 1: Take a Flash drive and insert it into your laptop or computer. After inserting, right-click on the drive and tap on "Format".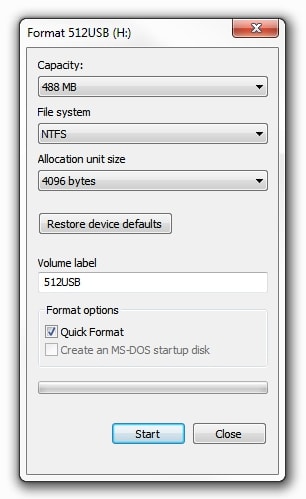 Step 2: Thereafter, go to the "Control Panel" and search for the "User Accounts". After finding the "User Accounts", open it and open the link "Create a password reset disk" as shown below.


Step 3: Follow all the instructions of "Forgotten Password Wizard".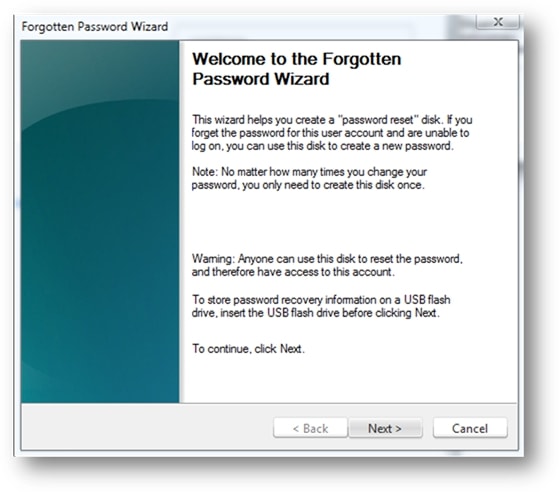 Step 4: Now, a drop-down list will be shown. Choose the Flash drive from the list.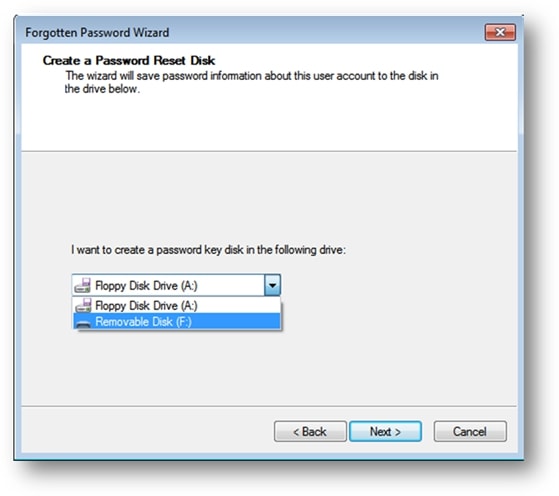 Step 5: Once the reset disk process is finished. Tap on "Next" to exit from the Forgotten Password Wizard.
Step 6: Type the wrong password in the password filed of Administrator for 5 times. After entering the multiple wrong passwords, "Reset Password" will appear on your desktop screen. Tap on it for Windows password reset 7.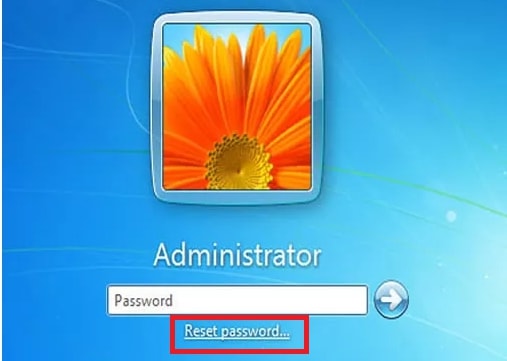 Step 7: Now, the Password Reset Wizard will be shown and click on the "Next".
Step 8: Now, insert the password reset disk that you have created in recovery option as shown below. Again, click on the "Next" button.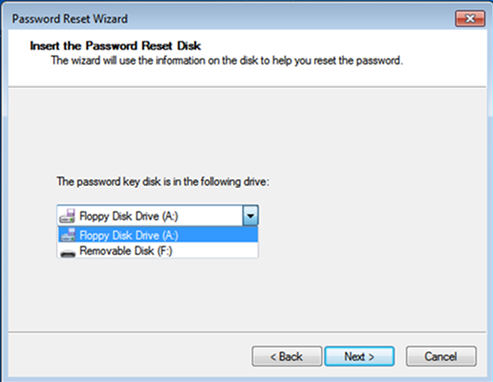 Step 9: Now, type the new password and again, click on the "Next".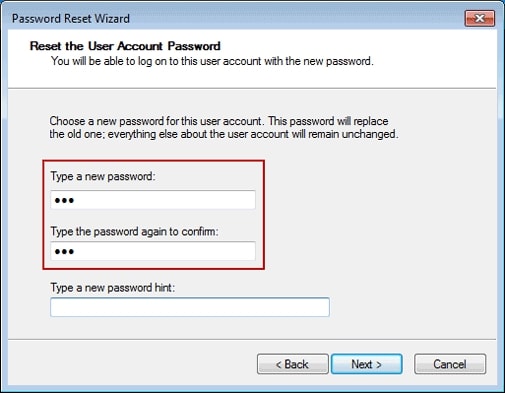 Step 10: Eventually, click on the "Finish" button and your Windows 7password will be reset.
Part 3. How to Reset Windows 7 Password Using PassFab 4WinKey
In the previous two parts, I've introduced free ways to reset Windows 7 password. In this section, i will recommend a Windows password recovery tool which is the best one in the market. PassFab 4WinKey is selected by more than 100 hundred Windows users. If you have any Windows password issues on Windows XP/Vista/7/8/10, just leave the problem to this tool. Here is the guide to use it.
Step 1: Open the browser and search the PassFab website. Download the software from its site. Then, run the software on a computer. Select either a USB Flash drive or CD/DVD and click on the "Burn" to reboot the locked computer.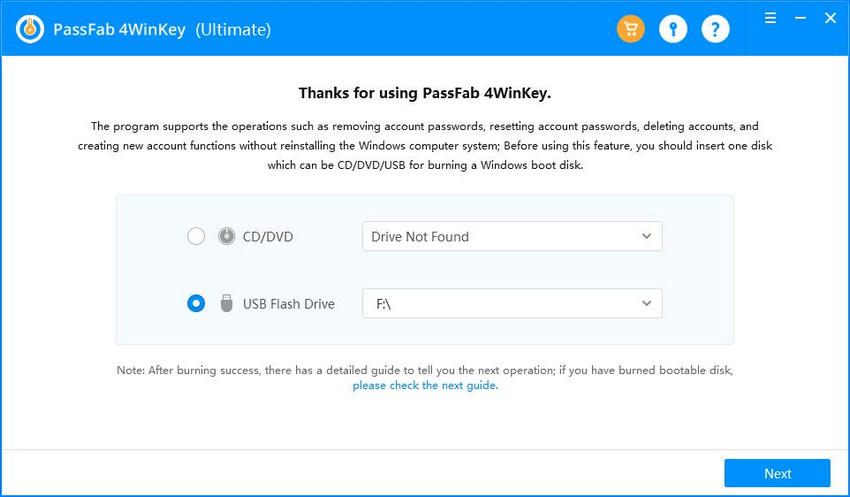 Step 2: Waiting for the process, generally it will take a few minute. Once your CD/DVD or USB Flash Drive was burned successful, simply click "OK" to move on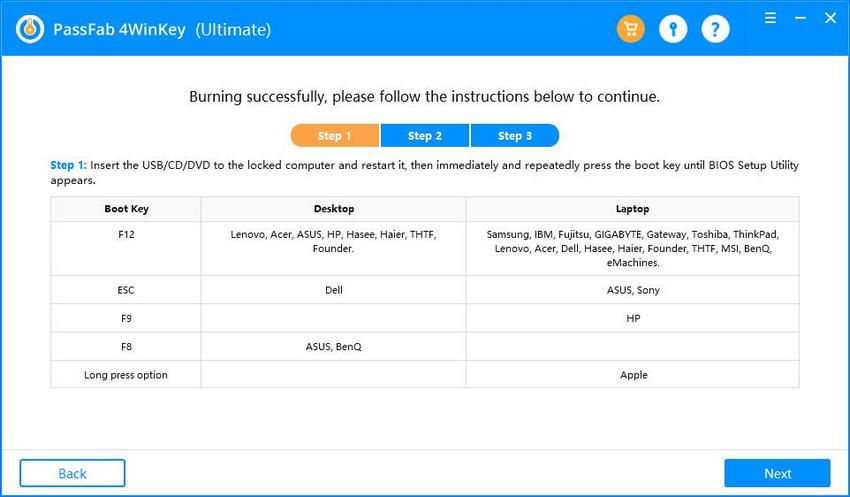 Step 3: Now, you need to insert the burned-USB flash drive to your locked computer. Restart the computer and press "F12" or "ESC" on the keyboard to enter Boot Menu interface. After entered Boot Menu, you will find out your inserted disk from the USB/DVD/CD name. Using arrow key to choose it and press "Enter" keyboard to boot it.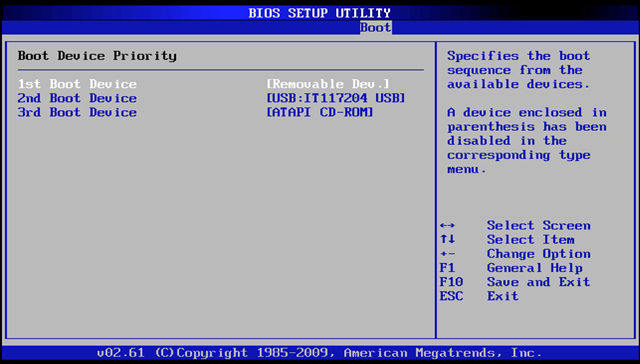 Step 4: When you see the main interface of this Windows password recovery tool, select "Reset your password" option and click on "Next".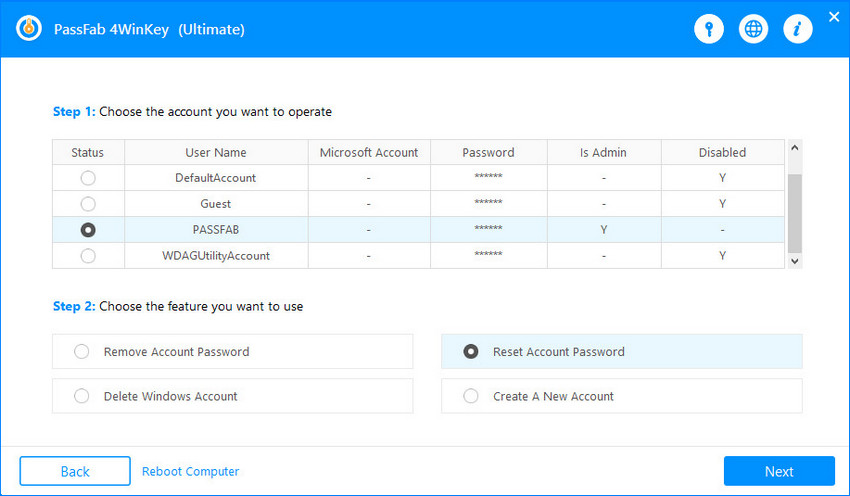 Step 5: Now, all your windows account will be displayed. Select a user account, you will see the default password. If you don't want it, just chnage it by your own. Then, click on "Next".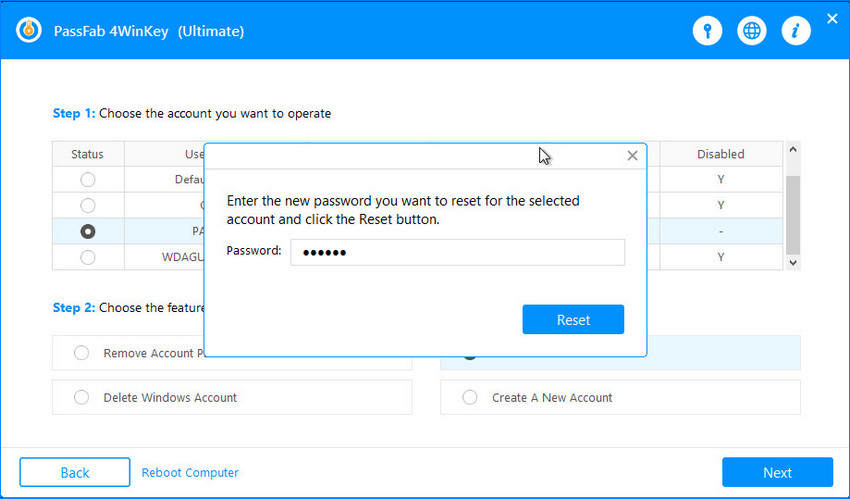 Step 6: Now, you will go to another interface, simply click "Reboot" to restart your computer. Then you can use your new password to log into Windows system.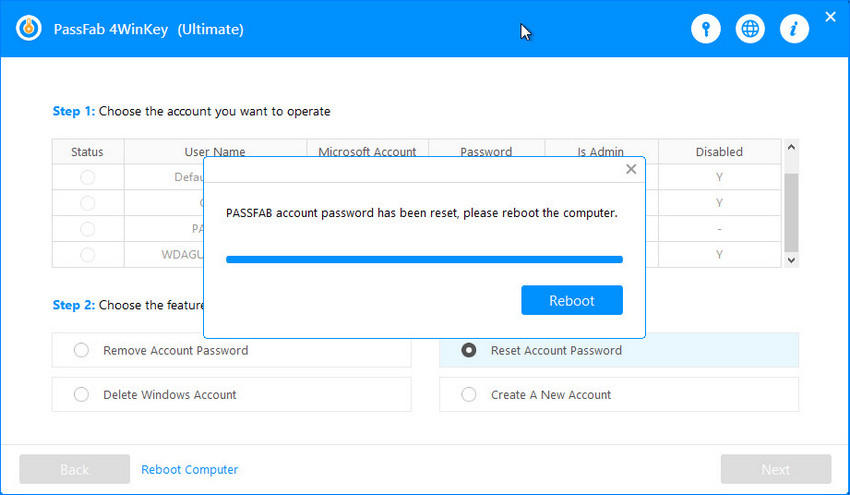 Summary
In this article, we provide you the best ways for Windows 7 password reset, you can also use PassFab 4WinKey to bypass Windows 7 password . If you are having an old laptop but do not remember the password, you can you any above method to enter into your system. Moreover, you do not need to go to any service shop to reset the password. At home, you can do yourself with having an access to the internet on your computer.