[Full Guide] Password Reset Wizard for Windows 10/8/7
Your PC contains a lot of personal data and if you suddenly get locked out of your computer because you have forgotten the password, it can be really frustrating! There are a lot of people who face the same situation every day because they don't know about the Password Reset Wizard. It is called PassFab 4WinKey! It is a very powerful software with the capability to bypass the lock of your computer and get easy access to the user account. All the important details on the software are discussed below.
How to Reset Windows User Account Password
If you have locked yourself out of your computer and looking for a way in, then you can use PassFab 4WinKey software to get access to your PC again. This a Password Reset Wizard, does not matter which version of Windows you are using, if you are looking for a Password Reset Wizard Windows 10 or Password Reset Wizard Windows 7, then 4Winkey is the answer. It is also usable on other versions of Windows as well.
Here are a few recommended features of PassFab 4WinKey:
It is able to bypass and reset Windows local Administrator and the user password. It can also recover passwords as well.
You can also reset Microsoft account password with this but offline.
You can also make a new administrator account and get into a locked computer.
You can also change the user password to a new one.
1. Create Password Reset Disk
PassFab 4WinKey can help you make your own password reset disk. To create Wizard password reset disk, you just need to burn a drive on to a CD or DVD with Quick Recovery Wizard or Advanced Recovery Wizard. But the Quick Recovery Wizard will be the best for you.
Step1: Download and install PassFab 4WinKey and then launch the program.
Step2: Then you need to choose a boot media, it can be CD/DVD or USB but in 4WinKey Standard you will be able to use only CD/DVD.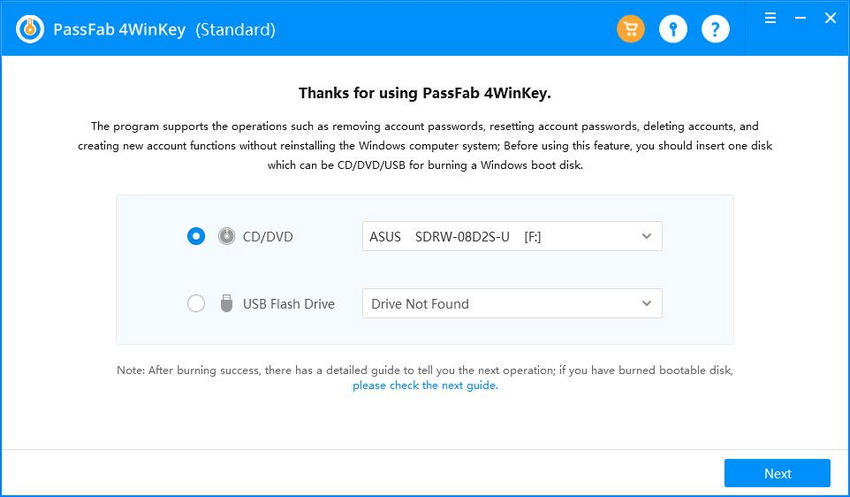 Step3: Then, click on "Burn" to start making a boot disk.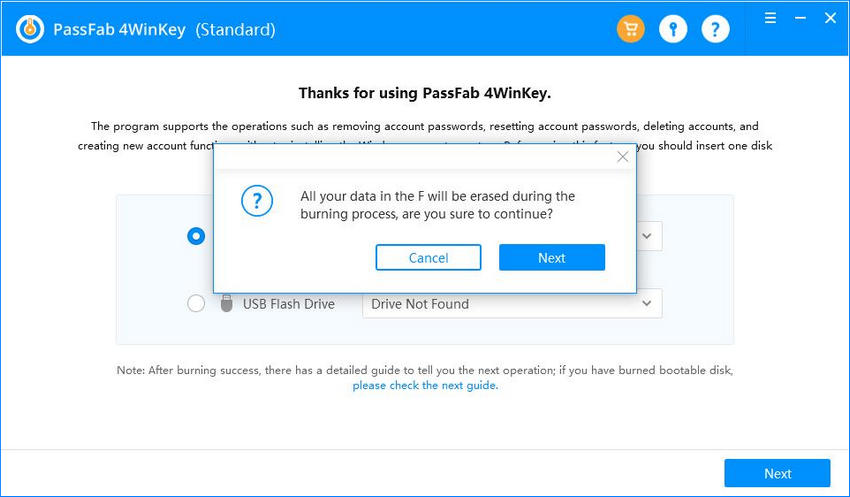 Step4: Then, the software will prompt that CD/DVD has been formatted and all the data in it will be lost.
Step5: A dialog box will appear and you need to click "Yes" and then 4WinKey will start to burn a bootable CD/DVD.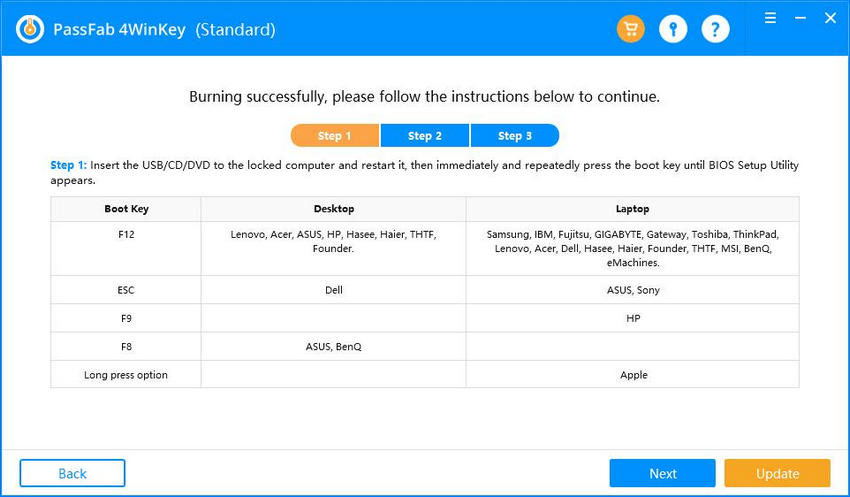 Step6: In a few minutes a message will show that CD/DVD has been burned successfully.
The password reset disk has been created successfully. Now, you can move onto the next part of the procedure.
2. Boot Windows from Reset Disk
Now, that you have successfully created the Password Reset Disk with the Password Wizard; you need to move on to the next part of the procedure.
You need to boot Windows from the Reset Disk, the details are discussed below:
Step1: At first, you need to insert the bootable disk into the locked computer.
Step2: The, restart the computer and start tapping "F12" or "Esc" on the keyboard to enter Boot Menu.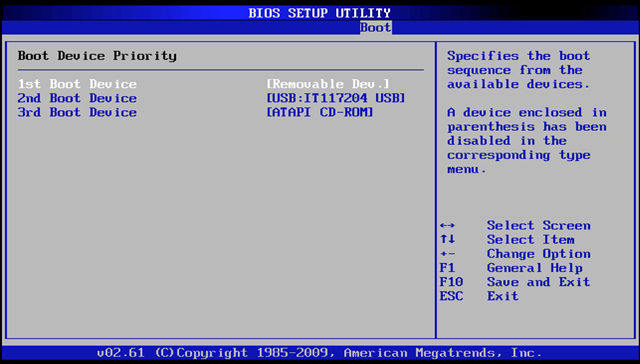 Step3: If you have entered the Boot Menu successfully then you will see that there are more than one boot choices, and the CD/DVD drive where you have inserted the disk is among it.
Step4: You can highlight that disk from the Boot Menu, using the Arrow keys on the keyboard and then press "Enter" to select it.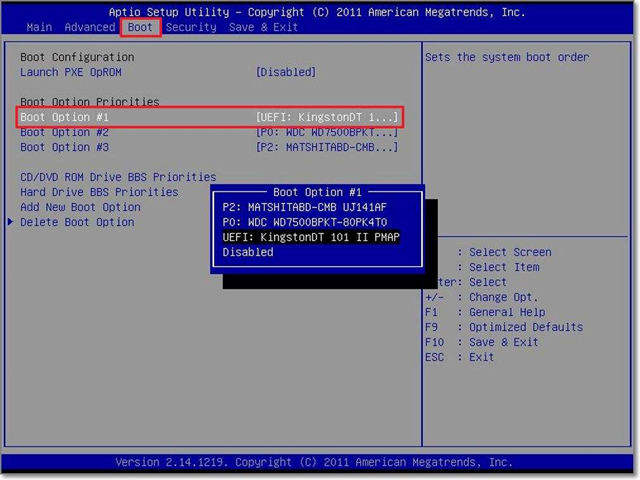 Step5: Finally, when you were able to enter the Password Locked Windows from the bootable disk, you need to reset or remove the password completely.
3. Remove/Reset Windows 10/8/7 Password
Now, you are going to use PassFab 4WinKey to Reset or remove the login password for your computer. The steps are discussed in detail below;
Step1: Choose your Windows Operating System and click "Next".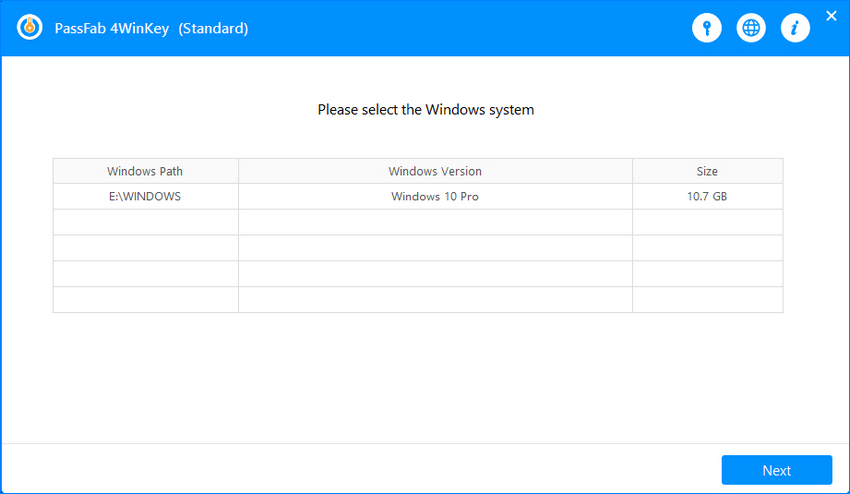 Step2: Now, you need to choose a User Account from the list. You will see that account name on the username box.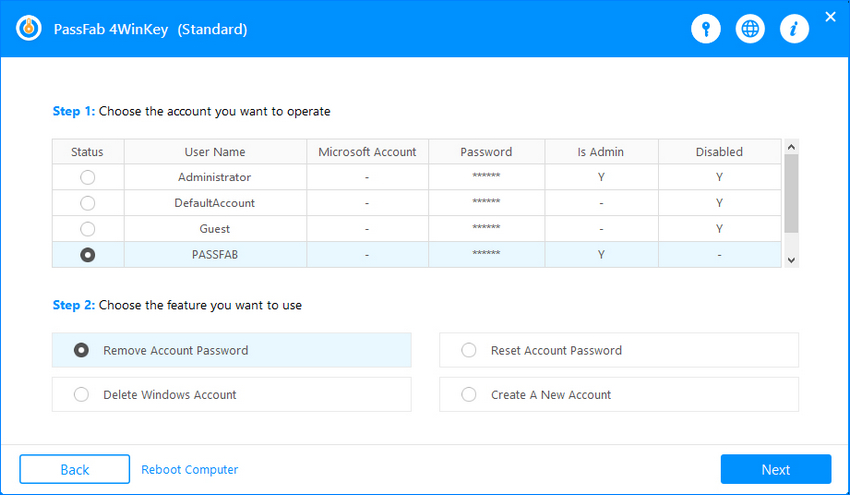 Step3: Then, you need to click "Next" and your password will reset successfully.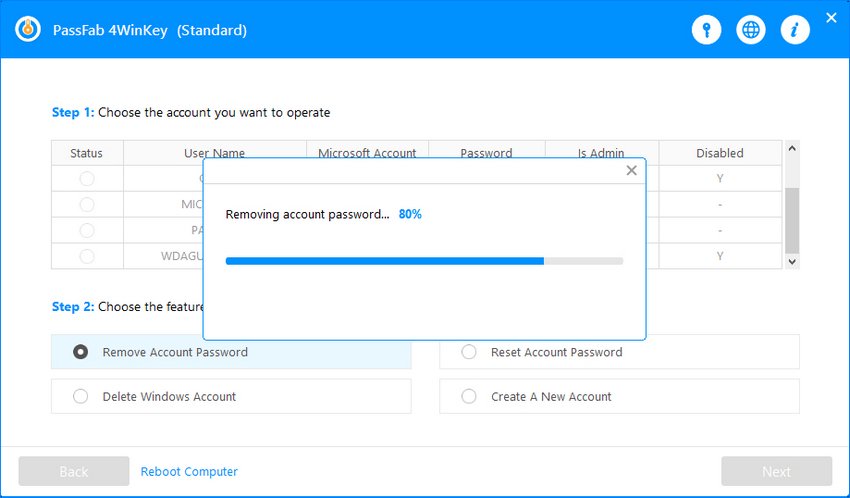 Step4: After that, a dialog box will appear on the screen, click "Reboot" to restart your computer.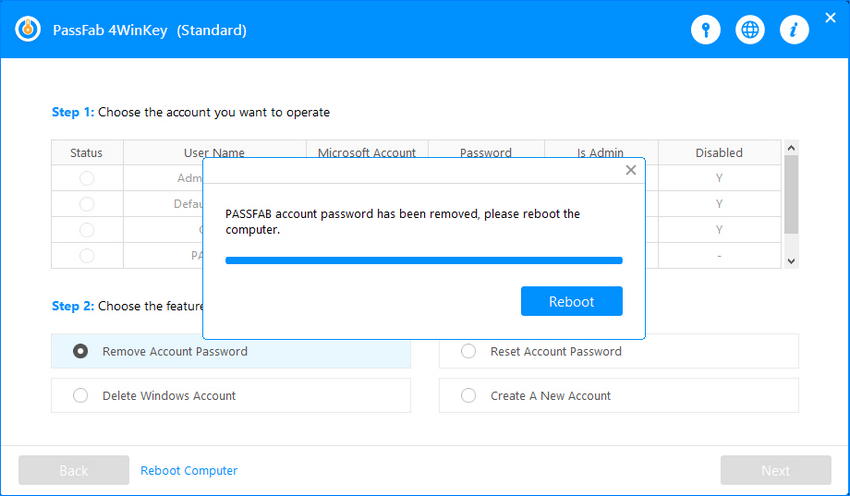 Step5: Now, you will be able to log in to your computer very easily with a new password.
This was the last part of the procedure. As you can see this is a 3 part procedure which is very simple and convenient for the users.
Conclusion
Forgetting the password of the computer can put anyone in a very difficult situation. Unfortunately, most of us do not know a way around it and how to get access to the device again. Hopefully, you don't have to ask for it anymore, after getting to know about PassFab 4WinKey. It is an amazing software that can easily give you access back again to your locked computer. Don't miss it!