"I lost the password for my Acer Aspire V3 731 laptop. How can I reset or unlock it? I tried doing a system restore but it asks for media recovery or installation recovery. I cannot access anything what can I do."
- A user from Acer Community
Except factory reset Acer laptop to remove Acer laptop password you can also unlock the password. Have no idea on how to unlock Acer laptop password? Don't worry! In this article, we've prepared 2 efficient ways for you.
Way 1. How to Unlock Acer Laptop Password Using Recovery Drive
What's recovery disk? It also named password reset disk. Don't know how to create one? If you already have one of then, follow the below steps directely to operate.
Step 1. Insert the Recovery Drive for your Windows version into your Acer laptop. Go to Troubleshoot menu > Advanced options.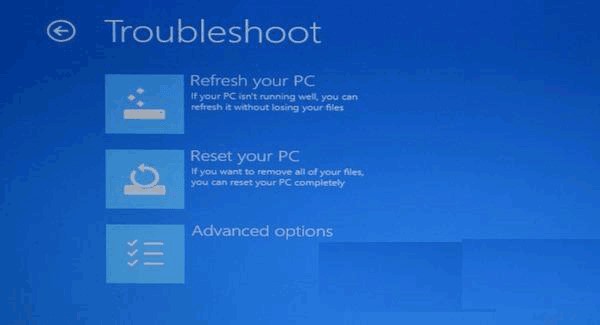 Step 2. A window will pop-up on your screen. Select Command Prompt option.
Step 3. The Command Prompt window will appear on your screen. Type diskpart and hit Enter. Then, type list vol and hit Enter. Now, you have to find your Windows installation partition. It is usually saved in C: drive.
Step 4. To exit DiskPart utility, enter the following command lines one after the other.
C
cd windows
cd system 32
ren Utilman.exe to Utilman.exe bak
copy cmd.exe Utilman.exe
Step 5. Hit Enter and restart the computer. It changes the Ease of Action icon function to shortcut for Command Prompt. Open the window by clicking on the icon.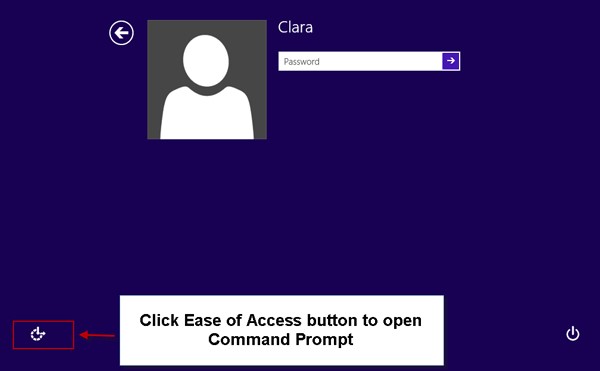 Step 6. Type net user command. It will display all the user accounts on your Acer laptop.
Step 7. Enter the username and new password (the one that you want to keep) as a command line. For example, if the username is Claire and the password you want to keep is xyz123, the command line will be Net user claire xyz123 . Then hit "Enter".
Step 8. Type exit command and hit Enter. Go back to the lock screen and click the username you want to log-in and type the new password.
Way 2. How to Unlock Acer Laptop Password Using Professional Tool
If you find the way mentioned above too difficult to process, you can use PassFab 4WinKey. It works perfectly on Acer laptop and support all Windows versions. You can use it to unlock Acer laptop forgot password within a few minutes.
Step 1. Download and install PassFab 4WinKey on an available computer or laptop. Insert a CD/DVD or a USB drive to create a bootable drive to insert into your locked Acers laptop.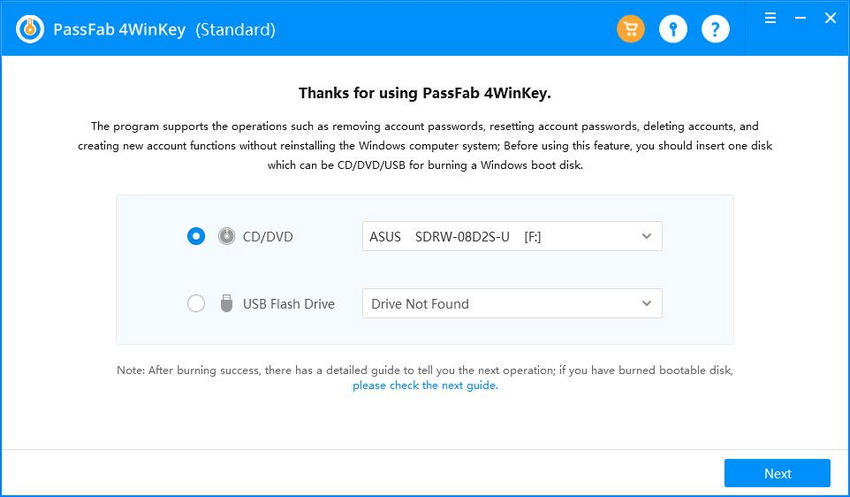 Step 2. Hit Burn. Clear all data from the removable drive since it is lost during the burning process.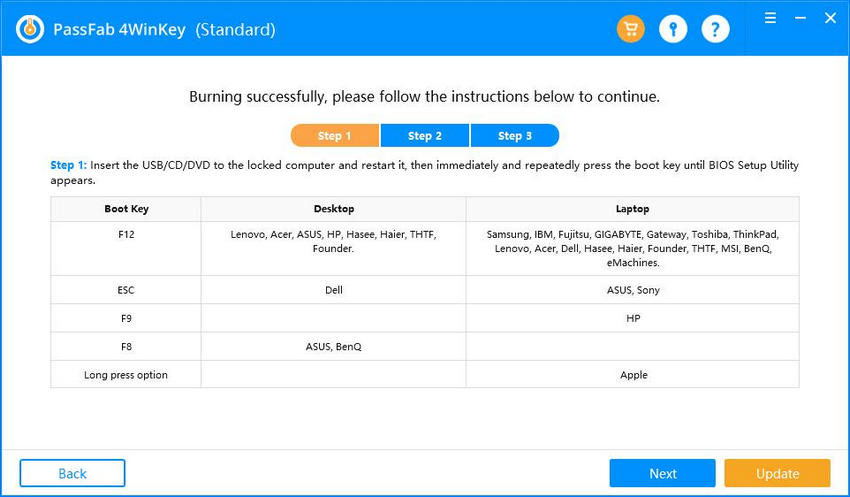 Step 3. After the burning process is complete, eject the removable disk and insert into your laptop.
Step 4. In Select Windows section, choose your Acer laptop's operating system and hit Next.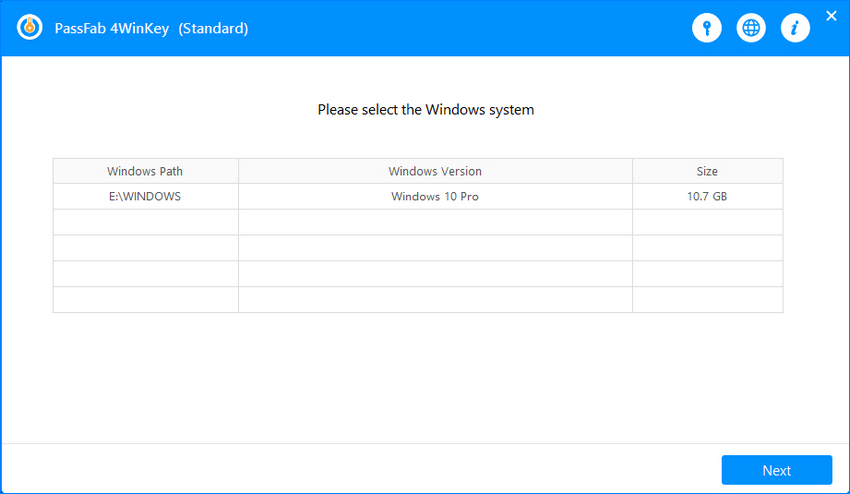 Step 5. In Manage accounts section, select your user account. Enter a new password. Hit Next.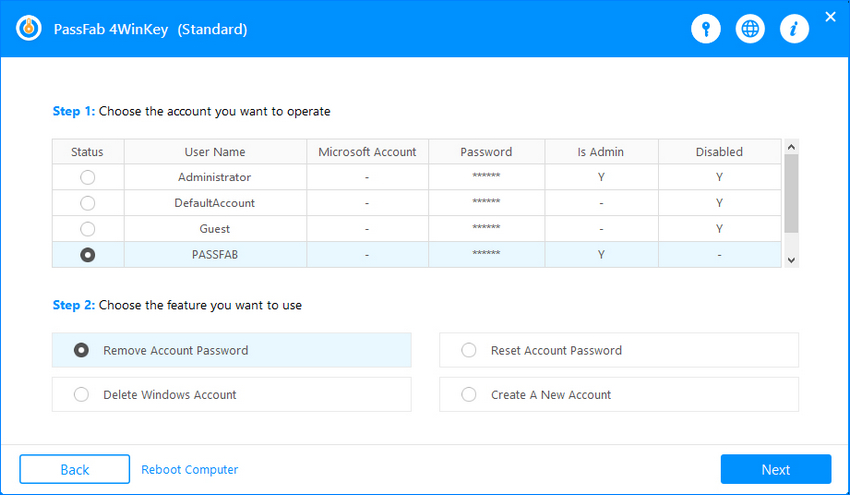 Step 6. In Process section, the password recovery process begins automatically. A window will pop-up on your screen once it is complete. Click on Restart Now.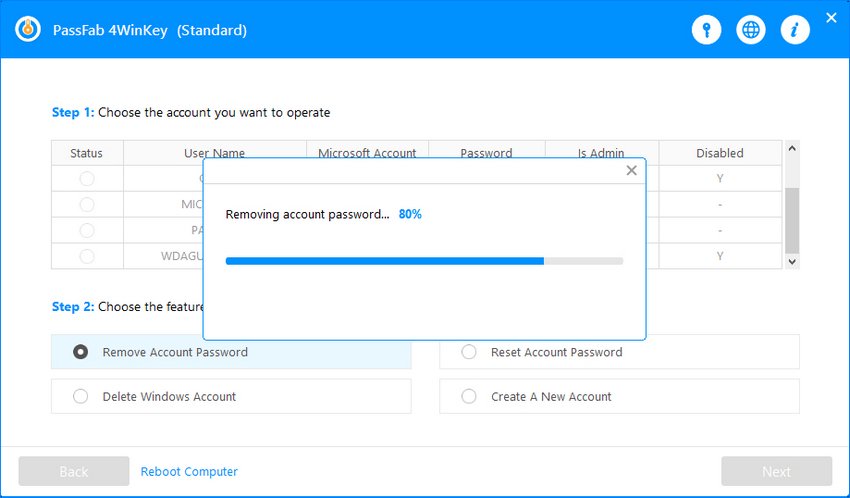 Step 7: After the computer restarts, select your username, enter the password, and you have access to your laptop. Make sure to write down the new password somewhere safe. In case you forget it again, you can always check it. The best place is to hide it in your kitchen. It is far away from your work area, so no one will know where you are hiding it. At the same time, it is near to you in case you happen to forget it.
Conclusion
In this article, we've talked about two ways to unlock Acer laptop login password. But, with PassFab 4WinKey, no matter you are using admin account or Microsoft account to log on the computer it can help you unlock it. Furthermore, you may also interested in how to reset Toshiba laptop password. If you have any password questions, please contact us at any time!