The HP recovery disk is backup of your system password that allows you to log in to your HP computer if you ever forget your Windows password. It is a simple procedure of step by step instructions that you will have to follow to create a HP recovery disk and then use it whenever it deemed necessary.
Part 1. How to Create HP Password Reset Disk
Method 1: Using Forgotten Password Wizard
1. Login to your Windows through local account.
2. Now you need to connect a formatted USB flash drive with your system.
3. Then Open "Control Panel" and Click on "User Accounts" and again "User Accounts".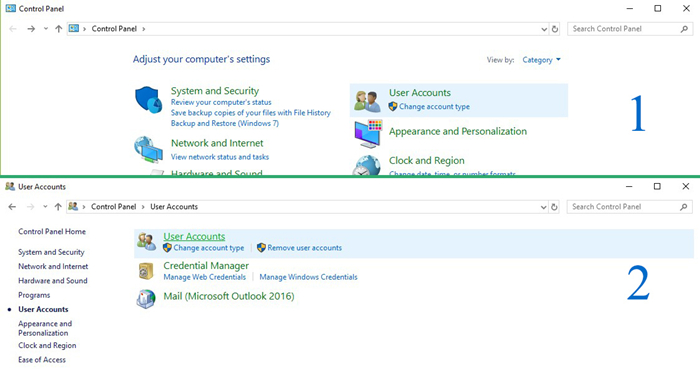 4. Then click on "Create a password reset disk" from panel on left side. Forget Password Wizard window will popup.
5. Now click on "Next" button.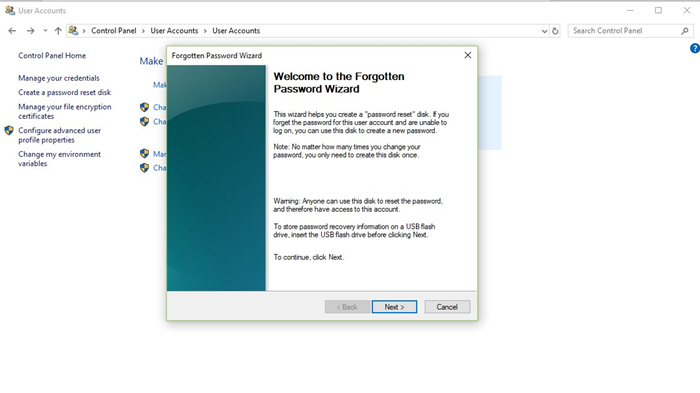 6. In next Window choose the USB disk from dropdown list and click on "Next" button.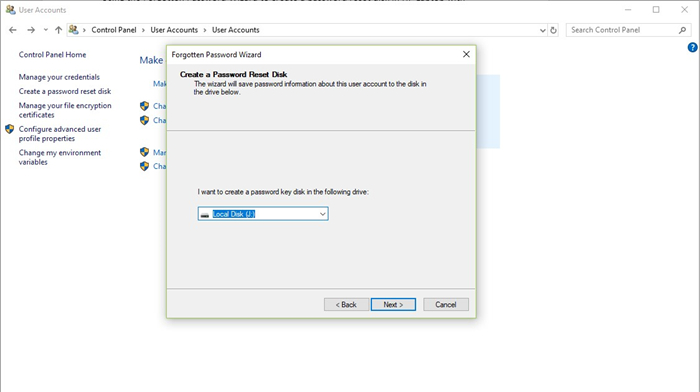 7. Afterwards, you will have to type current password in "Current user account password" text field and once again click on "Next".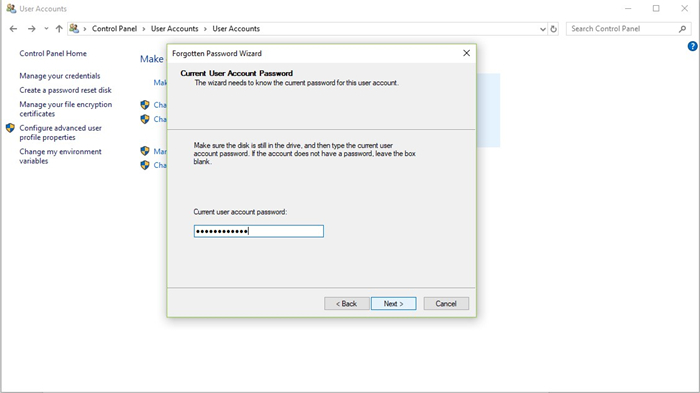 8. Password reset disk process will start writing data on your USB flash drive, once complete click on "Next" and "Finish" on next window respectively.
9. Now you can safely unplug your USB flash drive and use it when you forgot Windows password.
Method 2: Creating A Microsoft Recovery USB Drive
1. Connect an empty USB drive to the computer, at least 32GB Flash Drive is Recommended
2. Now type "Create recovery drive" in Windows search and click on "Yes" when asked for permission.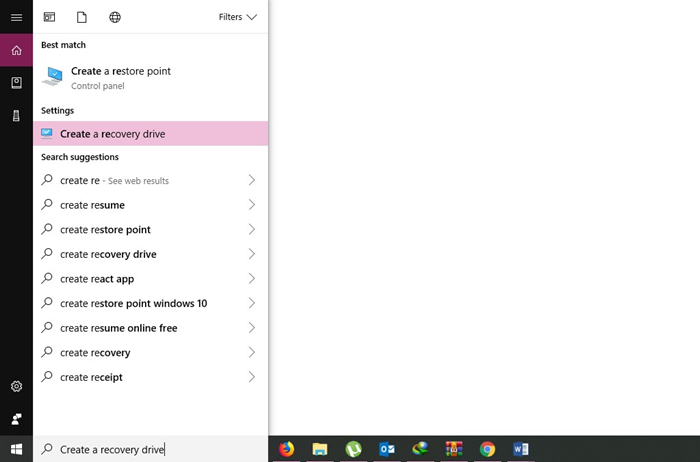 3. In next window click on "Next", then process will take few seconds to evaluate Windows.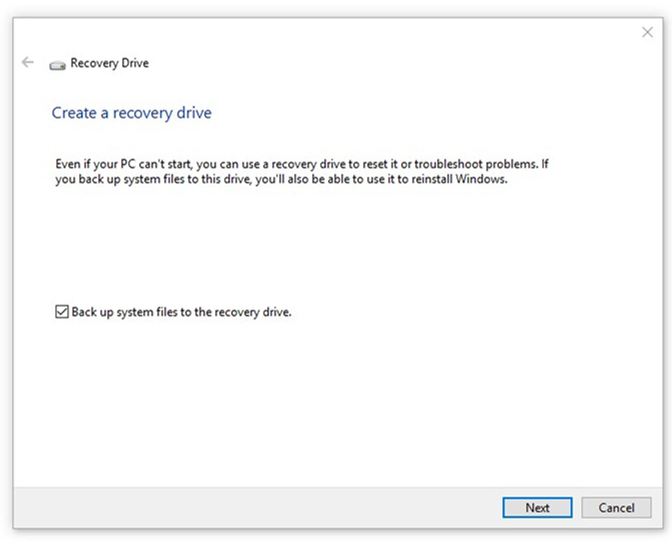 4. Afterward, Select the USB flash drive you want to use for recovery, and then click "Next".
5. Another window will open asking for confirmation simply click on "Create".
6. Now wait for process to complete and after completion click on "Done" and unplug USB flash drive.
7. Make sure to place your HP recovery disk in safe place for later usage.
That's it and you have a complete recovery disk prepared out of your installed Windows. It is a ready to use backup of your system in case of emergencies.
Part 2. How to Use A Password HP Reset Disk on Windows
Before you proceed with restoring your password, make sure you have recovery USB Flash drive with you and inserted it into your PC.
1. On Windows login screen, click on "Reset password".
2. Click on "Next" button.
3. Then open the dropdown menu below "The password key disk is in the following drive" and choose your password reset USB drive.
4. Then click on "Next" button.
5. Now type your new password in both fields "Type a new password" and "Type a new password again to confirm" respectively.
6. In "Type a new password hint" field type your password hint as per your choice.
7. Then click on "Finish", and that is it.
The password to your Windows account has now been reset successfully! You can use new password to log into your account. It was a simple and easy procedure but if by any means it doesn't work the PassFab 4WinKey will surely be helpful for.
Bonus Tip: How to Reset Forgotten HP Login Password
The above mentioned are helpful for sure but in case you forgot and there is no way to reset your HP computer's password there is a solution known as PassFab 4WinKey. It is easy to use and powerful software to help you reset the password and supports Windows 7, 8 and 10.
Step 1: Download and install this software to any computer, then run the program.
Step 2: Connect a USB Flash Drive with your computer, and click on "Burn" to create a Windows password recovery disk using PassFab 4WinKey.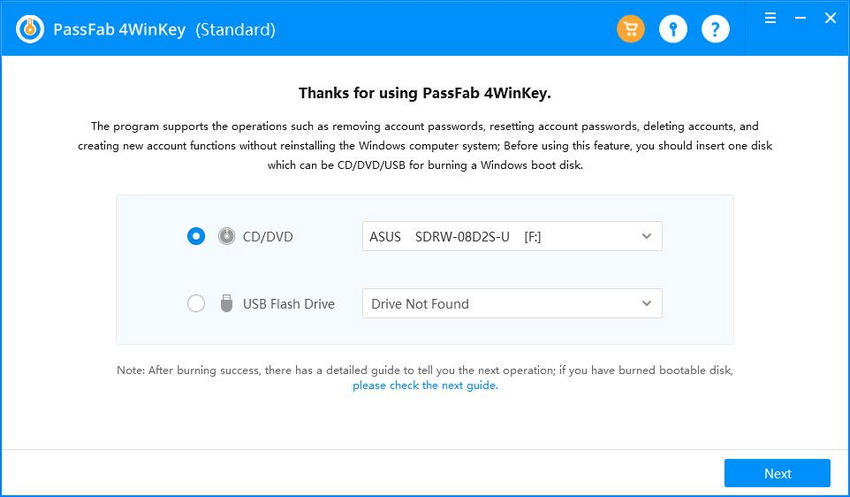 Step 3: Now insert this USB Flash drive into your password protected HP laptop.
Step 4: Go to BIOS settings and choose to boot into your recovery disk created earlier.
Step 5: Once you restart and boot into the USB drive you will have the option to reset the password, remove an account and even create a new account. It's that easy.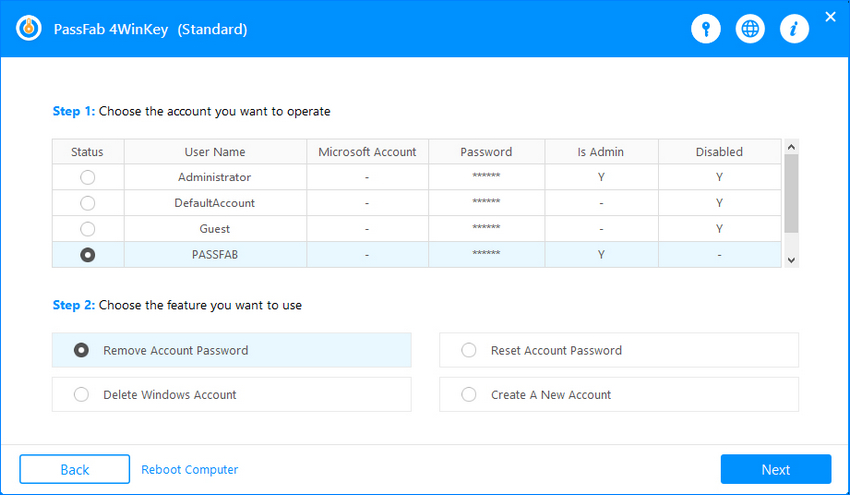 Step 6: Once you are done with your choice, click "Next" to confirm and then reboot your HP computer and use your new log in information to sign into your account.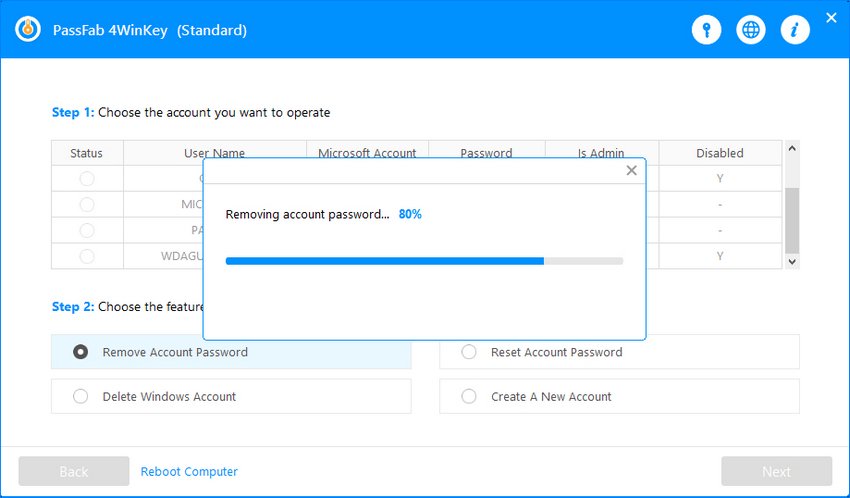 We've tried to answer your query "how to create a HP password reset disk?" in a detailed manner and step by step tutorials. These above-mentioned methods will surely help you resolve the issue by resetting your HP password especially PassFab 4WinKey is perfect to use in any situation and anywhere with ease.