In this era of technology, almost everyone works on a laptop. Everyone tries to get the latest laptop with updated software. But those who are computer geeks know that security always has its priority among everything. So, keeping this in mind world's 2nd largest computer selling company, according to institute rating 2011, Lenovo has updated its OneKey Recovery Software.For those who are already using Lenovo laptops know how much useful Lenovo OneKey Recovery is, but for those who are about to buy a laptop, you should read the features of Lenovo OneKey Recovery then take a decision.
What is Lenovo OneKey Recovery?
Lenovo OneKey Recovery is a program that works with preloaded Operating Systems only. It helps the user to restore its system to default factory position. You can also update the backup of your system to latest, but once it's been updated, factory backup overrides. This helps when your system encounters any attack, and you don't have any other option but to reinstall the operating system. In this situation, you press the "OneKey Recovery" button, and Lenovo OneKey Recovery does the rest. This process save your precious time and money. Knowing about Lenovo OneKey Recovery is not enough; you must know how to use it. There is no desktop icon for it. We will guide you about where and how to find Windows OneKey Recovery.
How to Backup Using Lenovo OneKey Recovery?
You can create a backup for your system anytime while your windows still running. If your system is running, boot your windows and follow the procedure:
1. Go to Start > All Programs > Lenovo > Lenovo OneKey Recovery.
This will launch the Lenovo OneKey Recovery application. Now choose the System Backup option. If you have the backup, you can start recovery from here, too.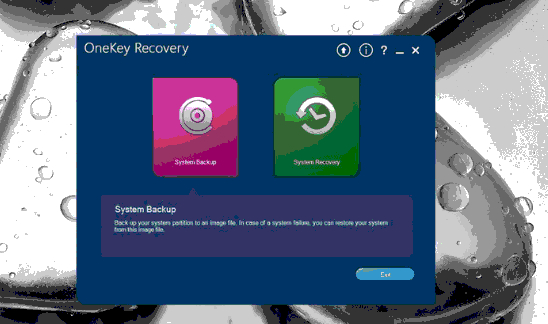 2. Now it will ask you to select a Destination for your backup. Select the Backup destination and click Next.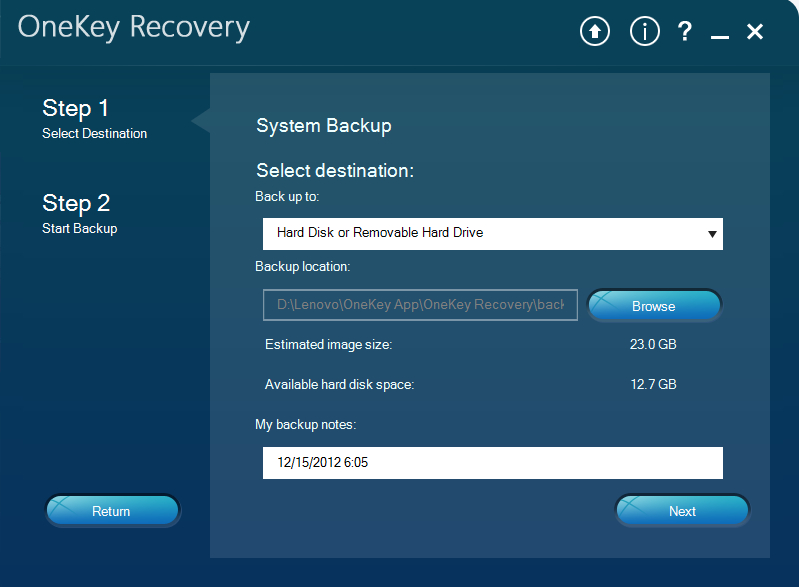 3. The system will start building a backup. It will take some time depending upon the size of data.
All these advantages don't mean that Lenovo Onekey has no disadvantage. It occupies space on your disk. There must be some hidden partition that contains the system image. This is the reason Lenovo disks does not display the same space as quoted.
How to Use System Recovery in Lenovo Laptop?
There are two situations that you might encounter after some attack windows can boot, or Windows can't boot. If you have once used Lenovo laptop in your life, you will be aware that it has a Novo button on it. You might have wondered what it does? Now is the time it should work. So in either of the situation following the procedure.
1. Shutdown your system and Press Novo Button, present on your Lenovo laptop, for a while.
2. The system will display a menu. Choose System Recovery from it.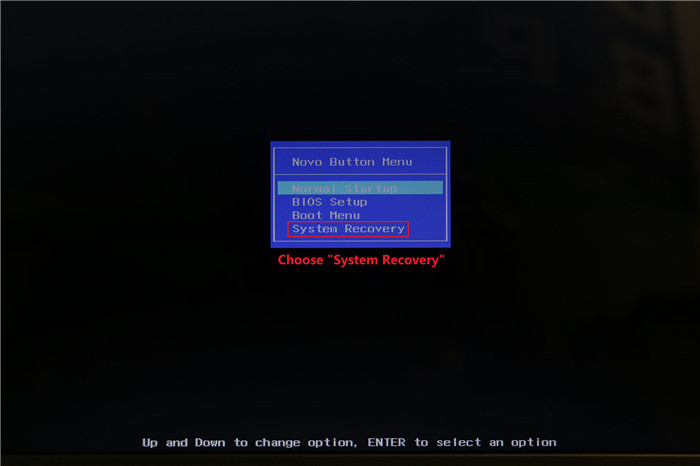 3. Now you will be displayed multiple options, but you have to choose Troubleshoot.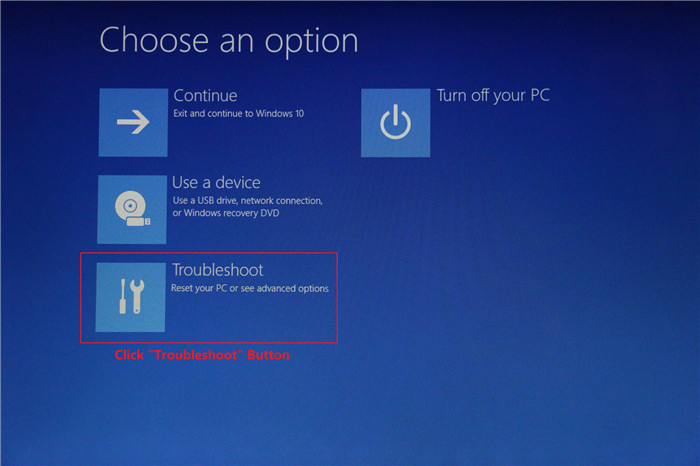 4. Now select "Reset this PC."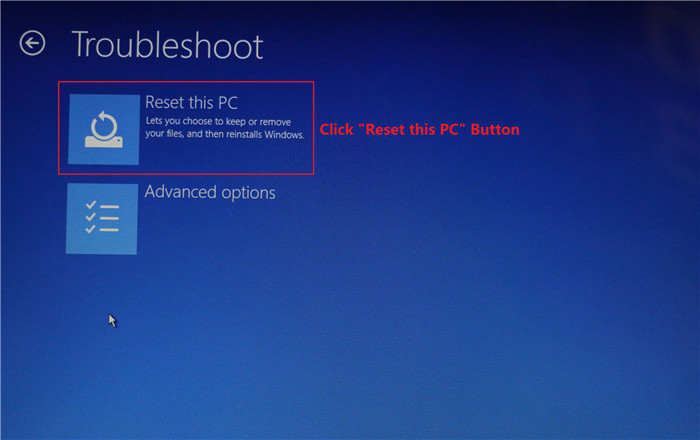 5. After clicking Reset PC, you will get two Options:
"Keep my Files" Removes applications and programs that didn't come with PC, keeping your files.
"Remove Everything" Removes everything including your files.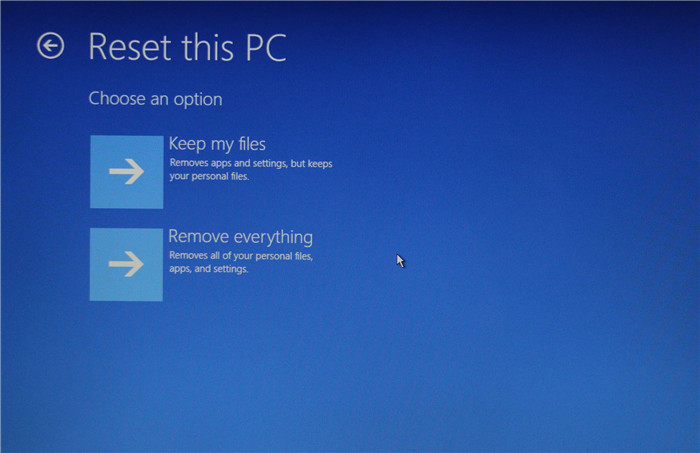 If you choose "Keep my Files," it will ask you about your new username and password. Set new credentials and press continue.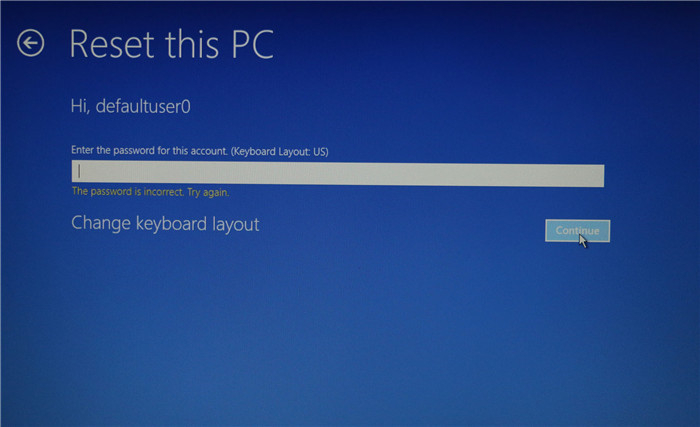 If you choose "Remove Everything", it will again give you two options:
"Only Drive Where window is installed": Recovers only C drive.
"All Drives" Recovers every drive on PC.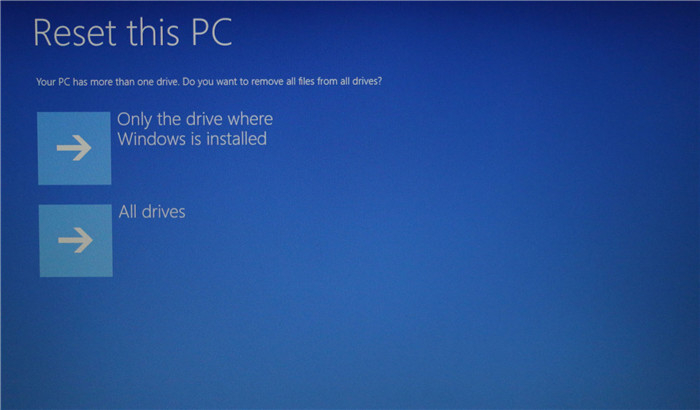 6. Now click the "Reset" button to start recovery.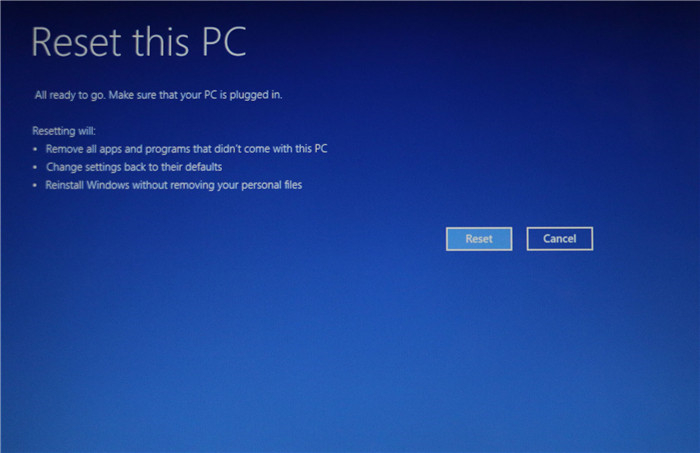 But before starting recovery, your system should have some system backup files. If you want to backup the latest data, we can help you do this.
Additional Tips: How to Reset Lenovo Laptop Password
If you only lost your Lenovo windows password and don't want to go through hole recovery process them this tip is for you. Because forgetting password doesn't mean to reset the whole system, this will cost you time and data. So, the solution to this problem is PassFab 4WinKey. It is third-party software that helps you recover your Windows password in no time. It doesn't need any large space on your system to retrieve your password. Nor it needs massive specification machine.
Not only Windows password but it also supports password recovery for Windows 2019/2012/2008(R2)/2003(R2)/2000 Servers that act as domain controllers (only available for Active Directory Servers).
Now with all these specifications here is a quick guide on how to use PassFab 4WinKey:
Step 1. Once you execute 4WinKey software, let it burn on any of your media devices. Here we will be using USB.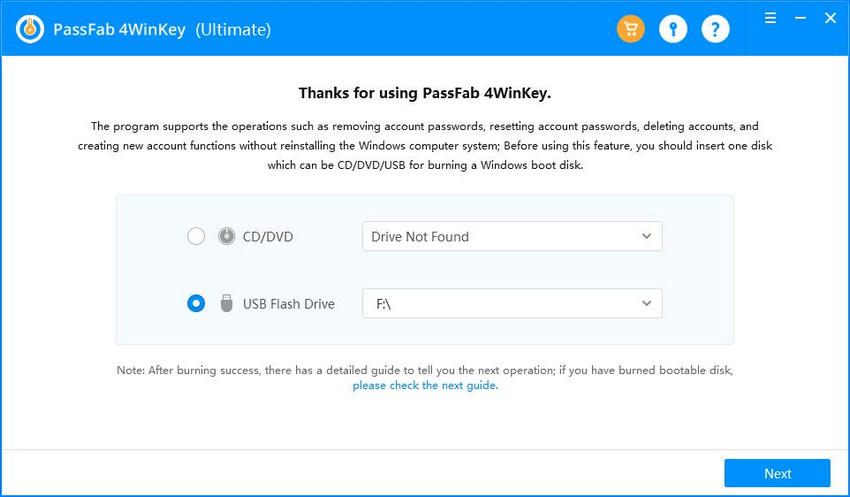 Step 2. It will format your USB so do backup your data before letting it permission. Let the burning start by allowing permission.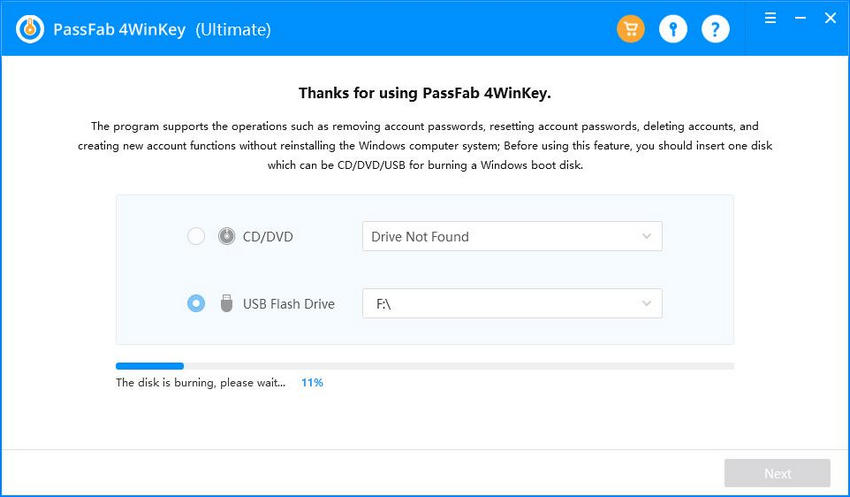 Step 3. You will be informed about successful burning with a success message.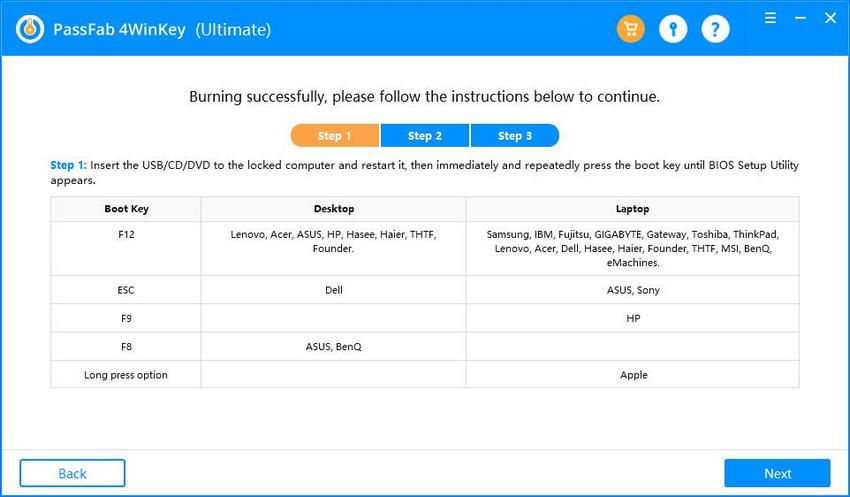 Step 4. Now reboot your system and let it boot from USB. After successful reboot from USB, find your USB name from the list and select,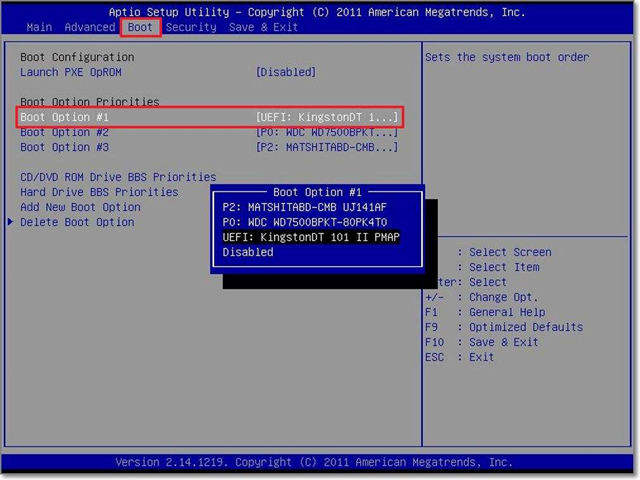 Step 5. Once you've entered the locked Windows from boot disk successfully, you can change the password as well. Now select which one was your operating system and click "Reset Password" to reset locked laptop.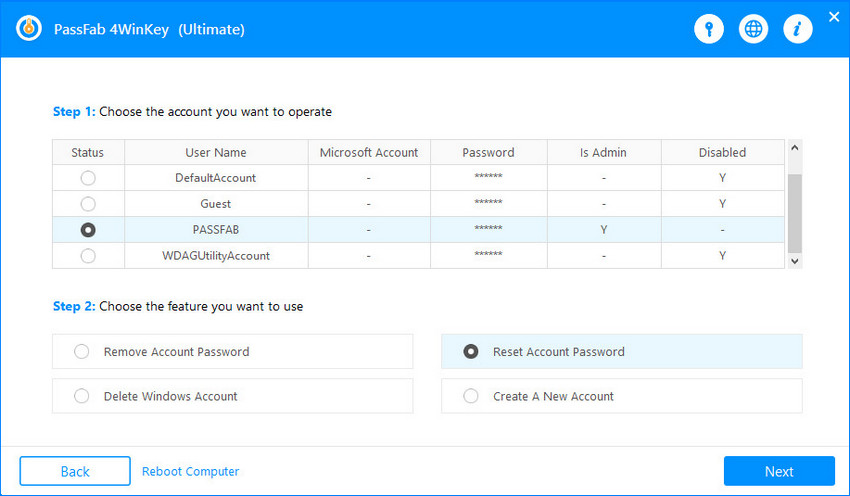 Step 6. You will be shown all usernames, select for which password has to be changed. Enter the new password in the box below and press "Next".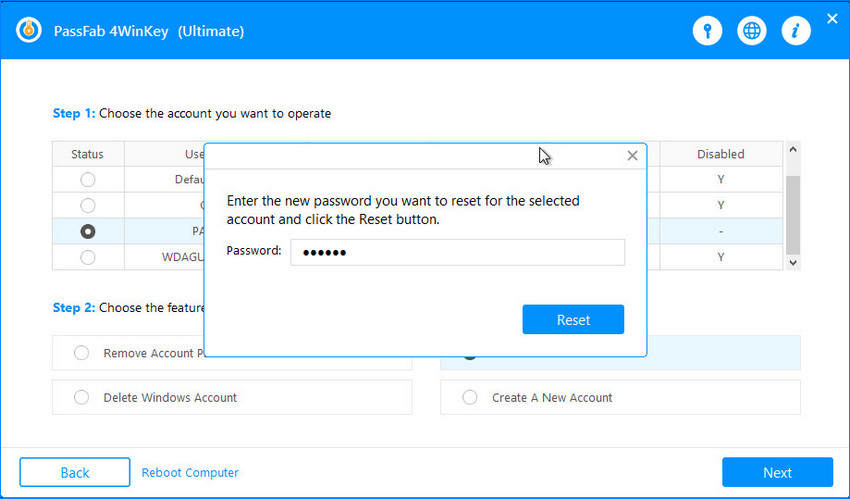 Step 7. After sucessfully resetting forgotten Windows password, remove USB and reboot your system. On login screen type new password and regain your access.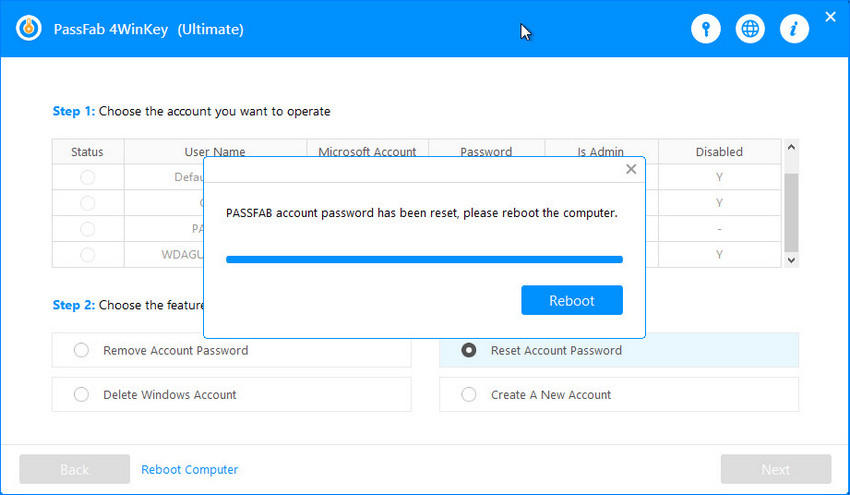 Lenovo has given a fierce competition to its competitors with this innovation, but on the other hand its hidden storage has some severe issues with the users. User complains about the less storage problem. But we still don't recommend to reset only because you forgot your password and you don't trust third-party software. PassFab 4WinKey is complete and trustworthy Windows password recovery software which you can use without any security issue.