If you're baffled about how to enable Microsoft account login on your computer or if you've already enabled it but have forgot Microsoft account login password, then you're not the only one. There are several queries that we've found over the Microsoft forum and here are a couple of similar queries out of those:
"How to log in my computer using Microsoft account? I cannot log in to my laptop because I have forgotten the password. If I click on 'I forgot my password' , the system requires me to enter email address that I used to create Microsoft account but it is no longer in use. I don't remember it either. So I am in a deadlock."
Now, if you're wondering where you could find the most appropriate solutions to your queries and these aforementioned queries too, then your search ends here. Today, we're not only going to explore the tutorial on how to enable the microsoft account login but also will discover the tutorial to perform Microsoft account login password reset. Here we go!
Part 1. How to Access Computer Using Microsoft Account
In order to enable Microsoft account login, the first step is to understand how you can make the best out of it. Doing so opens up a pool of features for you, for instance you get the privilege to explore Windows Store and access all other Microsoft services (like Outlook, OneDrive, Live, Windows Messenger etc.) under the same hood (user account). Sounds interesting? Well, it should be.
Steps on how to enable Microsoft account login:
Step 1: Launch the "Start" menu and then opt for the "Settings" option. Then from the appearing window hit on the "Accounts" tab.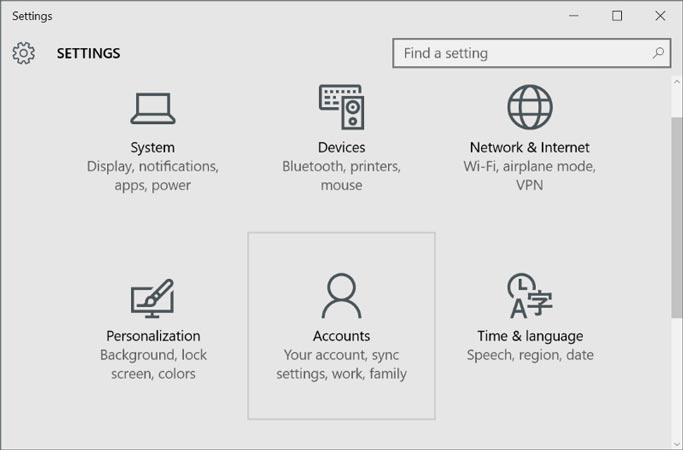 Step 2: Next, you need to get under the "Your info" section and then hit on"Sign in with a Microsoft account instead" link. You now need to follow the prompts to enable the Microsoft account login.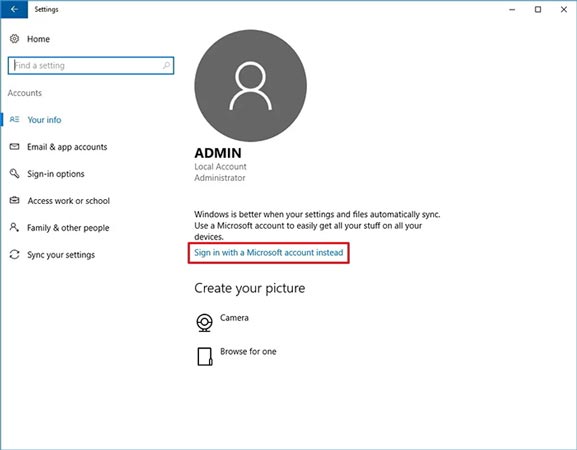 Step 3: Lastly, sign out of your old account and sign back into the Microsoft account of yours to let Windows 10 sync all your settings and Microsoft purchases.
Part 2. Forgot Microsoft Account Password to Login Computer?
Moving further on the next query type: how to regain access to your Microsoft account on your computer when you've forgotten the password! In such a scenario the ideal method is seek help of a professional tool to help you recover your account. For this purpose, we would like to introduce one tool and a free way to help you perform Microsoft account login password reset.
1. Using Professional Tool
Here we ping you the one-stop solution to cater all your password recovery needs. PassFab 4WinKey is not just capable of performing Microsoft account login password reset but also can remove or reset the passwords of Admin account or local accounts as well. And that too, without the need of old password or any recovery email address (which is required in other ways to reset Microsoft account login password).
Steps for using PassFab 4WinKey.
Step 1: Install and launch the PassFab 4WinKey over your PC and take hold of an empty "USB" flash drive, then plug it into your PC. Now, opt for the "USB Flash drive" option from the program interface and hit "Burn" to convert it into a bootable media. Upon completion, plug out the bootable USB drive now.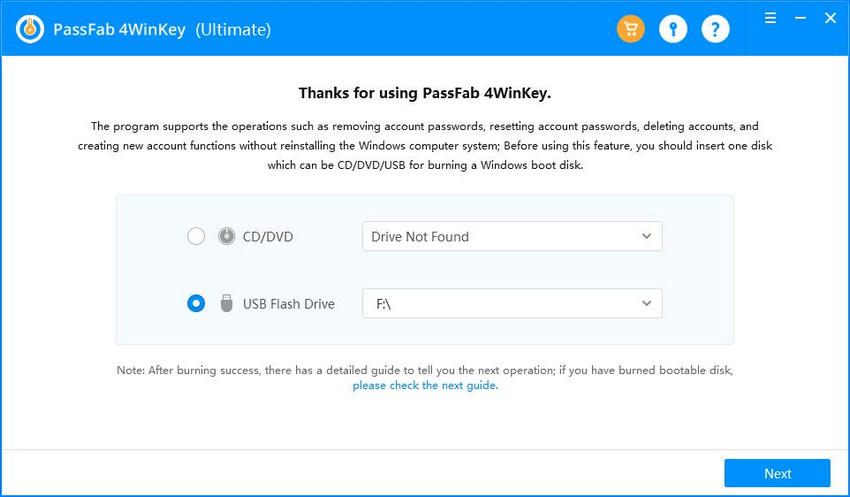 Step 2: Then, insert the bootable USB into your locked PC and restart it. Now, you are required to tap the "Esc" or "F12" key at the first boot screen to execute the "Boot Menu" window followed by opting for "USB drive" under the "Removable devices" section.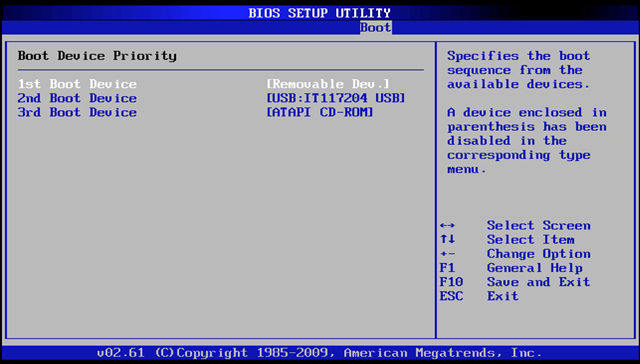 Step 3: The next appearing screen will have PassFab 4WinKey interface, simply choose the preferred operation, i.e."Reset your password" followed by clicking the"Next" button.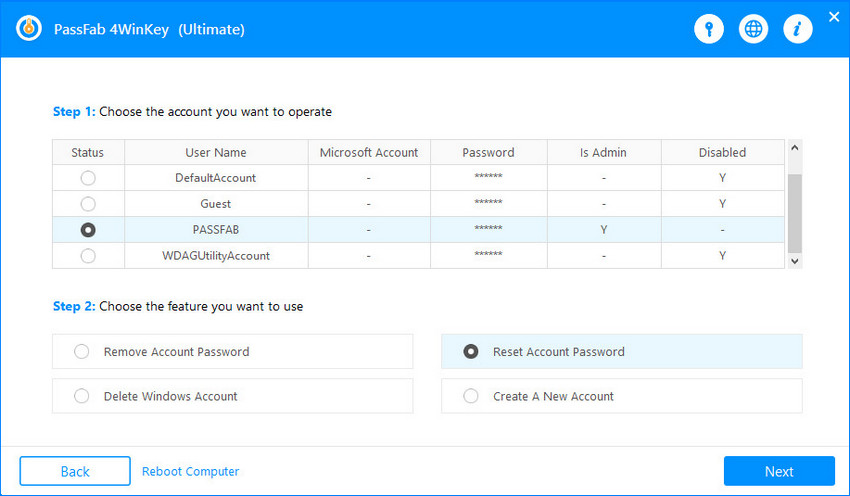 Step 4: Lastly, you are required to opt in for the aforementioned Microsoft account and punch in a new password in the respective"New Password" field. Tap "Next" afterwards and you're good to go.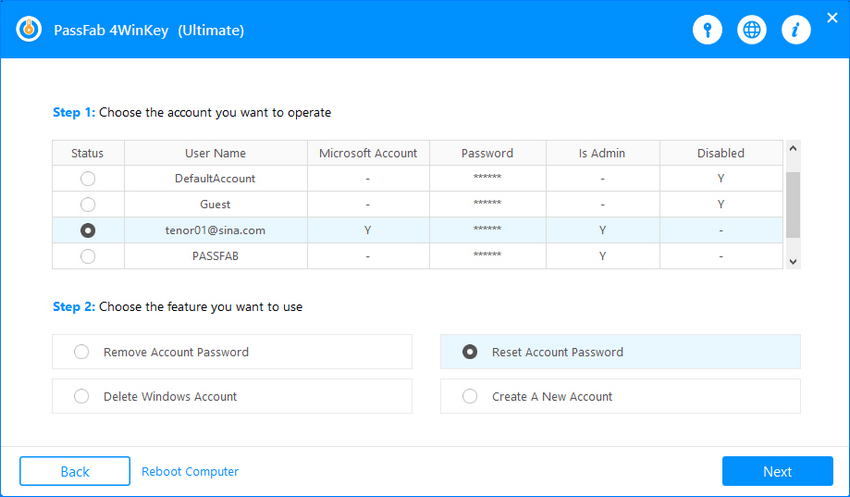 Here is a video tutorial that teach you how to reset Microsoft password with Windows password recovery tool:
2. Reset Microsoft Password Online
A yet another way to reset Microsoft account login is via forgot password technique. This is not a recommended way as you need to have access to you recovery email address to fetch security code to reset password. Moreover, the users did not receive any security code sent to their recovery email, reportedly and they are stuck with a blocked Microsoft account. But let's just give it a try.
Step 1. First, you need to /powse https://login.live.com/ and feed in the Microsoft account email. Hit "Enter". Now, tap on "Forgot my password" link and on the appearing screen you need to press "Next" button as your Microsoft account username is filled already.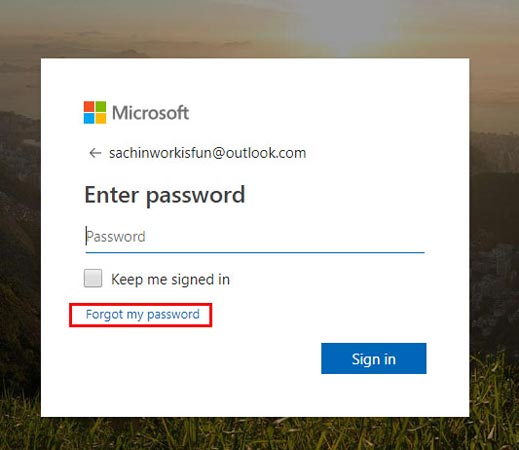 Step 2: Next, the recovery options will be available on your screen, opt for the recovery email address and punch it again in the field below. Now, push on "Send code" to fetch security code over it.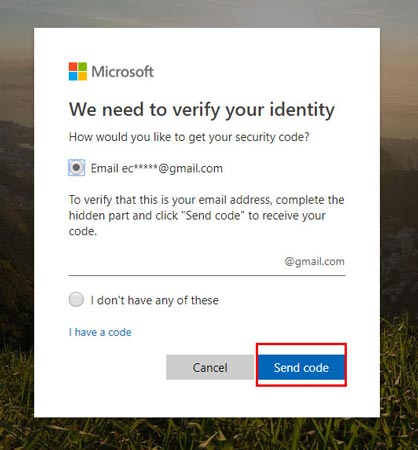 Step 3: Then, powse your inbox of the recovery email and copy the security code from the email received from Microsoft team. Subsequently, paste the code into the Microsoft Account Password Reset interface followed by "Next".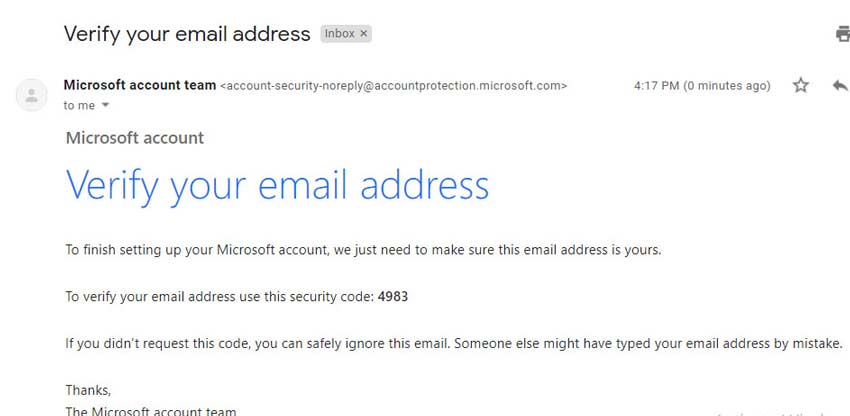 Step 4: Lastly, on the next screen, punch in a new password that you prefer. Confirm your actions and your Microsoft Account password will get changed now.
In A Nutshell
We now hope that you are well versed with Microsoft account login reset and how to enable Microsoft account login. Remember, always seek help of a professional to reset or remove Microsoft account login password, as it will assuredly help you to gain back access to your computer. If you want to disable Microsoft account on Windows 10, please click the link to check it.