Outlook is one of the most popular tools that can be used to read and organize your email without logging into the web version of your Mail provider. But this productivity isn't worth much when you see that the Outlook won't open in the first place. Especially when you are expecting an urgent email. So without further ado, let us go through some of the popular solutions.
Part 1: 9 Ways to Solve Outlook Won't Open
1. Start in Safe Mode
If you are wondering why won't outlook open, then you should try starting it in safe mode. To do that,
Step 1: Press Windows + X and click on Run.
Step 2: Type Outlook.exe/Safe.
Step 3: Now click on OK to start outlook in safe mode.
2. Disable add-ins
Disabling the add-ins can solve the issue of your outlook. To disable add-ins, you have to,
Step 1: Click on File > Options > Add-ins.
Step 2: Click Com add-ins and then click Go.
Step 3: In the new dialog box, withdraw the check mark on the add-ins and then click ok.
3. Restart Outlook
If your Outlook 365 won't open then you can always choose the simplest yet one of the most effective ways to solve this problem. Which is restarting your outlook.
Just close your Outlook from the task manager and then start it again in safe mode.
4. Add a new outlook profile
Your Outlook profile is a crucial part of the overall experience. And if your outlook 2010 won't open then you should add a new profile to your outlook.
And here is how,
Step 1: Open outlook and click on account setting > manage profile from the file section.
Step 2: click on Add.
Step 3: You will be great with a new Profile name box. Fill out the required information and click OK.
5. Remove Customization by Running /resetnavpane Command
If outlook won't open on your computer you can fix the issue by Running /resetnavpane Command. And here is how,
Step 1: Turn off the outlook from the Task Manager.
Step 2: press on windows + R to access the run menu.
Step 3: Type outlook.exe/resetnavpane in the box and click on OK.

This command will remove all kinds of customization in the case of the navigation pane, which is reported to fix the issue of outlook not opening in many cases.
6. Check Compatibility
Compatibility mode is a mode that is designed for users' convenience to run the program on an older OS. Yet it can cause serious problems if not maintained correctly. If you are asking yourself why my outlook won't open, the answer could be that your outlook is running on compatibility mode.
To turn that off,
Step 1: Find the Outlook.exe file from your device.
Step 2: Right -click on the file and then click on properties.
Step 3: Uncheck all the boxes and then press OK.

Step 4: Now restart the program and it should open without any problem.
7. Reinstall Outlook
Reinstalling is a great idea if your outlook 2013 won't open. But before you do that make sure you have a backup of all of your personal files. After the backup procedure, you have to follow these simple steps.
Step 1: Go to the Control panel from the Start menu.
Step 2: Click on Add or remove program.

Step 3: Choose Microsoft office and click on change.
Step 4: Click on Reinstall or repair and press next.
Step 5: Now click on the Install button and your outlook will automatically begin to reinstall a fresh copy.
8. Delete the Outlook App Data Folder
App data stores all the information that is related to your specific application. So when you try to install a clean copy of your Outlook to fix the problem, the leftover data on the app data folder can cause a hindrance.
So to prevent that from happening,
Step 1: Press Windows key + R.
Step 2: Type %localappdata%

Step 3: now find the Outlook folder and simply delete it.
9. Update Outlook
Using an old version of Microsoft outlook can decrease your productivity and in cases can cause your outlook to not open. So it is always highly advised to keep all of your programs update. To update Outlook,
Step 1: Open Outlook.
Step 2: Click on File > Account.
Step 3: Click on Update options and choose Update now.
After the process is complete you will see a message like "you are up to date".
Read Also: The Set of Folders Cannot Be Opened Outlook 2016? Try These 10 Solutions
Part 2: Recover PTS Outlook File to Fix Outlook Won't Open
PST files contain important data for Outlook and play a vital role in the performance of the outlook. So if the PST file gets damaged by any means, it is likely that the outlook won't open. But with an easy to to use interface, Stellar Repair for Outlook is here to the rescue.
To recover the PST outlook file.
Step 1: Start Stellar Repair for Outlook.
Step 2: Now from the Select PST file for repair window you have to select your Outlook file, you have the option to either browse for the file. Or you can find the file if you do not know the exact location.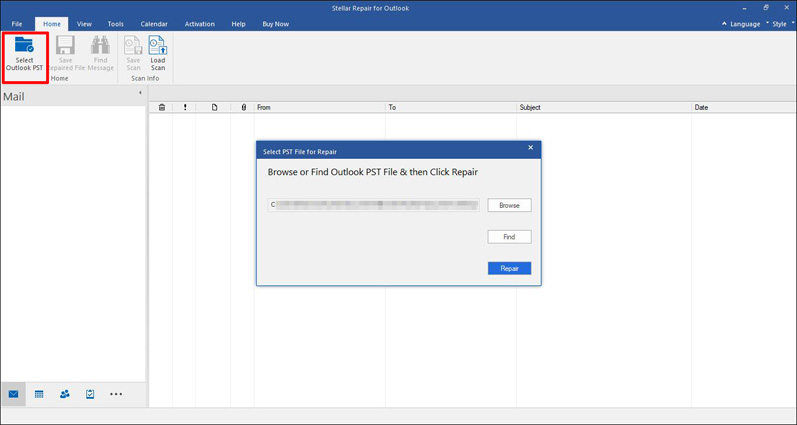 Step 3: Once the file is selected, click on the Repair button. This will start Scanning the file with the error right away. You can see a progress bar to follow on how much the file has been scanned.
Step 4: After the scanning process is completed, you will be able to see all the file that is recoverable on the left side of the window. You can now select them manually.
Step 5: To save the recovered file simply click on the Save Repaired File option.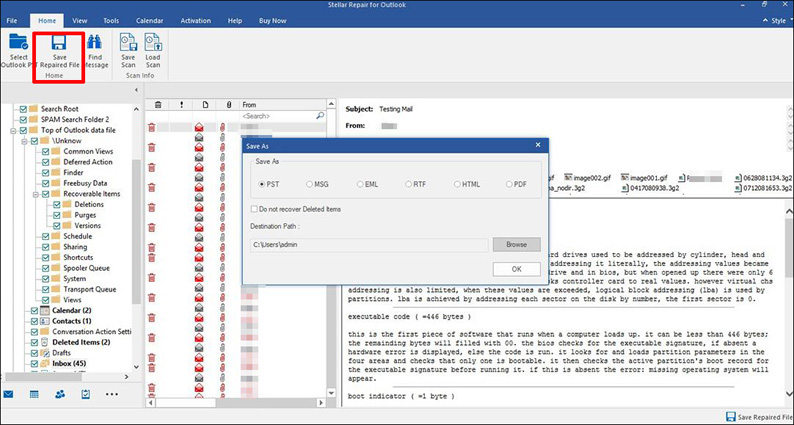 Step 6: Now press OK, and the repaired files will be saved in your desired location and format.
Conclusion
Microsoft Outlook is used by many professionals regularly to increase their productivity and time management. So if outlook won't open due to some issue, it can be very damaging to the workflow. In this article we have talked about 9 different tricks to fix Outlook Won't Open Today. And there is always stellar repair to make fixing all the issues simple and easy. Additionally, if you meet difficulties on Office password recovery, try PassFab for Office.