Apple's new update of iOS makes it much easier to use a password manager on your iOS device. These third-party apps are really impressive and save a lot of hassle by not just storing your passwords but also generating and auto-filling when needed. Well first let's keep in mind what does the best iOS password manager provide; it stores, generates, autofill and also updates the password with just one tap. It will sync your passwords across not just iOS but Mac and Windows-based devices as well. These tools really help in many conditions like when you have a lot of accounts on many websites and apps can't remember all of them. These apps also help us by generating a password that is strong to break at least not "123" or "iloveyou".
Top 5 iOS Password Managers for 2020
Keeping in mind all the points of the best free password managers of iOS, I am going to enlist five of them so you don't have to struggle. So let's start with the number one on the list and it is Password Keeper:
1. Password Keeper
Keeper is surely one among the best solutions available to store and manage passwords in iOS. It provides a lot of features to users including protection for unlimited passwords, storing photos and credit card numbers. It has another amazing feature that is its password manager which works impressively great.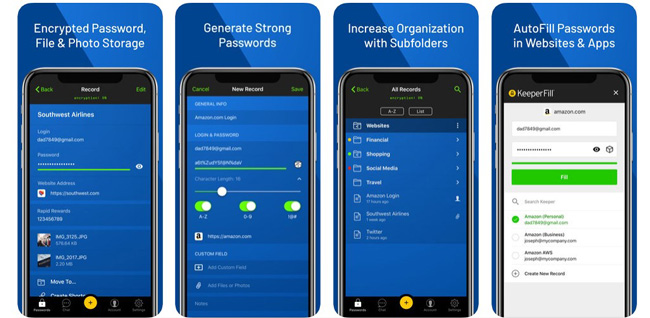 Pros:
Password Keeper supports all platforms and browsers.
It has optional secure file storage and it keeps a full history of files and passwords.
Password keeper is a very good app making passwords for you.
Cons:
It has web form filling, which is somewhat limited.
It has no automated password updates.
How to Use Password Keeper?
First of all, determine your password key. You can determine your password key by selecting the length, location, and direction of your password within the grid matrix. Now you can select a page from the password keeper and open a website to change or create a password. You can also change the test or verify your password and access your account.
2. LastPass Password Generator
It is truly a better option to choose from when it comes to storing passwords in iOS devices. LastPass is free to use and allows users to subscribe to a premium plan that cost $2 a month. It provides an interactive and easy to use interface to play with and features like managing password. creating new passwords and generating a password that you can pronounce. Not just that LastPass has an auto-fill option so you'll never have to enter login details when visiting a website.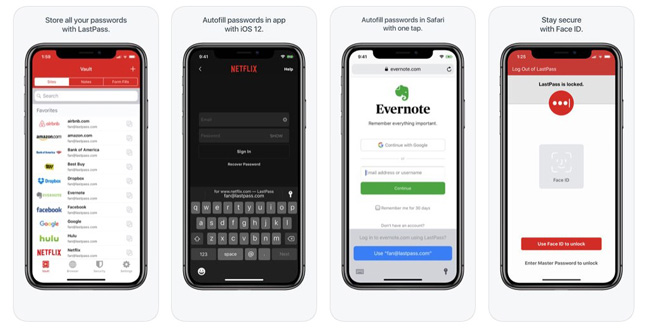 Pros:
Lastpass is offered as a browser extension.
Lastpass is available as an application for iOS and Android.
It is very useful for websites that use frequent password changes.
Cons:
You have to do subscription when using Lastpass as some people shy doing it.
For business user, you have to pay for a subscription.
How to Use LastPass?
First of all, install LastPass from any of the browser or operating system. Then start downloading the application. After that LastPass icon is shown beside your address bar. After restarting the computer setup, LastPass select your language and click to create an account. When you are going to create an account you will have to fill in the details. Then select the password using LastPass. Make sure that the password you are selecting should be strong. You can also select a master password in one-way encryption on LastPass servers and it is recoverable.
3. 1Password
Well, 1Password is quite popular not because it is easy to pronounce but it provides users with functionality that works well for them. 1Password has an iOS-based app that helps you store passwords on your iOS devices. It protects your account not just by storing your passwords and providing when you require but informing about a security breach in a particular site you have stored the password of, in 1Password. However, all those functionalities are paid and you'll have to subscribe to a monthly $2.99 package to avail them.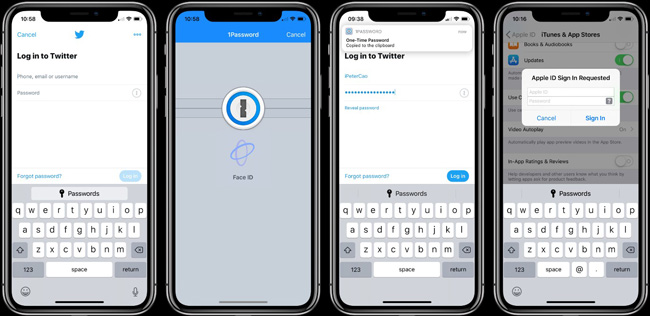 Pros:
Your passwords are secure and reliable using 1Password.
It can store sensitive information and a large number of note templates.
It is a very well designed application.
Cons:
On mobile, 1Password has no camera integration.
There is no automated password changing feature on 1Password.
How to Use 1Password?
You can download one password on your Windows, Mac, iOS, or Android. Then sign in to your account. Here you can give your account details. When you create your account then you can scan a setup QR code in the PDF you downloaded. In your browser, you can also download the 1password browser extension.
4. Password Safe
PwSafe 2 is an app based on password safe algorithms and provides features such as autofill on apps like Safari, Face ID, Touch ID and many other apps. It has an adaptive/responsive design so no matter if you own an iPad or an iPhone it will work seamlessly. It stores pass not on the device but on iCloud or Dropbox to make it more secure. However, it is also a paid app among the best password manager for iOS; it costs $2.99. The passwords are synced regularly to keep them updated; so you will not have any issue.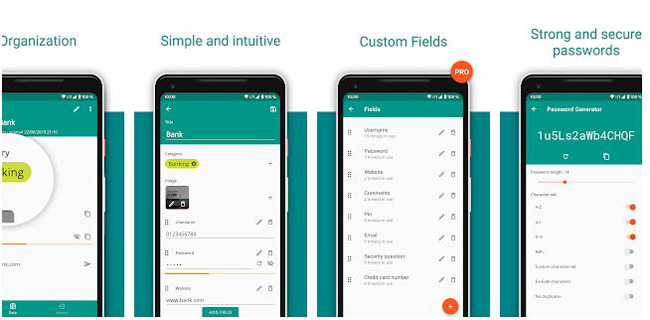 Pros:
Password Safe is easy to use and free of cost.
Open-source community support Password Safe.
It can handle local data encryption.
Cons:
Password Safe is only limited to storing password.
It has limited import options.
How to Use Password Safe?
First of all, go to the password safe site and then click the option of "secure your password now". On the website page, the downloading of password Safe automatically start. Then save the program and run the program to begin the installation. Now you can enter the new database by starting Password Safe. When you are going to add an entry then go to the edit menu and select "add entry" in the toolbar.
5. KeePass
KeePass is a free and open source password manager; it helps you to manage your passwords in a secure way. You can easily manage all your passwords in one database. These passwords are backed by a master password; that is the only password you'll have to remember. The master password will help you get saved password and make changes in them. The databases of Keepass are encrypted using the best and most secure encryption algorithms currently known.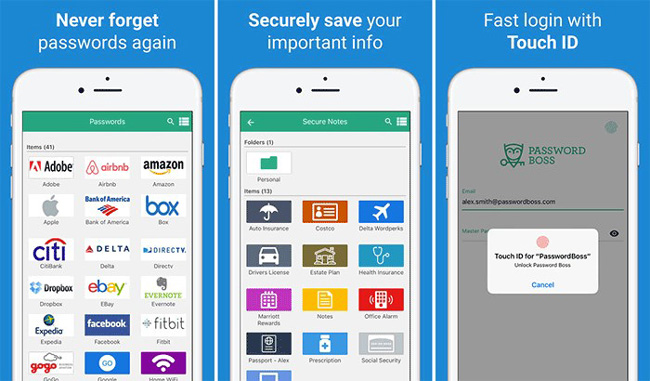 Pros:
KeePass has dozens of different plugins and extensions.
Your data is in control than with the traditional password manager.
KeePass is free for an unlimited amount of time.
Cons:
KeePass has not automatically fill in forms for you.
It is not user-friendly and it has no security beach alerts.
How to Use Keepass?
Download the latest version of Keepass from playstore. Then open the keePass and make your own database.Then enter all your accounts into the database. you can change the password by going online into KeePass than related passwords. you can also generate a very strong password using KeePass.
Tips: How to Recover Your Forgotten iOS Password
If any how you forgot your iOS Password and want to recover it PassFab iOS Password Manager will help you recover it. Following are the features of iOS Password Manager by PassFab that are really useful.
Find Wi-Fi Password
View Email Account Password
Display Credit Card Information
Export Password to CSV
Retrieve Website & App Password
Show Apple ID and Password
Recover Screen Time Passcode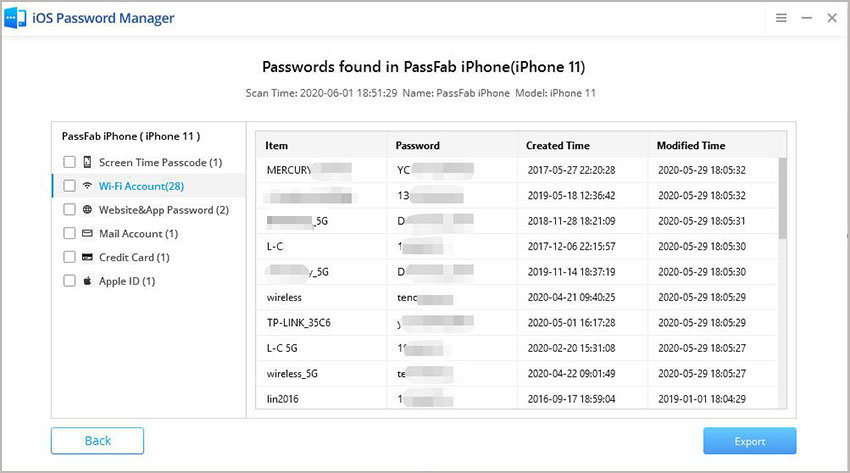 With iOS password manager, you can recover you lost iOS passwords easily and you'd be grateful for finding such a software that saves you from headache.
Summary
By comparing the 5 password managers I believe you must have your own choice, but if you already forgot iOS password then you can only rely on password recovery tool. Since we've provided the most detailed information in this article, you can collect this article for future use.