It is very normal to forget the password for your Samsung mobile or the laptop or even your Samsung account. It is absolutely possible to get access to those devices again but the procedures will be very different depending on the device you are trying to unlock. You will find the article below, extremely helpful if you have fallen into similar circumstances. There are several ways to fix when you forgot Samsung password issue, a few of them are detailed below. Have a look.
Section 1. How to Unlock Samsung Phone Forgot Password
"My brother changed the combination for my Samsung Galaxy phone. He does not remember the pattern. Please, tell me how to unlock Samsung phone forgot the password."
If you forgot Samsung lock screen password then don't worry too much. Forgetting the password or the pattern is a very common accident, which can be fixed by a factory reset or third-party tool of the Samsung device.
Method 1: with Factory Reset
The factory reset can be performed in several ways. Few of them are detailed for your convenience. These two are the most effective ones.
Just tap and hold the Volume Up and Volume Down button at the same time. After that, hold the Power button for at least 15 to 20 seconds. The Test Screen will appear on the screen. You can use the Volume keys to highlight the options, select Wipe Data or Factory Reset, then use the Power keys to choose that option.
This is a different method to factory reset your Samsung mobile. Turn off the device and then press the Home button. Slowly but steadily release the Power button while you are holding the Home button. Now, select the Search Key option from the Android Screen Recovery System. Select Factory Reset and Wipe Data option and then tap "OK" with the Power button.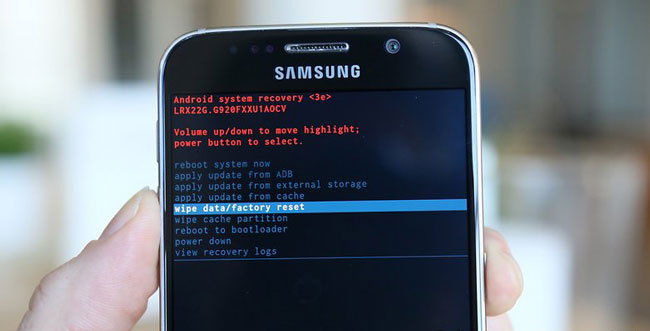 Method 2: without Factory Reset
You may consider it too difficult to factory reset Samsung smart phone, actually, there are several other ways available to bypass Samsung phone lock screen password in minutes, PassFab Android Unlocker is one of the best tools to achieve it with just one click. You only need to connect the phone to computer, click "Remove" button and follow the instrucition on the interface.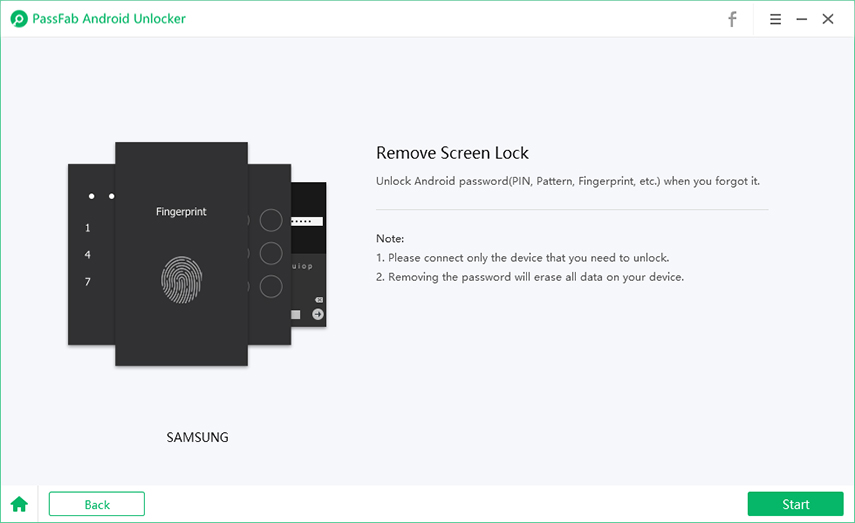 Section 2. Forgot Samsung Computer Password, How to Bypass It?
"Forgotten password in my Samsung ativ 500t model smart laptop. I am unable to open my Windows 10. How do I reset my password to open my laptop. There is no reset password disk. I am unable to use my laptop with the forgotten password. "
So, similar to the laptops from other brands, Samsung laptops also runs on Windows operating systems. So, if you forgot Samsung password then the fixes will be more or less the same.
Although, using a professional third-party password recovery program will be easier and more effective. We recommend using PassFab 4WinKey. It is easily available and will not erase your files from the system partition. This program uses a recovery procedure which is extremely simple and guarantees a successful password reset.
So, here's how to bypass Samsung computer password:
Part 1: Reset Disk
Step 1: PassFab 4WinKey program can be downloaded from its dedicated website very easily. Launch the program, you will be asked to choose a boot media. Your options are CD/DVD and USB.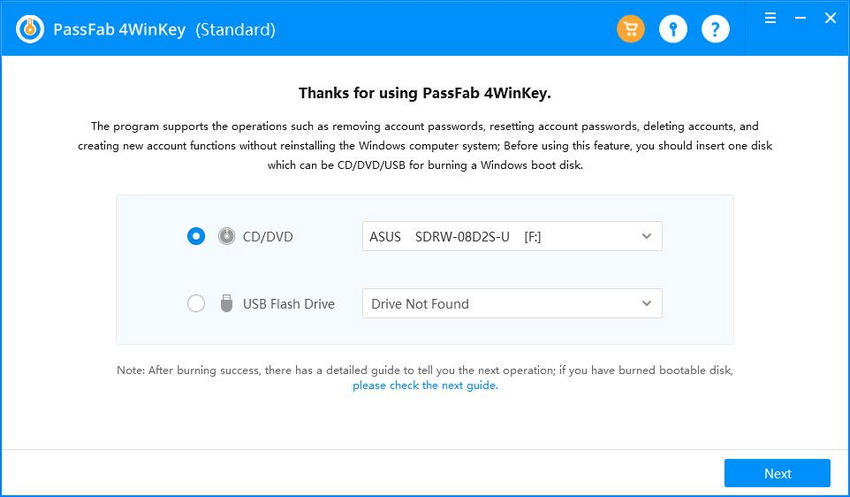 Step 2: But you are using the Standard version of the program, which means you won't be able to select USB drive. So, by default the choice is CD/DVD. Insert a disk into the drive and click "Burn".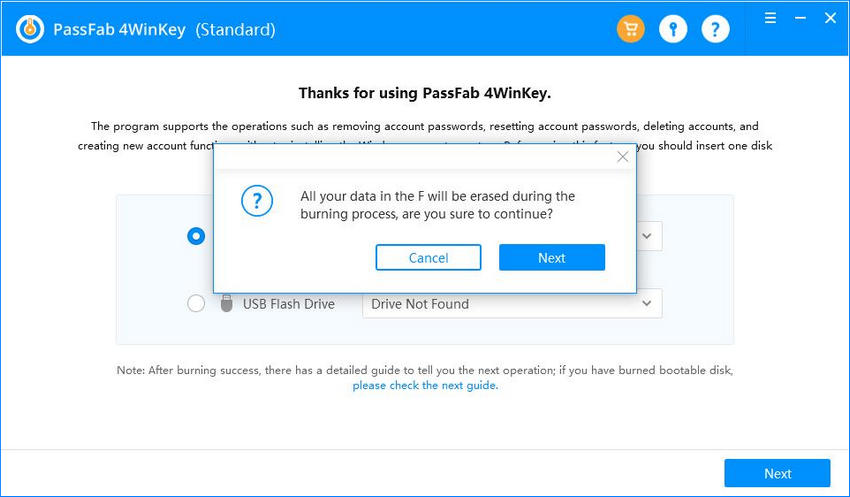 Step 3: A warning message will pop-up, click "Yes" and the program will start converting the disk into a password reset disk.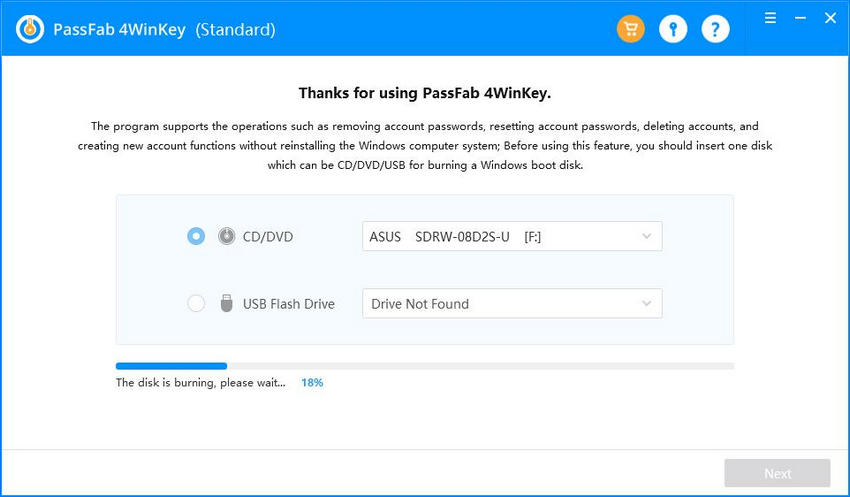 Step 4: The disk burning process is very simple and it will be finished within a minute or 2. Afterword, click "OK" to finish the process.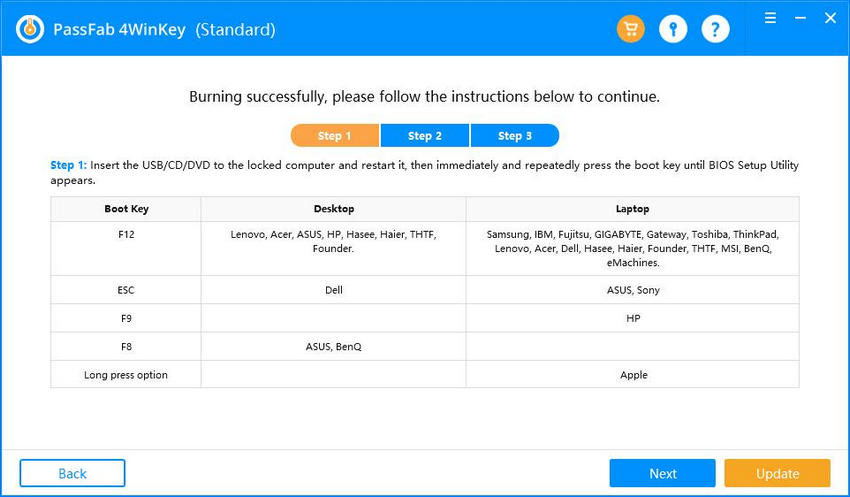 Part 2: Boot Windows
Step 1: Insert the disk into the locked Samsung laptop and reboot.
Step 2: As the laptop is starting again, repeatedly tap "F12' or "ESC" to access the boot menu. The key can be different, it varies depending on the brand of laptop you are using.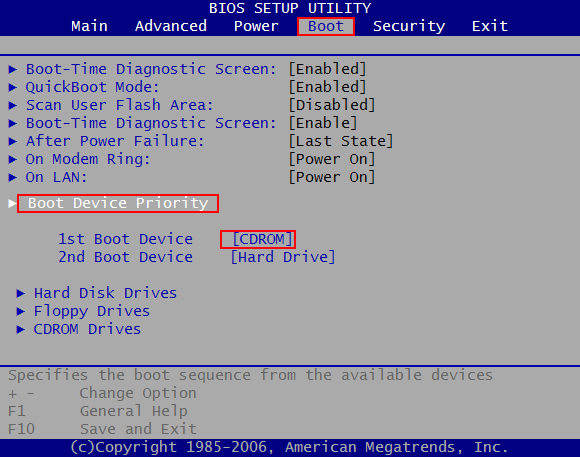 Step 3: In the boot menu you will find a list of boot choices, select CD/DVD and execute. The laptop will boot form that disk.
Part 3: Reset Password
Step 1: This Windows password recovery program is running on your laptop, you need to select your Windows Operating System and click "Next".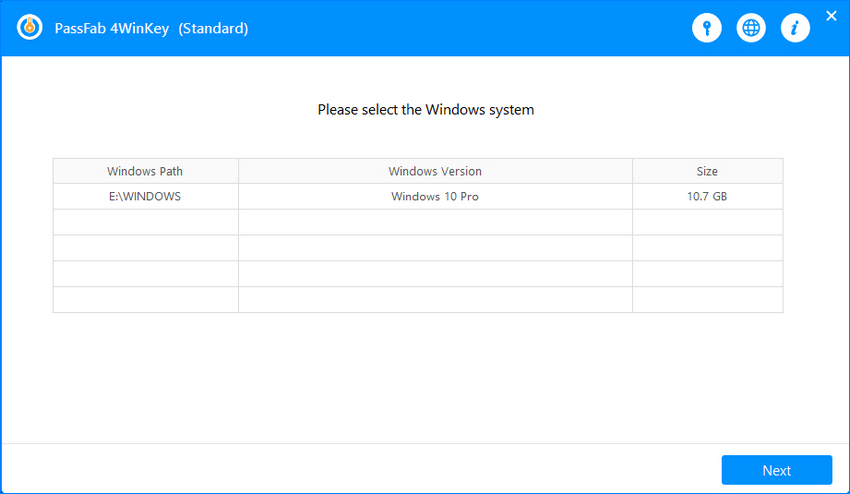 Step 2: The following page will provide a list of all the user accounts, choose your locked account.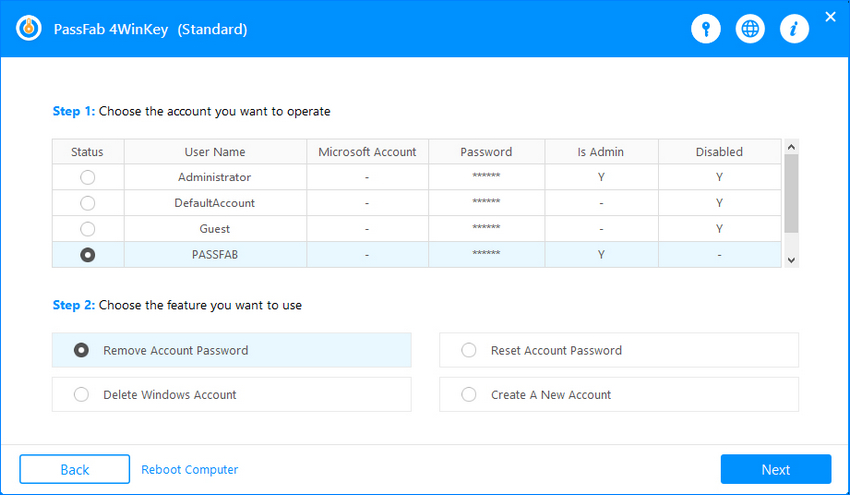 Step 3: Now, click "Next" again and the password for your Samsung laptop will reset.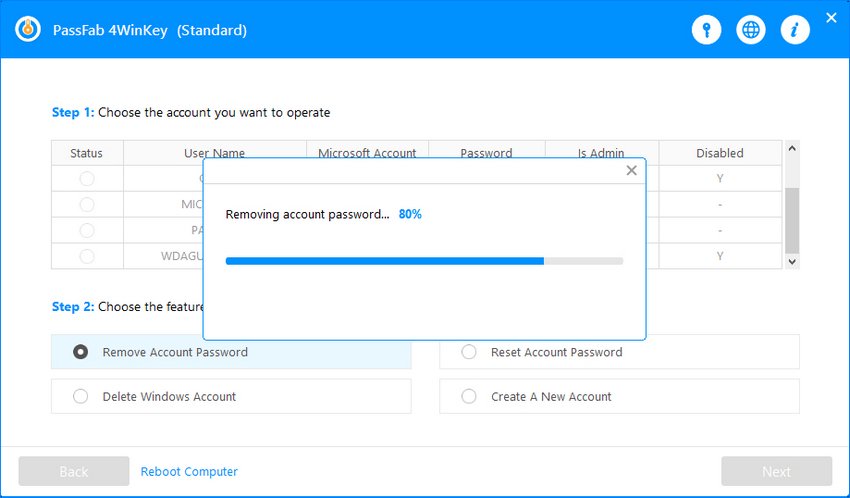 Step 4: When the reset is completed successfully, click "Reboot" and the laptop will restart.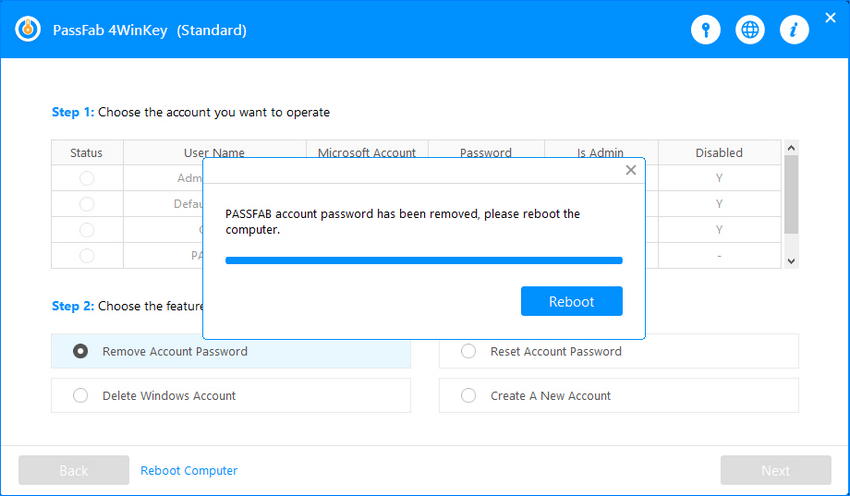 This is an impressively simple but effective program to reset the password for your Windows devices. It is readily available and works just fine.
Section 3. Forgot Samsung Account Password, How to Reset It?
These days, things are changing at lightning speed and most of the companies require users to create an account at their website to get most out of their expensive gadgets. Samsung is a world leading company and as a user, you will get a Samsung account.
As effective as the feature is, you are required to protect it with a password and if you forgot password on Samsung tablet or mobile you won't be able to access anything. It happened to me also, I forgot my Samsung password, it was a tragedy.
So, if you are facing the same obstacles, reset the password for your Samsung account immediately. Here's how to do it;
Step 1: Open your computer and visit "account.samsung.com".
Step 2: Sign in to that account and go to the Samsung account log in page.
Step 3: Now, you need to click on "Find ID or Reset password?" to proceed.
Step 4: You need to select "Reset Password" and you need to provide your Email ID. Click "Next".
Step 5: You will be asked to check your email. Check it and there will be a link in that email, click on it to reset Samsung account password.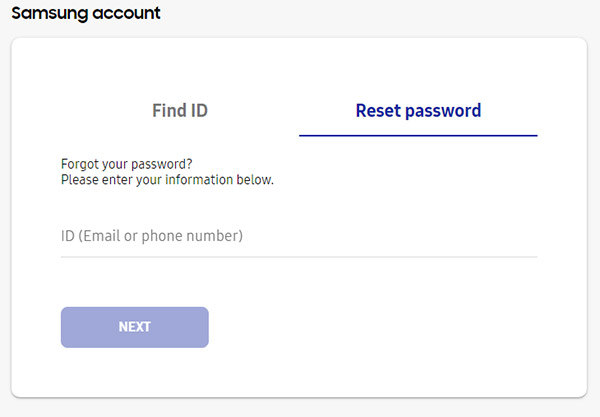 Conclusion
These are all the simple and effective ways you can fix forgot Samsung password issue. If you forgot the password for your mobile then use the factory reset to get access again. Locked out of your Samsung account? Don't worry, you will be able to reset it from its official website. Finally, the Samsung laptop; if you are locked out of it, just use PassFab 4WinKey. Make the Samsung password reset disk windows 10 for another computer on a different computer and then use it on the locked Samsung laptop, it will be unlocked within minutes. Great tool!