As a presentation view, Microsoft PowerPoint is familiar with the public. It is used generally to explain other people both word information and pictures in slideshows. But, just like every other program or app in Windows, PowerPoint not responding, at some point and generate major problems to a user who's in the middle of devising a presentation.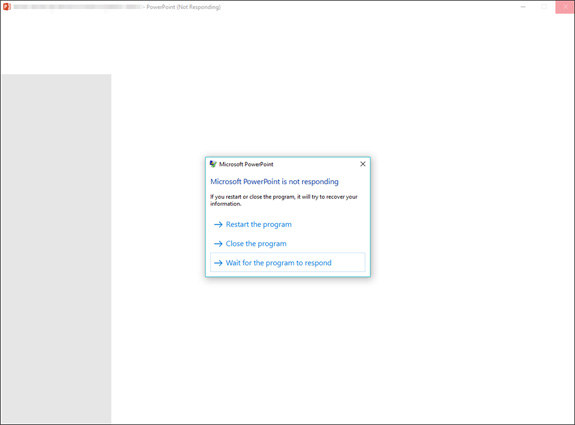 Part 1: What to Do When PowerPoint Is Not Responding
Several factors can produce PowerPoint problems in Windows, including an outdated version of the program, and incompatible add-on, or outdated antivirus software that clashes with PowerPoint. To be fair, these problems are very strange to happen, but it's not impossible to deal with these issues. You can secure yourself from losing your work if such an issue happens. Here are some best ways to describe, what to do when PowerPoint is not responding.
1. Repair Corrupted Files to Fix PowerPoint Not Working
Stellar Repair for PowerPoint is software for severely corrupt PPT files recovery. The software works on all the versions of the PowerPoint application including ppt, .pptx and macro enables pptm files. Some of the significant recovery features given by Stellar PowerPoint Repair includes:
Synchronous recovery for multiple PowerPoint files
Preview for fixed files before they are saved
Helps Macro-enabled file types, as well as ppt and pptx files
Raw recovery for improving the most corrupt PowerPoint files
Accurate recovery for extracting file objects in the form of tables, hyperlinks, VBA code, etc
Now, follow the steps below to fix corrupt PowerPoint files:
1. Run Stellar Repair for PowerPoint software.
2. Then click Select and choose "Browse" or "Search" to upload the corrupt or damaged PowerPoint file.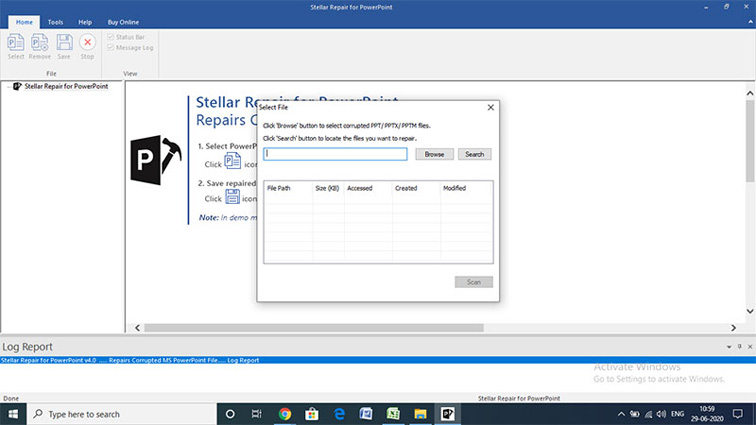 3. When the file is uploaded, click on the Scan button.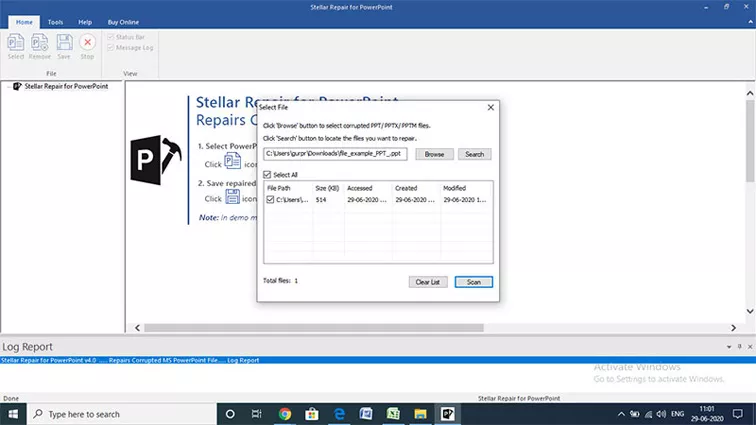 4. After completion of the scanning process, the preview of the corrupt file is available.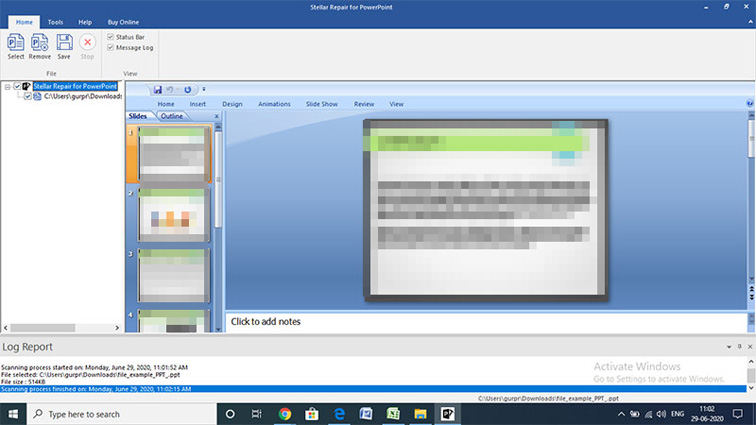 5. Select the storage location to save the repaired file. And click on OK to finish the PPT recovery process.
2. Update the Microsoft Office to Fix Microsoft PowerPoint Not Responding
If PowerPoint or Microsoft office is not updated to its newest version, then an error appears, "Microsoft PowerPoint not responding". To avoid this state, regularly check for updates of MS Office. For the Windows update, follow the given procedure.
1. Generate a new Microsoft PowerPoint file and open it.
2. Click on the File option and then pick the Account icon.
3. See the Product Information section.
4. Click Update Options in it and then click Update Now from the list.

If installing the latest Office updates doesn't solve your issue, then proceed to the next method.
3. Send a Frown in Feedback to Fix PowerPoint Is Not Responding
If you're working on Office 2016, on the File tab in PowerPoint, select Feedback. Click Send a Frown.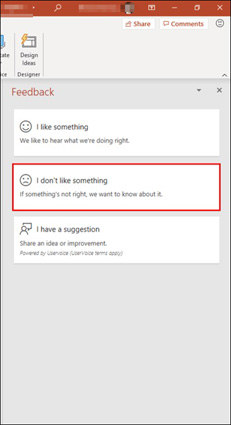 Explain the problem that why your, PowerPoint2016 is not responding, and then select the Include diagnostic and usage data box. (Sending diagnostic data to the Office product team which assists the team to know what needs to be fixed in the software.)
Click Submit to send the feedback to the Office team.
4. Check for Conflict in Add-Ins to Fix PowerPoint Not Responding
Sometimes, PowerPoint is facing problems with add-in. PowerPoint add-ins can break the PowerPoint either without notice or with the semi-transparent window.
1. Click on the Start icon.
2. Then type PowerPoint /safe and press OK.
3. Open a PowerPoint and select the File menu.
4. Select Options and click Add-Ins.
5. Choose COM Add-ins and press the Go button.

6. Uncheck all the boxes and click OK.

7. Restart the PowerPoint program.
5. Check If PowerPoint Is in Use to Fix Microsoft PowerPoint Not Working
Take a look at the horizontal status bar in the base of the PC screen. If you decide to perform PowerPoint that is in use by other process and Microsoft PowerPoint not responding issue may occur. Then let the task in the process to complete its job and then perform actions.
6. Check If Antivirus Software Conflicts with PowerPoint to Fix PowerPoint Is Not Responding
If your antivirus software has a union with PowerPoint, you may face performance issues. In this circumstance, you can disable all PowerPoint union within the antivirus software. Or, you can disable any antivirus software add-ins that is installed in PowerPoint. You may have to communicate your antivirus software person to determine how to configure the software to eliminate any union with PowerPoint.
Warning: Modifying your antivirus settings may make your PC exposed to viral, false or malicious attacks. Microsoft does not suggest that you try to change your antivirus settings. Apply this workaround at your own risk.
7. Disable Hardware Acceleration to Fix PowerPoint Not Responding
Hardware acceleration is the most usual cause of many Office issues. It is the best idea to disable it. There are following steps to disable Hardware acceleration in PowerPoint.
1. Open any PowerPoint.
2. Move to File > Options > Advanced.
3. Locate Hardware Acceleration and disable it.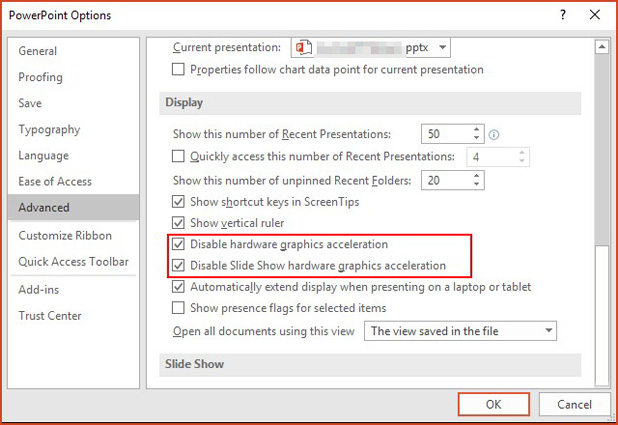 4. Then, start Microsoft Office again.
Now, there's one more thing we need to do in the registry editor.
Open Registry Editor. Create a new Key on the left pane and name it Graphics. , while create a new DWORD on the right pane and name it Disable Hardware Acceleration, and set the value to 1.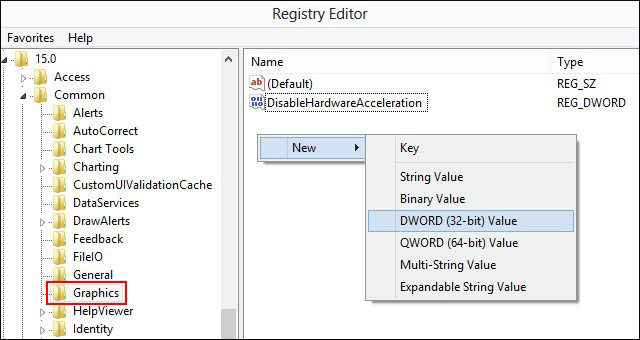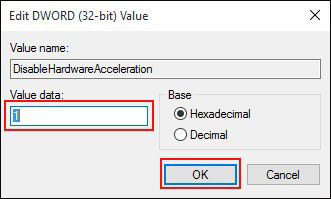 8. Start Microsoft PowerPoint in Safe Mode to Fix PowerPoint Not Responding
PowerPoint can be easily opened by pressing CTRL key while the program is starting. This will open PowerPoint in safe mode and can be used to investigate problems with your current installation.


Part 2: Frequently Asked Questions
Q1: Why does my PowerPoint keep saying not responding?
This issue may occur due to several reasons. It can happen if the latest updates are not installed, interference of previously installed add-in and conflicts with Antivirus software.
Q2: How to recover a frozen PowerPoint?
Staller repair tool is the strong application for getting data back from frozen PowerPoint file. Data can be repaired with it without changing the original file contents. In addition to the issue when PowerPoint not working, big errors includes reading errors can be solved by this tool.
Q3: How do I repair my PowerPoint file?
PowerPoint files can be repaired by moving the presentation to another location, by inserting slides to a new PowerPoint presentation, opening the PowerPoint in the safe mode, or repairing PowerPoint file using Stellar Repair for PowerPoint Software.
Read Also: [Solved] How to Fix 'Sorry PowerPoint Can t Read'
Summary
If you face the misfortune of ending up with a corrupt PowerPoint file, and you want to extract your lost data back. Then, there is little you have to do. The methods discussed above may assist you to bring corrupted file to the readable mode. It explains complete recovery methods. The best way to repair your file while, PowerPoint 2016 is not responding, is using the Stellar Repair for PowerPoint software for PowerPoint which can easily fix the corrupted PowerPoint. This tool can assist you to recover all the integrated content as well. And if you are facing problems on passwords of PowerPoint, try PassFab for PPT.