Powerpoint files are worldwide used for business presentations and other means. What if you come to know your PowerPoint presentation file that holds crucial information regarding the upcoming business meeting has crashed. In this scenario, you need a solution that can help you to repair PowerPoint file without damaging the information inside the crashed ppt file. In this guide, we will be discussing how to repair PowerPoint files and what are the best options to try.
Part 1: 7 Common Methods to Repair PowerPoint File
Remember, you don't always need a PowerPoint repair tool to get back the crashed ppt files. Here are some common methods you can shot to repair the PowerPoint file.
1. Move the File to Internal Hard Drive
Sometimes there is an issue with the attached media drive and it attempts to corrupt the PowerPoint file. In that case, you are suggested to move the presentation or ppt file to the internal hard drive and check if it works.
While copying or moving the target ppt file, make sure you've selected all the contents of it. If it is happening just because of storage location or media drive then hopefully the problem will be solved.
2. Open the File in Safe Mode
You can try opening the corrupted ppt file in safe mode because it reduces the number of checks and restrictions. Follow these guidelines to open the PowerPoint in safe mode to repair your files.
1. Use the "Win+R" keys to open the Windows Run feature.
2. Type "powerpnt.exe /safe" and press the "OK" button.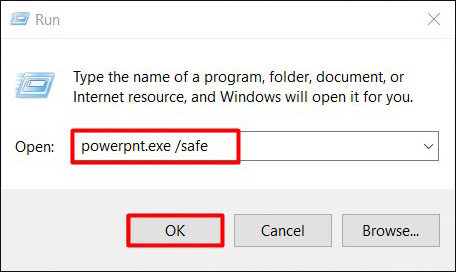 3. MS PowerPoint will be opened in safe mode. Make the wanted adjustments and restart the operating system in safe mode.
3. Insert Slides into New PowerPoint
You can always insert the previous slides into a new PowerPoint file if it is unable to open for some unknown reason.
Simply, create a new PowerPoint file. Navigate to the "New Slide" option from the "Home" panel and click on the "Reuse Slides." It will load all the previous slides in this file. There are high chances this method will solve the problem.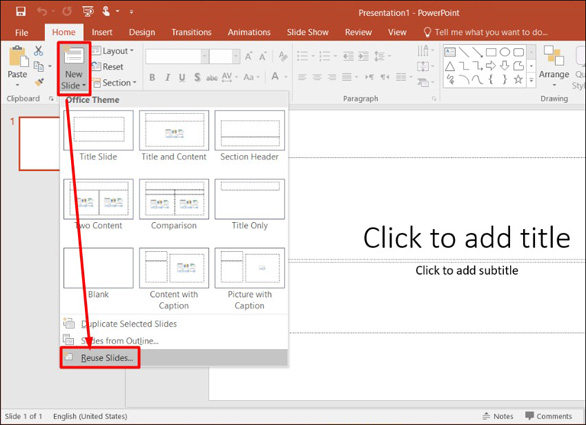 4. Open in PowerPoint Viewer
Microsoft PowerPoint Viewer is another efficient application that allows you to run the PowerPoint files. You can open the corrupted ppt files in the PowerPoint viewer for repairing ppt files.
Don't have the PowerPoint viewer on your computer? You can simply look for it on the internet. Download and install it on your operating system. Run the application and then open the corrupted ppt file via PowerPoint viewer.
5. Apply the PowerPoint as New Template
What would you do if your repair attempt goes successful but it isn't repaired with the previous template or design? This is quite easy and works in some minor corruption cases.
1. To do that, open and save a new black presentation file.
2. Create a title for it and then go to the "Design" option.
3. Extend the design option by clicking on more and then click on "Browse for Themes."
4. That's it. Search for your corrupted file and insert it. It will simultaneously adopt the previous design layout if it is possible.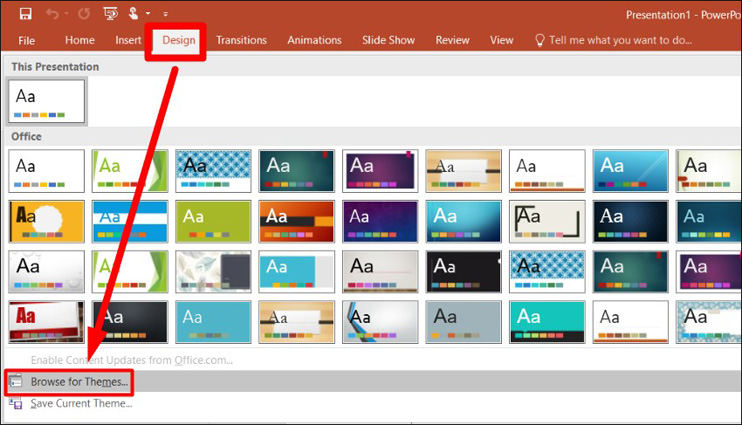 6. Repair the PowerPoint through 'Open and Repair'
"Open and Repair" is another method that is commonly used to repair ppt files. Follow the below steps to repair the PowerPoint via the "Open and Repair" feature.
1. Open the PowerPoint application and click on the "Open" option to add a new file into it. Browse to the target corrupted file and click on the "arrow" button instead of "open."
2. Here, you would be able to see an "Open and Repair" option in the last. Hit that button and PowerPoint will try to fix the minor issue.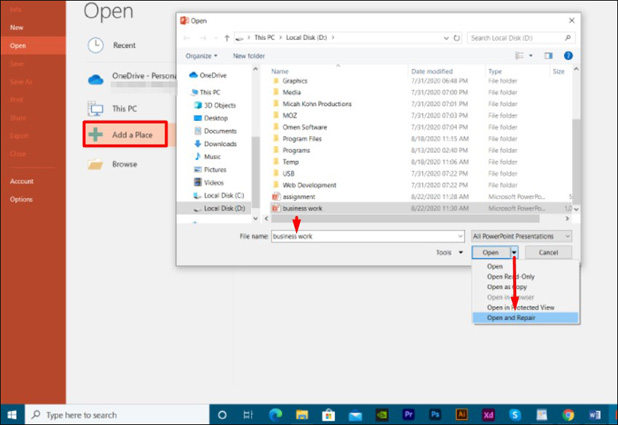 7. Recover the File from Temporary Files
Some of you might not know that Microsoft PowerPoint creates a temp file whenever you open a file. You can also utilize this feature to open the corrupted file. In order to revoer PowerPoint file from the temporary files:
1. Open the PowerPoint file which needs to be recovered.
2. After that, go to the folder C:\Users\Administrator\AppData\Roaming\Microsoft\PowerPoint\. You will find a temp file with the same file name.
3. Do not open it. Instead of doing that, right-click on that temporary file and press the "rename" option.
4. Shut down the PowerPoitnt after renaming the file.
5. Double-click the newly renamed file and see if it opens with the original content.
Read Also: [Latest] Step by Step Guide to Recover Unsaved PowerPoint
Part 2: Repair PowerPoint Files via Stellar Repair for PowerPoint
Have you tried all the common methods explained above and didn't get the expected results? Worry not, we have got Stellar Repair for PowerPoint, a professional tool to repair power point files.
Stellar Repair is a modern and one of the most used software for repairing ppt files. The software is capable to repair all kinds of PowerPoint extensions including .ppt, .pptx, and.pptm files. Moreover, it works on all versions of MS PowerPoint. Summing in one sentence, Stellar Repair is an ultimate solution to repair all corrupted or damaged ppt files.
Surmising that you've downloaded and installed the Stellar Repair on your computer, let's see how to utilize it.
01

Run the software and it will appear on your computer screen with a simple and clean interface.

02You will see a "Select" option in the right pane of the window. Click on it to choose the corrupted PowerPoint file.

The stellar Repair offers two types of features to insert the damaged ppt file into it. Either you can directly browse it from a specified location or search it from your computer.

03I've chosen the browse option but you can choose that best suits you. Look for the file that needs to be repaired and press the "Open" button.

04Click on the "Scan" button once the PowerPoint file is loaded into Stellar Repair software.

The software will automatically repair the power point file. All you need to do is keep patience.

05The Stellar Repair will instantly show the file for you to preview once it is successfully repaired. Click on the "Save" button after making sure the repaired ppt file contains all the previous content and information.
Part 3: FAQs about PowerPoint Repair
Here are some worthy frequently asked questions about repairing PowerPoint and their answers.
Q1: Why do PowerPoint files become corrupted?
Multiple reasons can lead you to the situation where Powerpoint files become corrupted. For example, unexpected OS shutdown, due to some malware or virus inside the computer, improperly detaching the external media, etc.
Q2: How can I uncorrupt a file?
There is a whirlpool of methods that you can find on the internet but most of them are incorrect. First of all, try the above general methods to uncorrupt or repair a PowerPoint file. Use the Staller Repair professional and powerful software if any of them doesn't work.
Q3: How can I repair PowerPoint online for free?
Several online websites allow users to repair PowerPoint for free. You just have a solid internet connection. Open the browser and search for "How can I repair Powerpoint online for free?" Assorted websites will appear in the search result. You can visit any of them to repair the power point file.
Summary
We hope the above topic "8 tricks on Repairing PPT Files" truly helped you to repair your Power Point files. Reminding once again, all the above-explained methods are chosen after their practical implementation. However, the common methods do not work for all corrupted ppt files. That's why Stellar Repair for PowerPoint is highly recommended if you are looking for a professional repairing tool for PowerPoint. And if you have problems on passwords of PowerPoint, try PassFab for PPT. Don't forget to leave your kind thoughts if you really liked the in-depth guide.