"I have a presentation that have embedded objects. I used to be able to just double click on the embedded file and it would open. Now I get the above message "We're sorry something went wrong that might make PowerPoint unstable". I tried to reinstall Microsoft PowerPoint, but it didn't work. Does anyone have any idea as to how to fix this problem? Thanks!"
6 Methods to Solve PowerPoint Is Unstable
Have you received similar message and been confused about it? If so, try 6 methods below to solve this issue.
1. Use Stellar Repair for PowerPoint
Presentations are widely used in both study and work. And we often embed objects like Excel in presentations. Sometimes, this may cause corruption in the file so that Microsoft PowerPoint will report PowerPoint unstable error. This moment, we can repair corrupted PowerPoint file to fix this problem.
The most simplest and convenient way to repair corrupted PowerPoint file is to use a third party tool. And Stellar Repair for PowerPoint is the best and the most worthy one in the market. This software can repair your PowerPoint files (including .ppt, .pptx, .pptm) of 2019, 2016, 2013 and earlier versions without any data loss. To use this tool, you should download and install it on your computer first, and
1. Double click the icon of the software to open it.
2. Click "Select" in "Home" tab, and choose "Browse" or "Search" to select your PowerPoint files need to be repaired.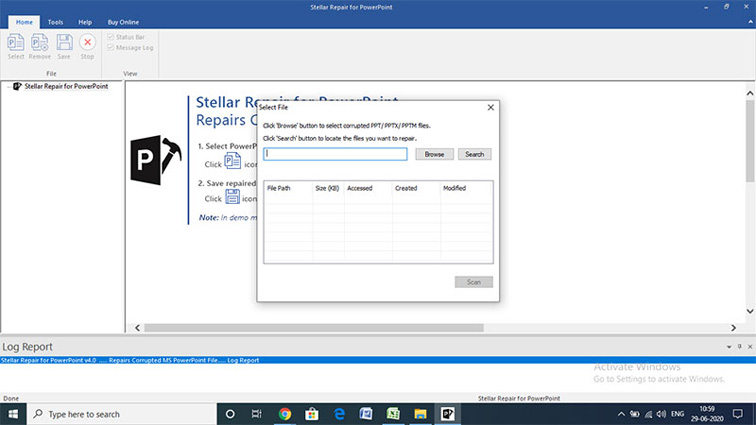 3. Press "Scan" button to start scanning corrupted files.
4. Scanning will take a while. When the process completes, click the file in the left pane to preview.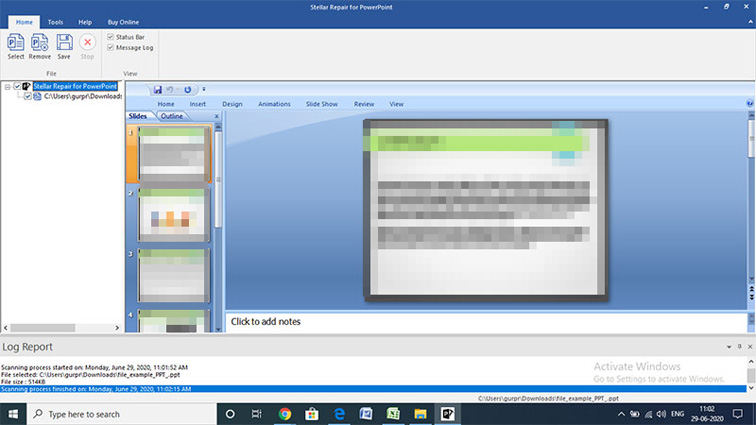 5. Click "Save" to save the recovered files in your desired destination.
Now, you can try to open your presentation again.
2. Start PowerPoint in Safe Mode
To start PowerPoint in safe mode, you can hold "Ctrl" key and open PowerPoint. When the dialogue pops up, click "Yes" to start PowerPoint in mode.


Or you can press "Win + R" to open "Run" and type "powerpnt /safe" and click "OK" to open PowerPoint in safe mode.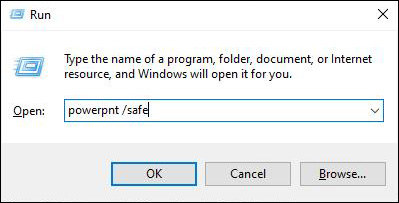 Note: There are some limitations to use PowerPoint in safe mode.
No saved templates.
No automatically activated Office Assistant.
No personalization of the toolbar or command bar and no personalization can be saved.
No loaded AutoCorrect list, and no save modifications.
Records recovered will not be accessed immediately.
No new tags are processed, and intelligent tags are not loaded.
Except for "/a" and "/n," all command-line methods are ignored.
The alterative Start-up Directory cannot have saved files.
Unable to save preferences.
More functions and programs are not loaded automatically.
Unable to build or access documents with minimal permission.
Then, open your presentation again. If the message of error disappeared, you should disable add-ins to fix the error.
1. Click "Options" in "File" menu, and go to "Add-Ins".
2. Choose "COM Add-ins" and click "Go".

3. Uncheck all boxes and press "OK" to save changes.

3. Repair Microsoft Office
PowerPoint unstable can be fixed by repairing Microsoft Office installation if something went wrong in Microsoft PowerPoint itself.
1. Click the icon of Windows and search control panel in the searching bar.
2. Open "Control Panel" and select "Programs and Features".


3. Find Microsoft Office and click "Change".


4. Select "Online Repair" and follow instructions to complete repairing process.
4. Change File Type
Incompatible file could result that PowerPoint is unstable. You can easily solve this by changing the extension of the file.
1. Open Microsoft PowerPoint, click "File".
2. Select "Export", in the options, click "Change File Type".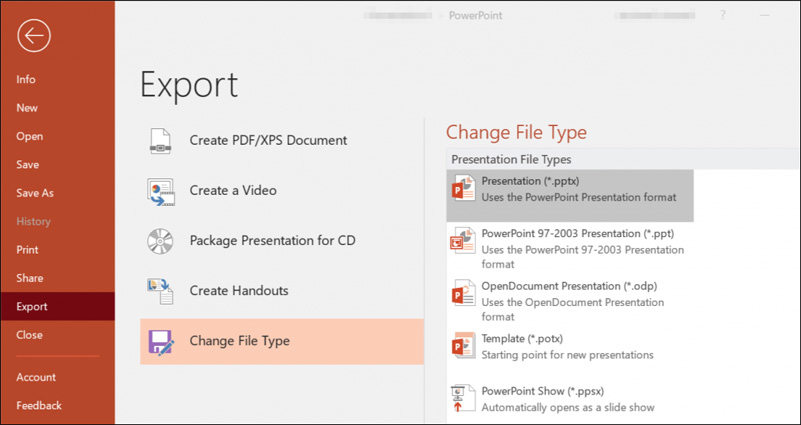 3. Select a different format with your PowerPoint file.
5. Reinstall Microsoft Office
Reinstallation is a magic method. Sometimes, the error will be fixed after a simple reinstallation.
1. Go to Control Panel, and click "Change".
2. Then, select "Reinstall".
Wait a few moments and follow the instructions to reinstall Microsoft Office.
You can also uninstall Microsoft Office, and reinstall it through the official website.
6. Run PowerPoint as Administrator
If Microsoft PowerPoint keeps sending PowerPoint unstable to you, you can try to run PowerPoint as Administrator. Just right click the icon of PowerPoint, and select "Run as administrator" and open it.
Read Also: [Solved] What to Do When PowerPoint Is Not Responding 2020
Conclusion
Now, we have offered 6 methods for you to solve Microsoft PowerPoint keeps sending we're sorry something went wrong that might make PowerPoint unstable. Pick one according to your situation. If it is because your PowerPoint file is corrupted, we strongly recommend Stellar Repair for PowerPoint. And if you have problems on password protected PowerPoint file, try PassFab for PPT. Last, please share this article if the methods work for you!