How to Get Product Key in Windows 10 for Free - 2019
When you purchase a copy of Windows 10 from Microsoft or any of their authorized resale partner, you will receive a product key to activate the OS on your computer. Each key would be unique and could be used on one system or a specified number of systems as agreed by the seller agreement.
In case you happen to have a Windows 10 copy without a key, then the following are some simple ways to get a product key for Windows 10 at ease. The guide will help you get a Windows 10 product key for free in 2018:
1. Use A Keygen to Generate Product Keys for Windows 10
One of the ways to get a Windows 10 product key is to use a keygen software. A keygen, as the name implies, is a key generator that can generate various kinds of keys for you to use on software installed in your computer including your operating system.
You can head over to keygen software website and download keygen for Windows 10. If one keygen doesn't work for you, you can always try another till you get an apt one. The correct keygen software would generate the perfect key for activating Windows 10 on your system.
Now you know how to download a keygen to generate product keys for Windows 10.
With the keygen downloaded on your computer, you might want to see how you can use it to generate a key for your machine. It's extremely easy to do that as most keygens don't have complex interface and menus. They just have a few buttons that let you get your job done.


Launch the keygen you have downloaded on your computer. While most keygens require you to select an operating system from a dropdown menu and then press one or two buttons in succession, this keygen just doesn't require that. Once opened, it will present you with a valid product key that you can use on your Windows 10 running computer.
Copy the key to your clipboard or write it down and you can enter it while you're installing Windows 10 on your machine. The key will activate the copy of Windows on your computer.
2. Using Free License Keys for Windows 10
If you don't want to use any Windows 10 product key crack, you can use the product keys mentioned below to activate your copy of the Windows 10 operating system.
All that these keys require you to do is enter them when you are asked to on your system and they will activate the OS for you.
TX9XD-98N7V-6WMQ6-BX7FG-H8Q99
W269N-WFGWX-YVC9B-4J6C9-T83GX
MH37W-N47XK-V7XM9-C7227-GCQG9
DPH2V-TTNVB-4X9Q3-TJR4H-KHJW4
VK7JG-NPHTM-C97JM-9MPGT-3V66T
6P99N-YF42M-TPGBG-9VMJP-YKHCF
As said before, these keys should be entered when your system asks for them and you will be able to successfully activate your Windows 10 computer. It will then longer ask you to enter a key and you will be able to enjoy all the features offered by the OS.
3. Recover Lost Product Keys in Windows 10
If you had a product key that you used to activate your copy of Windows 10 but you have misplaced it and now you can't find it, then you need not worry as there's an application that helps users with scenarios exactly like this.
The app we are talking about is PassFab Product Key Recovery. It helps users to retrieve lost product keys for various software on their computers. The app also helps you recover your Windows 10 product key. All you need to do is get the PassFab Product Key Recovery running on your computer. Then, hit "Get Key". It will show product keys for all the supported software installed on your computer, including the key for your Windows 10 operating system. You can now note down the product key and save it at a safer place so that you don't lose it again.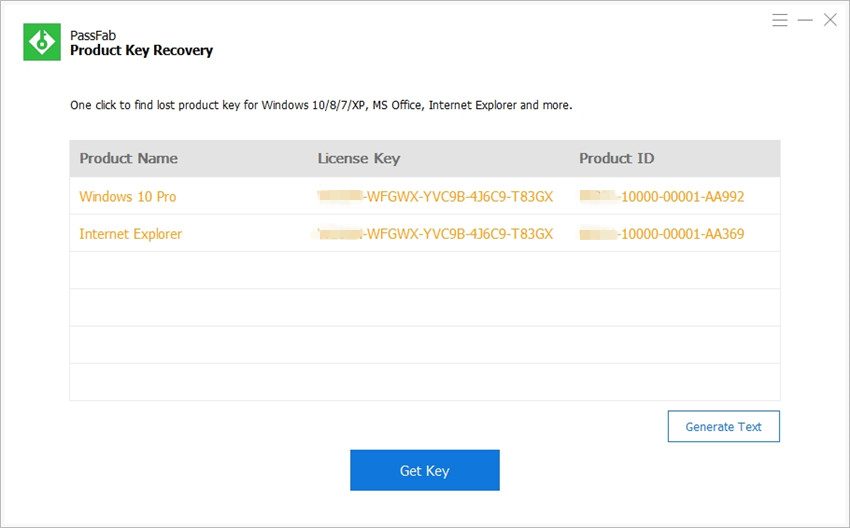 Summary
We're sure the above guide will help you get a Windows 10 Pro product key (2018 free). Also, in case you had misplaced your key, you now know how to recover it using PassFab Product Key Recovery.