Taking a screenshot in Windows 10 is a relatively easy process. You can quickly capture the screen with the Print Screen button on your keyboard and then fine-tune it with the Snip & Sketch app. Capturing video of your screen operation is more difficult, but Microsoft makes it easy with the built-in Game Bar video capture feature.
So, let's a look at how you can enable eeware screen recorder Windows 10.

Part 1: Does Windows 10 Have Built-in Windows 10 Screen Recorder?
Game Bar was created to record games you play directly on your PC or games you stream from an Xbox One, and it can just as easily capture video of screen activity from your internet browser, Windows apps, and many other programs. Any screen operation you record is automatically stored as an MP4 video file.
Game Bar does enforce some device conditions, like the right kind of graphics card. If you want to use Game Bar and your PC isn't up to snuff, you can get an error warning that your PC doesn't fulfill the hardware criteria for capturing clips. But despair not, since there is a way around this restriction.
So, let's have a look at where and how you can use screen recorder free Windows 10.
Part 2: What Can Free Screen Recorder Windows 10(Xbox Game Bar) Do?
The Windows 10 Xbox Game Bar is definitely the best thing Microsoft could have done for players. You can conveniently access and control any useful feature, such as sound controls, output statistics, or framerate, during gameplay.
It allows you to record all your gameplay, take screenshots and even play your favorite music on Spotify without having to exit or Alt + Tab.
Now, let's have a look at what you can do with Windows 10 screen recorder free:
Screenshot and Record Your Gameplay
One of the best qualities of the Windows 10 Xbox Game Bar is that it makes it easy to capture your game while playing.
Open the Xbox game bar (Win + G) and use the capture widget. You can save the entire gameplay for posterity from beginning to finish, or only save your latest boss fighting or Pentakills highlights.
Adjust Sound Levels
When you open it, the Game bar instantly displays all the sound channels on your Windows system at the time. Each has a slider that can be used to monitor any audio channel's volume.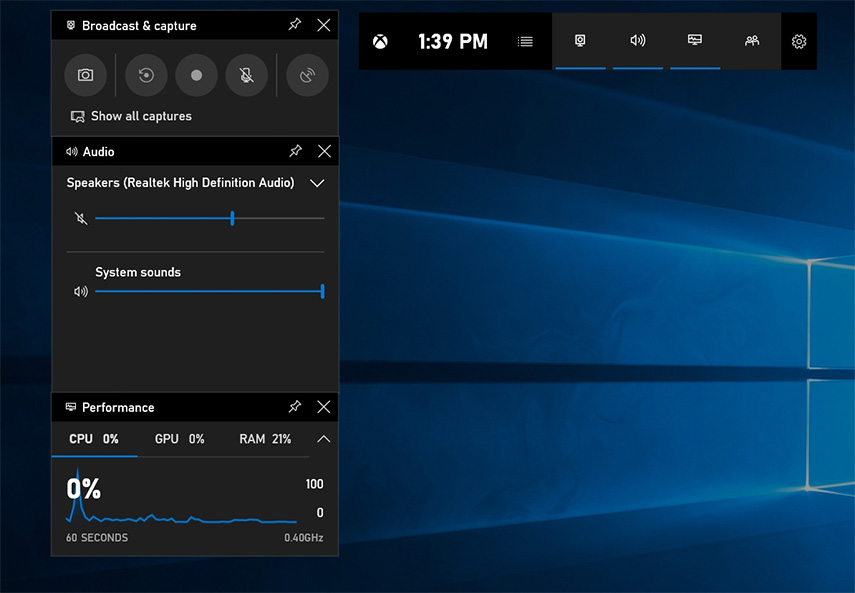 Monitor Performance of Your PC
The Performance widget provides information about your computer's performance when playing games. When you activate this widget, the Game bar gathers and displays the rate of use for your computer's primary resources: CPU, graphics card, and RAM (as percentage values and graphs).
Additionally, you can see the number of frames per second produced by the game, which is very helpful if you choose to periodically check the consistency of your game.
Play and Control Your Music
If you like listening to music on your Windows 10 PC while playing games, the good news is that the Game bar now has a Spotify widget. Without having to close or minimize (Alt + Tab) your game, you can use the Spotify widget to play and control your music from this streaming video service.
Xbox Social Service
Additionally, Windows 10's Game bar includes a few social widgets that some gamers may enjoy. They are referred to as Xbox Social, Xbox Achievements, and Look for a group. If you choose to communicate with other players who use Windows 10 PCs or the Xbox games console, the Xbox Social widget enables you to do so.
Part 3: How to Use Xbox Game Bar for Free Screen Recorder Windows 10?
Using this best free screen recorder for Windows 10 is very easy. If you are having any issue using this screen recorder, then follow the steps below:
Launch the application you want to record.

Hold down the Windows key and the G key simultaneously to bring up the Game Bar dialogue.

To load the Game Bar, check the "Yes, this is a game" checkbox. This is the protocol to follow regardless of whether you're capturing a game or some kind of app.

To begin recording the video, click the Start Recording button (or Win + Alt + R).

Click on the red recording bar at the top right of the software window to pause the recording. (If it vanishes unexpectedly, click Win + G again to restore it.)
That is it! Your recorded videos, which are MP4 files, are saved in a subfolder called Captures under the Videos folder. Additionally, you'll find them in the Xbox app's Game DVR menu, where you can trim videos and upload them on Xbox Live (if the video is a game).
Note: You can even take screenshots using the Xbox screen recording app. Rather than pressing the record button, either click the camera icon in the Game Bar or press Win+Alt+PrtScn.
Extra Tip: The Best Screen Recorder Windows 10 - PassFab Screen Recorder
PassFab Screen Recorder is the best software for game, video, and screen recording. It is of excellent quality, and the recorded files are much smaller in size than those created by other applications.
It sonsumes little CPU power.
Recording without time limits.
Can record videos, webinars, PowerPoint, and Skype video calls.
Record webcam and screen at the same time.
Record screen/webcam along with computer sound and microphone without delay.
How to Record the Entire Windows Desktop Screen
Open the PassFab Screen Recorder.

Select "Record Screen" feature.

Select the screen area as you wish, and mouse click.

Click "Start" button.

Click "Stop" button when finishing recording. And save it by click "Trim" button.
Part 5: PassFab Screen Recorder v.s. Windows 10 Built In Screen Recorder
| | Xbox Game Bar | PassFab Screen Recorder |
| --- | --- | --- |
| Easy to Use | | |
| Game Recording | | |
| Recording range | | |
| Versatile | | |
Final Words
Screen recording is useful for a variety of purposes, from making tutorials to capturing a screenshot to share on Twitter with friends. On Windows 10, you can use the built-in Xbox Game Bar to take a video of your screen.
The Xbox Game Bar was created to capture video game footage, but it can be used for any form of video capture. To use it, the laptop's video card must support one of three encoders: Intel Fast Sync H.264, Nvidia NVENC, or AMD VCE encoders.
We hope you have understood how to use screen recorder Windows 10 and when to use it as well. But, we want to recommend you PassFab Screen Recorder because of its versatility and easy-to-use interface. It can record videos for more than 24 hours without any trouble.