Since Apple introduced the screen time feature, many users are using it to avoid spending too much time on their phones for themselves or their children. In fact, this is indeed a good way to manage time. However, most users are facing a problem, which is forget screen time passcode because you don't have to enter the password after setting the password once. Luckily, we gonna talk about how to recover screen time passcode with Password Manager in this post, which is the most effective way. If you are also looking for a solution, don't miss it!
Part 1: Can I Recover My Screen Time Passcode without A Reset?
The answer is "Yes", you can recover iPhone screen time passcode without a reset by recovering it. If you've heared a solution that you have to reset your iOS 13 device and create a backup first, then download a new firmware package and restore all your data to get your password. Seems troublesome? Now all these irritating steps are not necessary, as you can find your iPhone screen time passcode without a reset in a few steps.
Part 2: How to Recover Screen Time Passcode on iOS 13/12/11
As a matter of fact, now you are able to recover your screen time passcode by using a program named PassFab iOS Password Manager. It is a powerful tool that does well in finding passwords in iOS devices, except screen time passcode, you can also recover Wi-Fi, Website, Apple ID passwords etc. You are about to see how to use it as below:
Step 1. Launch this software after downloading and installing it.
Step 2. Connect your iPhone or iPad to this screen time passcode finder.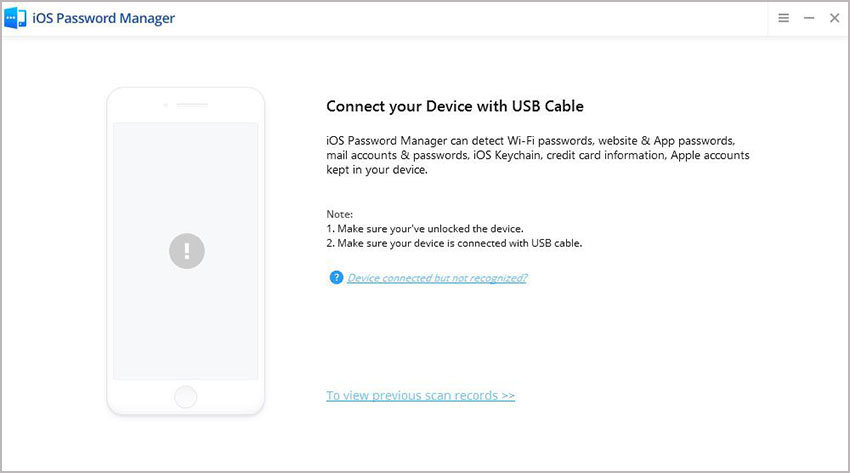 Step 3. Click on "Start Scan" button and wait for a few minutes.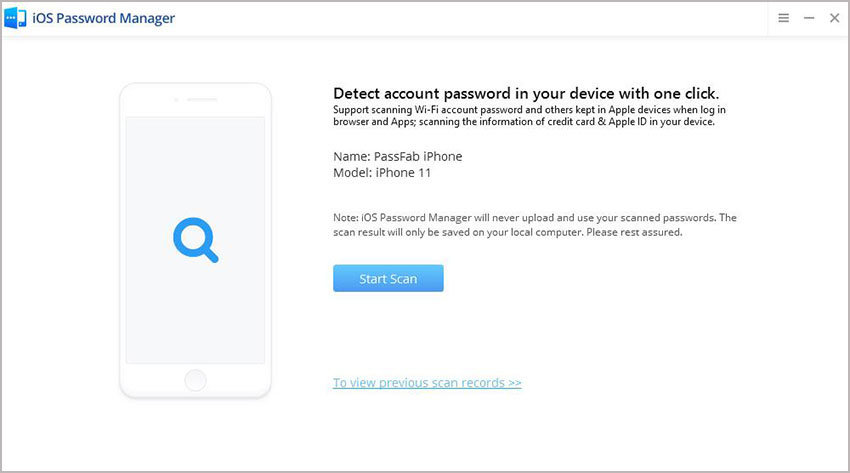 Step 4. Your screen time passcode will be displayed in this application.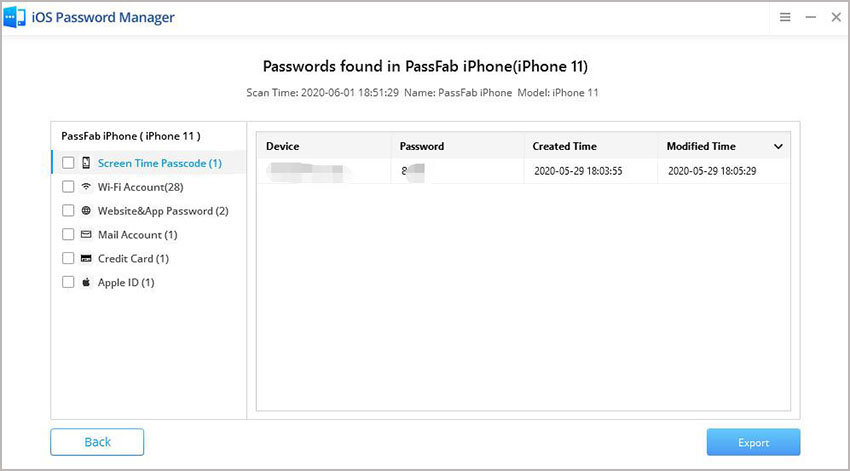 Here is a video tutorial about how to recover forgotten screen time passcode using this software:
Part 3: How to Use Restore iPhone Recover Screen Time Passcode Free
If you are looking for screen time passcode recovery free way, in this part we will show you how to restore iPhone Backup to recover forgotten screen time passcode. But fist, you have to make sure you've encrypted backup recently.
Step 1. Go to Setting > iCloud Account > Find My, then turn off "Find My iPhone".
Step 2. Now, connect your iPhone to computer, open iTunes and click "Restore iPhone".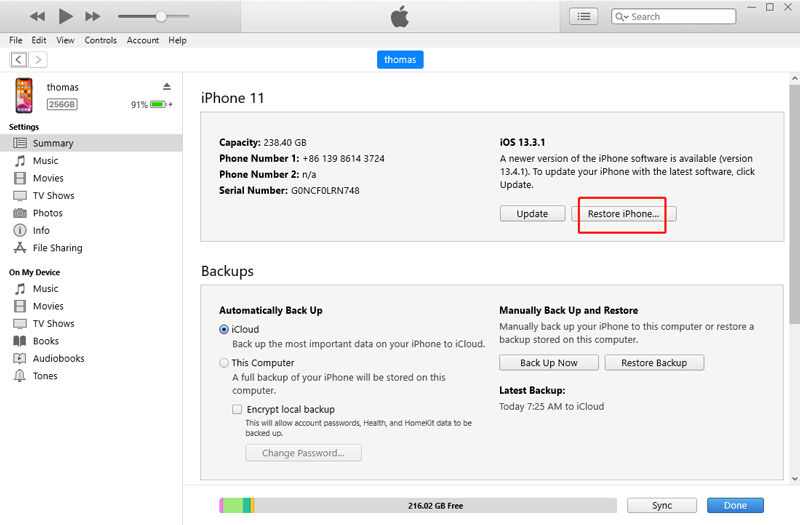 Step 3. After clicking restore iPhone, iTunes will download the latest iOS version on your iPhone. Meanwhile, you have to confirm Restore iPhone again and back up or not.
Step 4. When the latest firmware has been downloaded, you can restore backup and your device will be reset as new.
Part 4: Troubleshooting About Screen Time Passcode Recovery
There are a few potential causes if your Screen Time recovery option is inaccessible:
You didn't set your device for a backup. That is easy to do with many solutions like iTunes, iCloud, or even some software.
You didn't encrypt your backup. Only the encrypted backups will store your Screen Time passcode. If you are doing it with iTunes, just tick the box saying "Encrypt this backup", and then select "Back up now".
The iPhone Backup Extractor is still working to load your backup. The menu item for "Recover Screen Time passcode" will be inaccessible until the backup is completely loaded.
The passcode can be recovered from the backup of your child's device. If you have set a passcode on a parents' device to set Screen Time on your child's iOS device, sometimes the passcode is unavailable on parents' device and can be found through child's device backup. Though, Apple is working to fix this problem.
These are common troubleshooting situations you may encounter, and maybe you can find the answer in these situations.
Part 5: Some Tips for iPhone Screen Time Passcode
If you are still not sure about the difference between Screen Time passcode and screen unlocking passcode, the best thing to remember is unlock screen is a 6-digit passcode, whereas, Screen Time passcode is of 4 digits. Also, if you have moved to iOS 13 from iOS 12, and you set a Restrictions password earlier, the Screen Time passcode on iOS 13 will be enabled by default. If you don't know your Screen Time passcode, try entering Restrictions passcode. If that doesn't work, try these methods below.
4.1 How to Reset the Screen Time Passcode
Before getting started, make sure you have created a backup of your data because we have to erase all the data from your iOS device, and then we will be resetting your Screen Time password. Just follow the steps below which will guide you on how to reset or unlock Screen Time passcode. Make sure you are connected to Wi-Fi.
Step 1: Go to Settings > iCloud Name > iCloud > iCloud Backup on your iOS device to create a backup of your data on iCloud. After that, erase your data from iPhone.

Step 2: Next, connect your device to iTunes. Click on "Restore iPhone" under the backups section.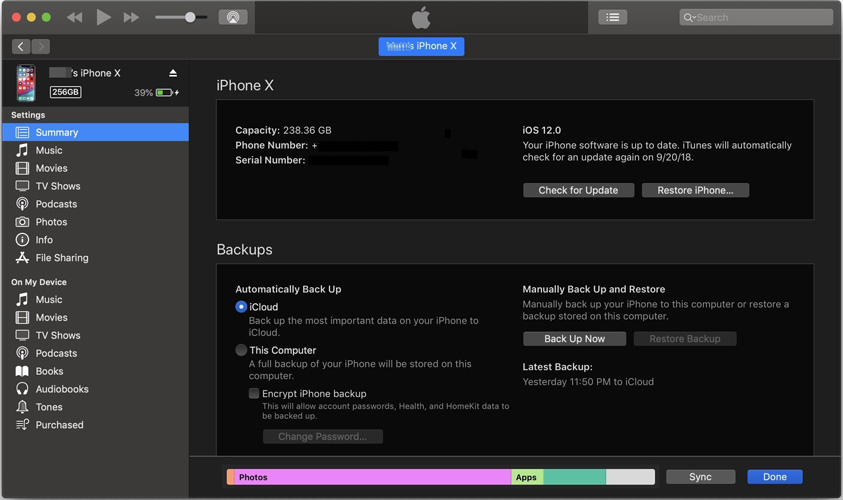 Step 3: When the process is complete, restart your phone. Keep following the onscreen instructions till you get on Apps & Data screen. There, select "Restore from iCloud Backup" option and hit "Next".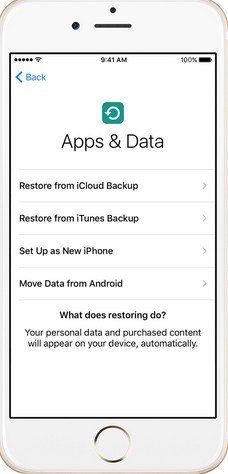 Step 4: Using your Apple ID and password, sign in to iCloud. Select a backup when asked. Don't forget to verify the correct backup by checking the date and time. When the backup is restored on your iPhone, there will not be Screen Time limitations anymore.
4.2 How to Backup iPhone Screen Time Passcode
The best way to keep all your login details of iPhone, iPad, iPod, and other iOS 13 devices safe is to use a password manager. It can generate and retrieve the complex passwords and stores them in an encrypted database. Some software here may be helpful to you:
1Password
LastPass
mSecure
Enpass
Keeper
Data Vault
Conclusion
In this article, We've talked about how to figure out Screen Time passcode on iPhone by introducing the best software iPhone password finder to recover most passwords on iOS devices. Meanwhile, we've provided you some tips for iPhone Screen Time passcode to avoid other related problems. If you like this article, don't forget share it with your friends!