Unlocking your iPhone can be useful because it can make your phone accessible to different operators. Without a detailed manual, however, this can be a painful process. Well, there are several ways and tools to break the support lock and unlock the iPhone 5 AT&T factory code or unlock the iPhone 5 Sprint Factory. In this guide, we are going to discuss how to unlock iPhone 5 to any network.
It is fascinating and beautiful that so many smart people are working out how the iPhone works and how to make it more useful and more fun, so this is one of the reasons why people want to unlock their expensive iPhone 5. Primarily, an unlocked iPhone 5 allows you to continue to use your current device if you switch carriers. Read on to know more about the tools you can use or the procedure you need to follow to unlock the iPhone 5 AT&T factory and also to unlock the iPhone 5 Sprint factory, both online and through the courier.
Part 1. Unlock iPhone 5 Sprint
Sprint can unlock your iPhone 5, 5S, and 5C if the phone is not reported lost, stolen or "in connection with fraudulent activities." In order to unlock your iPhone locked on Sprint, all you have to do is to contact the company's customer service at 866-866-7509 and state your problem, they will guide you in the right direction and will unlock your iPhone if you meet their requirements.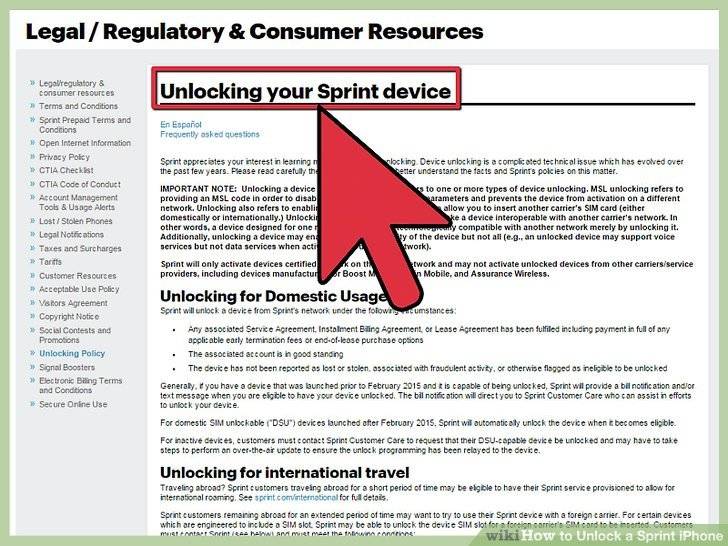 Part 2. Unlock iPhone 5 AT&T through Carrier
This is another way to unlock iPhone 5 AT&T to factory settings. Although it does not offer convenience and independence as an online option, you can still enjoy it if you wish.

Please contact your network operator directly to unlock your iPhone. All you have to do is follow the steps given below:
Step 1: Contact your network provider
You must first check whether your operator offers an unlocking function. For this, you can go to this link: https://support.apple.com/en-in/HT204039 and select the region and other necessary details.
Then, contact your operator and ask him to unlock it. He will need to check that whether your account meets the unlock requirements or not. This process can take a few days.
After confirming, your operator will unlock your iPhone.
Step 2: Finish the Unlock Process
This step is different for those who have a SIM card from a different carrier and those who don't have another SIM card.
Option 1: If you have a SIM card of a different Carrier:
Remove SIM card and enter the new one.
Reset your iPhone
Option 2: If you don't have another SIM:
You need to back up the data on your iPhone.
Completely erase your iPhone.
Restore your iPhone.
Step 3: In the case of Error
It is possible that even after all of this you might receive the following message on your phone: "The SIM card inserted in this iPhone does not appear to be supported." This can be rectified as:
Restore to factory Settings.
Contact Carrier again to confirm whether your iPhone has been unlocked.
Restore iPhone from the backup.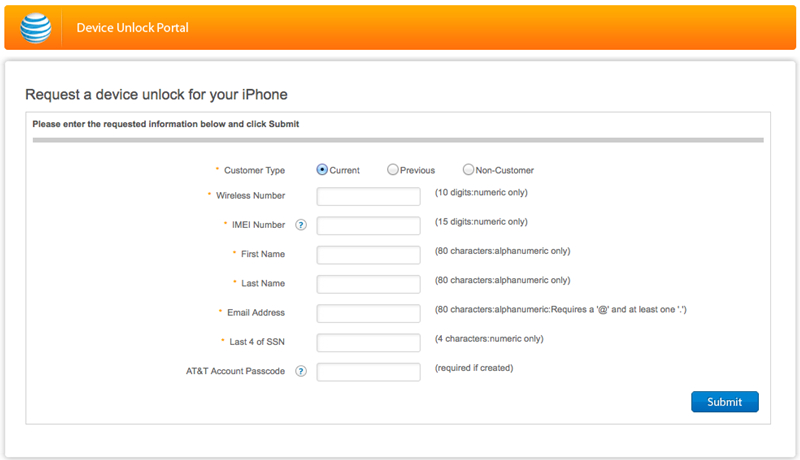 Part 3. How to Unlock iPhone 5 Passcode
3.1 Unlock iPhone 5 Passcode with iTunes When You Forgot Passcode
If you have lost the passcode for your iPhone 5/5s, you can put it in recovery mode and restore it. After recovering your iPhone, you can access it without a passcode. This can be done by following the steps given below:
1. First, you have to put your device in recovery mode. You must ensure that your device is switched off beforehand. Otherwise, press the power button and slide the screen to turn off your iPhone.
2. Start iTunes on your Mac or Windows system. Then press and hold the start button on your iPhone 5. While you hold down the start button, you connect it to your system.
3. You will see an iTunes symbol on the screen. iTunes will also detect your device in no time.
4. Since iTunes will recognize your device in recovery mode, a similar prompt will be displayed.
5. Just accept it and let iTunes restore your device.
Once your device is restored, you can open it without a screen lock.


3.2 Unlock Forgotten iPhone 5 Passcode without iTunes
If your iTunes doesn't work, you might as well trying PassFab iPhone Unlocker to do that. PassFab iPhone Unlocker is a professional tool to unlock locked, disabled or broken iPhone lock screen passcode without using iTunes. Besides lock screen passcode, it can also unlock Apple ID and bypass MDM on your iPhone, iPad or iPod touch.
It is the fastest and most reliable method available and has the highest success rate. It can also be used to resolve any problem related to a different version of iPhone as well. You can see how to use it as below:
Step 1. Launch this iPhone passcode unlocker to any computer after downloading and installing securely. Choose "Unlock Lock Screen Passcode" option.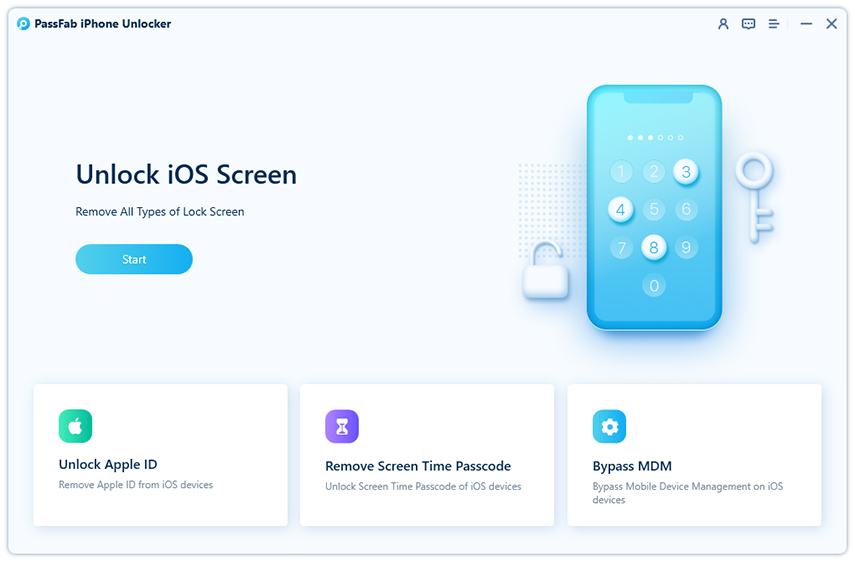 Step 2. Connect your iPhone 5 to it and then you can click "Start" button. Then follow the on-screen inctruction to enter recovery/DFU mode.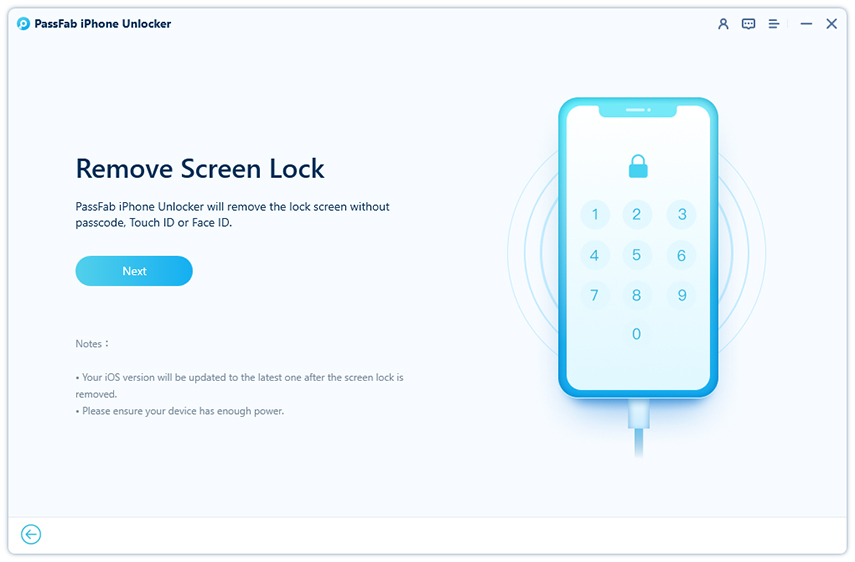 Step 3. Now you need to download or import firmwage package. Then click "Start Unlock" to begin the process.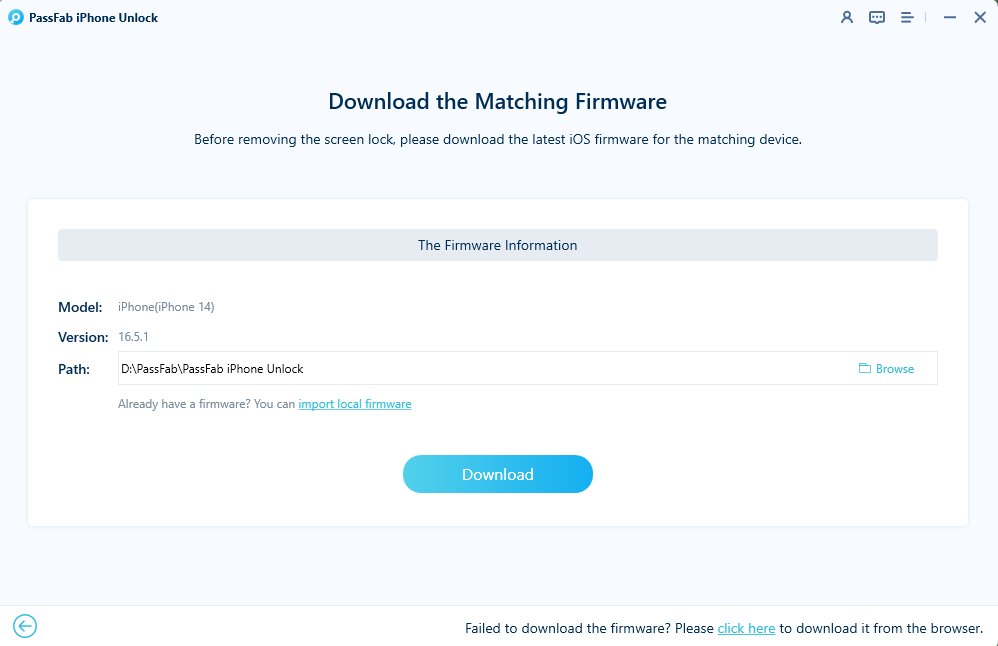 Step 4. Finally, your iPhone 5 passcode will be removed within 10 minutes.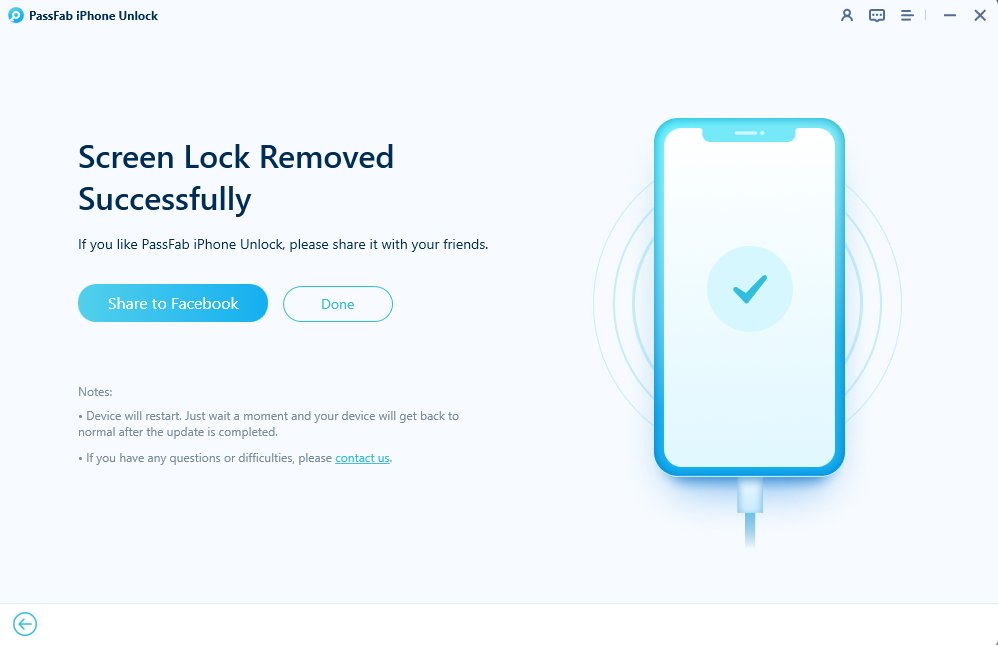 Part 4. How to Unlock iPhone 5 Backup Password
Most users find it difficult to unlock their device using iTunes. After all, it is a more complex and lengthy process. Ideally, you can use a third-party tool such as PassFab iPhone Backup Unlocker to recover or remove iPhone's backup password. It offers incredibly reliable and simple solutions for removing the encrypted backup settings from the iPhone.
Benefits of PassFab iPhone Backup Unlocker
It supports all the leading iOS versions and devices.
It has a user-friendly interface
Simple and reliable
How to Use PassFab iPhone Backup Unlocker
To understand how to unlock iPhone 5 passcode with PassFab iPhone Backup Unlocker, follow these steps:
Step 1. First of all, you will have to download PassFab iPhone Backup Unlocker on your PC. Then, open the installation file and follow the instructions given in the installation wizard to install it correctly. Now, open the program and make sure iTunes is installed on the computer. Click "Next" to continue further.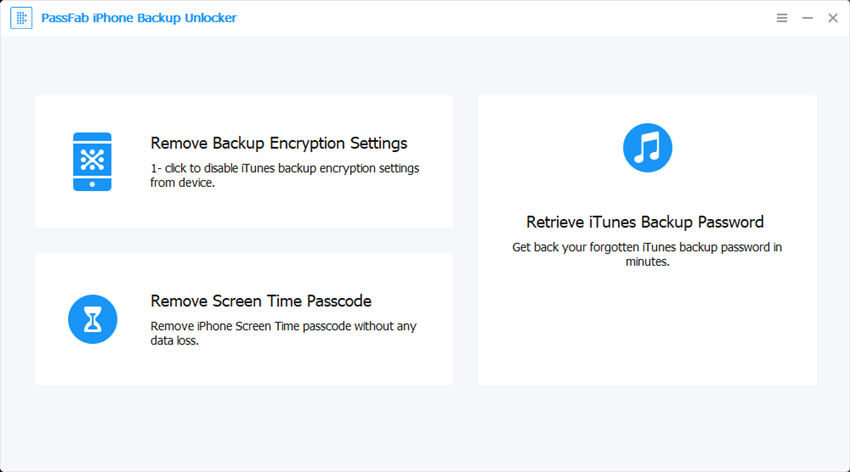 Step 1: Choose iTunes Backup File
Start this iTunes backup unlocker after installation. You may be asked to upgrade the dictionary library. This update is automatic and will take some time.
Now click the "Add" button. Choose your encrypted backup file from the drop-down list and import it into this software. If there is no target backup file in the list, you can click the "Import Backup Files >>" link to direct it to this program.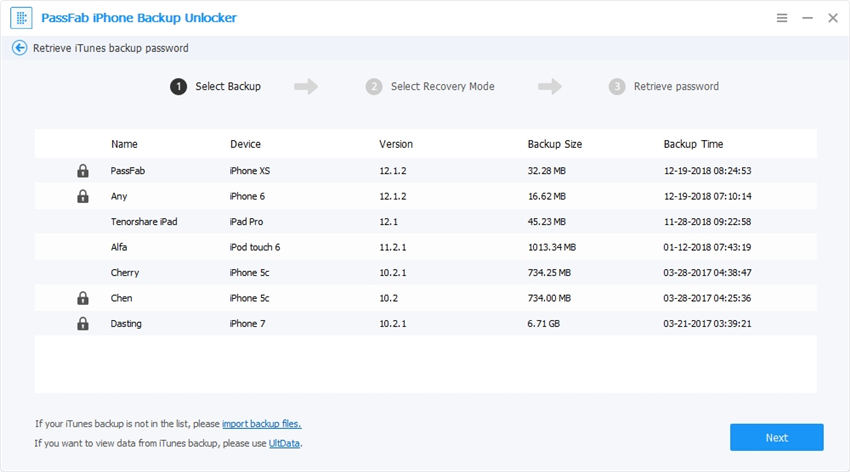 Step 2: Select the Unlock Password Type
There are three password attack modes for your choice. Select the one that best suits you to continue. You can also specify specific settings to shorten the password recovery process, such as the length of the password, possible characters, and so on.
Dictionary Attack: This method automatically tries thousands of combinations of possible passwords in the provided dictionary. You can also customize your dictionary library by clicking the Settings button.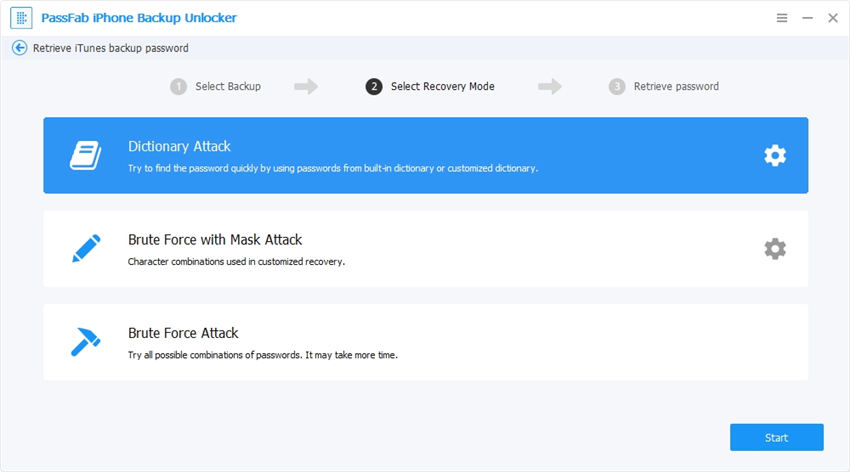 Brute Force with Mask Attack: This method is suitable for people who still have a vague impression of the password. Users can set the minimum / maximum length, frequently used letters and numbers and special characters to decode with precision in a short time.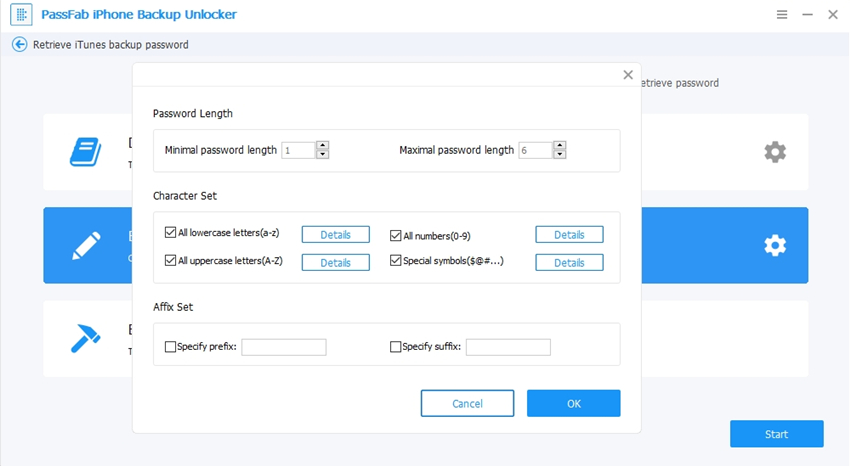 Brute-force Attack: This method launches an exhaustive agreement of every combination of letters, numbers, characters, and symbols. It takes the longest time but guarantees success.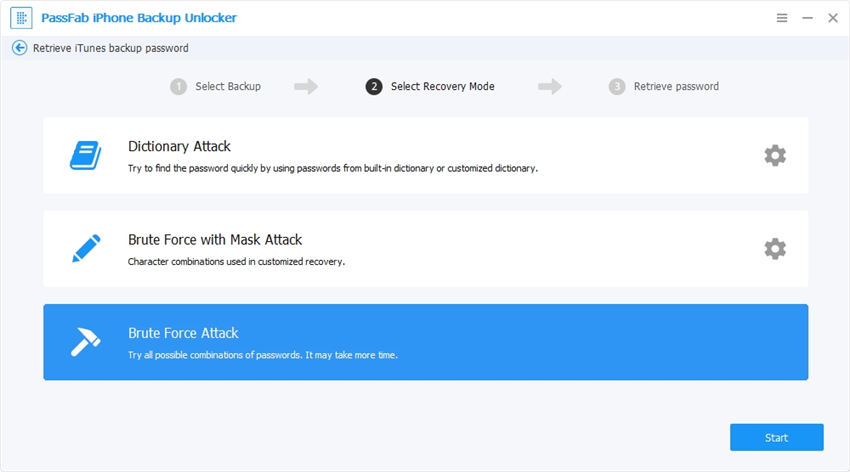 Step 3: Unlock the iTunes Password for Backups
Wait patiently until this program finds your password. It depends on how hard the password is; the process can take several minutes to hours. You can then use the password found to decode the document file.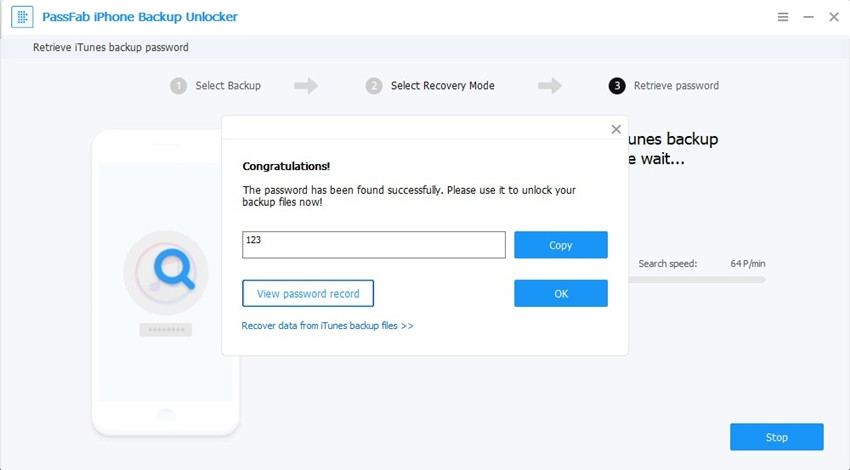 Summary
Now, you understand how to unlock iPhone 5s passcode so that you can easily access your device. All of the above-mentioned methods work but have some limitations, i.e., success rate, time, etc. We highly recommend PassFab iPhone Unlocker to unlock your iPhone 5 conveniently. All in all, you should try PassFab iPhone Unlocker, and we assure that you will be pleased by the results.