This article is all about the question that everybody is right now asking on the internet, which is how to hack WiFi password on laptop windows 10/8/7. We have discussed both the ways including how to do that without any software and with software. For the former, we're going to make use of the Windows built-in tool, command prompt. And for the latter, the software which we're going to utilize is called as PassFab Wifi Key, and this tool is a sure shot method to help you recover the wifi password. Let's not wait any further and get to explore these proven ways.
Part 1: How to Hack WiFi Password on Laptop without Any Software
The method that we are going to learn today will be working in Windows 10 and 8 but unfortunately this method is not supported by Windows 7. Follow the steps given below to know "how to hack WiFi password on PC without any software".
You need to go on the "Start" button and type "cmd" in the search bar. After that select "Command Prompt" as admin so that you can access it faster.
Once are done with the above process you need to type the following command. netsh wlan show profiles
After that you will can see the list of networks on which you join with your computer.
Now you need to type the following command in order to find the password of one network profile. Please keep in mind that you replace profilename with the name of the profile. netsh wlan show profile name=profilename key=clear
Once you are done with the above process, find the "Key Content" line which will be the password of that corresponding network.
So, this was all about how you can find you WiFi password without any software. This method is very much effective if you are going to use it on Windows 8 and 10. So what you are waiting for, go on and try on your computer.
Part 2: Crack WiFi Password Windows in Minutes
There are lot of people searching this question on internet that "how to hack WiFi password on Windows 10/8/7" for free, here, now, is a software for you called PassFab Wifi Key, that will be your best choice. With this free software, to hack WiFi password on laptop is no big deal. With its one click process, even the non-tech savvy users can make use of this software effectively. Moreover, this software supports smooth execution on various Windows OS versions including Windows 7, 8 and 10 as well.
Video Guide: How to Use PassFab WiFi Key to Hack WiFi Windows 10/8/7
The Brief Steps on How to Use
Step 1. Launch Wifi Key
First thing is to download, install and start the PassFab Wifi Key software, this can be done in any computer that contains windows operating system or you can also do it in your surface tablet. Once you have opened this software, you can see the WiFi password of each network.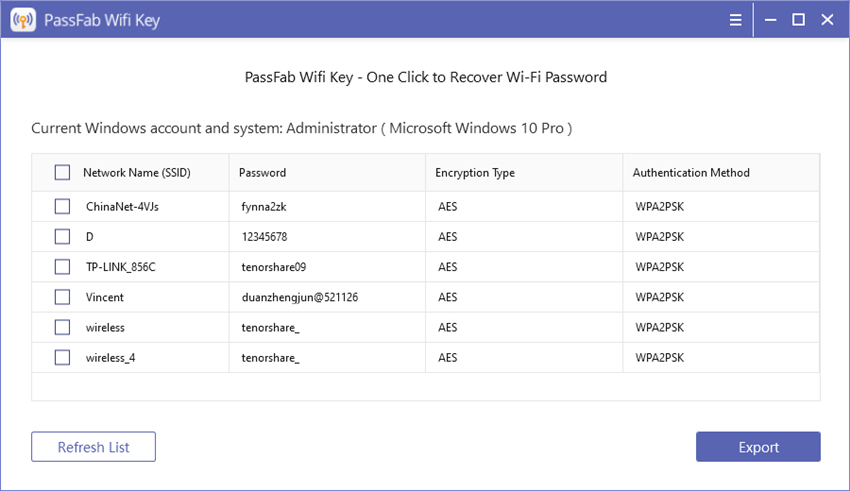 Step 2. Select Network Name
Once you have completed the above step you can directly copy the WiFi password or you can also export the selected network that you want to save. Once you've selected the network you want to save click on the "Export" button.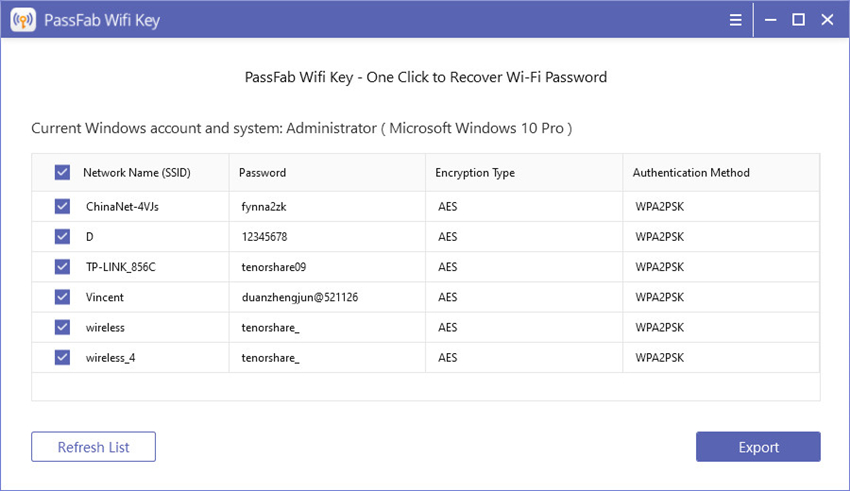 Step 3. Export WiFi Password
Afterwards, you will see another window popping up and it will prompt you to save them (the network you wish to save) as the CSV files. Now, you need to navigate to the destination path where you want to save the file and then click on the "Save" button. Within a couple of seconds, the file will be exported to the destination address. You can then access the exported CSV file that contains your wireless network information as and when needed.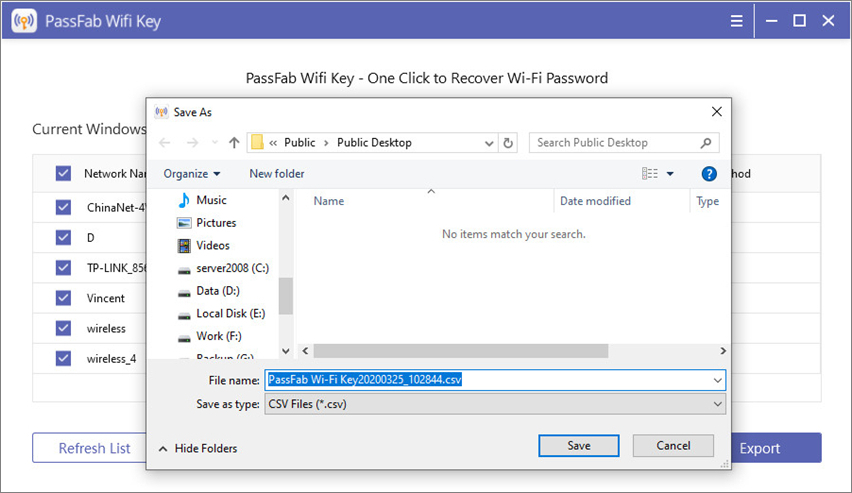 Conclusion
So, in this article we have discussed about how to hack wifi password on Windows 10/8/7 and also with the help of software. The method which we are using to find wifi password without software is command prompt. Here we have discussed about a Wifi password key program from PassFab, that will help you to find the WiFi password. Hope this article would have helped you with solving your all queries related to the question that how to crack WiFi passwords on Windows. Last but not least, if you want to hack WiFi password on your own iPhone, then you should try PassFab iOS Password Manager.