Windows has always been a very secure computer operating system, but Windows 10 makes it one grade higher. Microsoft introduced a lot of new features in Windows 10, for increasing its efficiency, ease of use as well as security. Aside from the option of using Microsoft account, you can also use different types of local accounts for different users like a standard user account, Admin and guest account. But if you forget the password, things get complicated too. But don't worry, in this article, we will give you appropriate solutions to recover Windows password so that you can log in to desktop when you can't remember Windows 10 password.
Method 1. Use PassFab 4WinKey
Forgot Windows 10/11 Administrator, Standard or Guest account password? Do not need panic. Try PassFab 4WinKey, which is nominated as the best Windows password recovery tool by thousands of users. It allows you reset, recover, bypass all your Windows password from all Windows version.
Steps to reset Windows 10/11 password using PassFab 4WinKey
Step 1: Initially, download and install PassFab 4WinKey on a working computer or laptop and then run the program upon installation.
Step 2: At the PassFab 4WinKey home screen interface, click on Advanced Recovery wizard option at the bottom.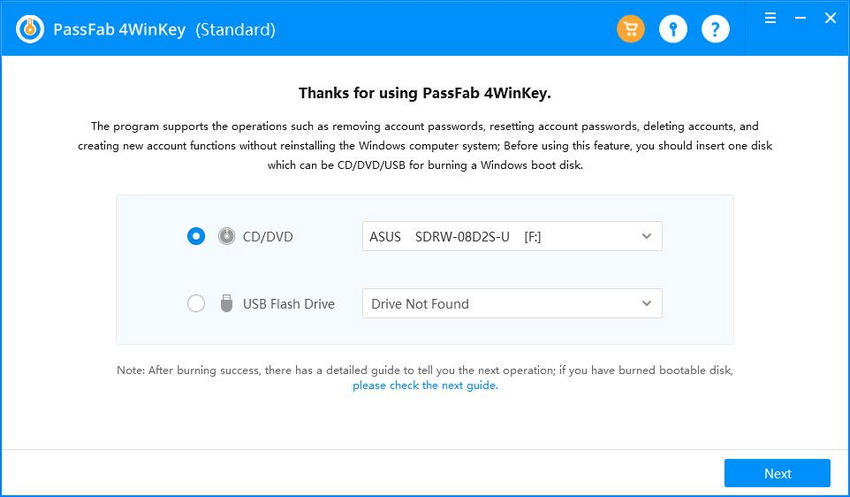 Step 3: Now, select target OS on the locked computer as Windows 10 and tap the "Burn" button to create a password reset disk.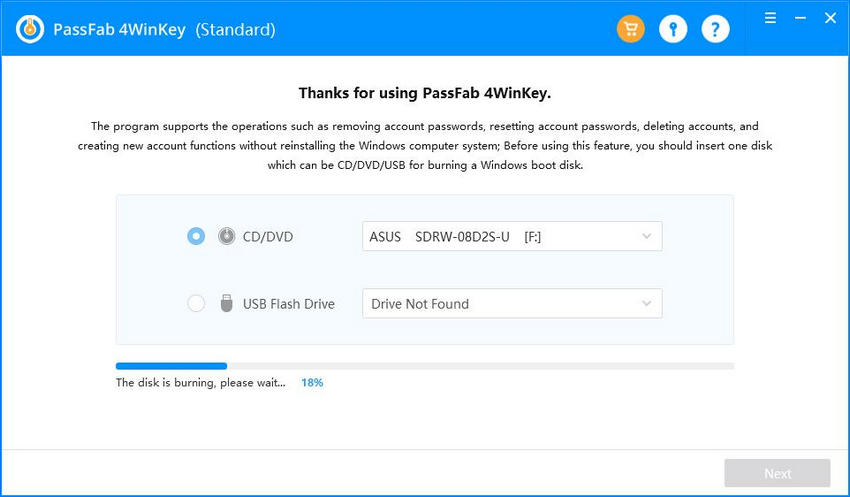 Note: If you are using USB flash drive to create password reset disk, you will b asked to format it. At this point, press OK. To prevent data loss, make sure to back up the drive beforehand making a password reset disk.
Step 4: Then, start the locked computer and press ESC or F12 to enter the boot menu interface. Then select boot drive as the password reset disk and press Enter.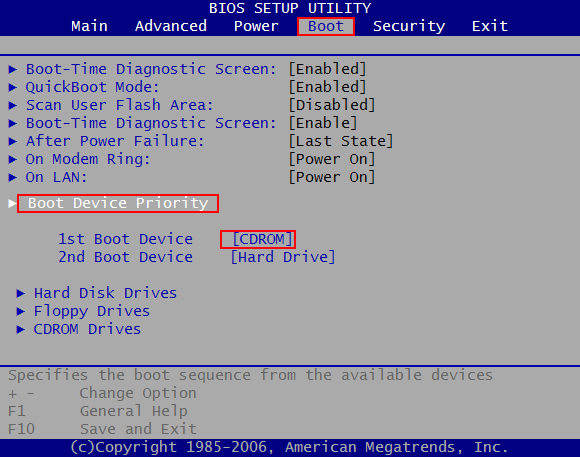 Step 5: After booting, select target computer OS and press Next.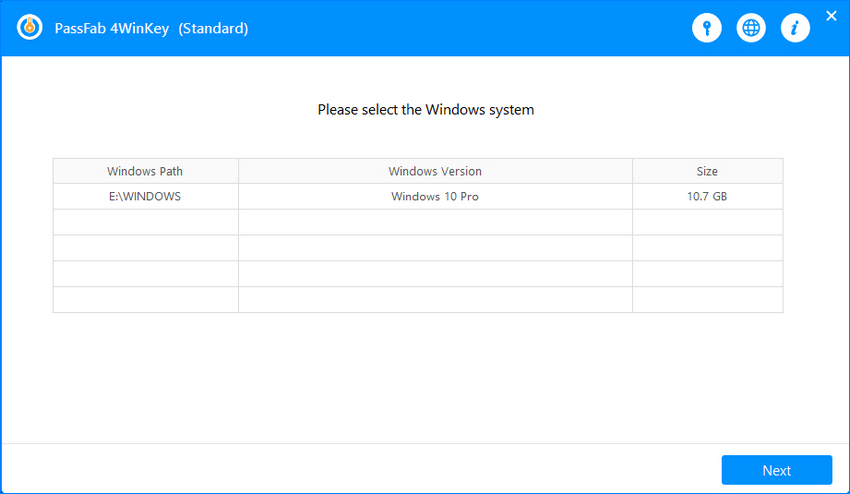 Step 6: Select the user account whose password you want to reset. You just need to check the option for the accounts to select the account. You can select Admin account, guest account, or another account available on the computer.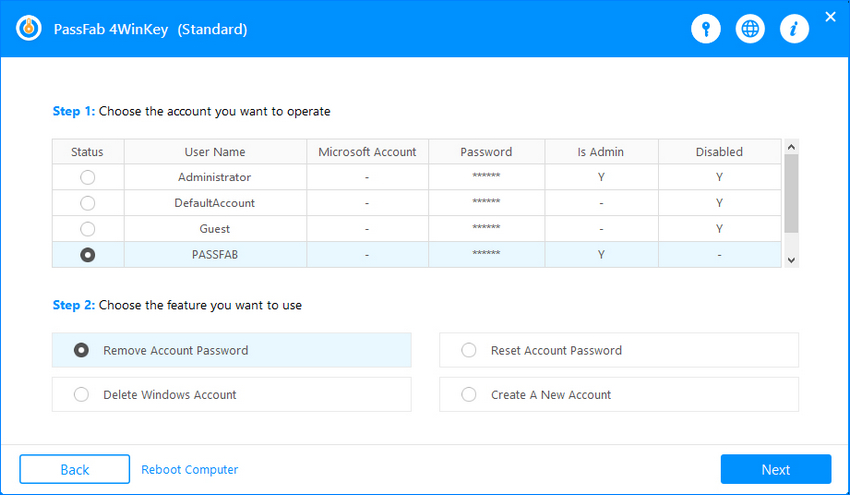 In the end, reboot the PC and login to Windows.
Method 2. Use Another Account
If you two Administrative accounts on the computer and you forgot the password or one of the accounts, then you could use the other account to change the password of the locked Admin account. Similarly, if you forgot the password of a Local account, then you could use the Admin account to change its password. Though, you cannot change the Admin account password from a standard account. Follow the below steps to know how to change the password for another account from an Admin account.
Step 1: First, log in to an Admin account and then go to Start > Control Panel > User Accounts and Family Safety > User Accounts.
Step 2: Then, tap "Manage another account" and all user accounts on the computer will be displayed here.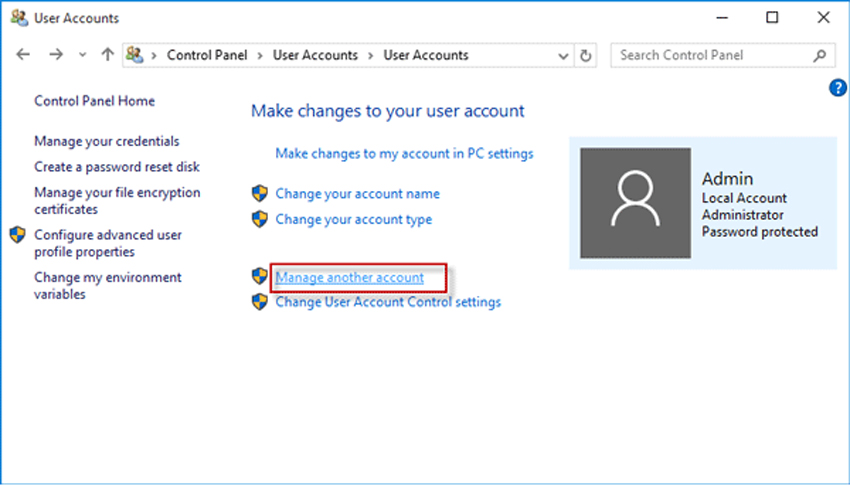 Step 3: Select the user account whose password you want to change.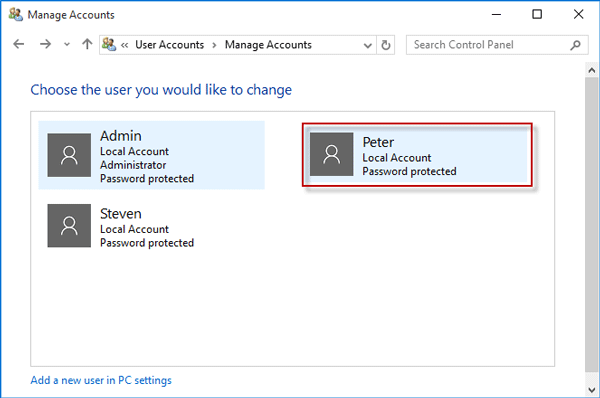 Step 4: Click on "Change the password" option and then enter the new password twice.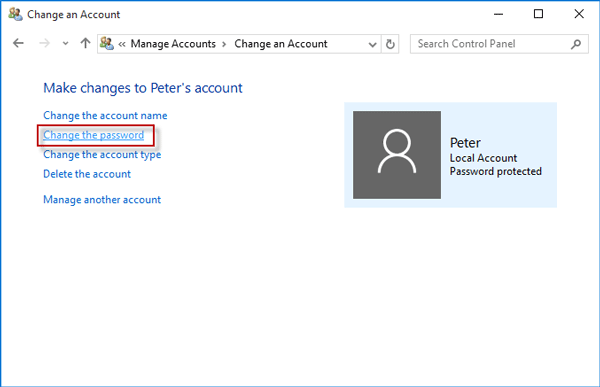 Step 5: Give a password hint if you want and click on "Change password" button to save the changes.
Method 3. Use PIN or Picture Password
In Windows, you can also use Picture or PIN for signing in to Windows aside from conventional alphanumeric password. If you find the normal password to be longer and time-consuming, then you could use PIN password in its place for sign in. In case can't remember Windows 10 password, you could instead login with PIN or picture password, albeit, you should have the first set up these types of password beforehand. Learn how to login to Windows 10 if you can't remember Windows 10 password.
Step 1: Boot the computer normally till you reach the login screen.
Step 2: Now, to enter PIN or picture password, click on Sign in options and then whether you want to enter PIN or picture password.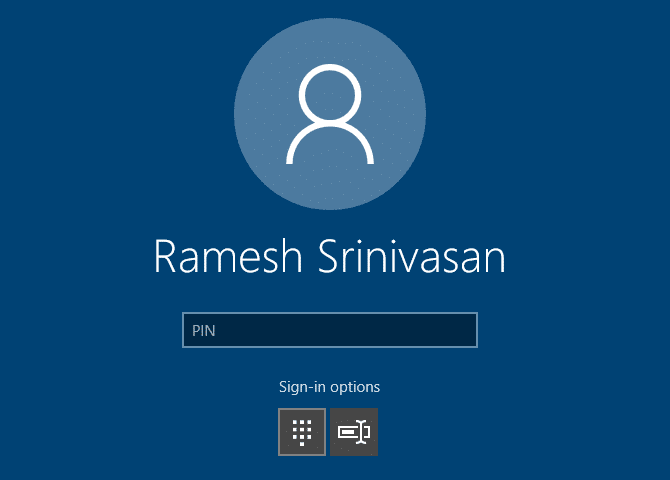 Step 3: Enter PIN password or make the gesture on the picture to log in to Windows.
Note: Though having alternate sing in option like PIN and picture password is perfect when you can't remember Windows 10 password, these PIN or Picture password can't supplement for the Windows password.
Summary
Forgetting Windows login password is a very common but serious problem. In this article, we've introduced many ways for you to solve Windows password. The recommend way is PassFab 4WinKey. No matter you want to reset Windows 10/11 password or change Windows 7 password, It can help you achieve it.