Well, a backup of your system is the best working strategy against a complete system failure. Yes, a complete system failure is possible even if you are taking excellent care of your hardware. When such a thing happens, users have no other choice but to start from the beginning. While if you have a Windows 10 system image, you can start where you left off.
As we have mentioned earlier, a complete system image is the best strategy again for a complete system failure. This is the main reason users are so eager to create a system image on Windows 10. Having a backup of the entire is very convenient. So, a system image is very handy. If you want to know the steps to create one, read our article below.
How to Create A System Image in Windows 10?
It is easy to create system image Windows 10. Windows is one of the best operating systems in the world, and Windows 10 is its latest iteration. So, it is equipped with the most advanced features. Although Windows 10 can create a system image on its own most of the users are unaware of the operation. So, we have detailed the steps to create a system image Windows 10, below. Check it out.
Step 1: Open your computer and go to "Settings".
Step 2: Locate "Update and Security" and click on it.
Step 3: After that, click on "Backup".
Step 4: Then, click on "Go to Backup and Restore" under "Looking for an Older backup?"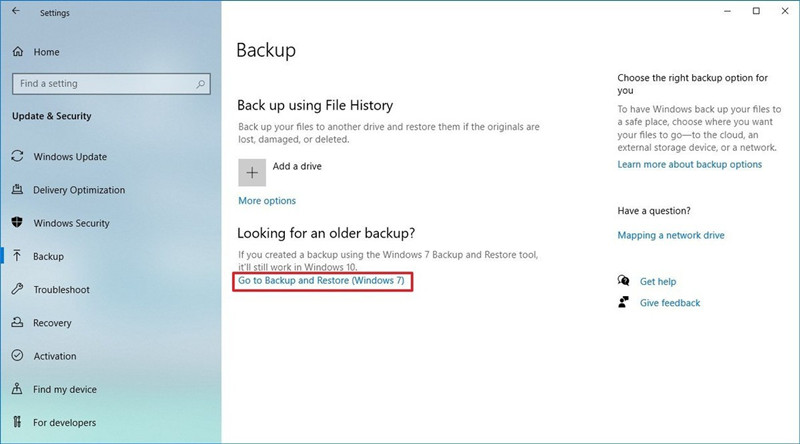 Step 5: A new panel will open, on the left side you will find "Create a System Image". Click on it.


Step 6: You also have to set a path for the backup. So, under "Where do you want to save the backup?", choose "On a Hard Drive".
Step 7: A drop-menu will appear and select a particular storage location to save the system image.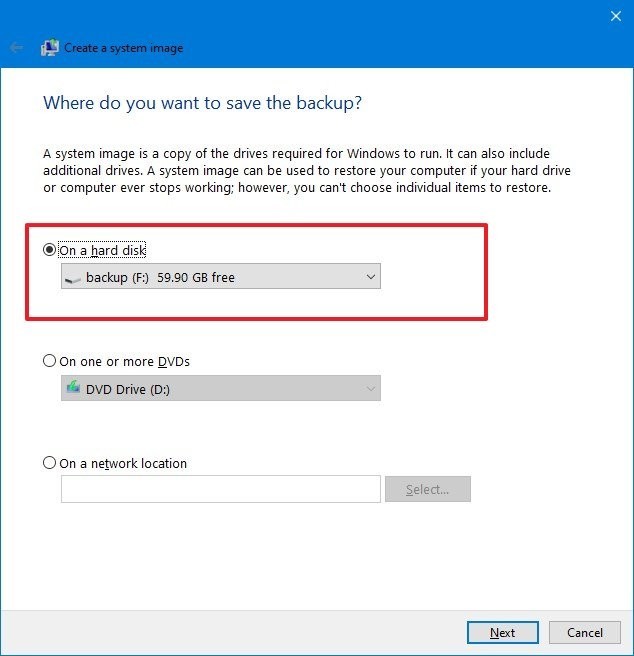 Step 8: Click on "Next", then you can select any additional drive if you want to add any in the backup.
Step 9: Click "Next" and then click on 'Start Backup'.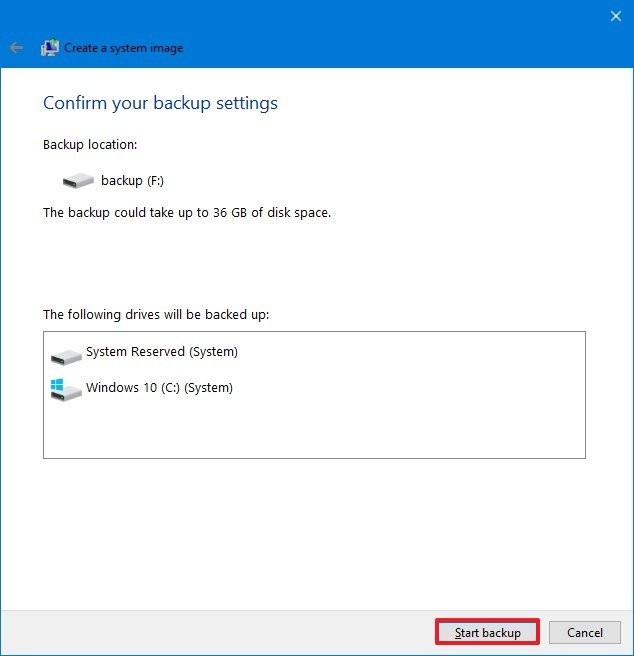 Step 10: After that, click "No" to proceed and finally click the "Close" button.
This is the official procedure to create Windows 10 system image. The procedure is a bit long and time-consuming. So, if you are looking for a suitable alternative, then check out the next part of this article.
FAQ: People Also Ask About System Image Windows 10
Q1. How does it take to create a system image Windows 10?
It takes about 30-40 seconeds for 1GB of backing up and compress it as much as it can.
Q2. Can you create a system image on a flash drive?
No. To create system image Windows 10 on USB flash drive, it must be formatted to use the NTFS file system. Then format the flash drive to NTFS, but the computer shows the information "Ths drive is not a valid backup location", so, you still can't backup system to USB drive.
Q3. Does Windows 10 system image backup everything?
An image backup copies everything on your drive, including the boot sector and partitions. It's the only method to back up your Windows installation, with all the programs and settings. It only copies your data file, which are documents, photos, spreadsheets, etc.
Q4. How often should I create a system image?
As for imaging, I suggest that you do it monthly, and save them on an external drive.
Q5. How many GB is a system image?
If you have 500 GB of space used on a TB drive, the system image is about to be 500 GB.
Q6. Does creating a system image wipe the drive?
The imaging process will not delete anything, and if there is not enough space for the file, you would have to delete some data manually to make room for it, or buy another hard drive.
Extra Tips: How to Create Bootable Windows 10 Password Reset Disk
While Windows 10 system image backup option lets the users create a backup of their system on their hard drive, some prefer to create system image Windows 10 on USB. The procedure has detailed above states the method to make a system image that will be saved on the internal hard drive. But if you want to create a bootable Windows 10 Password Reset disk, you require a more professional touch.
There are programs available capable of creating a bootable disk on Windows 10. But considering the safety and convenience, we recommend using PassFab 4WinKey. 4WinKey is an exceptional program. The steps for the operation are very simple, and it is also easy to use. Let's check it out.
01

Download and install PassFab 4WinKey on a computer. Then, run the program.

02 On the main interface, select the boot media. You will see the option to choose the CD/DVD and USB. Choose "USB" and click "Next" to proceed.

03 Connect an empty USB device to the computer. After the drive is detected by the program, it will prompt that the USB drive will be formatted. Click "Next" to continue.

04 The program will immediately start creating the bootable USB drive.

05 You need to wait a while for the procedure to get finished. The progress bar will be visible on the screen.
Summary
Therefore, if you want to create a system image of your Windows 10 OS, then you can use the official method to do it. The steps are available in the article, along with associated images. But if you are looking to create a bootable disk on a USB drive, then using PassFab 4WinKey is the best possible Windows password recovery way you can go.