How to reset Windows password without logging in? If you are looking for a solution then you came to the right place. In this article, we will show you how to reset Windows 10 password without password in 3 ways. You can always find a solution no matter you can access your computer or not.
Part 1. How to Reset Windows 10 without Password with 3 Free Ways
These ways are the professional ways to reset Windows 10 password. It can be handled by all of us, even if you are a computer novice.
1. Using Windows Troubleshoot Menu
This is the easiest method to reset computer Windows 10 without a password. In this method, you have the option if you want to complete reset and remove all files or just remove the Windows files.
Step 1: Turn on the Windows and wait for the login screen where it asks you to enter the password.
Step 2: Now hold the Shift key and press the restart button simultaneously at the bottom right corner of the login screen.
Step 3: This will open up a menu with options including, Troubleshoot, Continue, Turn off the device. Choose "troubleshoot" from the available options.
Step 4: Choose "Reset my pc" from the further opened window. This will lead to another Windows which asks you whether you want to fully clean up your drive or you want to want to remove your files simply.
Step 5: Choose the more suitable option from "fully clean my drive" or" Just remove my files".
Step 6: Your will reset according to the option you choose.

2. Using Windows 10 Settings if You Already Have Access
This process will work if you have somehow access to the Windows, or you are already logged in:
Step 1: Go to the Windows 10 settings.
Step 2: Choose the option which says, "Update and security".
Step 3: Choose the "Recovery" tab of the available options.
Step 4: Press the "Get Started" button under the Reset now option.
Step 5: Follow the procedure according to your requirements to reset your Windows 10.
This is the process if you somehow have the Windows user logged into, you can use Windows settings to reset the complete Windows.

3. Using Windows 10 Installation Disk
This method primarily reinstalls, I-e resets the Windows, by using a bootable Flash drive or a CD/DVD drive with Windows 10 installed in it. Use the Original DVD or get a Flash Drive burned with bootable Windows. Follow the following procedure to reset Windows 10 without password using a bootable usb or flash drive:
Step 1: Insert the DVD or the Flash Drive, that you want to use to reset your device.
Step 2: Turn on the PC and go to the boot menu.
Step 3: Press any key when it says you to "press ay key to boot from the DVD or USB."
Step 4: Choose the options according to your preferences. This will lead you reinstall or reset Windows 10 without password. Now your Windows 10 have been factory reset.
Part 2. How to Reset Windows 10 Administrator Password When You Can't Login
PassFab 4WinKey is the best Windows password recovery tool in the market. It allows you create a Windows 10 password reset disk with one click. Then you can use the bootable disk to reset Windows 10 Administrator password with a few steps.
Step 1: Download and install the PassFab 4WinKey. Launch PassFab 4WinKey and select a boot media (CD/DVD or USB Flash Drive).
Step 2: Click "Burn" to start burning the chosen disk. The software will format all your CD/DVD/USB, and all data will be lost in it.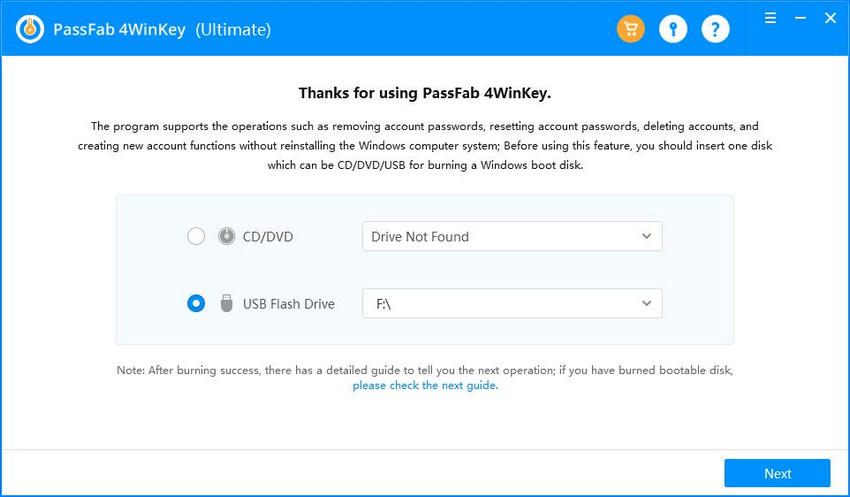 Step 3: Click "Yes" and this Windows password recovery tool will start to burn bootable CD/DVD/USB.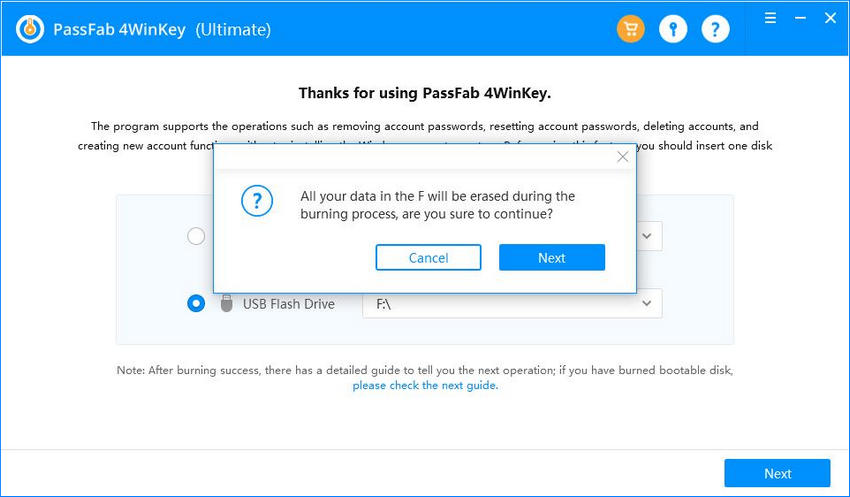 Step 4: It will take some time, your CD/DVD/USB will be burned successfully.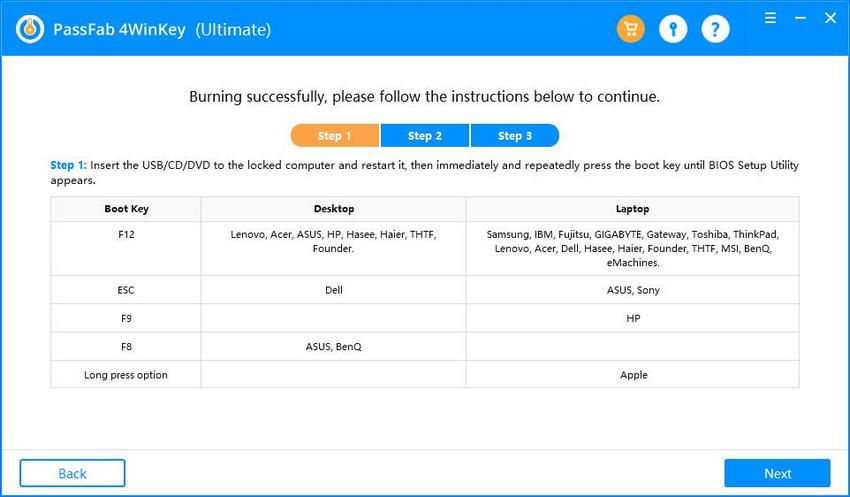 Step 5: Go to the boot menu of the computer, whose password is required to change/remove.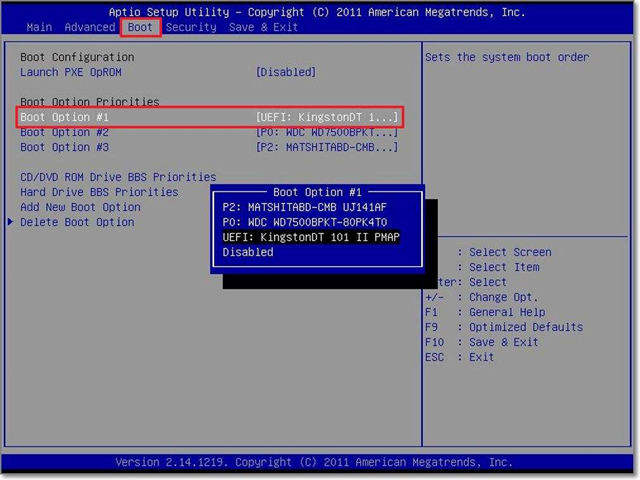 Step 6: Choose your bootable disk to be first boot priority from the boot menu. Press F10 to save and exit.
Step 7: Now restart the pc it will show you the set of dialogue boxes follow the steps to reset your Windows 10 without password.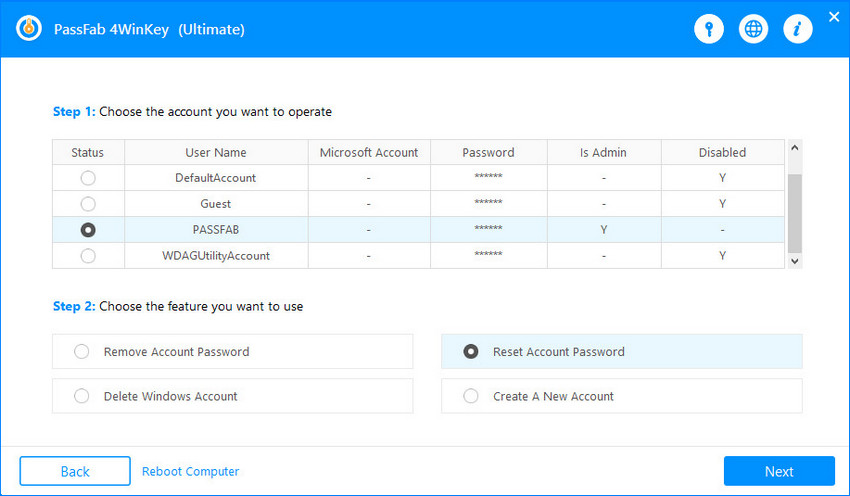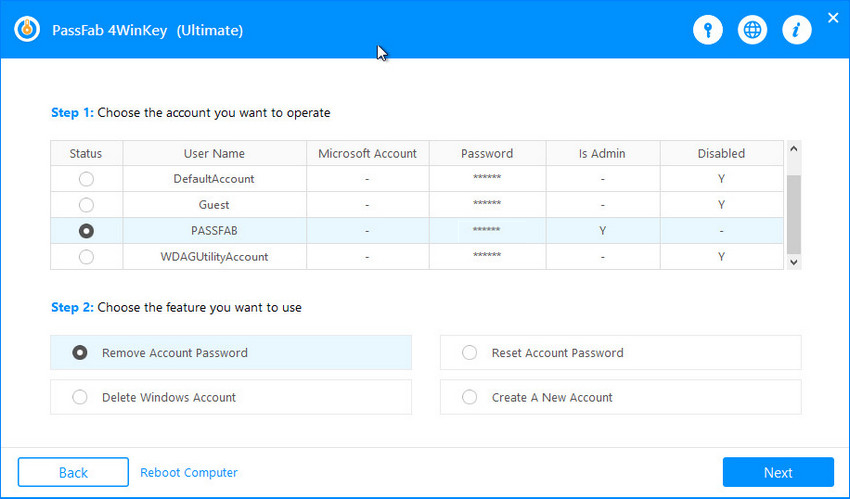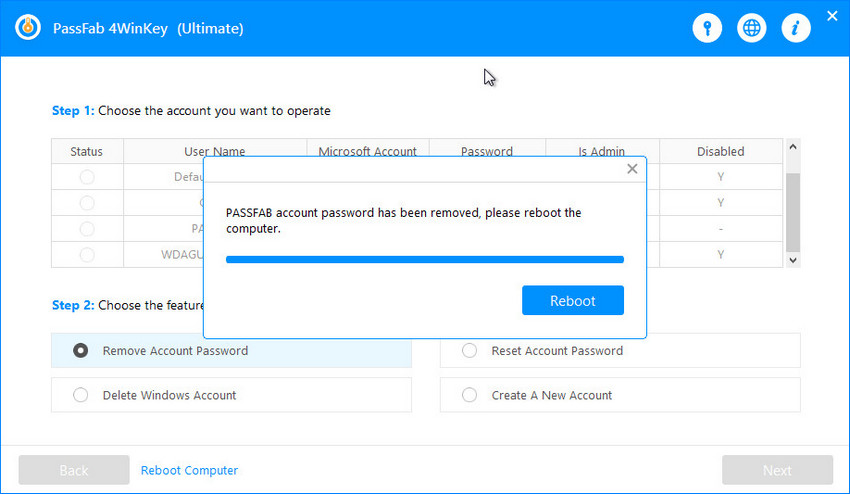 Now you are able to remove or reset Windows 10 password in a successfull way.
Summary
There are the four major ways that are discussed in the article that could help out a person in accessing his Windows without knowing the password. Is it simple? All in all, if you want to reset Windows 10 password safety and quickly the best choice is using PassFab 4WinKey.