There are times, when you might find it annoying to listen the click sound of your physical keyboard on a Windows 10 PC. So, there is also an option to silence the keyboard sound and keep working with ease. In case you are unaware of how to turn off the keyboard sound on your Windows system, there is nothing to get panicked. In this article, we are going to show you how to do it. Check it now!
Part 1. How to Turn Off Laptop Keyboard Sound on Windows 10
It is possible to turn off laptop keyboard sound on Windows 10 and walk in complete silence. Though, you might get various solutions over the web, we ensure to pick the most convenient one for you. You can follow the below mentioned ways for the same purpose and get the keyboard sound disabled on your Windows 10 PC.
Here are the steps for how to turn off keyboard sound on your Windows 10 computer.
Turn down the Touch Keyboard Type sound through "Settings"
Browse "Settings" and hit on "Devices".
Press on "Typing" on the left-side and go to "Touch keyboard". From the right-side turn "Off" the "Play key sounds as I type".
Close the "Settings" now.
Turn off Touch Keyboard Type sounds through "REG file"
You can download the ".reg" file to modify the DWORD value within the registry key.

HKEY_CURRENT_USER\Software\Microsoft|TabletTip\1.7
You can EnableKeyAudioFeedback DWORD by setting 0 = Off or 1 = On as desired.
By default, the touch keyboard sound is turned on. So, you need to first turn off by downloading the " Turn_OFF_touch_keyboard_sounds.reg" and save it on your desktop.
Double tap the ".reg" file you have downloaded right now for merging it. Upon being prompted, press the "Run" > "Yes (UAC) > "Yes" and then tap "OK" for approving the merger.
Apply the changes by togging the "hide and show touch keyboard" from the taskbar.
The ".reg" file can now be deleted.
Part 2. Knowing More Features on Windows 10
Now, that you've learned about how to turn off keyboard sound on Windows 10 laptop/PC. Here in this section we would like to introduce a few of the amazing hidden features that Windows 10 possesses. Let"s get to know about them.
Turn on "Slide to Shutdown" Screen
With the all new look and design, Windows 10 also possesses a newly developed feature of Slide to Shutdown. To get it enabled you need to perform the following steps.
Right-Click on an empty space over your desktop > then move into the "New" section > select "Shortcut" afterwards.
Now, a new window will come up on your screen. You need to feed the line of code mentioned below as it is in the new window.

%windir%\System32\SlideToShutDown.exe

A clickable icon will now be available on your desktop screen. Feel free to get it renamed as per your preference. Now, in order to enable the Slide to Shutdown feature, double-tap on the new clickable icon that you just created. You can then drag down from the top of the screen to the bottom with the help of your of your mouse.
Note: Please remember, this feature is not about putting your device in sleep mode. It will shutdown your device entirely and all your unsaved work will be lost.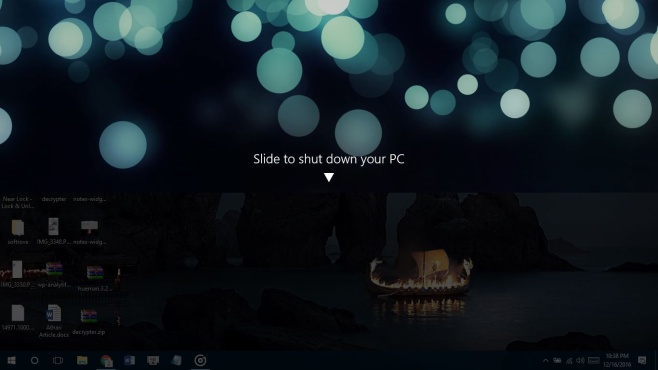 Shake to minimize all other windows
Oh you got confused with so many windows opened up on your screen and aren't really able to stick your focus on one, right? Well, at some point or the other we all get to experience this situation while working on our laptops/PC. But fret not! Microsoft launched a unique feature namely "Shake" with its Windows 7 that minimizes all other window automatically except the one you"re going to shake.
Fortunately, that Shake feature is still available in Windows 10. What you need to do is, simply grab the window (that you wish to focus on) from the title bar at the top. Now, hold & shake it up using your mouse. Quite surprisingly all other opened up windows will get minimized automatically. Also, if your wish to reverse the action, simply shake the window again.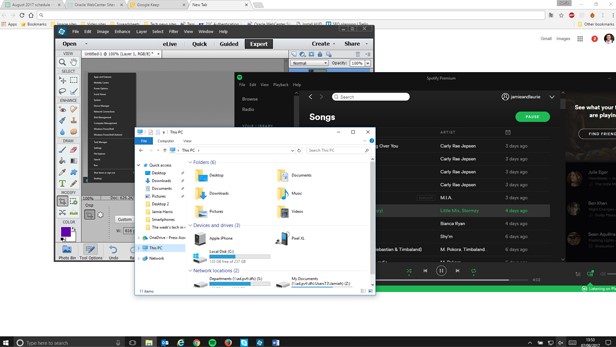 Inactive window scrolling on Mouse hover
Ever found yourself in a situation where you were trying to scroll the window on which your mouse cursor is but another window in the background gets scrolled? Well, that happens because the window was not active on which your mouse cursor was. It worked for the other window and hence, the functions were happening on the active window. Well here's the quick fix for that issue.
You need to get into Settings > Devices > Mouse and Touchpad > turn on "Scroll inactive windows when I hover over them".
Conclusion
If you found that while trying to turn off keyboard sound effect, you don't have access to your Windows 10/11 computer, as you have lost the administrative password. Then what options do you have to carry out the process? Well, looking for an efficient tool to unlock your computer might be of great help. PassFab 4WinKey not only recovers lost or forgotten local or domain passwords for your Windows computer, it can also help you reset, change, remove, or create it.