Windows 10 Administrator password is one of the most important passwords in Windows 10, but most of us will not use Administrator account daily. Only when you need it to download app or verify identity then you may need to enter Administrator password. So, if you do not use it frequently you are very likely to forget the password. Moreover, if you are using Admin account for logging into the computer, and didn't use the computer for a long time... Have you encountered a similar situation? If yes, Please read on to find the solutions.
4 Ways on How to Reset Administrator Password in Windows 10
We've gathered 4 ways for you to reset the password. There are free ways and tools. Depends on your own situation to choose the best way that works you best.
1. Using Windows PowerShell
You should know that Windows PowerShell has more powerful features than command prompt if you ever heard command prompt. It allows you to reset Windows 10 Administrator password easily. But, the disadvantage is that you have to login your computer first.
Step 1: Press "Windows + X" to open the Quick Access menu, then click Windows PowerShell (Admin)
Step 2: After that, type the command "Get-LocalUser" for displaying all the available accounts. Then Press "Enter".

Step 3: Now, you need to enter new command "$Password = Read-Host "Enter the new password" -AsSecureString" to create your new password. Then press "Enater".
Step 4: Type the following command, then press "Enter" on each line to move on. Please rename "admin" with the account name that you want to change password.
$UserAccount = Get-LocalUser -Name "admin"
$UserAccount | Set-LocalUser -Password $Password
2. Using Reset Disk
Actually, reset disk is the best way for resetting Windows password. If you created a bootable disk before can't access the computer, then follow the steps below. If you haven't created one just check the next way directly.
There are following steps to use this method:
Step 1: First go to Windows 10 login screen. Type any wrong password, then password pop up screen appears
Step 2: Then plug in your USB flash drive password reset disk to the PC then click the link.
Step 3: By following the instructions given by wizard you can easily reset your password.

3. Using PassFab 4WinKey (Recommend)
PassFab 4WinKey is a very significant tool which helps create a password reset disk even if you locked out the computer. As for Windows password problem, you can rely on it to reset all kinds of the password. It supports CD/DVD/USB flash drive and all Windows version.
There are following steps to use this method:
Step 1: First download the PassFab 4WinKey on your accessable PC or Mac, and select CD/DVD/USB as your boot media.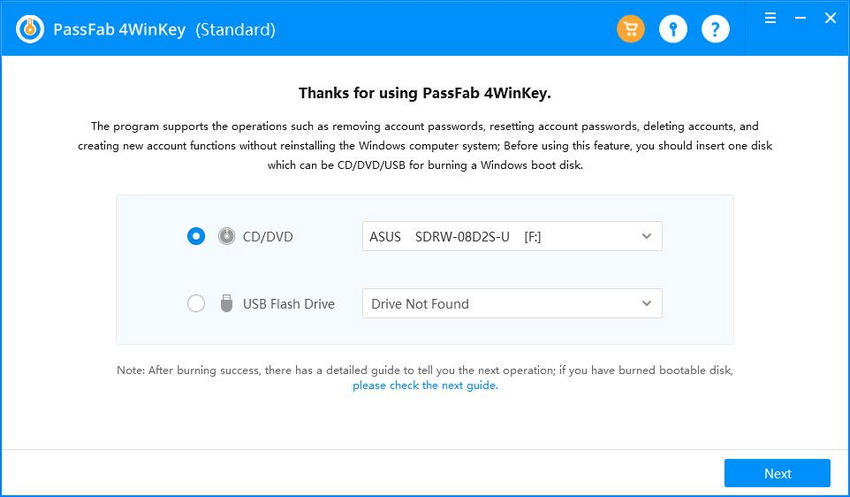 Step 2: Now create a bootable drive by inserting a CD/DVD or USB drive into the computer and now click "Burn CD/DVD "to burn the file.
Step 3: To start the process of burning click "yes" the 4WinKey will be burned.
Step 4: After some time you receive a message about the completion of successful burning of the file. Now you can use it for the recovery of your lost password.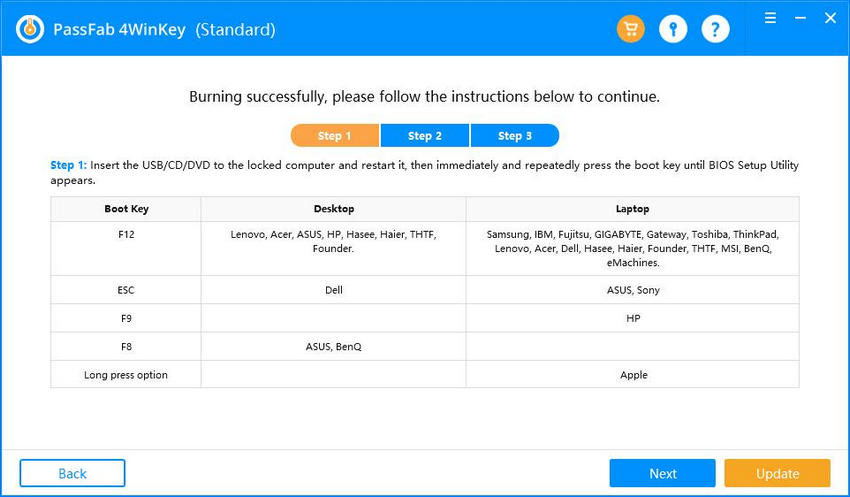 Step 5: Now insert that CD/DVD to locked computer and restart then press Esc or F12 to enter boot menu.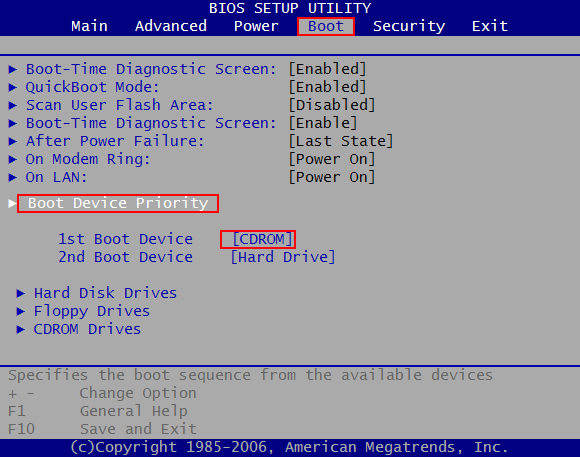 Step 6: After entering the boot menu, you have to select the disk which you have inserted from the menu.
Step 7: Press "Next" button after choosing the Windows operating system.
Step 8: Select the user account from the list shown.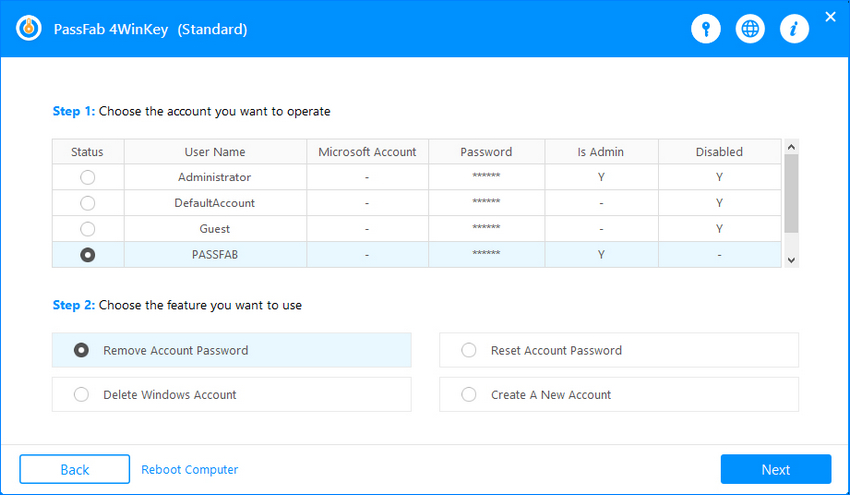 Step 9: After clicking "Next" your account password will be reset.
Step 10: To restart your computer, click "Reboot". Now you can login with your new password.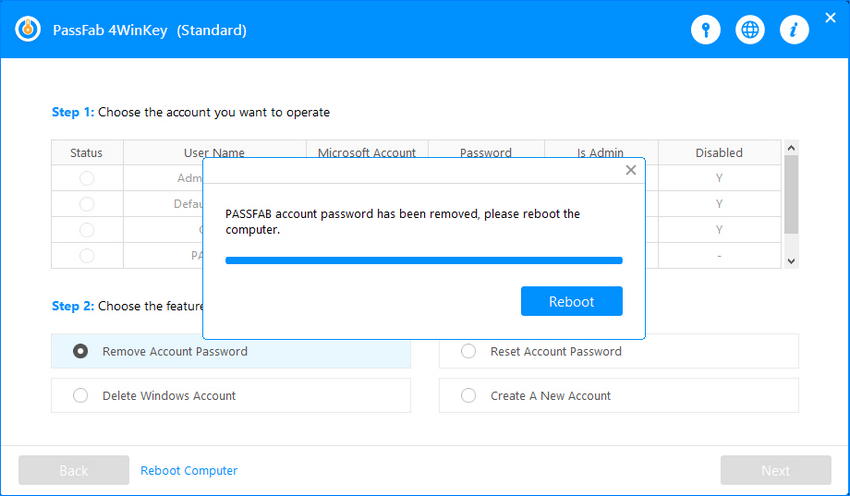 3. Reset Password Windows 10 with Trinity Rescue Kit
Trinity Rescue Kit is a good and flexible password recovery tool, it's additionally particularly made to recover and repair information.
There are following steps to use this method:
Step 1: First download the ISO file in access of other computer and but the image file should be in an empty flash drive or CD/DVD. But, this tool is much complicated to use.
Step 2: Plug in your loaded reset disk and restart your computer. It reads reset disk and new TRK menu shows on the screen.
Step 3: Select "Windows Password Resetting" option from the list and then press "Enter" to continue.
Step 4: Select "winpass prompts for username first" and enter your locked profile name.
Step 5: The software brings OS details and you then press 1 to clear the password protection.

Summary
There are many reasons that require you to reset Windows 10 Administrator password. It is possible that you might forget the password. It becomes a headache for you as everyone has very important data in his computer. If you want to reset Windows 10 password for other accounts. You can also use PassFab 4WinKey to complete it. There you have got several methods to deal with such a problem and I believe that you must solve the problem now. If not, Please leave a message to let us know.