How to Reset Forgotten Password in Windows 10
When it comes to Windows 10 password, most of us have forgotten the password. But, it's not a big deal. I've gathered a lot of ways to help you reset forgotten password in Windows 10 here, you don't need pay or worry the free tools will damage the computer. So, check them out by reading this tutorial.
Part 1. How to Reset Forgotten Login Password in Windows 10
Here are 3 free ways for you to reset Windows 10 password, you don't need to download other tools. Choose the way that works best for you to reset password within a short time.
Way 1. Use Password Reset Disk
Using password reset disk is a common method for all Windows versions to reset the forgotten password. However, this is more like a precaution which needs to be taken before you forget the password. The reset disk shall be well stored to be used whenever you forget the login password for creating a new password and obtain the access to your login account. Basically, reset disk is a password reset key for Windows 10.
Way 2. Login with other Sign-in Option
If you can log into your Windows 10 with a PIN, picture password or any other administrator account, you can still change the password of the stuck account. For that, you need to open Command Prompt and reset the password.
For this, you simply need to press Windows logo key + X and open Quick Access menu and click Command Prompt (Admin). To reset the forgotten password, simple replace account_name and new_password with your username and desired password respectively. [net user account_name new_password]

Way 3. Use Microsoft Live Accounts
The most effective free method to reset forgotten Windows login password is by using the Microsoft website where you can do it using Microsoft Live account. Below are the steps:
Step1: On the sign-in screen of your Windows PC, type your Microsoft account name if you cannot see it. If there are multiple accounts on the PC, choose the one account that you want to find the password, You will see the below page: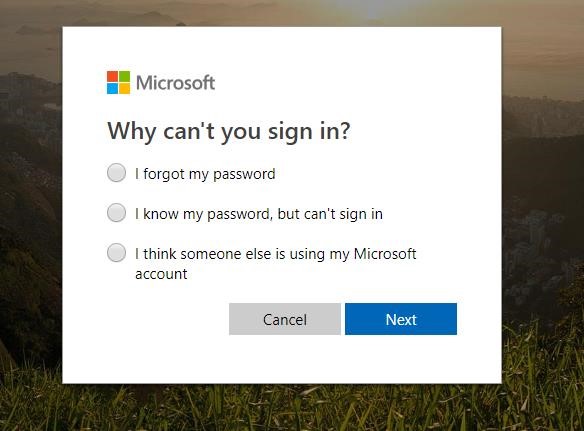 Step 2: Select "I Forgot my password" and click Next. It will ask your Microsoft live account credentials which you have to enter, and click Next. You will then see this: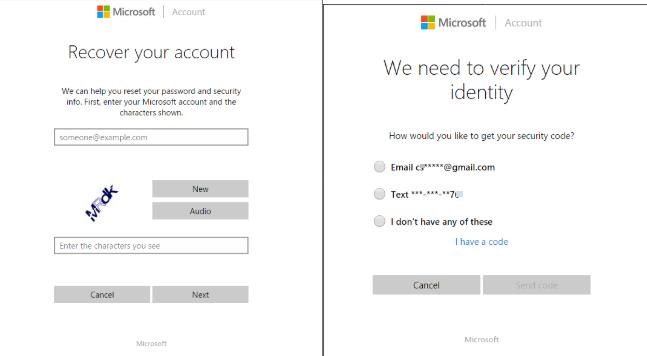 Now, select the one that is handy to you whether your email or our phone number and click "Send Code". Now, in a few moments, you will get a code. Now, you can now enter the code there, and on the next screen, enter the new password.
This time, you have a new password for that particular user account.
Part 2. Reset Login/Administrator Password Using 4WinKey
PassFab 4WinKey is basically designed to reset the forgotten password for Windows. This is one of the easiest tools to operate and gives an instant solution to our issue of forgotten password for the login account. This tool not only allows to reset local account password but also administrator, Microsoft password, etc. This password recovery tool is a quick fix for the forgotten password to your login account. Now let us take a look at the detailed guide of the process to reset the password with this tool.
Firstly, to start with the process, one needs to have a bootable disk which is essential for using this tool.
Step 1. How to Make A Bootable Password Reset Disk (USB/CD/DVD)
1. Download and install PassFab 4WinKey on Windows/Mac computer to which you can have access.
2. Select a boot media(USB/DVD/CD) and click "Burn".
3. Click "Burn" to start burning, and in this way your bootable disk is ready.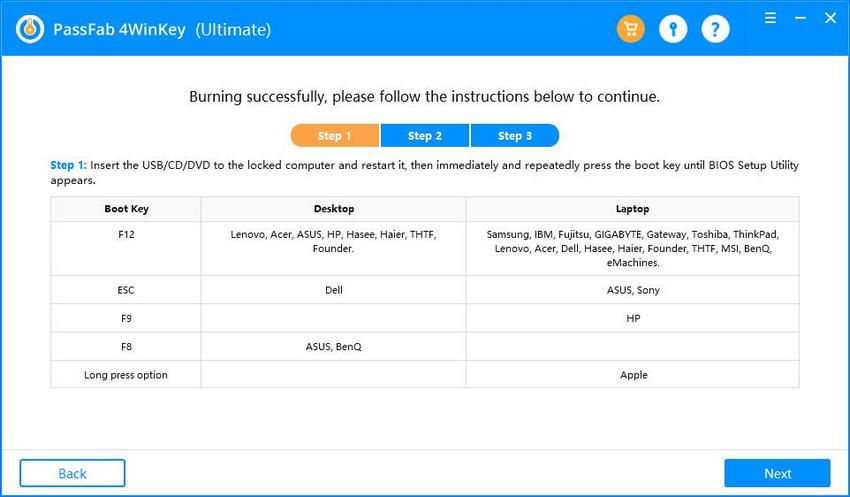 Further, one shall proceed as per the following guide to reset the password with this bootable disk.
Step 2. Boot the PC with the above Bootable Device
1. Insert the bootable USB or CD/DVD to your locked Windows PC.
2. Restart the computer and press "F12" or "ESC" to enter the Boot Menu Interface.
3. Here, you will find there is a list of boot choices, including the USB/CD/DVD which you have inserted. Select the bootable device you have inserted and press "Enter".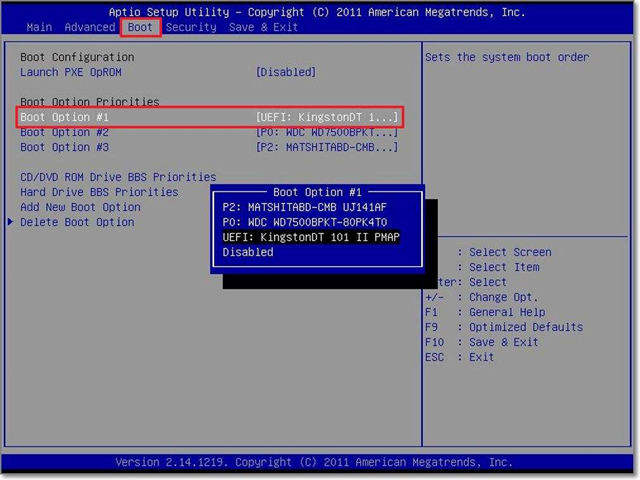 Once you enter the locked Windows from the boot disk, a password recovery interface shall appear. Here, you get an option for Windows 10 password reset.
Step 3. Reset Windows 10 password with bootable disk
Here, one shall set up a new password if you have forgotten Windows 10 login password of your device.
1. Choose the Windows operating system and select "Reset your password" option.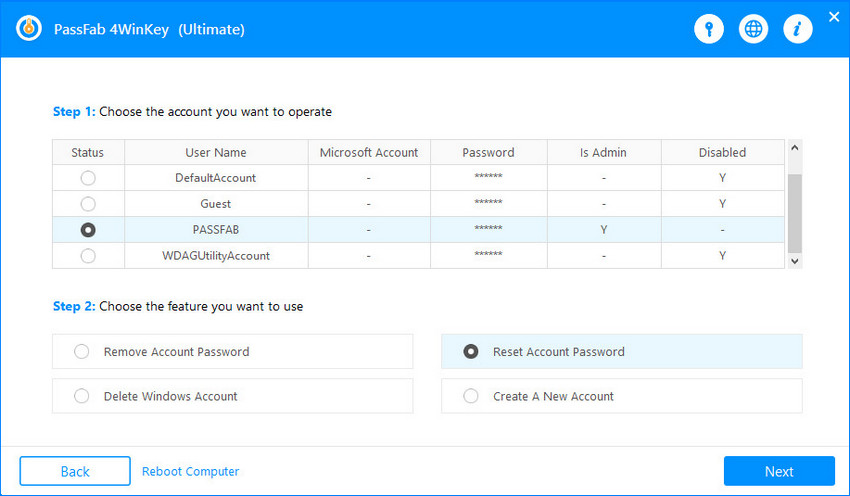 2. Select the Admin account from the list, the account name shall be displayed in "User Name" box. Also, a new default password is displayed. Now, you can use the default password or enter a new password in "New Password" box.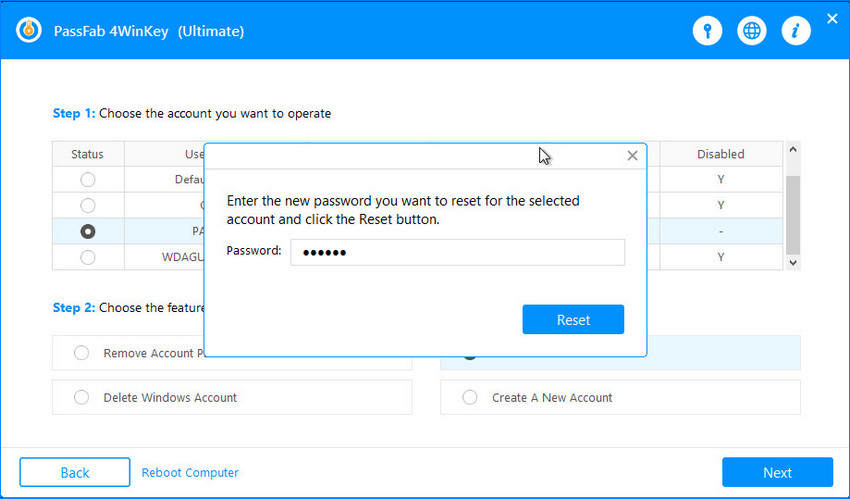 3. Click "Next" and a new password is reset successfully. Click "Reboot" to restart your computer and log on to Windows with new password.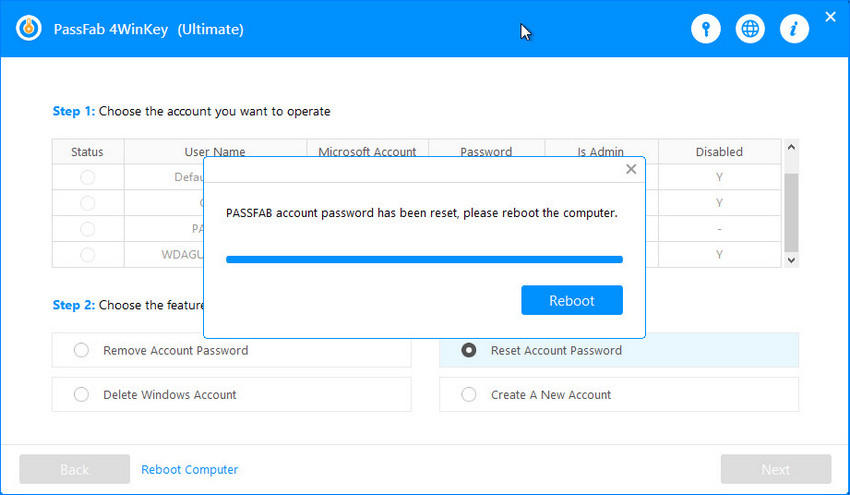 Conclusion
So, I believe you already know how to reset Windows password now. As for PassFab 4WinKey, you can use it to reset Windows 10 password, bypass Windows 10 password or reset Windows 7 password and so on. If you have any question please leave the comment below to let us know.