Why can't I just be directed to the Windows/startup menu to the control panel and reset the password from there? When I boot up, the enter password screen shows up, but I can't get past it. How to bypass Windows 10 password?
When we lose access to our own system due to forgetting or losing the password, we all look for the finest Windows 10 password bypass tool.If you've also lost access to your Windows 10 admin password, it's nearly impossible to gain entry or re-use any data or files unless you find a way around the administrator account on your system.
However, reinstalling the operating system is always an option because of removing all critical settings and files from the system main disk. Despite the fact that a lost Windows 10 password cannot be recovered via any methods you use, using certain tools can circumvent Windows 10 passwords without you knowing it.
The best of all has been sorted and compiled into a list below for your convenience.
Part 1: How to Bypass Password from Windows 10 (without knowing password)?
If you are using Windows 10 Operating System, then maybe one or two times your system is locked after entering the wrong password ten times. If this happens with you, don't worry because here I will quickly introduce to you a very simple method by which you can easily bypass Windows 10 Password without knowing it.
Bypass Windows 10 Password:
PassFab 4winkey
Paid Software
Use whenever you want
Easy to use software
Took just a few minutes to complete the process
Automated Process just wait and watch
Password Reset Disk
Free to use
Use only if you make a password reset disk before forgetting the password
Complex Process for some users
Took around half an hour for the whole process
Manual Process
Method 1: Bypass Windows 10 Password using Password Reset Disk
If you've forgotten your Windows 10 local account password, consider whether you have a Windows 10 password reset disk for this user account that you used previously. If you've already done that, don't hesitate to utilize it to remove and bypass Windows 10 forgotten login password.
On Windows 10, use the Reset Password link under the password box on the login screen to reset your password.

The "Reset Your Settings"window will appear, and you'll need to complete the username recovery process.

Remove the temporary password that you previously used when inserting the disk. When you're asked to set a new password for your user account, type nothing and click the Next and Finish buttons. At the very last, you'll need to use another password reset disk to restart and log into Windows 10 without a password.
Method 2: Bypass Windows 10 Password using Windows Password Reset Tool-PassFab 4winkey
One of the most popular Windows password recovery tools is PassFab 4WinKey, which may be used to bypass all versions of the Administrator's password. It is useful in a number of situations.
You might use it to remove your own computer password or change the office computer password if you're trapped inside. You can solve your Windows password issue in a matter of minutes by using this tool, and you'll be able to keep your data totally secure. Furthermore, on Mac, you may now make a bootable disk.
Install and launch PassFab 4WinKey on an accessible computer. Choose the boot media - USB drive or CD/DVD - in the first section.

Wait for a minute before clicking on "Next." When the burning process is finished, remove the CD/DVD or USB drive and inset it into your locked computer.
Now, insert the burned drive into the locked computer and boot it from that drive.

Choose your Windows OS and then, select the Remove Account Password. Hit on Next to continue.

Wait for a few minutes and restart your computer. You'll be able to access your computer without having to remember a password.
Part 2: How to Bypass Windows 10 Password (with knowing password)?
Disable Windows 10 Password:
"Netplwiz"
Simple method
Windows should be logged in to complete this method
No need for any paid software
Less time taking and can be done by a newbie
"CMD"
Complicated Method
Windows logged in is not an issue in this method
No need for paid software either
More time taking process and can be done by professionals
Method 1: Disable Windows 10 Password via "Netplwiz"
If you know windows password then Log in to your computer and then open Start > Run by pressing Win + R.

Then, in the Run box, type "netplwiz" and hit the Enter key.

After that, the "User Accounts" option will appear. Select a user account that allows you to log into your computer from the "Users" tab.

Select the Advanced button from the Start menu and choose "Open a Command Prompt here." In a command prompt window, type mmc.exe /T to open Windows Management Console. After that, untick "Users must enter a user name and password to use this computer."

After that, click "OK" to confirm, then restart your Windows 10. Amazing, You have successfully disabled Windows 10's password.
Method 2: Bypass Windows 10 Password via Command Prompt
If you want to access your Windows 10 without a Microsoft account and bypass the Windows 10 screen login, there's another quick option: command prompt.
To start the command prompt, press the Win + X keys then select Command Prompt from the list and run it as an administrator.

Type the 'Net User Username*' command into the command window and press Enter.

Please remember to replace the username with the username of the account you wish to bypass. When you type a new password, be sure to hit the Enter key twice. You'll be asked to do so once, but you can just press the Enter key without entering a password; it's fine.
Part 3: Other Ways to Bypass Windows 10 Password
You can also use different other softwares and methods to disable or bypass windows password. Some of the useful methods are described below:
Way 1: Bypass the Windows 10 login password
In this method you can bypass your windows password by using PC settings, here's how
Open Start, type PC Settings into the search bar, and then press Enter. Log in to your Windows 10 computer and go to PC Settings.

Click on "Accounts" under the Settings menu, then scroll down to "Sign-in Options." Select the "Remember me" option.

Select the "Change" option from the drop-down menu under the Password option in the sidebar that appears.

Continue to the next step by clicking on the "Next" button.

Do not input anything on the new window that appears, including any characters or "New password," "Re-enter Password," or "Password Hint." Click on the "Next" button instead. Update your password by clicking the Change Password button.
This will allow you to go around the Windows 10 password in an effortless way. Selecting "Finish" after clicking on the "Begin" button will provide you with a full bypass.
Way 2: Bypass Windows 10 Password with Windows 10 Installation Disk
Firstly boot the windows 10 installation disk.

Use the Windows installation media to install Windows 10. Insert and boot the disc into your computer.

The Windows setup screen will appear. For prompting the launch Command, press the SHIFT + F10 keys together.
Change the command to this:
Close the Command Prompt once you've replaced it > Cancel the windows setup > Restart your pc > Now remove the windows installation disk
Resetting Password is the last step. ●When your computer restarts, hold down the Shift key five times. ●It will display Administrative Privileges for Command Prompt once again. ●Change the Windows 10 password with this command. ●Make sure to replace the username with your actual name and create a new password.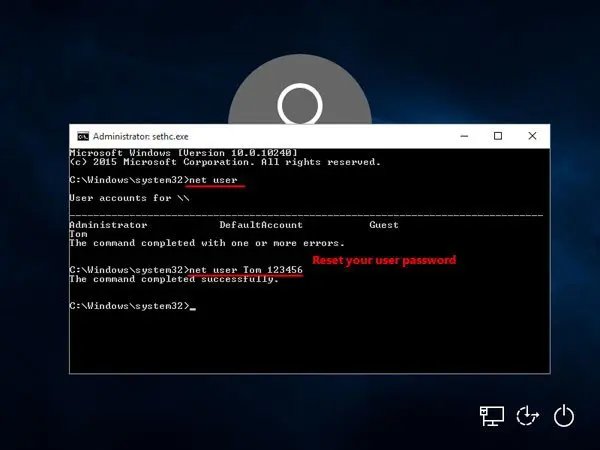 It's easy to bypass Windows 10 passwords and log in with a new password once you've changed it.
Conclusion
In this article, we have discussed various methods by which you can learn how to bypass windows 10 password. You can find a method for if you know the password already and want to bypass or disable it or you can also find ways to bypass the Windows 10 password if you forget your passwords. Some of the methods include paid softwares as well. We have also done the side by side comparisons of these methods as well.