Forgot Windows 10 password and you don't have a windows password reset USB/CD/DVD? Generally, you can create one to solve the problem. However, the premise of burning a disk is that you must have access to your computer or you can only use Windows password recovery tool to do that. So, in this articl we prepared 4 ways to help you reset Windows 10 without reset disk. Wondering how? Keep reading to check it out!
Part 1: 4 Ways Reset Windows 10 Password Without Reset Disk
There are basically four other ways by which you can reset Windows 10 login password without the use of any kind of disk. Read further to know in detail about how to reset Windows 10 password without disk by using these 4 methods.
Way 1: Reset Windows 10 Password With Password Hint
While in the process of reset Windows 10 password without disk or USB, it will be prompted that you set up a hint. If in case you forget your laptop's password and enter the wrong password, you can view the hint and try recalling what password you had set for your laptop. The hint might trigger you to remember the password which you had set.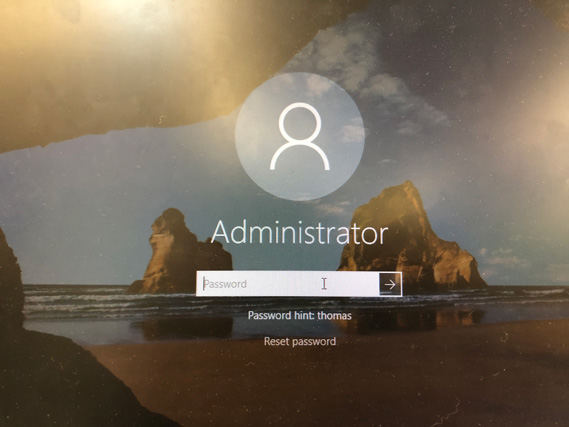 Way 2: Reset Windows 10 Local Password Using Security Questions
To recover your Windows 10 password by using the security questions you would need to first set the recovery security questions and give the answers to them prior to be being locked out of the laptop. You can set the security questions by following the steps below.
Step 1: Open the Account Settings on your Windows 10 laptop.
Step 2: Click on the "Sign-in Options" and on the right side you can see an option highlighted in blue "Update your security questions", click on that.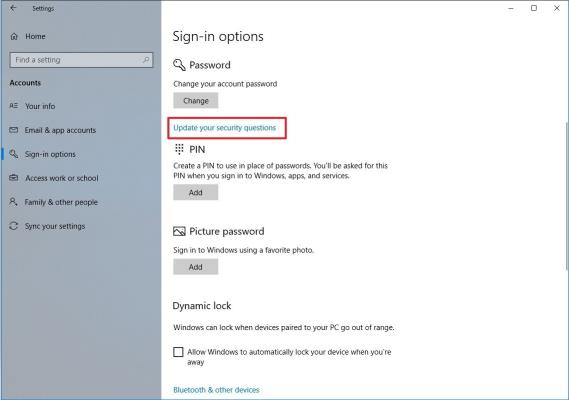 Step 3: You will be prompted to enter your present account password, enter that and click on "Ok".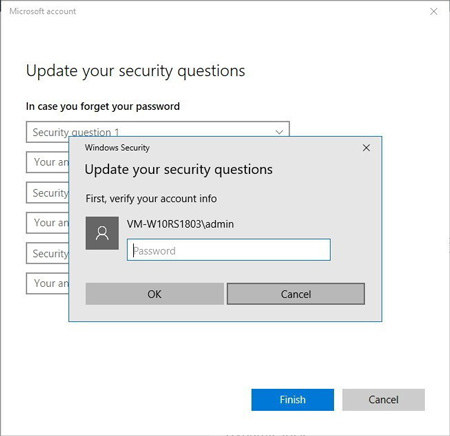 Step 4: Select the questions and type in answers in the provided space and remember to keep simple relevant answers which you would be able to remember if in case you need to reset your password in future.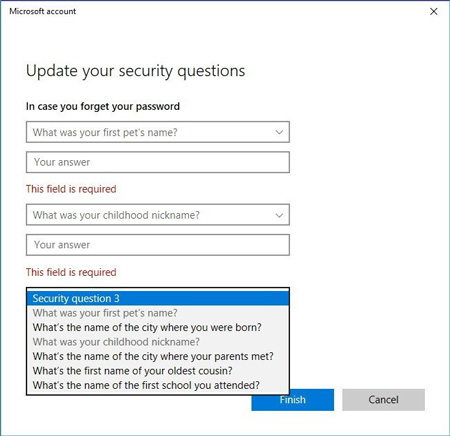 If you have done this prior to being locked out of your Windows 10 laptop, then you can easily type in the answers to the security questions and reset your password.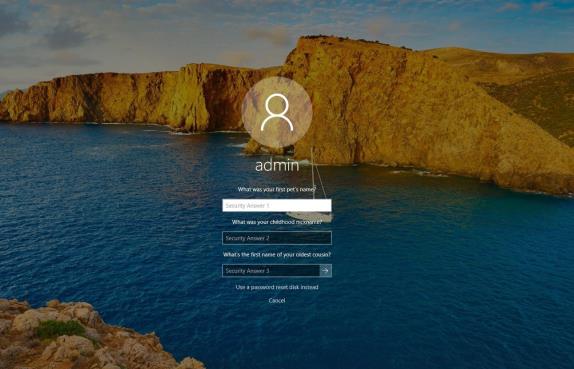 Way 3: Reset Windows 10 Microsoft Account Password Online
If in case you have forgotten the security login password of your Windows 10 laptop, you can use the online services to reset it easily. You can reset Windows 10 Admin password without disk following the steps below.
Step 1: From any other device, navigate to https://account.live.com/password/reset and enter your email ID, phone number or the Skype name.
Step 2: Once you do that, a security code will be generated which can be got by you on your other email address or your phone number which is linked to your account.
Step 3: If in case you don't have any other working email ID or your account is not linked to your phone number, click on the third option and follow the instructions as given.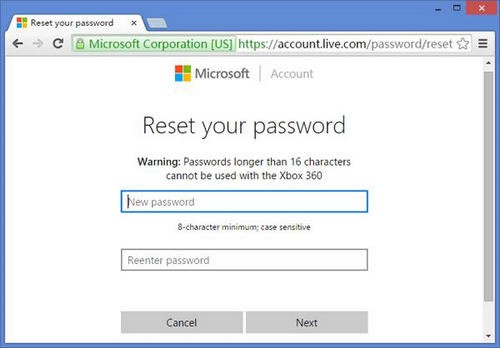 Through the security code got by you, you can reset the password on your Windows 10 laptop.
Way 4: Have Other Administrator to Reset Windows 10 Password
If the password forgotten is of the domain user, then the system administrator can change the password. If the user who has forgotten the password is a guest user, you can login through the administrator account and reset the Windows 10 user password. You can do this by following the method below.
Step 1: Login through the administrator account and go to the Control Panel.
Step 2: Go to the User Account option in Control Panel and then click on "Manage Another Account".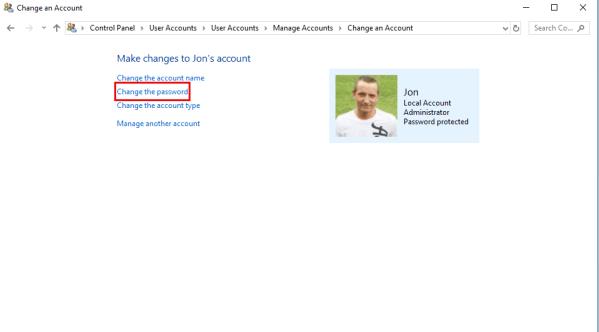 Step 3: After this, click on "Change the Password" and enter all the required details and set up a new password along with password hint as well as the security questions and again click on the "Change the password" tab.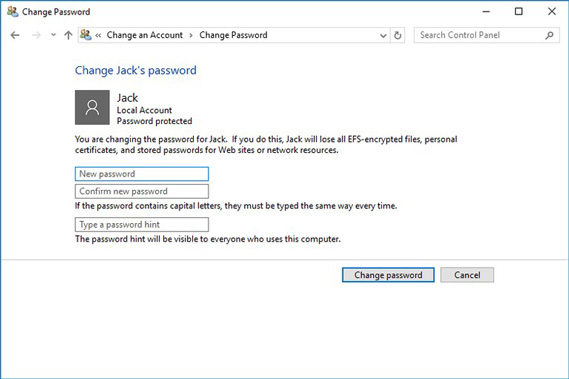 After this, you can reboot the system and then login using the newly created password.
Part 2: Create a Password Reset Disk with PassFab 4WinKey
As we mentioned in the first paragraph, the only way to create a bootable disk when your computer get locked is using third-party tool, if you are interested in that we have a product that can recommend it to you. It was named PassFab 4WinKey, it enables you create reset disk on PC and Mac with one click. Let's take a look.
Create Disk
Step 1: Download and launch 4WinKey and select boot media (CD/DVD or USB).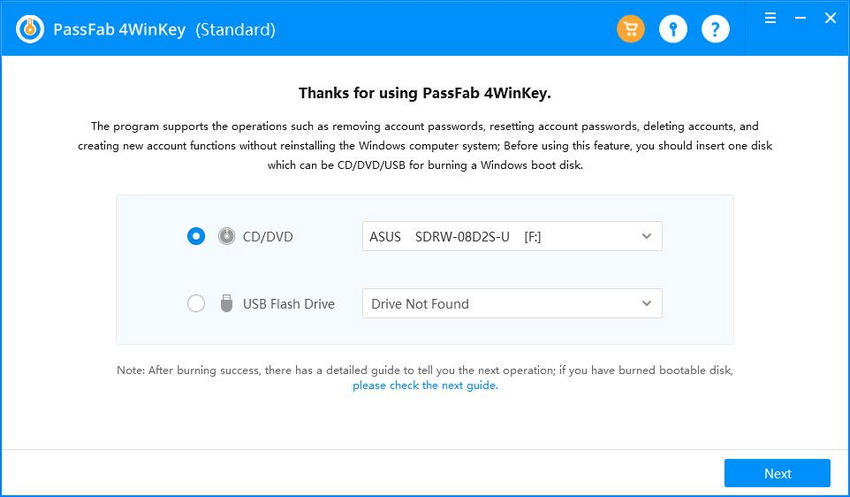 Step 2: Tap "Burn" to start burning the bootable disk and tap "Yes".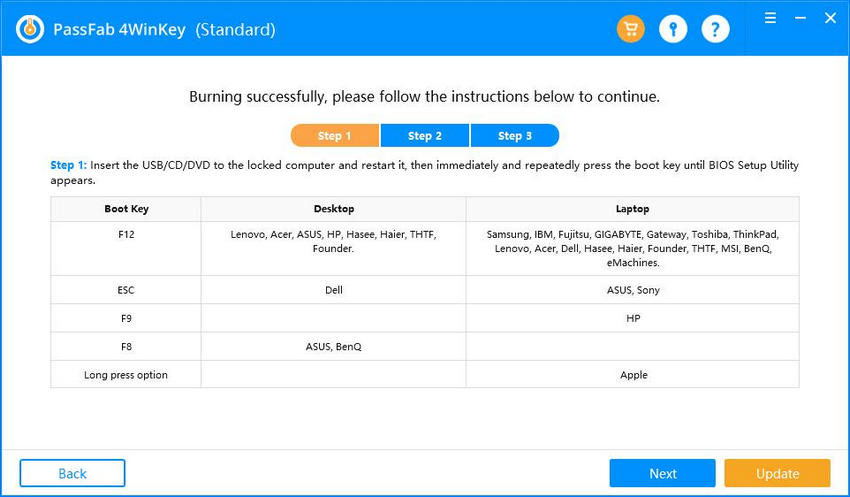 After the process done, you can use the bootable disk to reset the forgotten Windows password
Conclusion
By reading the article, you can find that resetting Windows 10 passwords is easier than we think. No matter you have a Windows 10 password reset disk or not you can handle it within a short while. But, using password reset disk is more safety than without disk and this the reason why we recommend PassFab 4WinKey. If you have any further question, please do not hesitate to let us know.