"On booting Win 10, Desktop full of icons (I had about 40 icons) flashes momentarily, then goes to the Standard Win 10 screen with various Apps. Have tried various solutions suggested on web. Any other suggestions please?"
Windows operating system is a relatively new system, so there are going to be a few bugs. However, it is not a common issue. But methods that were used for Windows 8 will work on the latest OS too. Keep reading to know how to fix Windows 10 icons not showing.
Part 1. 3 Ways for solving Icons Not Showing in Windows 10
There are plenty different ways to make the icons reappear but let's take at the easiest three ones that you can use.
1. Disable Tablet Mode
Step 1. Go to Start menu and click on Settings. Go to System and search for Tablet Mode.
Step 2. Look for "Hide appicons on the taskbar in tablet mode" and switch it off. Exit from the window and you should be able to see all the icons again.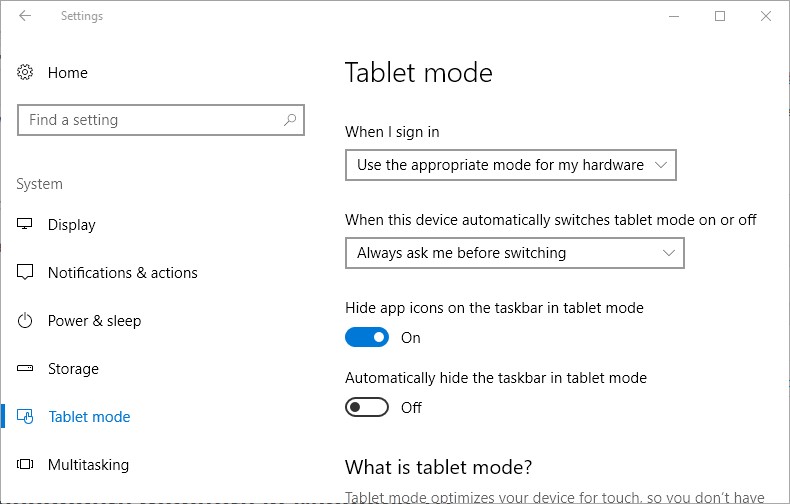 2. Check for visible icons
Step 1. Go to Desktopand right click in a blank space. Place the cursor on view and untick Show DesktopIcons.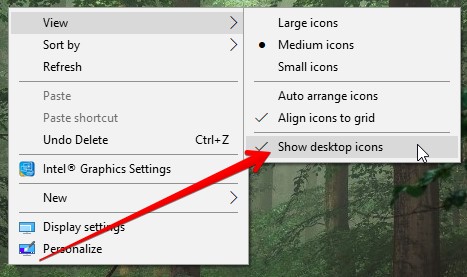 Step 2. Exit the windows and right click again. Enable Show DesktopIcons and the icons will appear.
3. Sort by feature
If you use two monitors, some folders might not appear on one of the screens. You don't need to worry because a simple process will helpyou see all the folders.
Step 1. Right click on the Desktopscreen where you can see the folders. Move your cursor to Sort By.
Step 2. Select Name from the list that appears next to the dropdown list and all folders will appear as on the other monitor screen.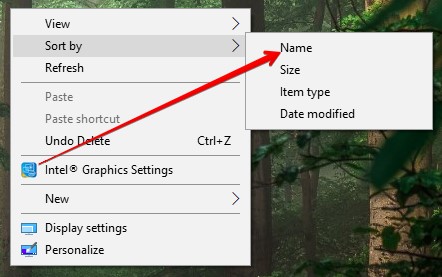 All these three methods will definitely solve the no icons on desktopWindows 10 problem.
Part 2. What's the Difference Between Desktop and Laptop
You might obviously be wondering right now whether the same methods will work your Windows 10 laptop. Since there is no difference but the ways to remove password on laptop and desktop, you should not have any trouble using these methods. However, it is always good to know a few more, just in case the three mentioned in the previous section don't work. Don't worry we will help you figure things out.
Here are two more ways you can use to fix icons not showing on desktopWindows 10:
1. Enable Icons from Settings
Step 1. Go to Start and then Settings.
Step 2. Click on Personalization. Select Themes from the left hand list.
Step 3. In the Related Settings, click on DesktopIcon Settings.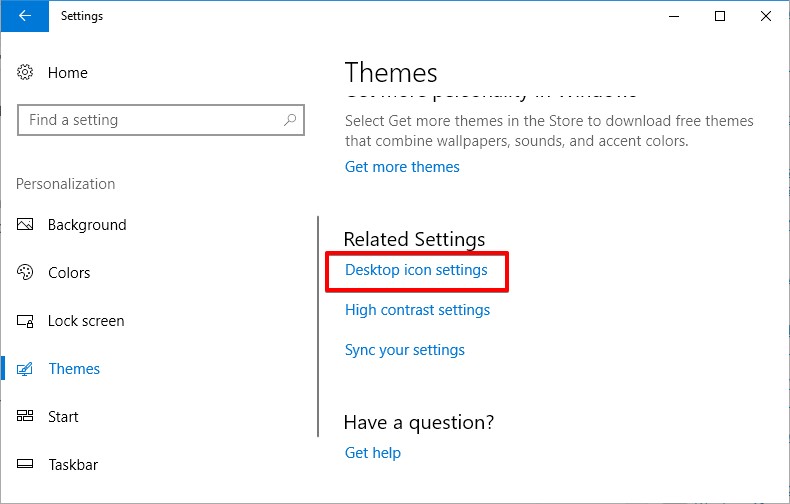 Step 4. The DesktopIcon Settings window will pop-upon your screen. You will be able to see all folders that are on your desktop. Tick the boxes that are empty.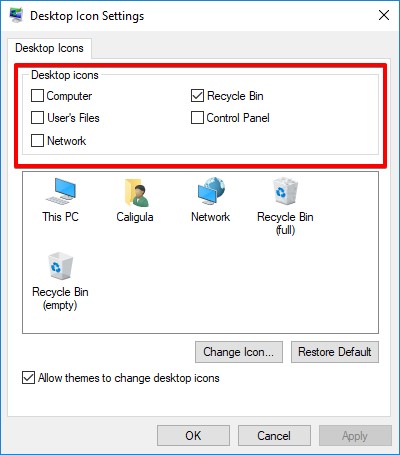 2. Disable full screen mode
Stepc1. Go to Settings and select Personalization.
Step 2. Select Start from the left hand toolbar.
Step 3. Look for Use Start Fullscreen and disable it. In case the feature is already disabled, enable it and disable after a couple minutes.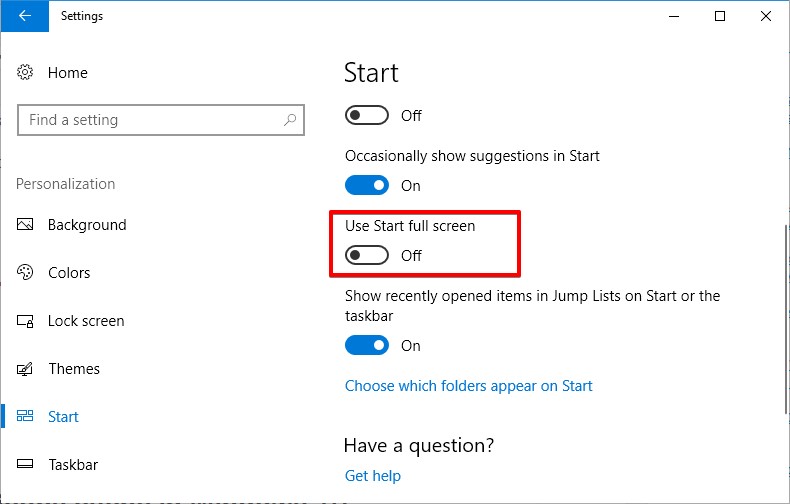 These two methods will surely solve the Windows 10 not showing desktopicons problem of your laptop.
Part 3. How to Reset Windows Password with PassFab 4WinKey
After updating to Windows 10 have you been facing any login issues. It is obvious that you would have forgotten the admin password by now. You are technically logged out, so you can't access your documents, videos, and photos, which means you cannot copy them on a USB drive. Rather than resetting to factory settings, you can download PassFab 4WinKey. It is a paid password recovery tool designed especially for Windows operating systems. You don't have to worry about losing the data you've saved on the computer.
Here's how you can use PassFab 4Winkey to recover admin password:
Step 1. Download and install the software. Insert a USB drive or CD/ DVD to burn the software.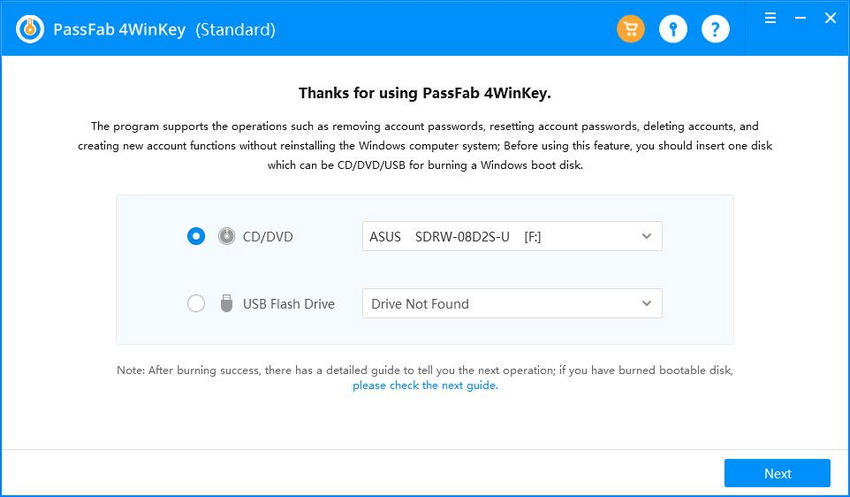 Step 2. Click Burn. Eject the removable disk once the burning process is complete. Insert in your Windows laptopor computer.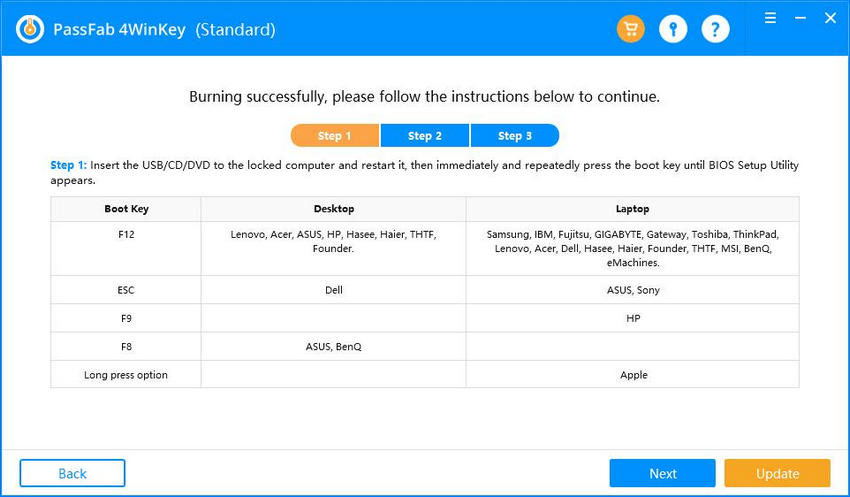 Step 3. PassFab 4WinKey window will pop-upon the screen. Select your Windows version from the Select Windows section. Hit Next.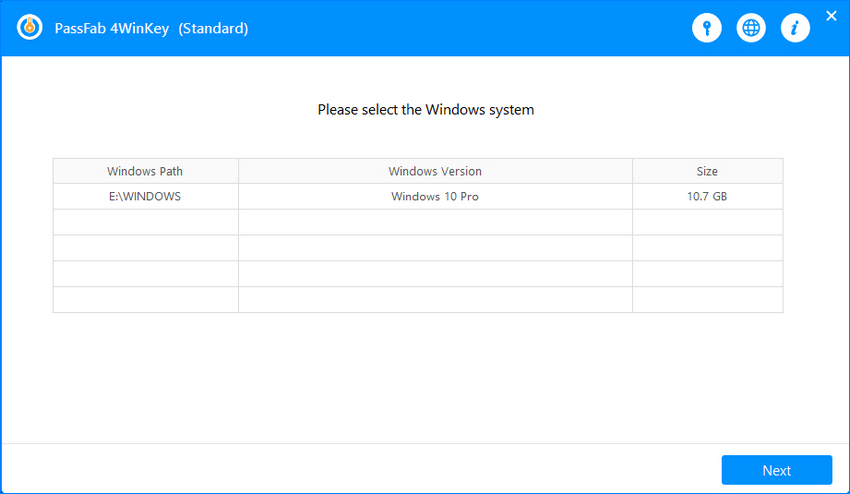 Step 4. Select the account for resetting the password. Hit Next.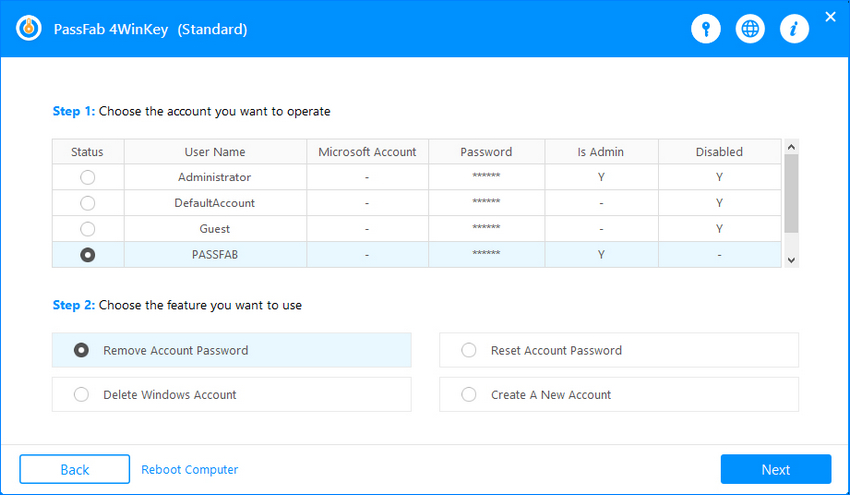 Step 5. In the last section, the resetting process begins. Once it is over, reboot the computer directly from the software.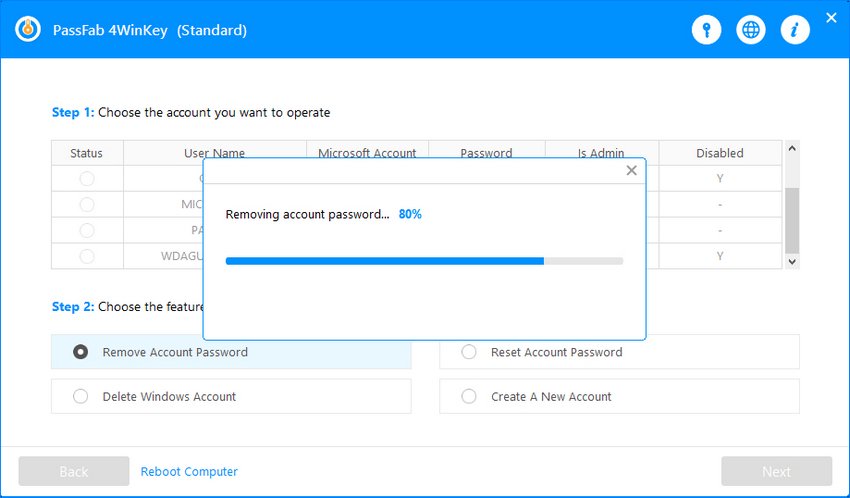 Once the computer is switched on, go to Settings and change admin password or any other user password that you just reset to blank. That is all that you will need to do to fix the issue of any icons now showing upin Windows 10.
Summary
Now that you know how to make icons appear again, you won't panic ever again. All the five methods we mentioned will work without a trouble. If you tend to forget your computer password occasionally, it is necessary to find ways of Windows password recovery. It's easy and we are sure you are going to enjoy your Windows 10 experience more than ever.