So, I just upgraded my laptop to Windows 11 earlier this week. And for security reasons, I put in a password for the login and couldn't use the PC for a few days. And now, I think I've just forgotten my password when I tried to log in to my windows 11 PC. I tried many ways to resolve my issue but couldn't find anything useful. So, what need to I do? Please provide me with some useful tips to get rid of this mess as I'm locked out of my Windows 11 PC
Nowadays, everyone around is just upgrading their OS to a new version of Windows, Windows 11. And to secure our privacy and data, we all usually put in a login password on our devices. But what if we forget our Windows 11 login password and get locked out?
Windows 11 indeed brings lots of good things, but there are still many flaws that make our experience less than ideal. And one pesky issue is affecting many users when they get stuck at the login screen. Plus, it doesn't show the sign-in form, so users need to restart their PC to boot properly.
Even though there are a lot of ways that we can find on the Internet to get rid of this chaos, very few of them cover the perfect solution to fix this issue. So, here's the real fix. Let's move and explore some best tried and tested ways to reset our Windows 11 login password.
Part 1: Locked out of Windows 11? Here is the Newest Fix
So, are you locked out of your PC and need to get out of this situation without a password? Or, if you want to reset your password, you're here at the right place. Take some time to read this article. You will likely find a quick fix to your problem in one of our tested methods outlined in this article.
You can use PassFab 4WinKey as it is the best recovery tool for passwords. And you can recover all your accounts with this tool, either Microsoft or a local account, without losing any data.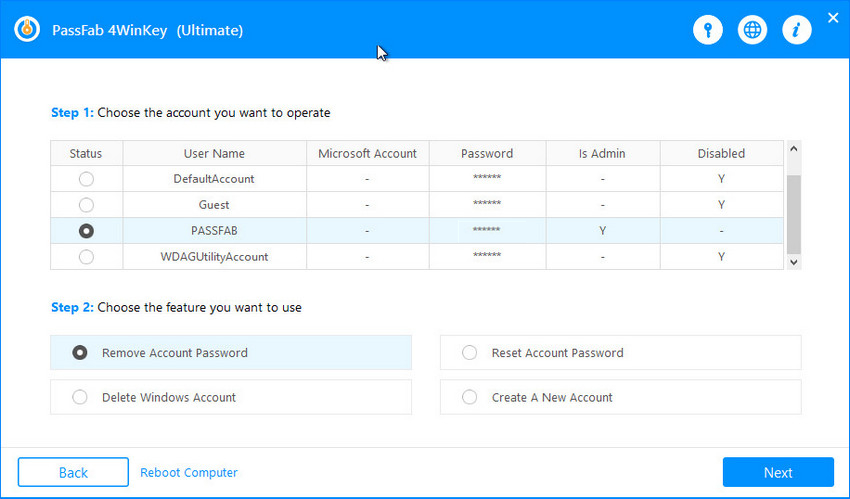 Moreover, this new and quick fix to solve your problem is the easiest, most reliable, and most tried way. This fix includes three ways. Let's get started!
Way 1: Reset Windows 11 password with Settings
Follow these simple steps to solve your issue within a second.
Firstly, go to the start menu and tap on Settings. Also, you can use the search bar to find settings.

Now, go to the account settings and click on a sign-in option.
Then under a password option, tap on the change button.

So, first, you have to enter your existing password and click on "next."

Now, create a new strong password and again tap on "next."

And you'll be notified about the password reset.

Lastly, just click on "finish." And you're all done!
So, now, you can log in to your Windows 11 PC with a new password.
Way 2.Reset Windows 11 Password by Resetting Microsoft Account Password
If the above method in a case doesn't work out for you, then you can follow this easy way to fix it. With a Microsoft account, you can quickly reset your Windows login password. All you need to do is:
Go to Microsoftaccount.com and put in your email I'd there.

You'll soon receive a verification code in your email. It is to ensure your security that you're using the account.

Now, verify your account and simply follow the given steps to finish the process.
You're in! Now that the login screen on Windows 11 has been bypassed, you can log in with the new password.
Way 3. Reset Windows 11 Password by Starting the Advanced Startup Options
To reset the password of your Windows 11 PC, you can do the following steps.
Firstly, open the app settings then go to the system settings and tap on recovery options.

Next, you'll see two options, advanced startup (restart now) and reset this PC.

So, tap on the restart now button that is the advanced startup.

Now, you need to wait for the PC to restart.

And when it restarts, you'll see the startup options.

Tap on the advanced options and then go to the startup settings.

And when you see the screen as shown below, tap on the restart button.

In safe mode, boot your PC and press the right key when the screen appears, as shown below.

After the Windows is successfully loaded, open the Prompt Command and type: ---net user username new_password.

Reminder:

Don't forget to edit the username with your account and password with the new one you would like to set up for the user account.

Don't forget to edit the username with your account and password with the new one you would like to set up for the user account.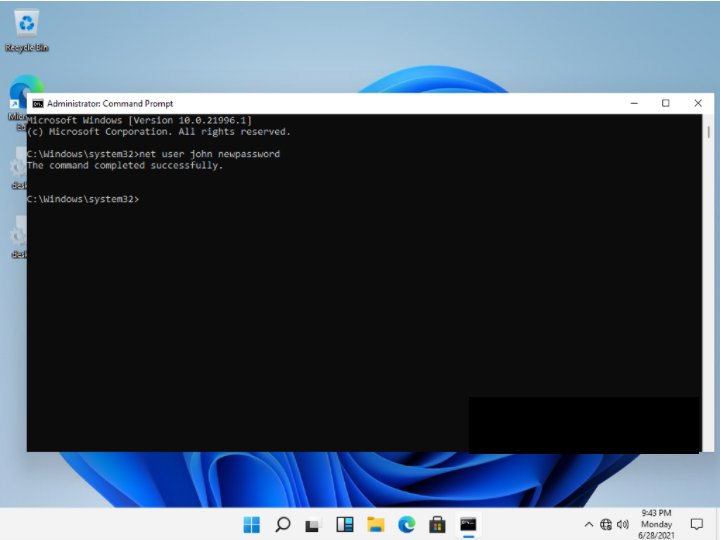 And now, when your login password is reset, you can log in to your Windows 11 PC with the new one!
Part 2: "I'm Locked out of My Windows 11 PC" what to do?
So, if you're locked out of your Windows 11 PC, follow these steps and fix all your issues!
Way 1: Disable Lock Screen on Windows 11
If you want to avoid any future mishap regarding being locked out of your Windows 11 PC, you can customize the lock screen as per your choice. If that's your case, you can easily disable the lock screen. So, you can either modify the registry or use the group editor policy. But, don't forget that these options are only available on some Windows 11 versions. So you may need to upgrade it! Whatsoever to disable the lock screen follow these steps.
We will first explore how to disable the lock screen with the group policy editor.
Firstly, click on the start button and type "gpedit," and tap on the first top result you see.

And when the group policy editor opens, go to the path as shown below:
Computer Configuration => Administrative Templates => Control Panel => Personalization.

Then, tap on "do not display the lock screen."

Now click on the "enabled" option when you see the policy screen. And then tap on the "apply" button and click OK.

So you're all done! Exit the group policy editor and restart your PC.
Also, when your PC restarts, it will take you straight to the sign-in screen. Now, the long screen is disabled, and you will no longer see it!
Way 2: Reinstall Your PC
If you're locked out of your Windows 11 PC, you can reinstall it anytime. And to do so, you can follow these simple steps.
In the Windows search bar, search for the "reset this PC" option. And then tap on open.

Now tap on the "Reset PC" button.

And select "Remove everything" and "local reinstall."

Important indication:

In a case you can't reinstall your PC with local reinstall, you can choose cloud download to reinstall the PC. And please make sure that your PC has a good internet connection for the cloud download.

Now, click on "change settings."

And, as per your need, choose the right settings.

Then tap on "confirm." And click on "next."

Lastly, tap on "Reset PC" to begin the reinstall process. Also, your PC will restart after it is done.
Don't forget to check the AC adapter, as it must be connected during the process. Plus, to avoid any issue, ensure not to force turn off your PC during this process.
Final Notes
To summarize, we would say that Microsoft is actively working to resolve this issue on Windows 11. So, to avoid this issue from occurring in the future, install every pending Windows update before taking any drastic measures.
Plus, we recommend using the PassFab 4Winkey repair tool. It works best where the issue is likely due to a system breakdown. Also, this tool will enhance your Windows 11 PC for max performance. Or else you can use this guide to solve your issues of being locked out of your PC. We hope it will be greatly helpful to you.