System recovery disk works as a vital tool to boot up your collapsed computer, diagnose sick computer and restore your computer when you forget Windows password. So, if you are a new Windows 7 computer use then the first thing is to create a Windows 7 recovery disk. Because the recovery disc covers 2 different meanings: a system repair disk for system issues and a password recovery disc in case you forget admin/local password. In this article, we will introduce 3 easy ways to help you make a password reset disk in Windows 7.
Part 1. Make System Repair Disk for Windows 7 Using System Tool
Window 7 provides a tool for generating system repair disk within system, so you can make a Windows 7 repair disk as long as your computer has a disc burning driver, such as USB/DVD or CD writer. The system recovery disc can save you when your computer goes into some system problems, like system stuck, malfunctioning system or other accidental errors. (Note that you cannot obtain system repair disc in Windows 8.1 since the tool has been removed. Besides, USB disk is not applicable in this case.)
Step 1. Click Start > Control Panel > Backup and Restore


Step 2. Click Create a system repair disc shortcut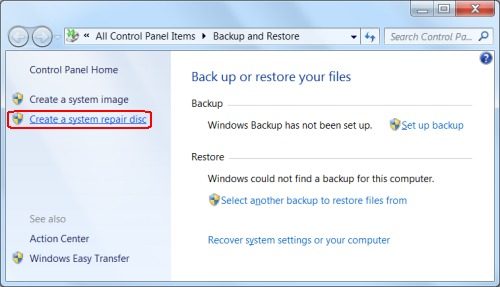 Step 3. Insert a blank disc and choose a CD/DVD drive from the drop down box.
Step 4. Click Create disc. Wait for the process to complete.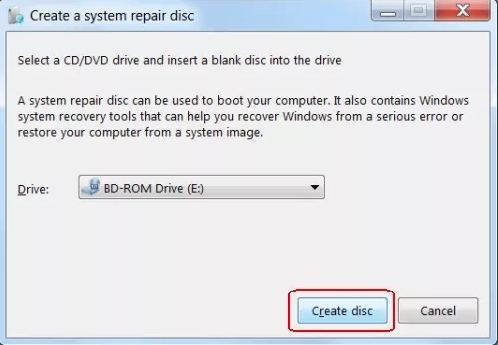 Step 5. Label your disc when the process is finished. Then store it in a safe place.
Part 2. Create Windows 7 Recovery Disk on USB for Password Reset When Password Forgotten
A password recovery disk can be a great help when you forget the password for entering your computer. Since DVD/CD is seldom used now, we will introduce a solution to create a Windows 7 recovery disk on USB for password reset. PassFab 4WinKey can make password reset disc on USB for Windows 7/8/8.1/10/XP within one click. In addition, CD and DVD are all supported bootable media in this software.
Step 1. Download and install PassFab 4WinKey on an available computer. And run this software. Insert a blank USB disk into the computer.
Note: Below is the download button of PassFab 4WinKey Standard, which only supports CD and DVD. If you prefer creating Windows 7 recovery disk on USB, you need to upgrade Standard to Professional.
Step 2. Choose USB Flash Drive. The USB flash drive will be formatted and all your data on it will be lost. (If you prefer creating Win 7 repair disc via CD/DVD, then choose CD/DVD Drive.)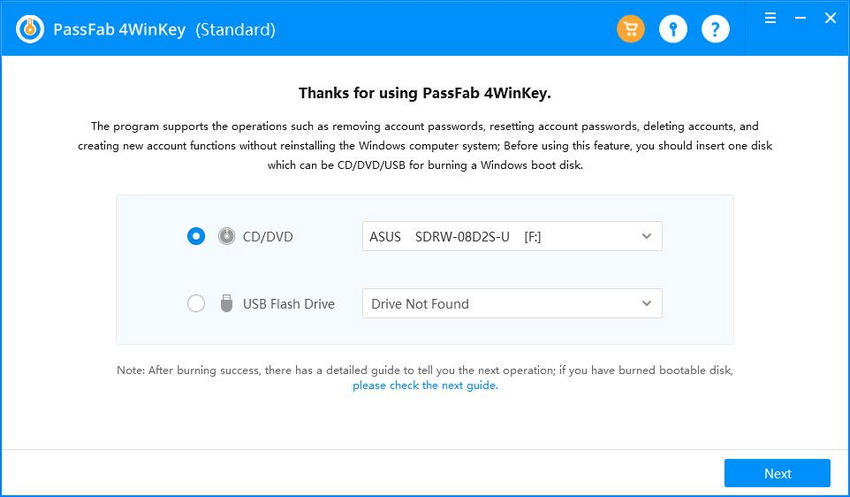 Step 3. Click Burn. Then wait for the process to complete.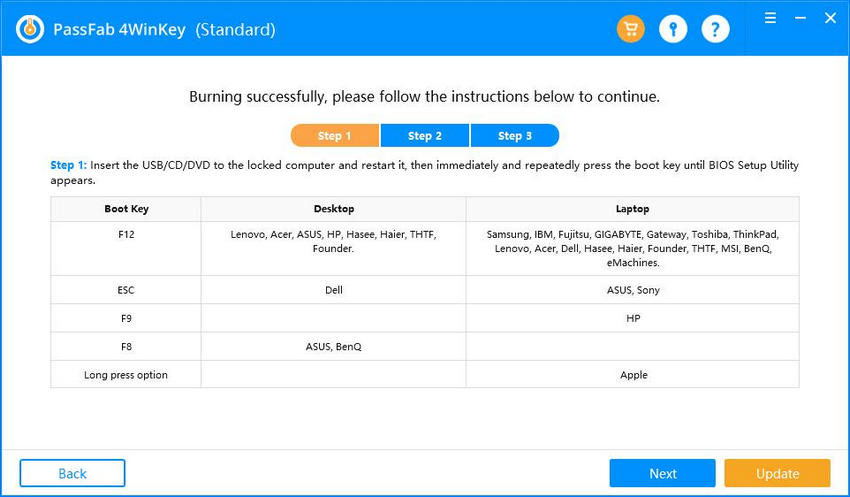 Once you get the password reset disk, you can recover your Admin/local password for your computer.
Related Read: How to Recover Windows Admin & User Password with Password Recovery Disk
Part 3. Create Windows 7 Password Recovery Disk within System (Applicable for Unlocked Computer)
If you want to keep a password recovery disk for your computer in advance in case you forget the password, you can certainly complete it with the Windows system tool. However, this should be on the premise that your Win 7 computer is available and not locked yet.
Step 1. Insert a blank USB disk or CD/DVD into your Win 7 computer.
Step 2. Click "Start" and type "reset" in the search box. Choose "Create a password reset disk" among the results. When "Forgotten Password Wizard" appears, click "Next".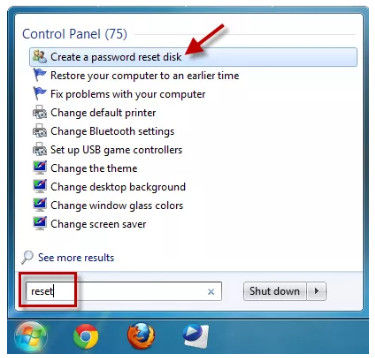 Step 3. Select your USB and click "Next" to start creating Windows password reset disk. Once completed, you will get the password recovery disk.
Bottom Line
Operating system disaster and forgot Windows 7 password problems can occur any time. It's a good idea to make a password recovery disk in case you need to repair or restore your computer. Hope the methods mentioned above can help you . If you have any other questions about windows system recovery, files password recovery, product key, please feel free to leave us a message.