When you forgot Windows 7 password, you can acess your computer again by resetting or unlocking the password. In this article, we will focus on how to unlock Windows 7 password using Windows password unlocker tool. Because the free ways have some limitations and the steps too complicated, many users have reported that they failed to "crack" Windows 7 password successfully. So, we prepared 6 unlocker tools for you, you can compare them and select the one you want.
Part 1. How to Unlock Windows 7 Password with Professional Tools
As there are many
Unlocker tools
in the market, some users may wondering which product worth to buy. In order to solve this doubt, we personally tested more than a dozen tools and selected six tools worth buying. The first one is recommended by many professional media. Let's check them out!
1. PassFab 4WinKey
If you are looking for the best Windows 7 password unlocker tool, then there is nothing out there in the market as PassFab 4WinKey. This tool can seamlessly unlock all versions of Windows password. Besides, except login, user password this tool also allows you to unlock Administrator and Microsoft password in minutes
Here is how to unlock Windows 7 password using PassFab 4WinKey:
Step1. Download and install the software post download. Launch it on your Windows computer. Get an empty USB flash drive and connect to the computer.
Step 2. Now, select the "USB Flash Drive" as your recovery device and hit the "Burn" button. Hit "OK" once it's done. Now, you got to eject the flash drive.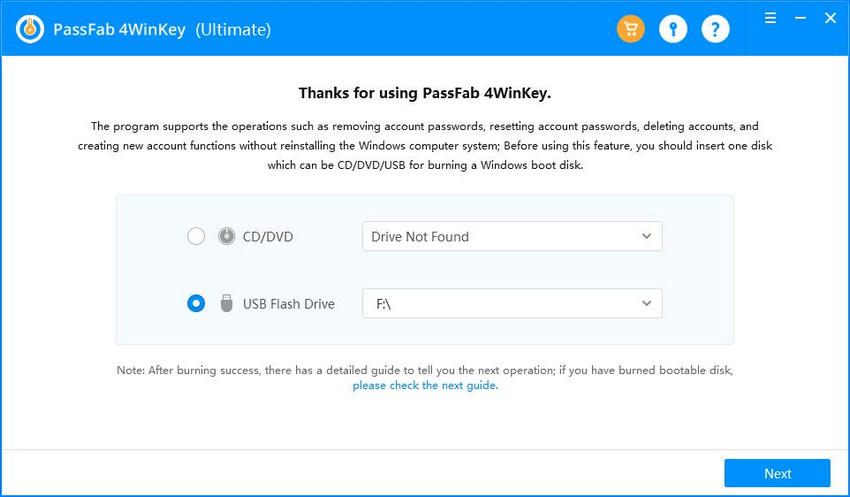 Step 3. It's time to connect the USB drive with your locked Windows 7 computer for initiating the unlocking process. Hit "F12" (Boot Menu) before tapping the USB flash drive followed by "Enter" key.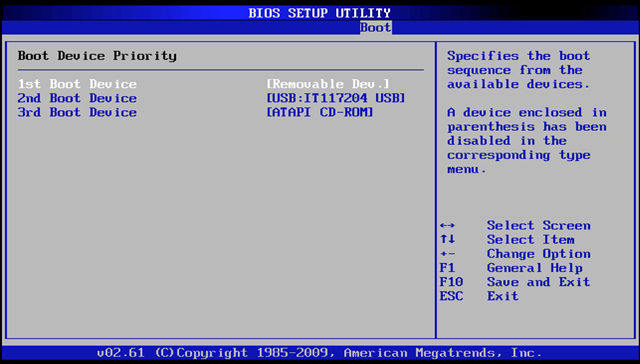 Step 4. Now, you got to select the operating system, so click "Windows 7" here followed by the "Next" button.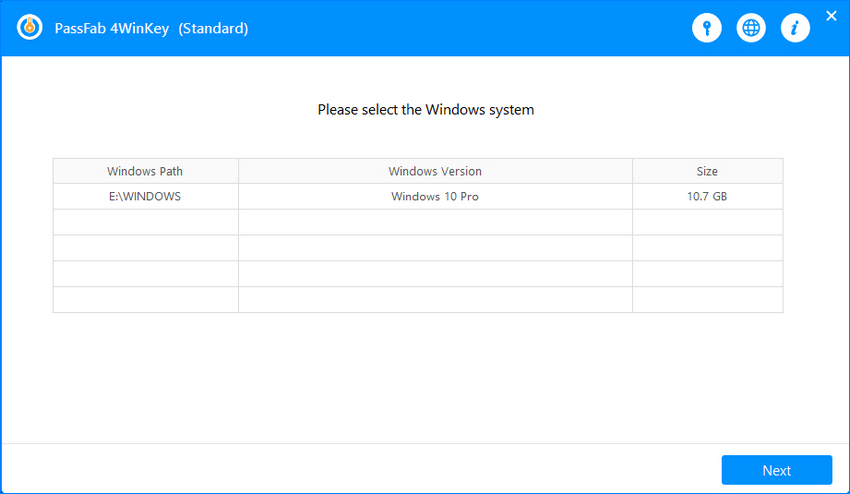 Step 5. Mention the account type here from Admin/guest/Microsoft. Check the account name next to it and then tap the "Next" button.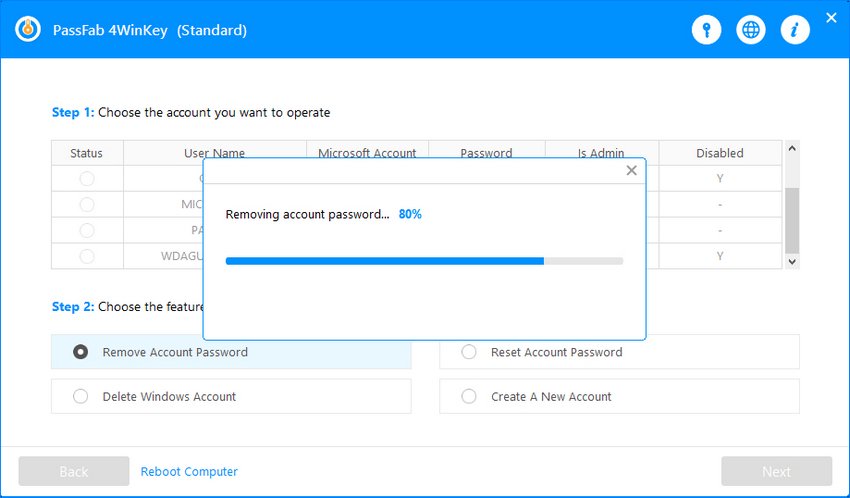 Step 6. Press the "Reboot" followed by entering the new password and click "Restart Now" button.
Below are other 5 tools, you can get them compared. I will introduce these tools from its feature and price.
2. iSeePassword – Windows Password Recovery
iSeePassword – Windows Password Recovery is among the top contenders. This software allows you to unlock your Windows 7 computer by resetting admin and other Windows passwords. You don't need to reinstall the OS or reformat it to make the changes effective (unlocking). A domain password or domain user password can also be removed through this tool.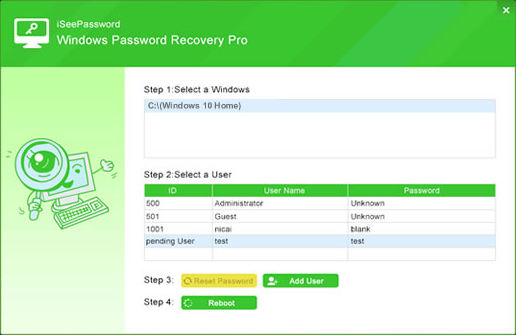 3. iSunshare
Among the paid programs, iSunshare Windows Password Genius is found to be a reliable password unlocker. Removing or resetting Windows 7 password is a cakewalk with this tool. The best part of this tool is, there is no data loss while unlocking the Windows system or creating a new Windows admin account for a locked and password forgotten computer. Be it a Windows 7 admin password, Windows 10 Microsoft account password or user password, Windows 10 domain password iSunshare can manage that well. You don't have to create a fresh local admin or domain account in this case for resetting password or unlocking device.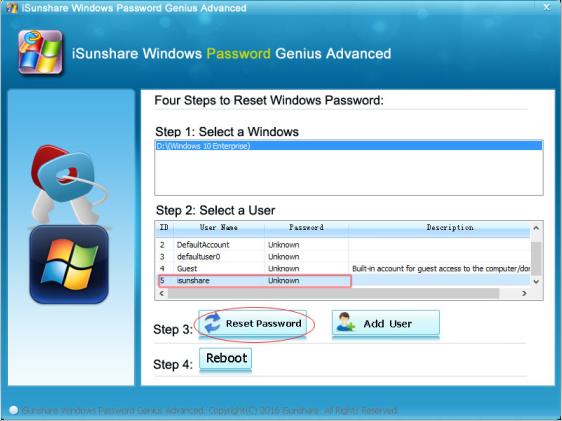 4. Anmosoft Windows Password Reset Ultimate
This tool from Anmosoft can easily resolve your dilemma on how to unlock Windows 7 system. You got to install the software on your Windows 7 system and then burn the password resetting ISO file to a USB flash or CD drive. After booting the software you need to select the appropriate drive under the "Windows Path" column in order to recover the password. This hard drive needs to be the one, where the password locked user account resides. It allows you to change the user password, entirely remove an admin account, or create a new admin account. It is bit pricey compared to other software applications. It supports Windows 7/8/8.1/Vista/XP and Windows Server 2008 (R2) / 2003 (R2).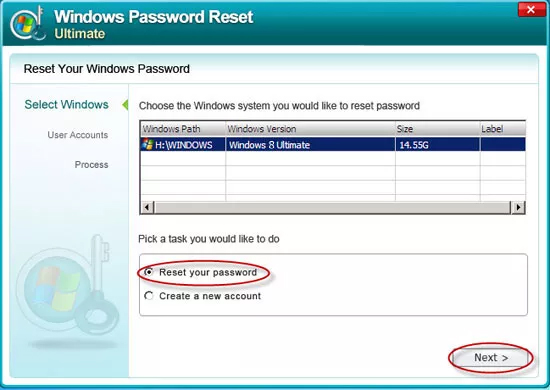 5. UUKeys Windows Password Mate
With this unlocker for Windows 7, you can unlock a computer by creating a password reset disk on a CD or USB drive. It comes with a life time license and free upgrade for $29.95 USD. It is easy to use and can be booted easily for unlocking a password forgotten Windows 7 computer. It also supports Windows 10/8/8.1/Vista/XP/2000 as well as Windows Server 2012.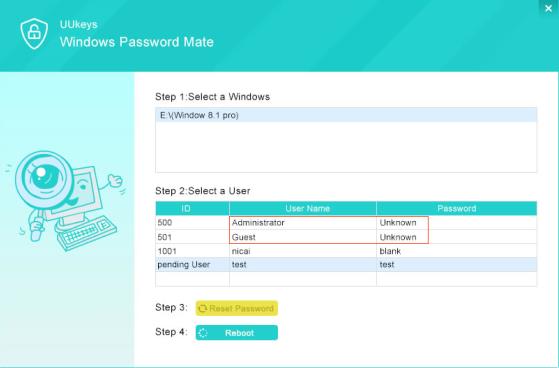 6. John the Ripper
This Windows 7 unlocker works from the command line and has paid wordlists, thought the software is free. It can find your Windows account passwords when you pay for the wordlists and let the software work. You can't make it work, unless you have access to the Windows system. Though, listed as free, this software is actually not free unless you are restricting yourself to the free wordlist. Moreover, unless you are a seasoned professional, using this tool is a task, as it runs on command line. It is recommended for Windows 7/8/10/Vista/XP.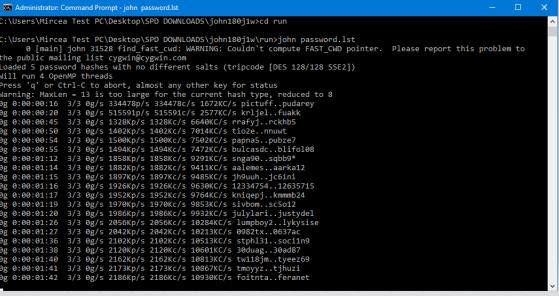 Conclusion
From the above article, we conclude that PassFab 4Winkey is among the best paid tools, which offer you the best of both worlds. It has a plethora of options in unlocking Windows 7 systems and explains how to unlock laptop password Windows 7 easily. If you also want to know how to unlock Windows 10 password or other problems like that, do not miss PassFab 4WinKey.