How to Reset Microsoft Account Password
For now, the latest Windows operating systems are Windows 8, 8.1 and Windows 10. All these versions have some distinct feature from each other,they are the upgraded versions from the previous ones and give the best experience to their users.
If by mistake you forgot Admin password it will bring along a feeling of frustration and helplessness, the inability to get access to your computer will not allow you to do anything, be it some official work or if you want to do something else. If you forget your password and your Microsoft account is also associated with the windows, then you are in big trouble. Your account gave you access to all the services and products developed by Microsoft like One Drive, X Box, Skype, and outlook.com. This article will provide an easier way togain access to them again without complex operation.
Part 1. How to Reset Your Microsoft Account Password for Free
When you forget Microsfot password, you can reset your password online. But, you have to verify some qurstions during the process. If you don't remember the Email address or changed your phone number that you used to resgiter Microsoft Account then you are not allowed to reset Microsoft password. In this situation, you can jump to part 2.
Here is a step by step guide to reset your Microsoft Account online.
Step 1: Go to the reset your password page on Microsoft account support.
Step 2: Enter your Email address, Phone or Skype name on the box.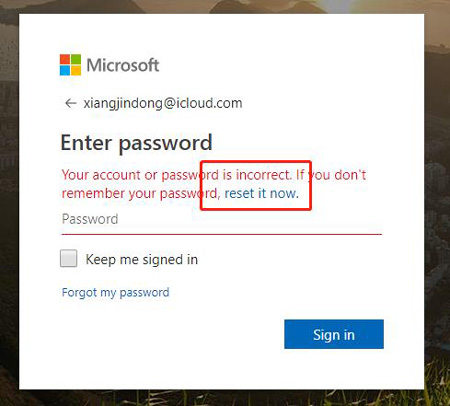 Step 3: You will see the verify info on this page, enter the characters which states on screen. Then hit "Next" button.
Step 4: You will receive a one-time code to the alternate phone number or Email address if you have set security info. Once you got it, put the code on the verify box to move on.
In the end, you are allowed to set your new password.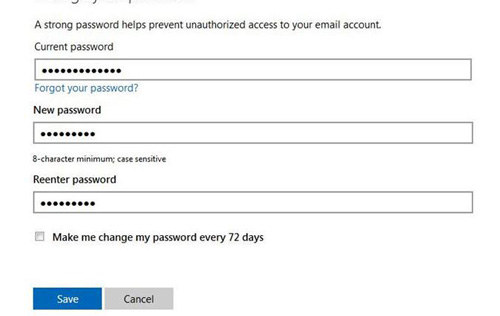 Complex procedure:
The Process of creating a Microsoft password reset disk and then resetting your password with it takes some Time to complete and there can be some complexities in the process. You may sometimes get an error message saying "an error occurred while the wizard was attempting to set the password for this user account". You can also encounter troubles regarding the boot procedure,it may happen that sometimes the system may not read the disk bringing you back to square one. Instead of going through this process you can also use some tools developed for this purpose saving you the trouble of going through the long process.
Part 2: How to Reset Your Microsoft Account Password by PassFab 4WinKey
PassFab is an organization which excels in developing efficient password recovery tools for everyone. They have successfully helped a number of people and organizations to recover their lost or stolen passwords with the help of many productive tools like PassFab 4WinKey - a tool for Microsoft Windows password reset and recovery needs. With this tool you can create a Windows password reset disk, it can be a CD or a DVD or a USB, boot the created disk and lastly recover your Windows password.
Steps of using PassFab 4WinKey to reset your Microsoft account password:
Step 1. Download and install 4WinKey to another accessible computer. Run it and insert a USB to that machine. Choose USB and begin to burn a Windows password reset disk.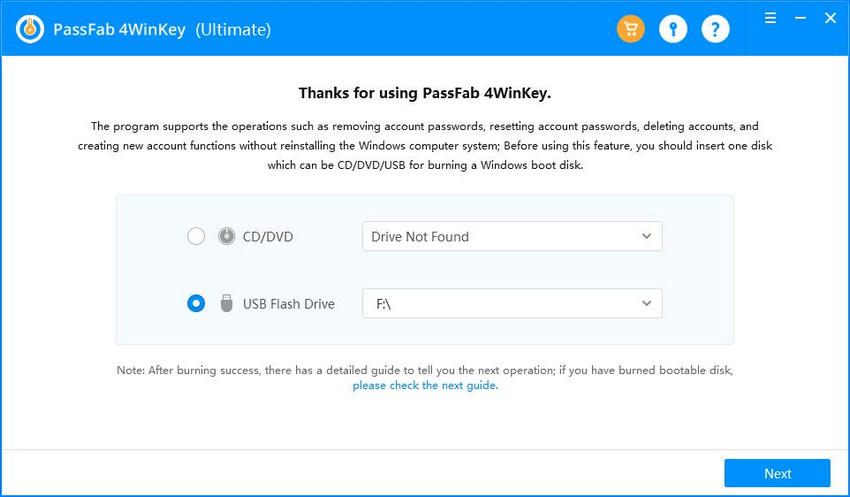 Step 2. Insert the USB to your locked computer and restart it, press F12 quickly and get access to BIOS menu. Choose your USB to be the first boot priority.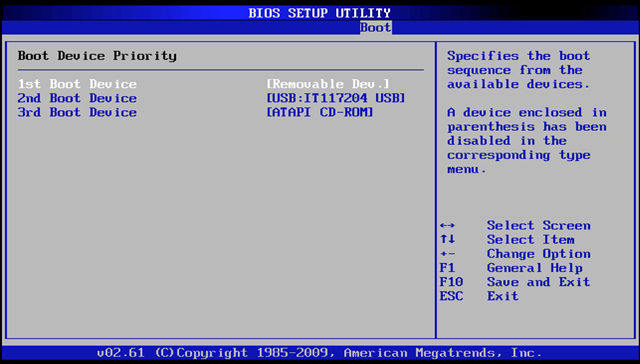 Step 3. On PassFab 4WinKey interface, you will see the Select Windows option on the left side; here you have to Select the Windows associated with your Microsoft account and click on Next.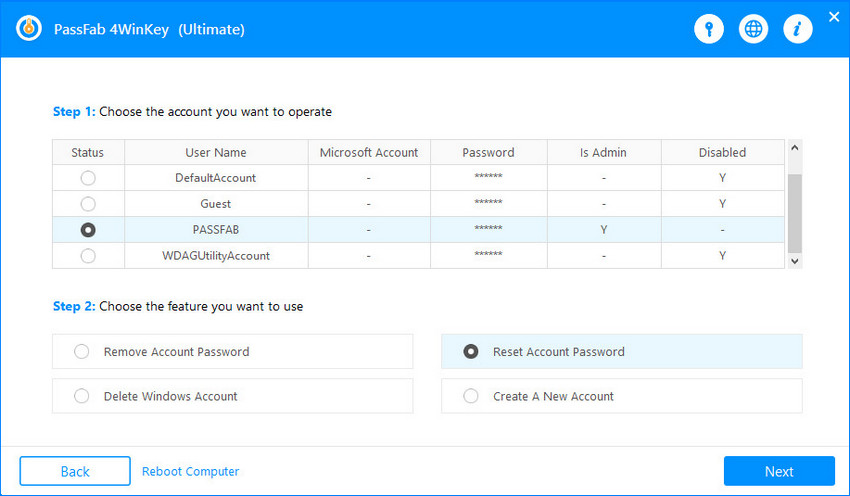 Step 4. From the list, select your Microsoft account username and go to the reset password column on the bottom of the dialog box. Click on Next and wait for the confirmation page.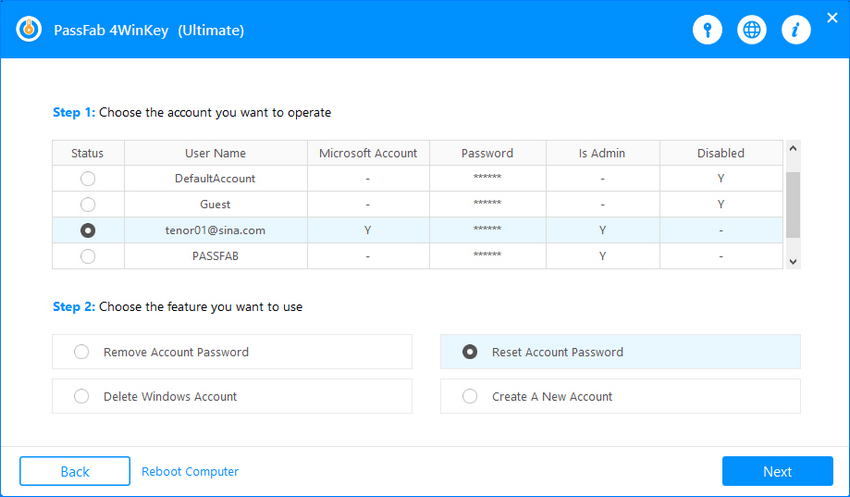 Step 5. On the next page, you will get the confirmation details your Microsoft account password reset. Reboot the system and you are good to go.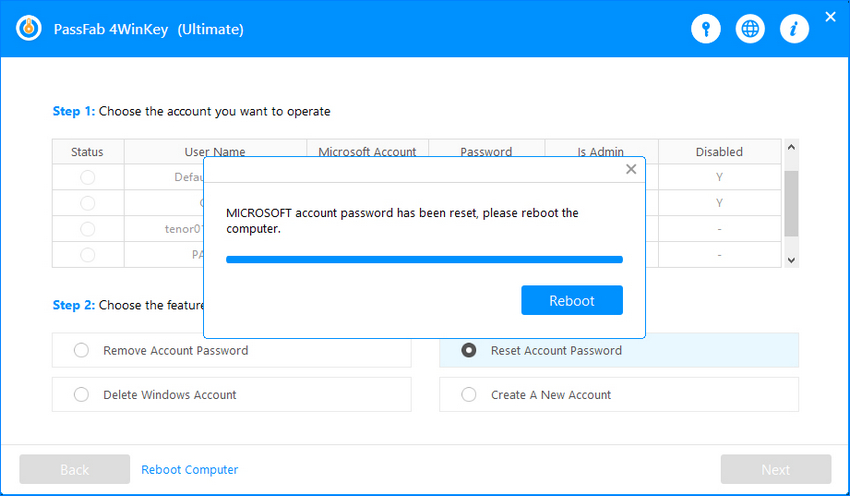 Here is the video guide about how to reset Microsoft password by using this Windows password recovery tool:
Conclusion
The article explains the process to reset or change Microsoft account password. In the next part, it explains an easy and effective method of resetting the Microsoft account password with PassFab 4WinKey, designed particularly for reset password functions and other account modifications of the system. In the next time, when you forgot Microsoft account password, you can just follow the ways in this article.