A Small Business Server (SBS) 2011 Administrator account is just like any other account but uses wizards from Active Directory, which makes all tasks very fast. However, the software can give you problems while logging in, even though you remember it. This pings to the question - how to reset Windows SBS 2011 admin password? You can definitely solve it by factory reset your computer if you don't mind your data. Except it, we also prepared two ways for you to save your data. Keep reading to check it out!
Way 1. Reset Windows SBS 2011 Password with PassFab 4WinKey
The most important reason why I introduce PassFab 4WinKey first is that it is the best Windows password recovery tool which can help you reset SBS password within a few steps. Because the free way is not that easy to operate. So, let's take a look at how this powerful tool works.
1. Creat A Bootable Disk
Step 1. Create a bootable drive after you download and install PassFab 4WinKey on an available PC or Mac. You can choose between USB drive or CD/DVD. Do remember that you choose the right option.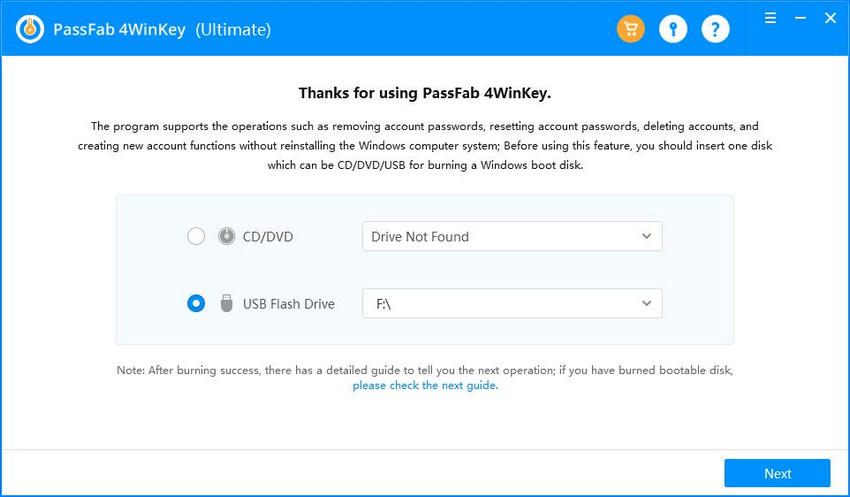 Step 2. Click on Burn. You will receive a notification after the process is complete. Eject it and insert in your locked computer. If you do not have a CD drive, you will need to buy an external CD drive so that you can complete this process.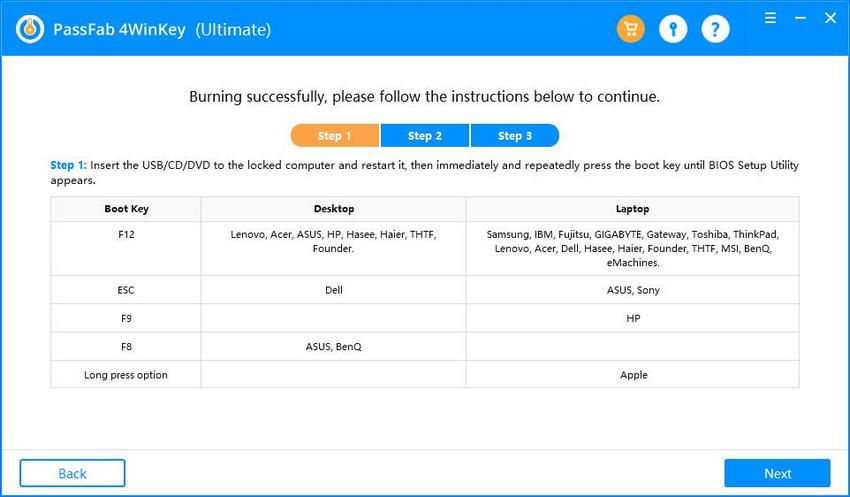 2. Reset SBS 2011 Password
After cretaed a bootable disk, take the CD/DVD/USB to your locked computer. Restart it and press F12 (if F12 doesn't work, try F2 or F8) quickly, you will get access to BIOS boot menu. Let your disk to be first boot priority. Then exit BIOS and restart it again. Now, you can reset the password now
Step 1. PassFab 4WinKey will pop up on the lock screen. In Select Windows, choose your computer's Windows version. Select Reset your password below it. Click on Next.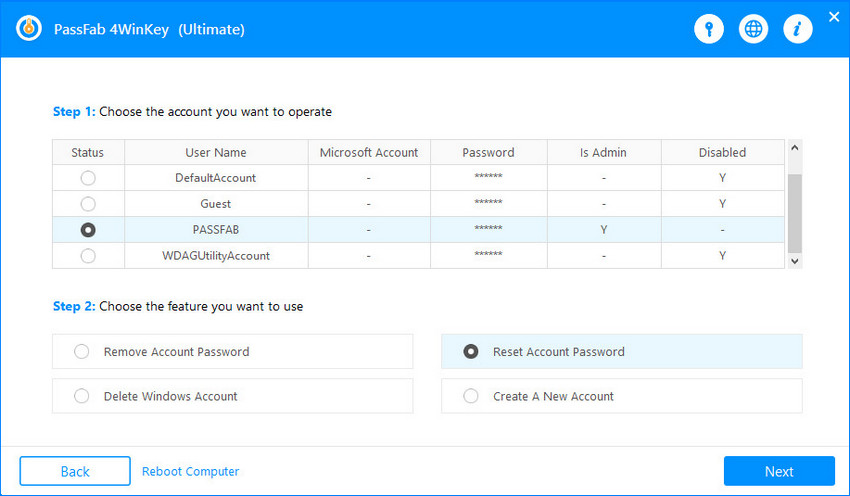 Step 2. In Manage Accounts, select your SBS Admin account username. In the section below, enter new password and hit Next.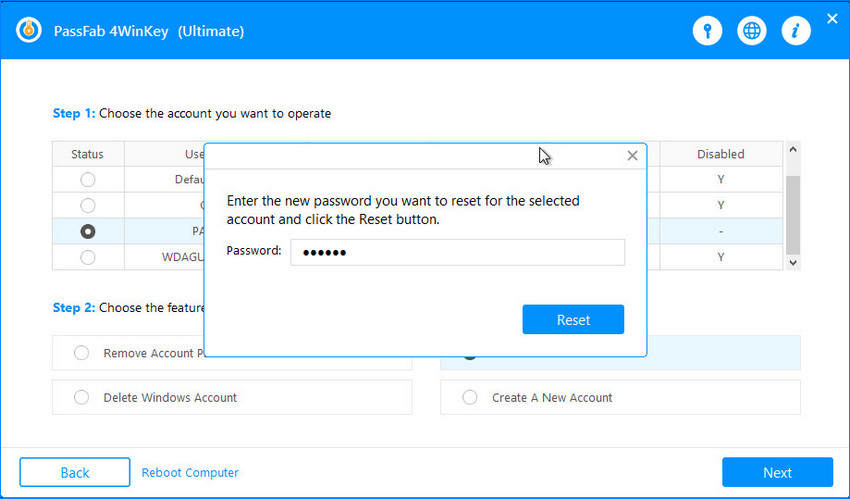 Step 3. In process, the software will reset a new password. Once it is complete, restart your computer and enter into your admin account using the new password.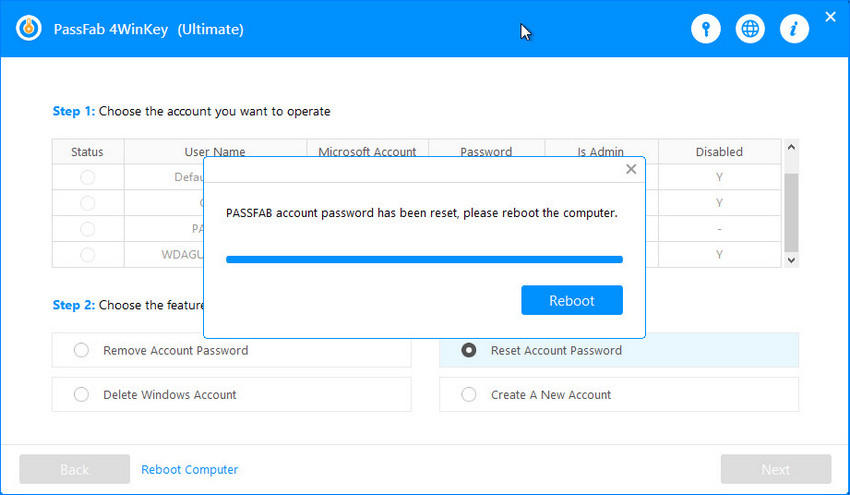 Also Read: Top 12 Practical Methods to Reset Windows Admin Password
3. Remove SBS Admin Account
Step 1. On the next window, a pop-up will appear on your screen. In Select Windows section, select your computer's Windows OS version. Select remove admin account from the section below it. Hit Next.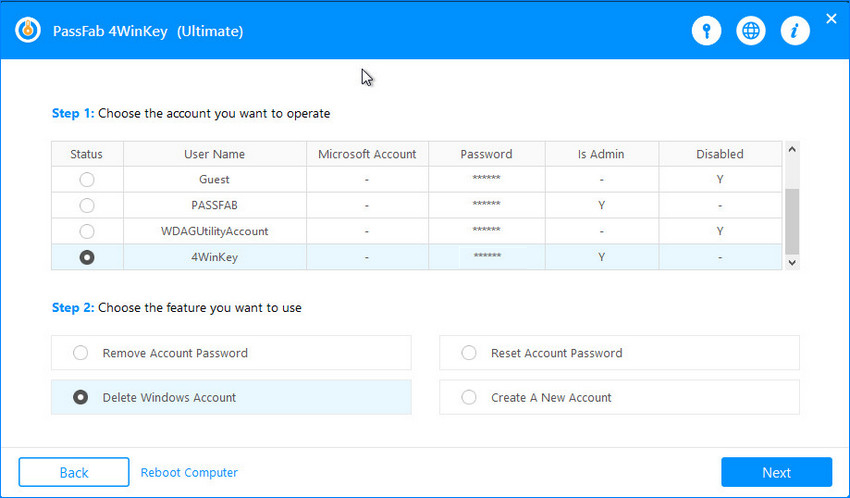 Step 2. In the next window, Manage Accounts, select the SBS admin account. Hit Next.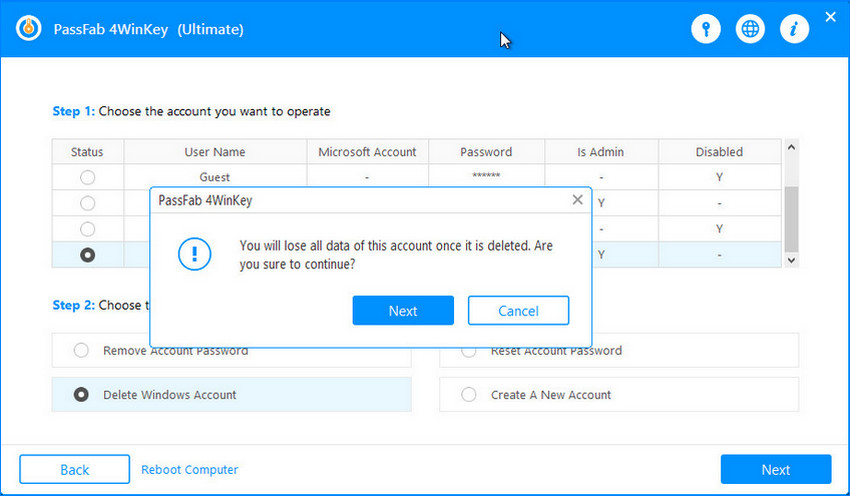 Step 3. In process, the removal process will start automatically. It sets the password to blank. Once it is complete, hit Reboot. After the computer restarts, click on the admin account and hit Enter without entering any password.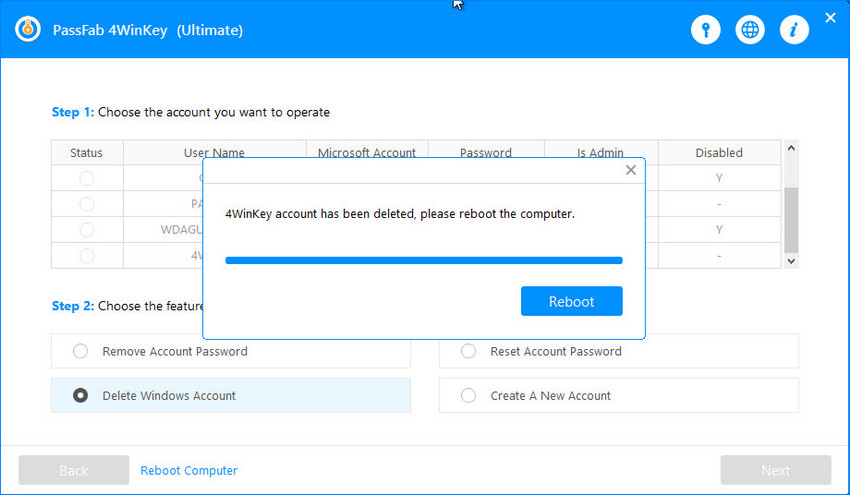 Way 2. Reset Forgotten Windows SBS 2011 Password for Free
As I mentioned before, this way is much complicated for most of us. If you are not knowing the computer so much I do nopt suggest you try this method. It may break your computer if you make a wrong step. So, be careful.
Note: This method needs you to access the HDD drive of your computer.
Step 1. Restart Windows SBS 2011 using a bootable drive, which can either be a USB Drive or CD/DVD. It will give you access to the HDD drive.
Step 2. Boot the SBS 2011 media. Click on "Next".
Step 3. Select Repair your computer. Hit "Next".
Step 4. Select the installed Windows version. Hit "Next".
Step 5. Open Command Prompt. You will have change directory to get access to system 32 directory. It changes your original C: drive to either D: or E: drive. To make the change, type:
CD D:\windows\system32\" In Command Prompt. Hit Enter.
Step 6. Change Utilman.exe to Utilman.exe.bak. To do this, enter:
move d:\windows\system32\utilman.exe\windows\system32\utilman.exe.bak
copy d:\windows\system32\cmd.exe d:\windows\system32\utilman.exe
In Command Prompt. Hit "Enter".
Step 7. Press "Windows + U" together to open CMD.exe. If your SBS2011 Administrator account is named john, type it after the new password and hit enter.
For example - "net user john xyz123"
Step 8. After you reset the password, close Command Prompt. But before that, switch Utilman.exe.bak to Utilman.exe. To do that, type
move d:\windows\system32\utilman.exe.bak\windows\system32\utilman.exe
Now, log in using the new password, and you will be able to use all the features just as you need.
Conclusion
Forgetting any password is a headache, so after you create a new password, write it down on a paper and store it somewhere hidden. You won't have to go through the trouble all over again. In this article, we showed three ways you can reset SBS 2011 Administrator account password. The Command Prompt method is very technical and if you forget one step, you will be locked out of your computer forever.