Computer and laptops are the most important things in our life now-a-days and we have important data saved inside these devices. We also want to protect our data and that's why different methods like protecting our computer with password or using different password protected accounts for different people. However, if you forget this password you are in trouble. Windows Password Key can recover your password for you by burning a password key on a CD which can be used to reset administrator as well as user password on your computer. Some persons may ask "Is Windows Password Key safe?" for your computer? In this article, we will discuss about the answer.
Is Windows Password Key Safe? Yes!
This is a question which comes in many heads when it comes to using Windows Password Key to recover your forgotten password. The answer to above mentioned question is "yes", it is completely safe to use Windows Password Key on your computer. Here is a Windows Password Key review with a few of the reasons to let you know the ease, convenience of using Windows Password Key for password recovery.
1. Safe to Download
It is easier and safe to download Windows Password Key software from your computer and the only thing you are going to need is stable internet connection. You can easily recover your forgotten password with the help of this Windows Password Key after download in.
2. Safe to Purchase
This software is available easily outside and you can purchase it for a reasonably low price. It is small price to pay for your computer's safety. You won't able to get any other software as cheap and as efficient as Windows Password Key. It doesn't require much money and you can buy it from any software store near you.
3. Safe to Use
Windows Password Key is also safe to use on your computer. You can use it for recovering your forgotten password and again get access to your important data and files in your computer. You don't have to worry about problems like safety of your computer because this software is reliable and authentic.
4. Safe for Your Data
Windows Password Key remains the foremost choice of users is the fact that it keeps your info as well as you financial record safe and protected by using advanced encryption. It will also keep your important data safe so you don't have to worry about your data loss while recovering your forgotten password.
5. Trusted by Millions of Users Around the Globe
It is known to be the best and foremost choice of many users around the globe is Windows Password Key safe. You can look at the comments and reviews of users who have used Windows Password Key and they are satisfied by the response.
6. Safe to Use in Windows 10/8.1/8/7/Vista/XP/2000/NT
Windows Password Key is safe to use in any of the operating systems mentioned above. You can use it in Windows 7, 8, 8.1, 10, Windows Vista, XP, 2000 and NT. It is easier to use as well as protected and safe to use in any of these operating systems.
How to Reset Windows Password with Windows Password Key
If you are still not satisfied with the performance of Windows Password Key you can use other methods. However, the best and recommended method is to use PassFab 4WinKey. It is easier to access and even easier to use and you can recover password whenever you want. A step by step guide is given to you and you can follow the steps given below to recover your password.
Use PassFab 4WinKey for recovering your password for Windows and regaining access to your data and important files on your computer. You can use this tool if you are not satisfied with other tools' performance.
You need to download Windows Password Key first of all and you can download it from following link. You will have to have another computer with access to follow these steps.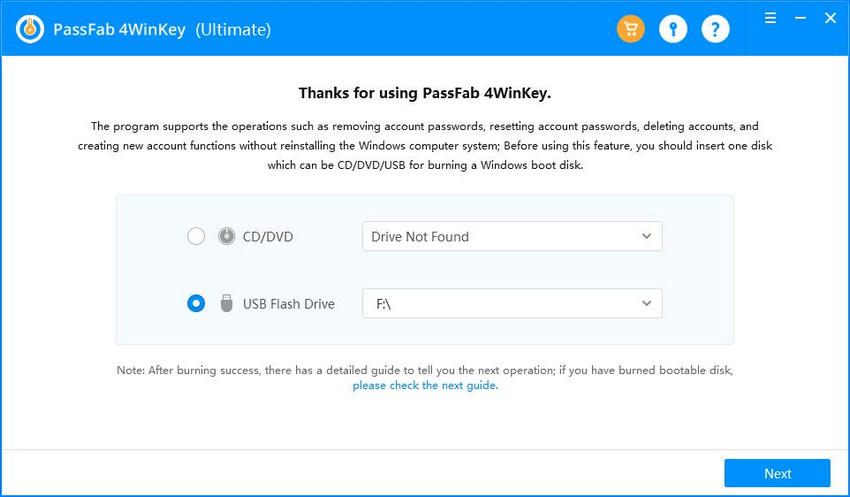 You will have to select a bootable media and it can be either CD/DVD or USB Flash drive while USB Flash Drive is recommended, you can choose the one best suited for you. Now click burn and your USB Flash drive will be formatted.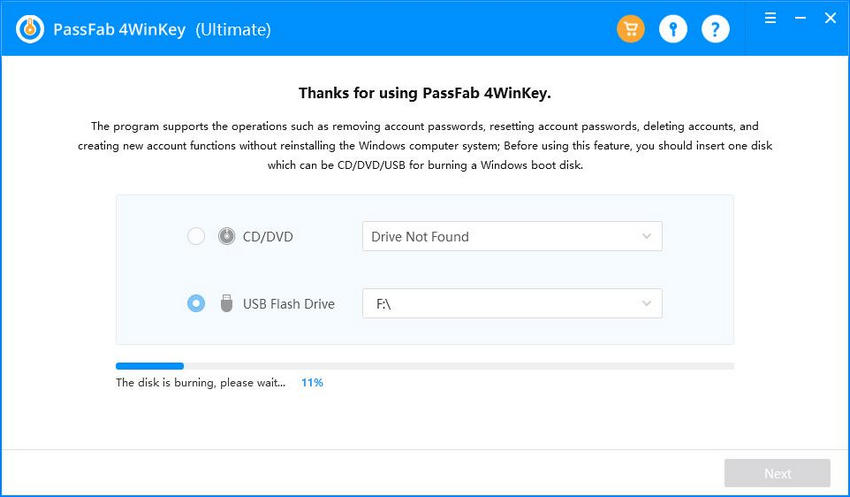 You will have to click "yes" and the Windows password recovery software will be burned to your flash drive. It might take a few minutes and then your device will be burned successfully.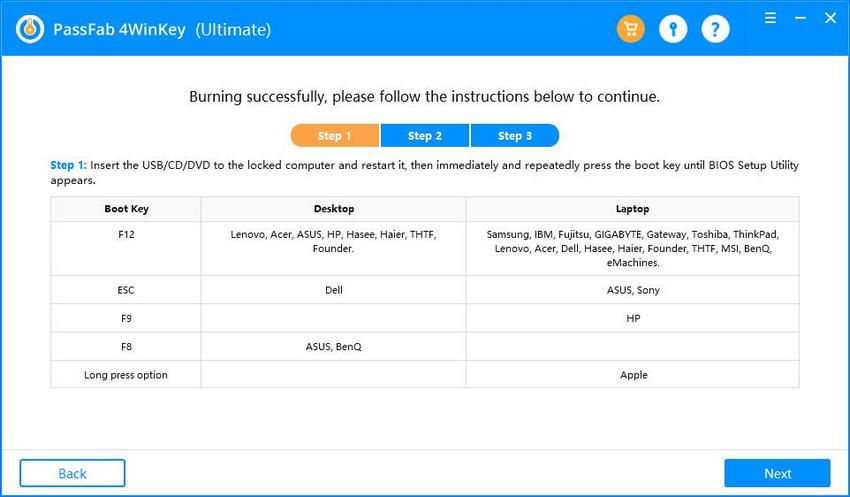 Your device is now ready to use and you can use this Flash drive to recover your password on any other computer. Take the laptop which needed to be recovered its password. Connect this device to your laptop and restart your computer and press "F12" or "ESC" and you will be in boot menu interface.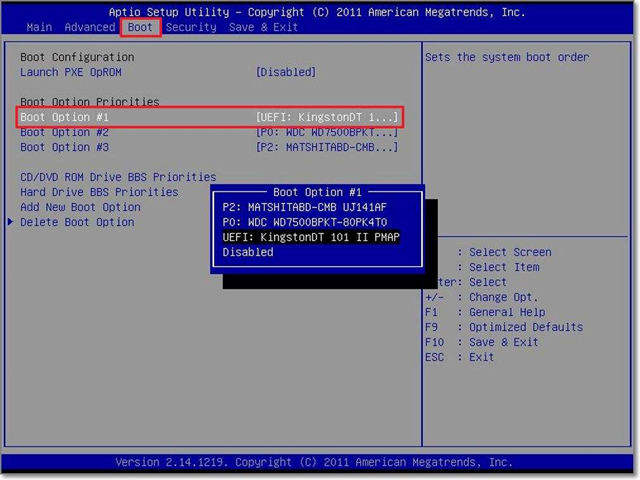 Choose the device you have connected in the computer from a number of choices in the boot menu, highlight your choice and press enter. Once you have pressed the enter you can either reset or remove the password.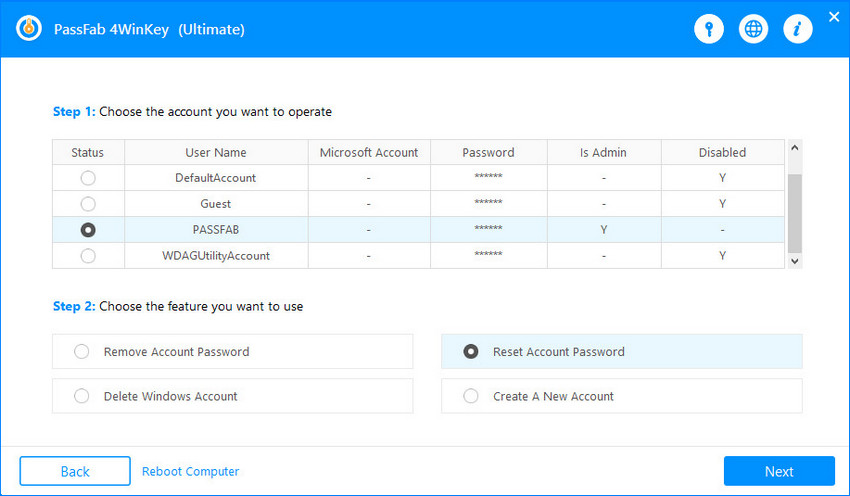 Choose your OS and click "next'.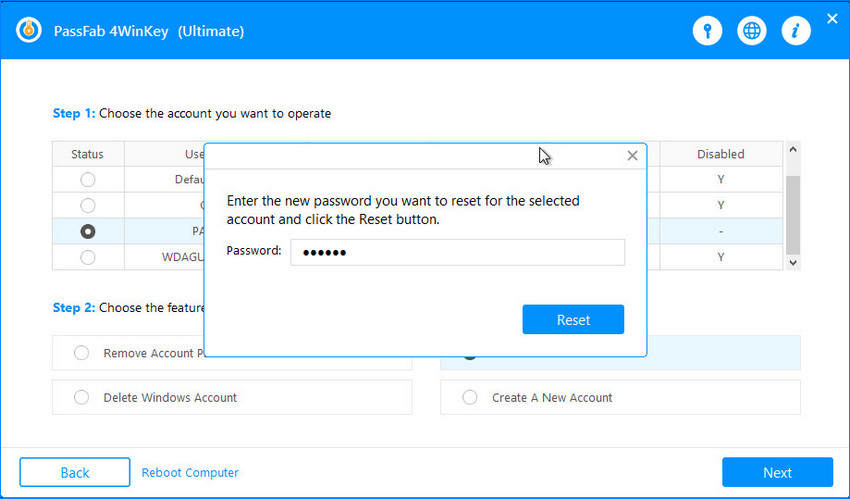 Select the account like guest or admin or Microsoft account and your password will be reset.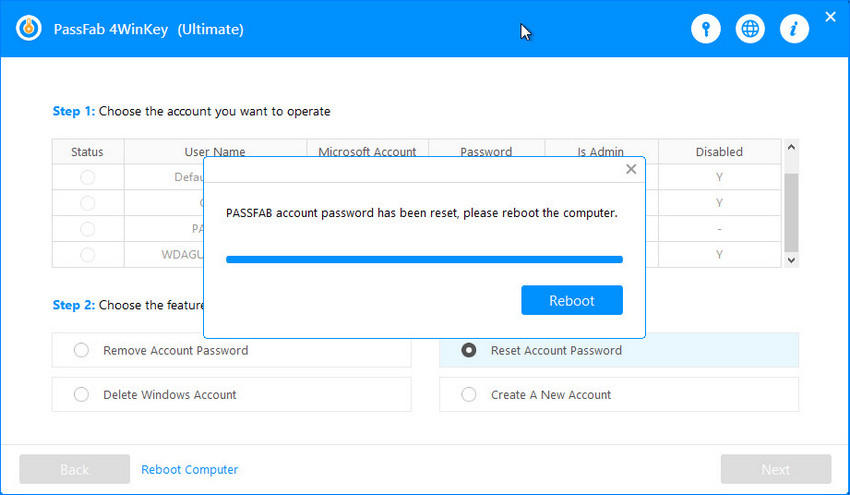 Restart your computer by using your newly selected password.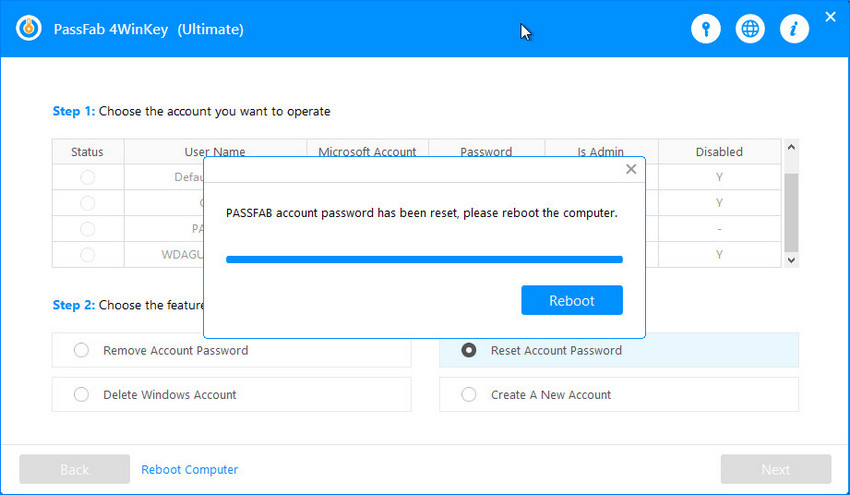 You can also watch this video about how to use PassFab 4WinKey - Windows Password Key
Summary
Windows Password Key safe review tells us that it is a suitable option but still people hesitate to use it. PassFab is your one step store for every kind of your software related problem. You can visit PassFab.com and look at the variety of solutions it offers for your software problems. You can use PassFab's tools to recover your password for Windows. You will see that it is the best solution to your software related problems and these are extremely easy to use so a person with basic knowledge of computer can implement this tool on its computer. Enjoy using your computer with PassFab solutions.