Top 4 Easy Ways to Bypass Login Password
Forgetting passwords is one of the biggest disadvantages of using technology. Not only is it annoying but also very displeasing because you are locked out of a system you spend most of your time with. The issue is more common than you think but still Microsoft doesn't have a direct solution for all versions of Windows including 7/8/10. No, you don't have to reinstall the software and lose all the day. We've got you covered!
In this article, we've mentioned multiple ways you can bypass Windows login with a minimum amount of computer skills you've got. You can choose to get technical assistance for it but you don't require it. Yes, our guide is super easy to understand. Each of these methods will take you around 15 to 45 minutes to work depending on the one you choose.
Part 1: Ways to Bypass Windows Login Password for Free
Way 1. Bypass Login by Using Netplwiz
You can only try this method before you lock yourself out. Go to the login screen and enter the username and password you know.
Step 1: Open Run dialogue box by pressing Windows icon + R button. Type netplwiz and press Enter.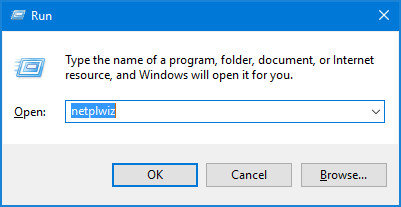 Step 2: This will lead to another dialogue box where you'll be asked to select the user account. Here select the administrator account and create a new password.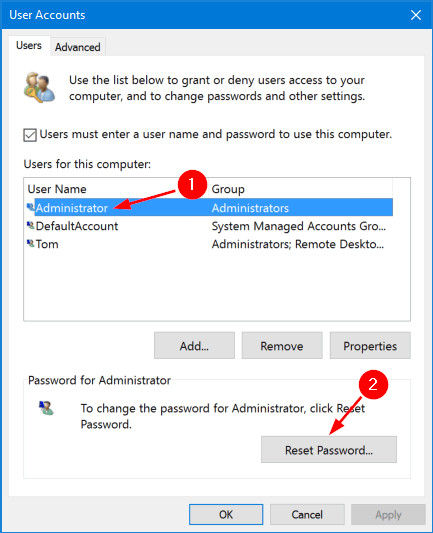 Step 3: You will see a list of usernames of the people that use the computer. Select the one you want to log into and unselect others. Click Apply.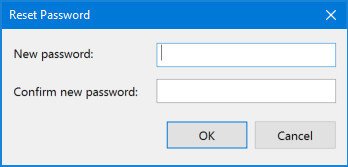 Restart your computer and login using the Administrator account that will appear on the lock screen. You won't need to enter password ever again, so you don't have to worry about forgetting it.
Way 2. Bypass Windows 10 Login Password Using Password Reset Disk
This method works only for Windows 10 version and you will need a USB drive for it. Let's get started:
Step 1: Use another computer to create a password reset disk. Open the control panel and find - create a password reset disk.

Step 2: Open Run dialogue box and copy paste this - rundll32.exe keymgr.dll,PRShowSaveWizardExW. Click OK. Forgotten Password Wizard will open, follow the procedure.

Step 3: In this step, use the drop down list to select removable disk. Click Next. The process will take a couple minutes to complete and then remove the USB Drive.

Step 4: Insert the USB Drive in your computer and go to your login screen. Click on reset password. The Password Reset Wizard dialogue box will appear on the screen.

Step 5: Create a new password. Click Next and then Finish. Restart your computer and don't forget the password again.

Way 3. Bypass Windows Login Password Using Command Prompt
An old school method, which requires some extra skills, Command Prompt will recover your account a 100 percent without losing any data or sensitive information. Here is how you can bypass login using Command Prompt:
Step 1: Login using a guest account. Go to My Computer and search C:\Windows\System32. Copy and paste on the cmd.exe.
Step 2: Rename it to sethc.exe and copy it to C"\Windows\System32. The computer will ask if you want to overwrite the program. Click OK.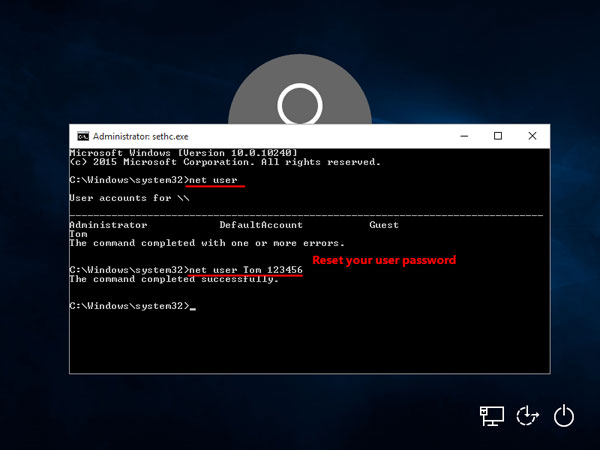 Restart the computer. When you are on the login page, click Shift button five times.
Step 3: In the username section type - net user myusernamemypassword and in the password section type - mypassword. Command Prompt will do rest of the job. It will restart your computer and use mypassword to login. You can change it later.
Part 2: Bypass Login Password Using PassFab 4WinKey
How to bypass login password when you've locked yourself out of your computer and none of the methods mentioned work? PassFab 4WinKey will help you retrieve your user account in less than 15 minutes.
How to use it:
Step 1: Download and launch Pass Fab 4WinKey in an accessible computer. Insert a blank USB Drive in your CPU and in the drop down browser of the launch dialogue box.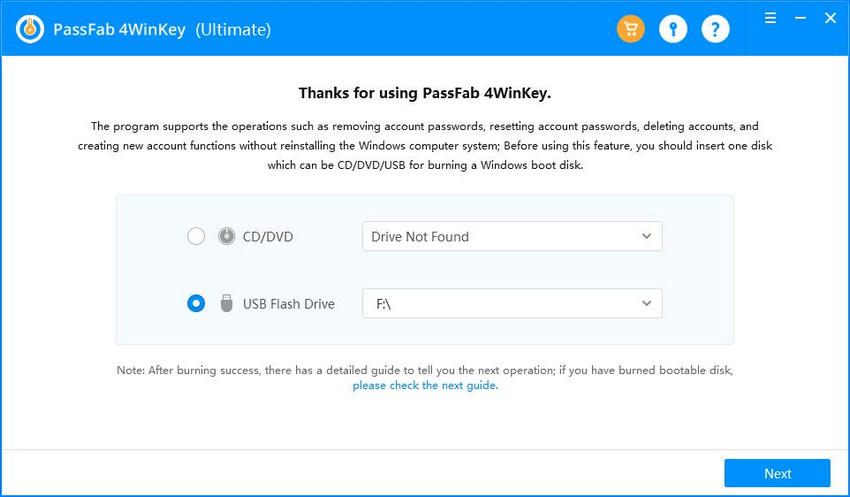 Step 2: Click burn. Once the process is over, eject the USB Drive. Remember to keep the pen drive blank because all the information of it will be formatted.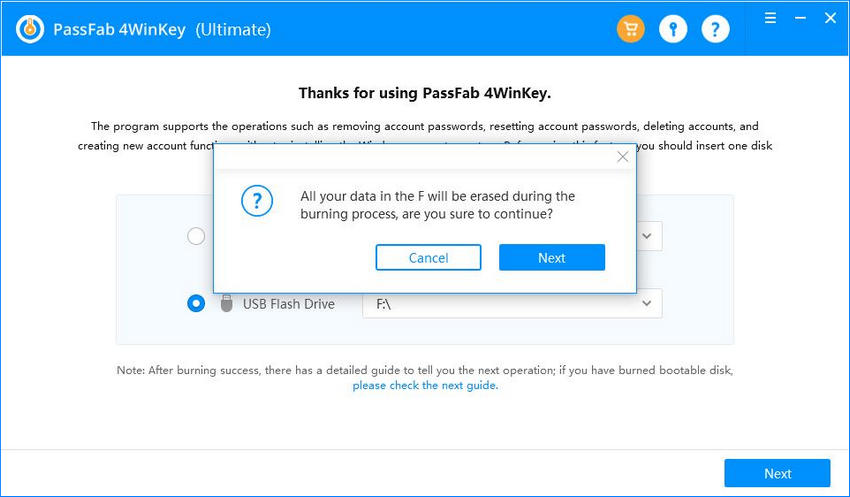 Step 3: Insert the USB Drive in your locked computer. And press F12. A dialogue box will appear and ask you to select the your Windows version.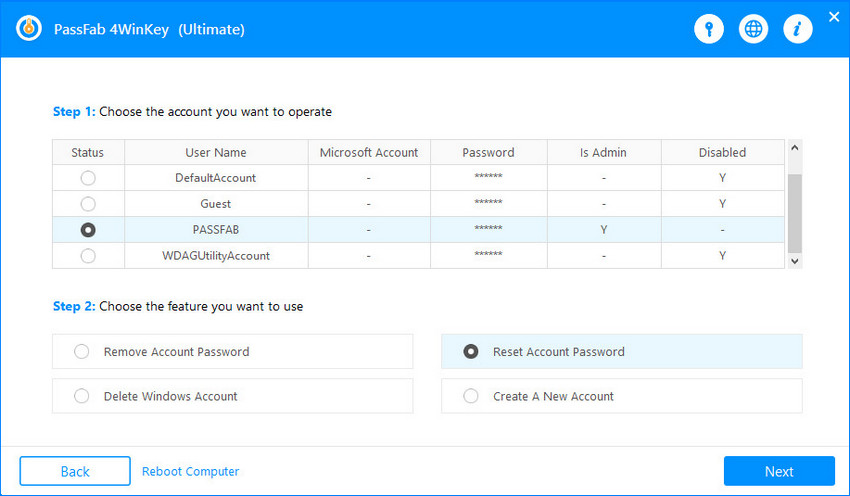 Step 4: Select account whose password you want to change. Create a new password for the account. Hit Next.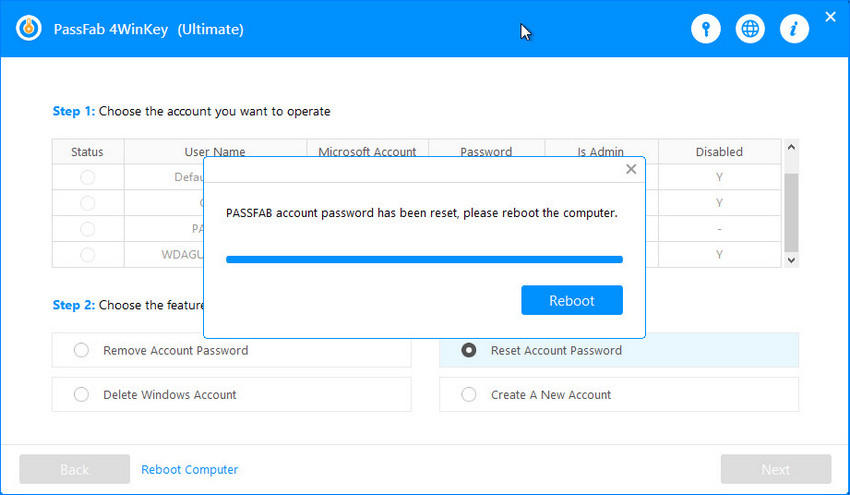 After the recovery is done, reboot your computer and login using the new username and password.
Why to Choose PassFab 4WinKey?
If you have a tendency to forget your login password over and over again, you should definitely download Pass Fab 4WinKey because it doesn't cost much and has a recovery rate of 100 percent. In case you lose even the least amount of data with 30 days of purchasing the software, you will get all your money back.
The operations are quite simple and you don't need any professional or technical expertise to do it and compatible with Windows XP, Vista, 7, 8, and 10. Apart from resetting login password, Pass Fab 4WinKey will also help you reset domain administrator password. It supports CD, DVD, and USB Drive, so you can choose anything as per availability and comfort. With its fast access, you never have to worry about being logged out from your computer.
Conclusion
When it comes to the first three methods, they can only be used if you aren't locked out of the system. Compared PassFab 4WinKey recovery tool, they are more technical and might not work to bypass Windows XP login password because it is an older version. That's not the case with PassFab 4WinKey recovery tool because it works on all Window versions.