Wasting half of the day guessing password of your Windows XP computer is not going to be fruitful. Actually, you can reset/recover Windows XP password using Windows password recovery tools. It will save a lot of time for you. In this article, we've collected 5 tools for you. These products have all been tested by us, you can count on them!
Part 1. Reset/Recover Windows XP Password with PassFab 4WinKey
The very first third party Windows XP password recovery tool that comes to our mind is PassFab 4WinKey. A simple software that supports a wide variety of operating systems from Windows XP to Windows 10, it is performs a variety of functions including removing admin, guest, and Windows local administrator account password. It can used across multiple Windows computer /pands, which include Dell, Hp, Lenovo, Samsung, Asus, and Acer among others.
Here's how you can recover Windows password using PassFab 4WinKey:
Step1. Download and launch PassFab 4WinKey on a computer that is not locked. Select whether you want to burn the software on a CD/ DVD or Windows XP password recovery USB. We recommend you to use an USB drive because it is more convenient and easy to use.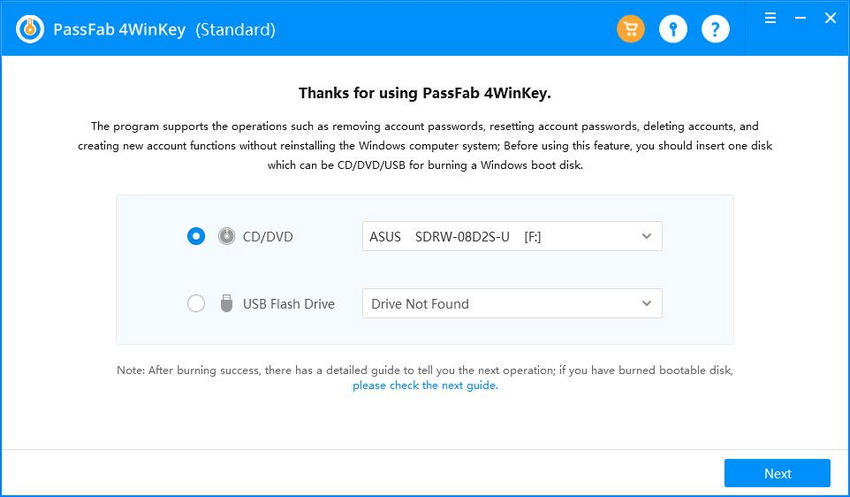 Step2. Once you select USB Drive, click Burn. A message will pop-upon your screen informing you that all information previously stored on the USB will be lost during the burning process. Click OK and process. The burning process takes a good five to 10 minutes, so relax and have a nice cupof coffee. Another message will pop-uponce the process is complete. Click OK and remove the USB Drive.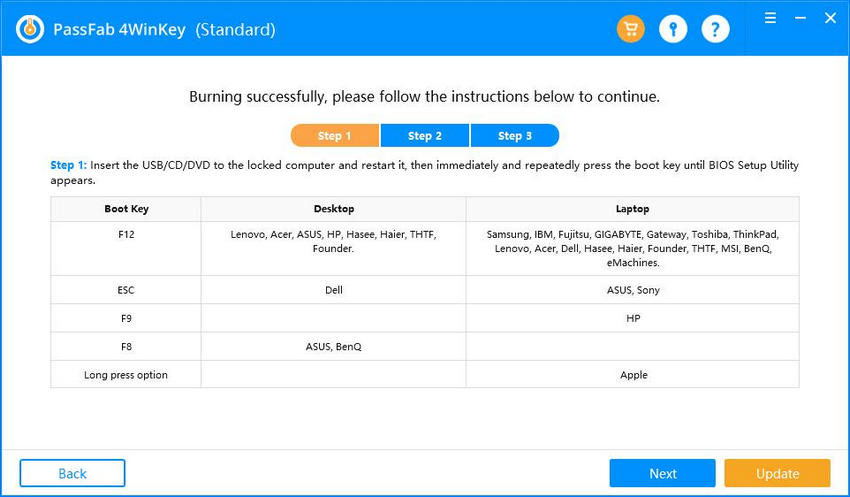 Step3. Insert the USB Drive in your locked computer for password recovery Windows XP professional. The software will launch itself. The very first thing you will see is the version of your computer, which is Windows XP professional displayed in the Select Windows section. Click Next.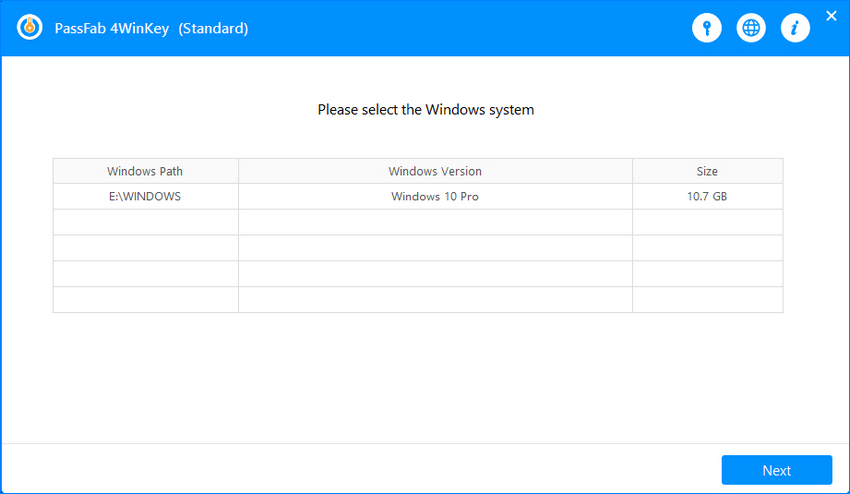 Step4. Select the user name in the Manage Accounts section that you want to recover the password of. Click Next.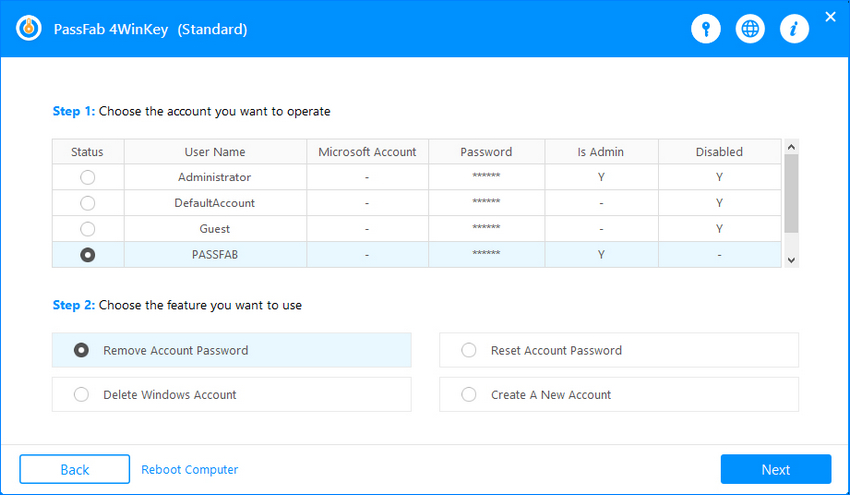 Step5. You will be directed to the third section, which is called Process. You don't have to select or type anything in this section and recovery process will start automatically. The process consists of three steps -- start reset, reset the user name's password to blank, and finish. Once it is complete, you will have to click Reboot and your computer will restart.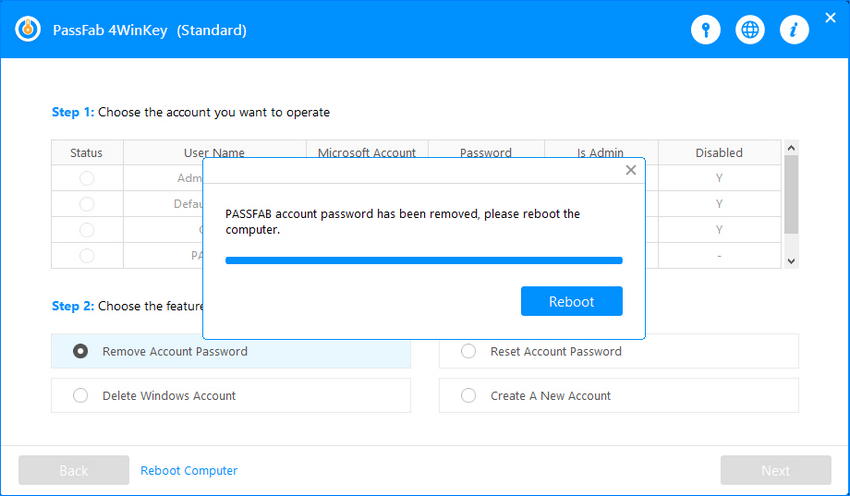 When you login, you will be able to directly enter without a password. You can go to Settings and create a new password or choose to not do, which is completely your choice but your user id will be always displayed in the list.
Part 2. Reset Windows XP password with Other Four Tools
Except PassFab 4WinKey, there also have some tools you can give a try. But, you can only use them to reset Windows XP password. Now, let's take a look by comparing the features and other factor.
1. Cain & Abel
A free software for recovering password of Windows XP and older version computers, Cabin & Abel can recover upto 10 character long password. It is a little complicated at first but super quick and retrieves password in less than 10 seconds. It only works on Windows XP , 2000, and NT operating systems.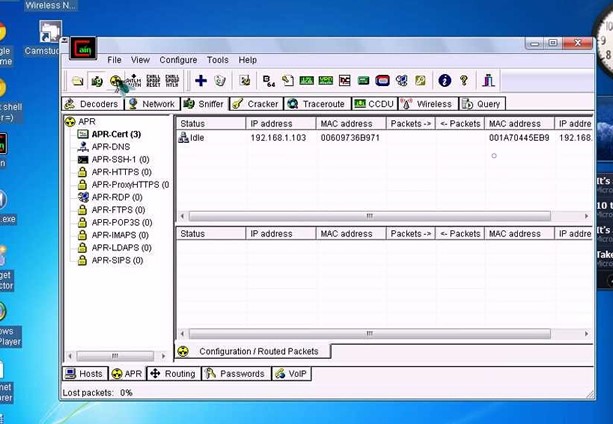 Price: free
Pros:
1. Fast password recovery
Cons:
1. Doesn't work with Windows 10, 8, 7, and Vista
2. iSunshare Windows Password Genius
This recovery tool involves just four steps, which includes choosing the operating system, selecting your user id, resetting the password, and rebooting your computer. A unique feature that it comes with is the RAID support that lets you create a new domain admin account. You can either use USB drive or CD/ DVD to burn the software.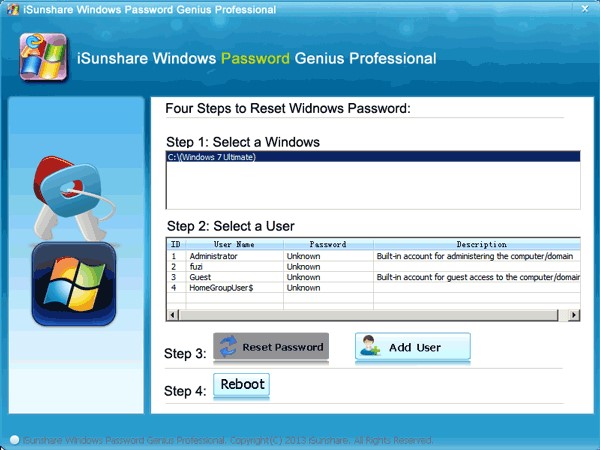 Price: 19.95 Dollar
Pros:
1. Affordable
2. RAID support
Cons:
1. Cannot reset ISO file
3. UUkeys Windows Password Mate
UUkeys Windows Password Mate comes in two versions -- standard and advanced. While both versions allow you to burn USBs or CDs for unlimited number of times, there are certain features you'll only find in the advanced version like adding a new user account, resetting local Windows admin password, and UEFI-based computer support.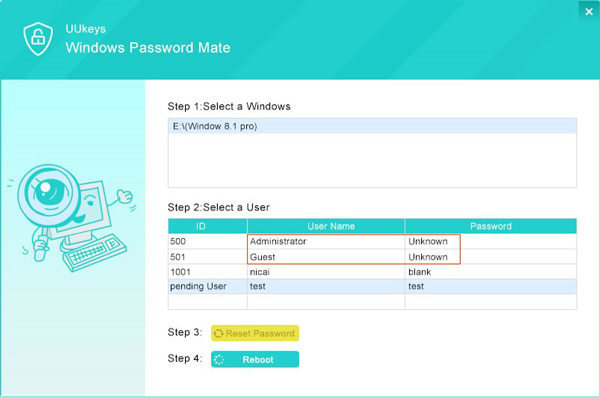 Price: 29.95 Dollar
Pros:
1. Free upgrade for lifetime
2. Unlimited number of burns
Cons:
1. Standard version doesn't reset Windows 8/ 10 password
4. Active Password Changer Professional
Easy to install and use, Active Password Changer Professional deletes your user password rather than recovering the old one. The way you access your user id after rebooting the same way as after using any other software. It works on all types of Windows OS including 10, 8, 7, Vista, Xp, or Server 2008/2003.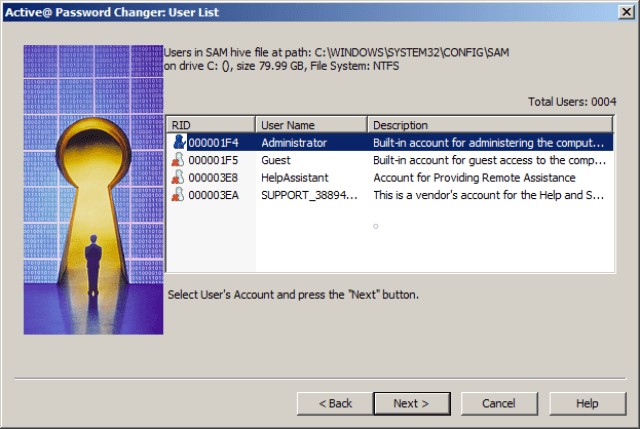 Price: 49.95 Dollar
Pros:
1. Contains advanced password recovery tools
2. Works will all Windows OS
Cons:
1. Installation takes a long time
Summary
By comparing the tools, you can see PassFab 4WinKey is the best way to reset/recover Windows XP password. By using this tool, you can create a Windows XP password recovery usb and solve the password issue in a few minutes. Wondering how to reset Windows 10 password and more Windows password solutions? You can explore more by visit the official website.